What Is Click-Through Rate (CTR), How To Calculate It (Formula) and How Does It Compare to Conversion Rate
Note: This is a guest article written by Malaika Nicholas, the content marketing strategist at Ladder. Any and all opinions expressed in the post are Malaika's.
What is click-through rate?
Click-through rate (CTR) is a metric, shown as a percentage, that measures how many people clicked your ad to visit a website or landing page.
Why are click-through rates important?
For paid ads on Facebook, Google AdWords, and other advertising platforms, the click-through rate directly influences an ad's Quality Score or Relevance Score.
However, note that high click-through rates aren't always a positive sign. If your ad fails to target the right keywords, or your ad copy, landing page, or offering isn't helpful or relevant to a visitor, you may end up spending a lot of money on ads that don't impact your bottom line. The key is to test every element intended to bring you conversions.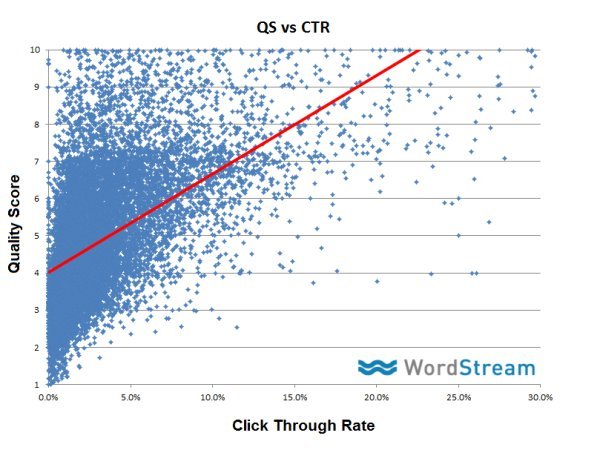 Therefore, start spending time in conducting keyword research that will ensure every paid ad is relevant to your ideal customer or target audience.
What's the formula for calculating click-through rates?
To calculate the click-through rate on a paid ad, divide the total number of clicks on the ad by the total number of impressions (i.e. the total number of people who saw the ad).
For example, let's say your ad generated 100 clicks and was seen by 2,000 people during its campaign.
CTR = 100 (Clicks) ÷ 2,000 (Impressions) = 0.05 x 100 (percentage) = 5% CTR
Pro Tip: Don't forget to multiply your result by 100 to save some extra time calculating the percentage.
Calculating click-through rates isn't exclusive to performance marketing channels such as Google Ads.
Say, I want to know how many people visit my website's homepage after reading one of my blog posts.
In this case, I'll look at the click-through rate, which will tell me how many people clicked the link to my website from my blog post, out of the total number of visitors to the blog post.
People Who Click Website from Blog Post/Total Number of Blog Post Visitors x 100 = Click-through Rate
But what about conversion rate and how does it compare to click-throughs?
What is conversion rate?
Conversion rate is a metric, shown as a percentage that displays how many website visitors and app visitors complete an action out of the total number of visitors.
Why are conversion rates important?
For many marketers and entrepreneurs, conversion rates are the most important metric to monitor frequently, because it directly impacts their business' overall sales and revenue.
Chris Keller from Bizible reinforces this idea and goes so far as to outline 3 reasons why website conversions are more important than web traffic.
Firstly, Keller argues that more traffic doesn't necessarily mean you'll see a spike in sales.
This can be the result of several issues:
– Attracting the wrong kind of traffic by targeting wrong keywords
– Having website content which isn't related to your products and services
– Broken lead gen forms or conversion flows.
Secondly, Keller argues that it is significantly easier and takes less time to increase web conversions than it is to increase web traffic.
That's why it is important to know about the art of conversion marketing.
Finally, Keller's last point is that prioritizing CRO (Conversion Rate Optimization), before optimizing web traffic—instead of the other way around—would have a greater impact on your business' ROI and profitability.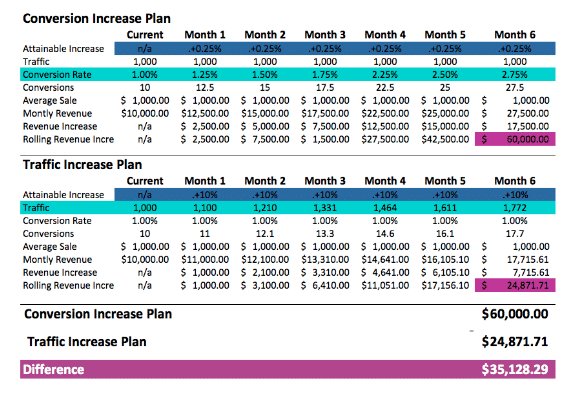 How do you calculate conversion rates?
To calculate Conversion Rate, divide the total number of visitors to your website or landing page by the number of goals completed.
Pro Tip: You can multiply this result by 100 to save some extra time calculating the percentage.
It is important to note, however, that this formula will change slightly depending on the type of conversions you're measuring.
For example, if you're measuring the Conversion Rate of people visiting your website who turn into leads, the formula will be:
Total Number of Leads Collected/Total Traffic to Site x 100 = Conversion Rate
Similarly, if I want to calculate how many website visitors convert into paying customers, the conversion rate formula will look like this:
Number of Sales / Total Traffic to Site x 100 = Conversion Rate
Finally, if I want to measure how many people subscribed to my newsletter after clicking my ad, the conversion rate formula will change to this:
Number of People Who Subscribe To My Newsletter/Total Number of People Who Clicked My Ad x 100 = Conversion Rate
Google analytics tools for tracking conversion rates and click-through rates
Google Analytics is an incredibly versatile tool that allows you to understand who your audiences are, how they behave on your website (also create heatmaps in Google Analytics), where they find out about your business (that is, traffic sources), and how they interact with your website content.
More specifically, Google Analytics allows you to set up Goals, which gives you the ability to track whenever a defined action is taken on your website (that is, the conversion rate), like form submissions or product purchases.
Look at this short video from Google on how to use Goals within Google Analytics to track your conversion rates.
You can also use Google Analytics to track impressions and your ad Click-Through Rate from your Google AdWords campaigns. Here's a short video that explains how it works.
In addition to Google Analytics, you can use any of the following to track Conversion Rates and/or Click-Through Rates.
Native advertising platforms (Facebook Ads Manager, Twitter Ads Manager, Google AdWords Manager Accounts)
Third-party analytics software (Tableau, Funnel.io, Mixpanel)

Conversion rate vs. Click-through rate: which one should you measure?
Digital marketers should ultimately use both the conversion rate and the click-through rate to measure the success of their marketing efforts.
However, as Andrew Chu from MGX Copy notes, click-through rates and conversion rates affect two different marketing/sales funnel stages.
At the top of the sales funnel, the click-through rate measures what action users perform (such as clicking your ad) before they get to your website.
At the middle and bottom of the sales funnel (MOFU/BOFU), conversion rates measure actions that people take when they're already on your website.

For example:
– Form submissions
– Ebook Downloads
– Product Purchases
And more…
As an example, let's say I want to know how many people visited my website after seeing my Facebook ad. In this case, I would want to determine the click-through rate.
If my Facebook ad earned 100,000 impressions, and 3,500 of those people clicked my ad to visit my website, that makes my click-through rate 3.5%.
Not too bad!
Now, say I want to know how many people became email newsletter subscribers from the ones who clicked my Facebook ad. In this case, I want to measure the conversion rate.
In this case, of the 3,500 people who clicked my Facebook ad and visited my website, 40 people subscribed to my email newsletter, making the conversion rate about 1.14%.
So, which metric are you supposed to measure—conversion rate or click-through rate?
The answer depends on which stage in the marketing/sales funnel you want to optimize.
If you want to improve keyword rankings in SERP or increase traffic to the blog, then measuring and optimizing your click-through rate is ideal.
If you want to focus on growing your email newsletter subscription list, increasing the number of people who sign up for a free trial, or increasing the number of products you sell online, then focus on measuring and optimizing your website conversion rates.
6 actionable growth tactics for improving click-through rates
Here are a few quick tips that can help you improve your click-through rates:
Conduct some consumer research on your target audience. This will give you a better understanding of what type of messaging your target audience is more likely to respond to

Use keyword research tools to find specific phrases your target audience is searching for. Include negative keywords and branded keywords as well in your research

Write an ad that is enticing and helps your brand stand out. Use power words that convey urgency, authority, performance, advanced technology, scarcity, or social proof

Use high-quality, eye-catching photos in your ads; but make sure your images do not contain more than 20% of overlay text

Make sure the copy, content, and design of your landing pages are aligned with your paid ads

Have a clear and concise call-to-action that makes it clear to the viewer what they can expect after clicking your ad
For more in-depth information about these tips, look at these helpful resources:
Google AdWords tips to create highly converting search ads
Actionable growth tactics for improving conversion rates
Conversion rate optimization is all about identifying, analyzing, testing, and improving various touch points at the middle and bottom levels of the marketing/sales funnel. Here are a few quick tips on how to optimize your conversion rates.
Personalize your messaging and user experiences, based on visitor behavior, preferences, or interests

Don't give up on website visitors who don't convert right away. Keep them engaged with retargeting ads, where you can display services, products, or offers based on what they've shown some interest in

Offer customer support throughout the buying cycle. You can offer real-time chat with a customer support representative, provide Help Center informational tutorials and troubleshooting information, or answer questions visitors may have on a dedicated FAQ page

Convert website visitors into potential leads by offering free materials in exchange for their contact information. For example, you can offer a technical white paper, an instructional e-Book, data-rich infographics, or exclusive video content

Give website visitors several opportunities to convert. There's a slim chance someone will visit your website for the first time and immediately decide to make a purchase. Instead, give hesitant visitors additional opportunities to convert (also known as "micro-conversions"), like giving them a chance to sign up for your email list through a smart bar, display a limited-time offer in an exit-intent pop-up, or allowing them to subscribe to a web browser and mobile push notifications for the latest updates

A/B test various elements of your landing pages, including hero images, call-to-actions, taglines, descriptions, button positioning, the format of contact forms, and others

Add social proof on popular landing pages. Experiment adding customer testimonials, recognizable brands you've worked with, or mobile app store reviews and ratings to your website and landing pages
To further increase conversion rates of your website, check out this article on lead magnets. Lead magnets or content upgrades can be a great addition to your overall conversion rate optimization strategy.