What Do You Get With VWO's Free Trial?
"It's a free trial, but…"
Businesses don't wish for users to have a hesitant conversation about their product. Unfortunately, most free trials don't hold true to user expectations. You sign up for a free trial, but some capabilities are always gated, making it difficult to fully evaluate a product before investing in it.
At VWO, we realize that users need to understand how a product and its capabilities fit into their workflow, whether they fulfill important business objectives, and satisfy relevant use cases. That's why, with VWO, you get a 30-day free trial that includes all offered capabilities. The allotted visitor quota that comes with each capability gives sufficient time and bandwidth to experience all the benefits that VWO can bring to the table.
Experimentation is a continuous and interconnected process with data as its backbone. As shown in the loop diagram below, VWO's suite of capabilities includes everything needed to run experimentation and personalization end-to-end. The free trial gives you access to each of these capabilities.
This blog answers questions that you may have about the free trial and explains what is included, how to access it, and the next steps.
1. Behavior analytics | VWO Insights
The process of experimentation starts with analyzing visitor behavior. With VWO Insights, you can analyze visitor behavior and identify bottlenecks in your current flow. Here is what you can do during your free trial:
Goal setting to track the performance of pages and elements. You create pages and elements on a website with a specific purpose, and tracking how they perform is necessary. With VWO Insights, you can track the following:
i. Page visits to know the number of unique visitors who visit a page.
ii. Click on links to gauge the click-through rate of links, URLs, and URL patterns.
iii. Click on elements to track clicks on menus, videos, images, and other elements.
iv. Form submission to find the number of successful form submissions.
v. Revenue to track the earnings generated from each successful conversion.
vi. Custom conversion goals that are business specific.
Funnel tracking to visualize the visitor journey and know where they drop off. Funnel visualization, in combination with heatmap and session recording, allows you to know why visitors are converting or losing interest. For example, the following is a funnel overview of the lead generation journey in VWO.

Heatmap tracking offers a comprehensive real-time view of website visitors' movement and behavior. You can gain insight into how website elements are perceived with features such as dynamic heatmap, clicks-map, scroll-map, element list, and click area.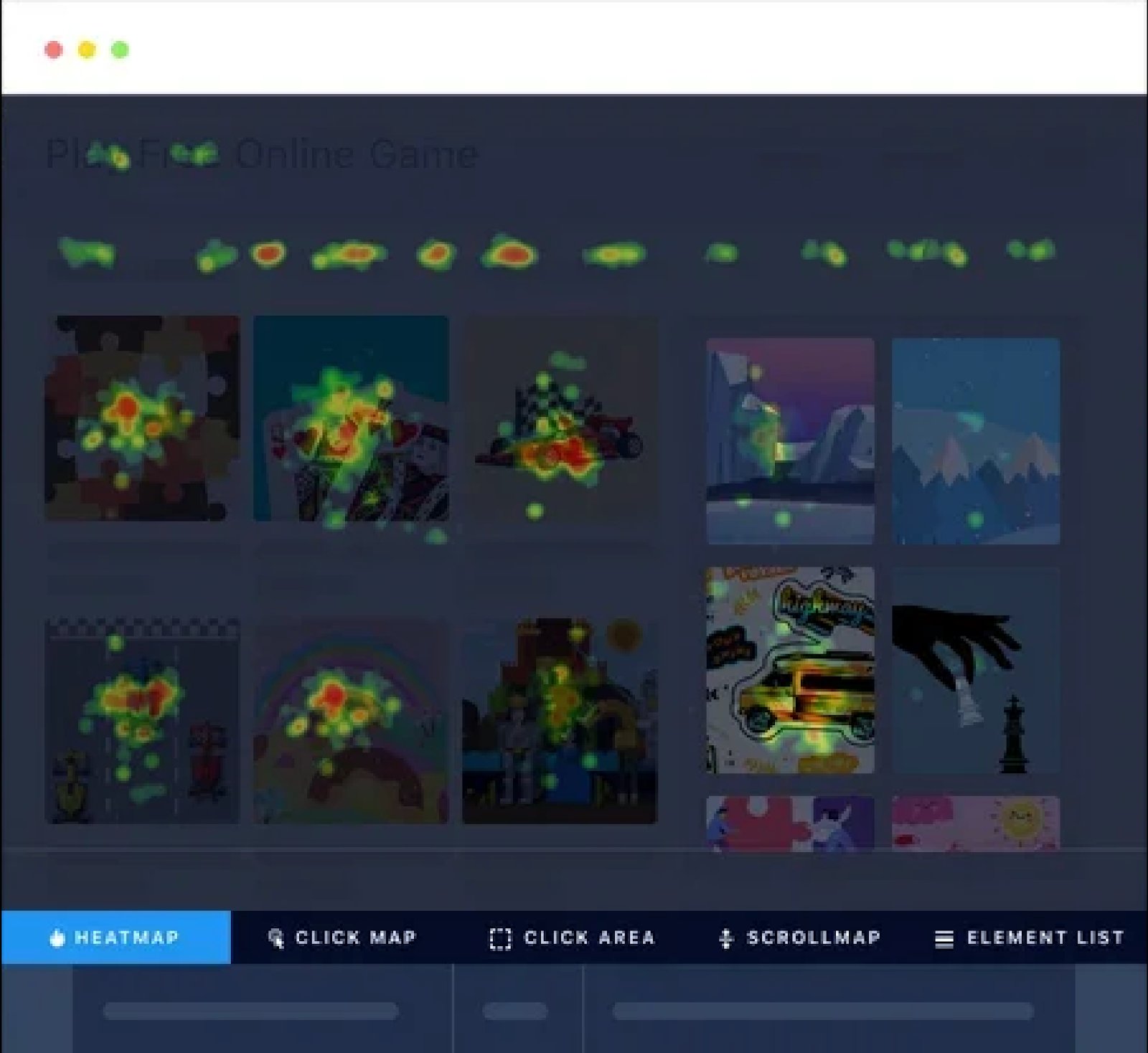 Session recording to record visitor interaction for a single page or the complete website. You get to view the mouse movement and clicks to know how visitors engage with the overall website design, CTA position, content, and other aspects. With session recording, you can know the difficulties faced by visitors.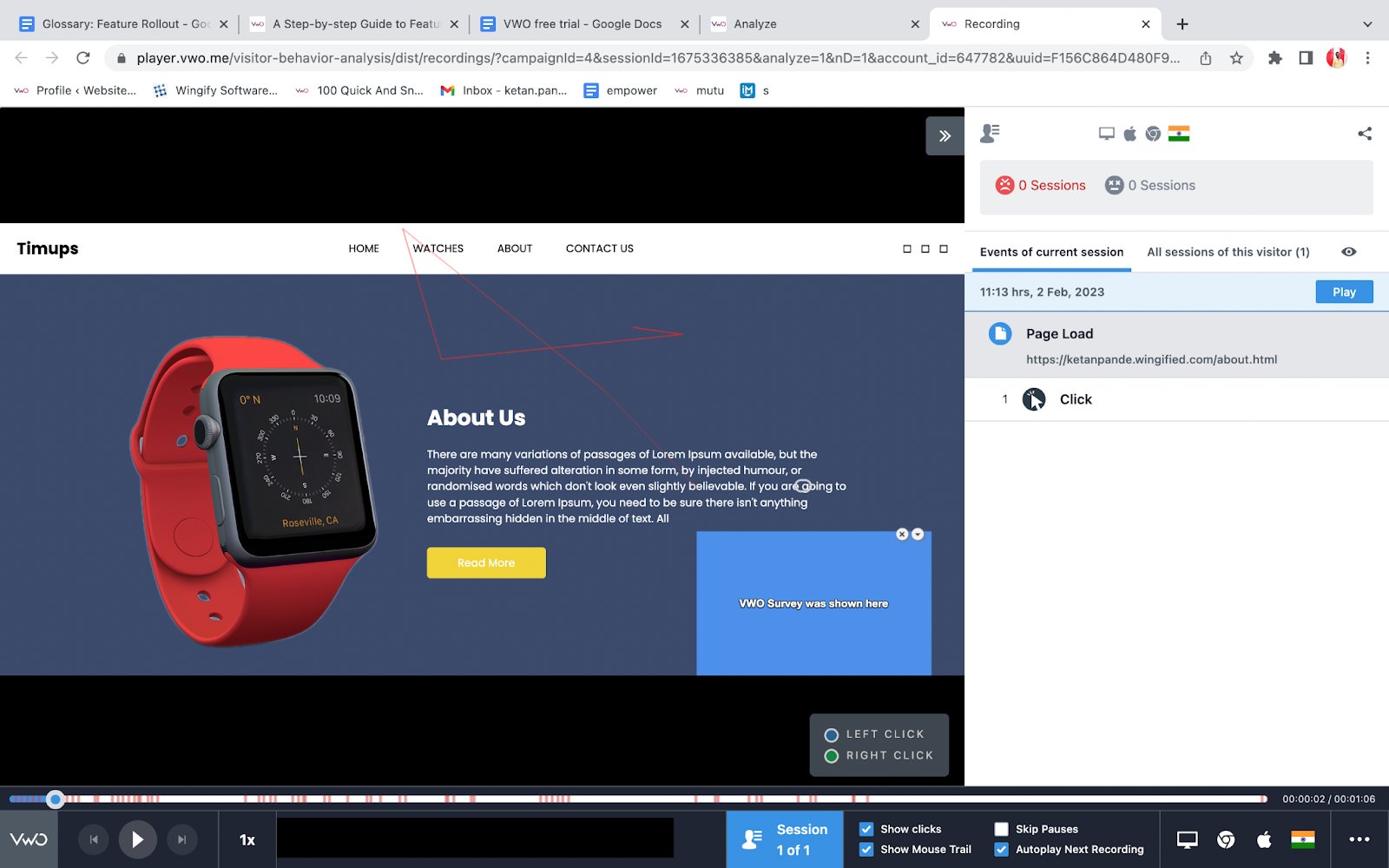 On-page survey to collect visitor feedback on website experience. The survey can be triggered based on specific events like when the visitor lands on the check-out page and can be targeted for specific visitor segments. You also get the option to view session recordings of the survey to scrutinize its performance.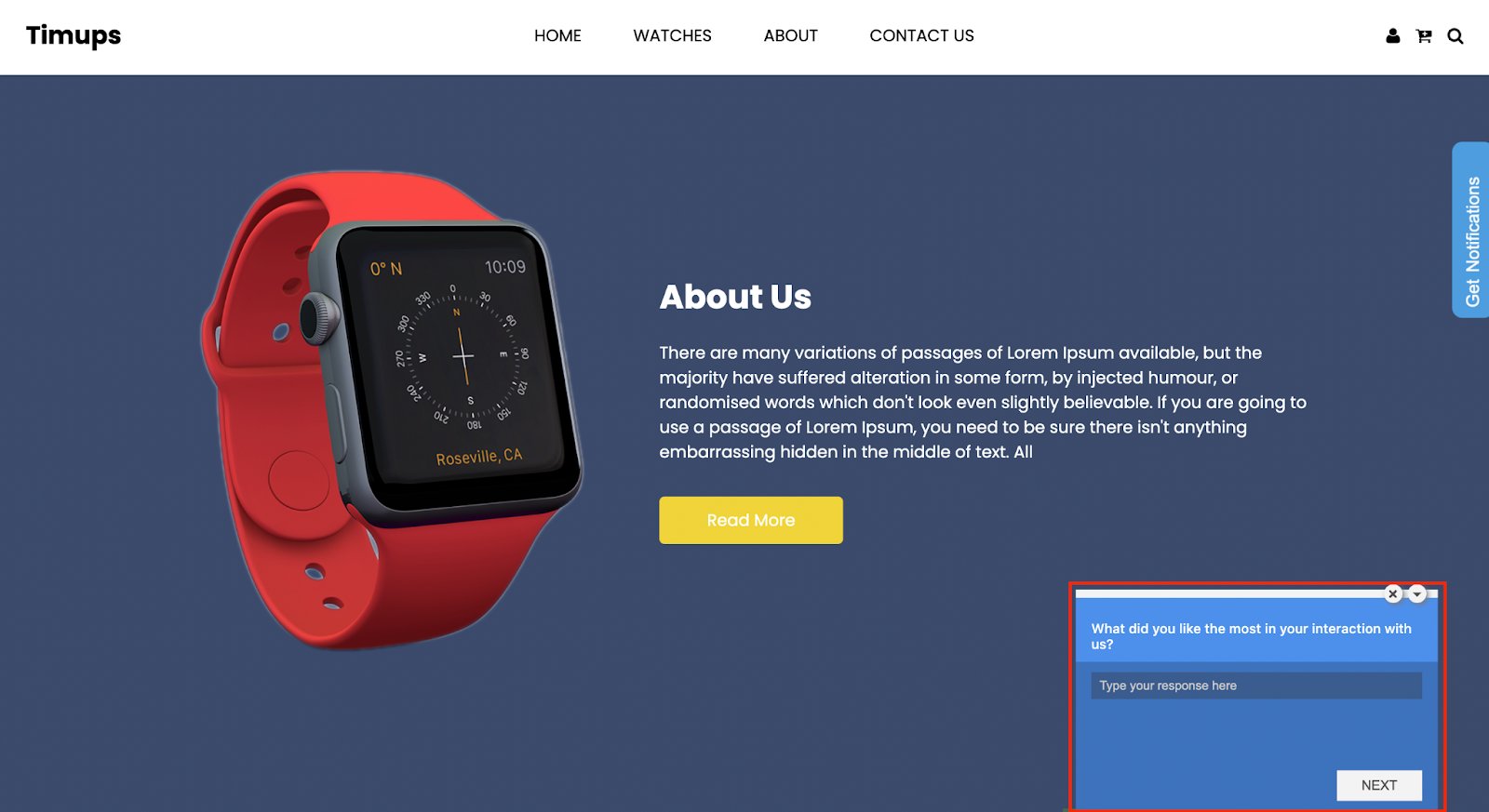 Form analytics to analyze the performance of all types of website forms. Form analytics helps understand visitors' interaction with your forms and the factors that lead to drop-off. You can identify which fields caused the most confusion, took the most time or needed the most revisions for the visitors.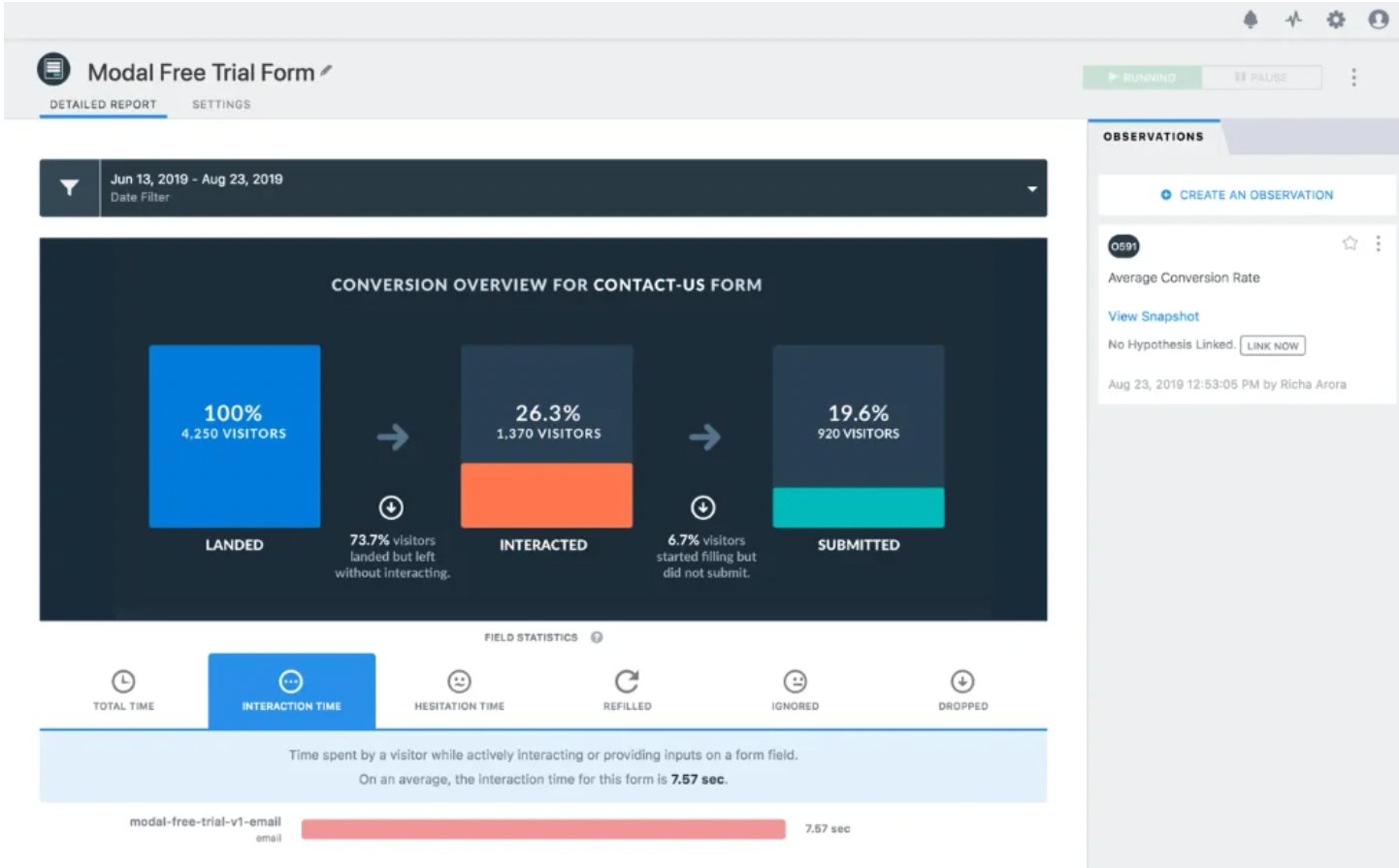 Note: Except for the survey, visitors are sampled uniformly for tracking and analysis for all other products in the insights. You can read more about the sampling logic of VWO. When signing up for the free trial of VWO Insights, the visitor quota is allocated based on your website's monthly traffic. You can select from the following options during the free trial sign-up process:
| | |
| --- | --- |
| Selection | Allotted Quota |
| Upto 10K | 10K |
| Upto 50K | 50K |
| Upto 100K | 100K |
| Upto 200K | 200K |
| Upto 500K | 500K |
| Upto 1M | 500K |
| More than 1M | 500K |
| I am unsure about my visitors | 100K |
2. Web experimentation | VWO Testing
Once you have gathered visitor behavior insights, you can form hypotheses for running tests. You can perform A/B testing, Split URL testing, and Multivariate testing with VWO Testing to optimize the website for various marketing objectives. Here is what you can do with VWO Testing:
Define specific pages, URLs, and URL patterns for the test. Segment visitors for testing based on visitors' interests, demographics, or any custom characteristics.
Modify elements, embed media, and add widgets and dynamic text to create variations for A/B and multivariate tests with a drag-drop editor. Also, your development team can use an inbuilt code editor to make complex changes.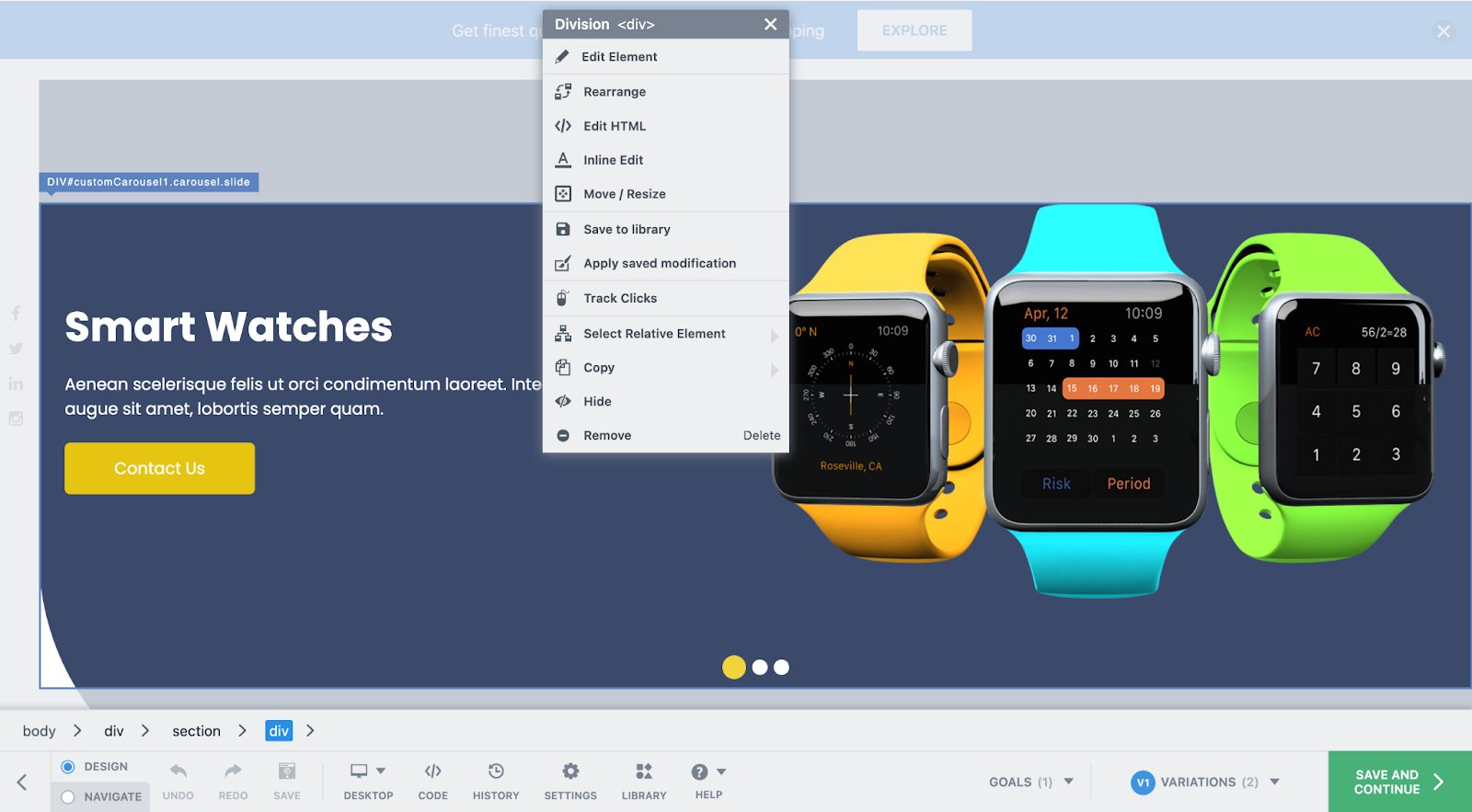 Set goals for page visits, engagement, form submissions, clicks on links and elements, revenue, or a custom event.
Allocate traffic to variations, integrate third-party apps for data transfer, and create mutually exclusive groups for similar tests, such as two A/B tests with different product prices.
Get real-time reports that are easy to understand and equipped with over 20 predefined segments, like new or returning visitors, devices, location, etc., for detailed analysis. Additionally, you can compare the behavior of two segments, such as visitors exposed to a special promotion and those who were not.
Additionally, you get to,
Tailor variations for particular devices or uniformly implement them on all devices.
Organize your testing program with ease using the Kanban board, providing a clear and comprehensive overview of your entire testing pipeline. It enhances accessibility and transparency.
Record learnings from past tests so that all teams can build better hypotheses and test them in the future.
View the heatmap and click map for variations and control.
In the free trial, you get a quota of 10K visitors for VWO Testing. A unique visitor can become part of multiple tests but will be counted only once. Also, it is important to note that only visitors who become part of a campaign are counted and not the complete website traffic.
3. Server-side experimentation | VWO Fullstack
There are multiple use cases, like search algorithm testing for instance, for experimenting on the server-side to avoid flicker and ensure zero latency. You can perform server-side testing to test complex ideas with VWO FullStack. Here are the capabilities that you can explore:
Run experiments and launch new features across multiple channels, such as web, mobile, email, etc.
Test different variations of a product's features, functionality, design, and pricing.
Release new features to a small group of visitors or even to a production environment without releasing them to the entire visitor base.
Connect the data sources with the popular tools used for data storage, business intelligence analysis, and customer data platform.
Get advanced reporting and identify instances like a group of visitors demonstrated a substantial deviation in conversion rate compared to others for a particular objective or variation.
We offer an assisted free trial for VWO FullStack that includes backend installation and initial campaign setup. Also, you get a quota of 10K visitors per month in the free trial.
4. Mobile app experimentation | VWO Mobile App Experimentation
You can also use VWO Mobile App Experimentation to optimize your in-app experience. Here is what you can do:
Test everything from simple CTA button changes to complex app flow.
Measure ROI, and identify conversion triggers.
Test new app features on a selected audience before making it live for all app visitors.
We provide an assisted free trial for VWO's Mobile App Experimentation that includes backend installation and initial campaign setup. Also, you get a quota of 10K visitors per month in the free trial.
5. Personalization | VWO Personalize
You can tailor visitor experiences with VWO Personalize based on visitors' past data. Your visitor data is secure with strong privacy and security protocols. Here is what you can do with VWO Personalize:
Create personalized experiences for different visitor groups with a WYSIWYG Visual Editor.
Monitor the performance of personalization efforts and assess their impact on different visitor segments with a central platform-level metrics system.
Integrate third-party analytics tools, CMS, CDP, and ABM to fill lacking visitor information and understand customer behavior to create complex customer segments.
Similar to VWO Testing, for VWO Personalize free trial account, you get a quota of 10K visitors. A visitor can become part of multiple personalized campaigns and will be counted only once.
6. Rollout | VWO Web Rollouts
Once you have your experimentation results, you can choose to push your winning version live using VWO. VWO Web Rollouts allows you to roll out minor changes or revamp the website. Here are its features:
Drag and drop editor to edit, resize, move, and replace the existing elements, and the option to add widgets. Also, there is a code editor to make complex changes.
Live preview of the changes on different devices and browsers
Ability to deploy winner variation from web experimentation.
Option to roll out new changes to a segment of visitors so that you can release relevant changes as per visitor background and interests. For example, releasing a greetings widget for festive seasons as per geography.
For a free trial, you get a quota of 10K visitors for VWO Web Rollouts. A visitor can become part of multiple deploy campaigns and will be counted once.
7. Customer data platform | VWO Data360
When customer data feeds into the experimentation and personalization loop, it keeps you on the right track. VWO Data360 is a customer data platform that provides a single and coherent view of all customer data. The platform allows data unification that can be later used for segmentation and targeting in campaigns. The Data360 module enables you to create and manage the following features:
Attributes: Attributes are variables that help identify and segment visitors, including information such as traffic source, browser used, visitor gender, subscription level, and location.
Events: Events refer to actions taken by visitors on the website, like clicking on an offer banner or making a payment. Each event has a name and set of properties that describe it.
Metric: With our tool, you can establish and monitor your goals/key metrics for a thorough understanding of your conversions, such as form submissions, page views, and clicks on specific elements.
Profile: With our platform, you access all the information of a visitor, such as their attributes, events, segment membership, metrics, and behavioral data all in one place. It gives you the ability to perform in-depth analysis and better understand the motivations behind their actions. You can also see data related to VWO Testing, Insights, Web Rollouts, and Personalize campaigns of which the visitor is part 
Audit: It lives streams the website events as a list. It helps to know if the set events are tracked properly on your website.
During the free trial, Data 360 can be used without any monthly set traffic quota. You can track the number of times an event is triggered but not track complex metrics like average order value or total revenue. Additionally, in the free trial, only one numerical property can be set for an event. Custom attributes such as age, gender, etc., cannot be created. Finally, the free trial only allows you to view up to five profiles in user profiles.
8. Program management | VWO Plan
With VWO Plan, you can collaborate with teammates and other teams to prioritize, analyze, and discuss experimentation campaigns. Here is what you can do:
Store all your thoughts, insights, comments, or ideas related to any aspect of your experimentation program in a centralized database.
Capture behavior data and record your observations from VWO Insights. You can use these observations to document and prioritize experiment ideas on the Kanban Board.
Prioritize and execute testing ideas from a shared dashboard.
Track key business metrics and monitor their changes over time with ease through the experimentation program.
In the free trial, you get full access to VWO Plan.
FAQs on VWO free trial
How to avail VWO free trial?
You can create your free trial account here.
What is the duration of the VWO free trial?
You can use VWO with all features and capabilities for 30 days.
Do I get product training for the free trial?
You get a live demonstration of the product with self-learning videos to understand its capabilities and dashboard functions. 
What happens to the campaign data collected at the end of the free trial?
If you don't subscribe to a paid plan, the account is deleted after 45 days of inactivity. However, you can export the collected data before the deletion day.
Do I get customer support during the free trial?
Yes. A free trial account gets email, chat, and phone support for the complete duration. Also, we share some testing ideas with you that you can use to get started with experimentation. 
Are there any forever-free plans for VWO?
Yes, we offer a VWO Testing – Web and VWO Insights – Web starter pack in which you get free usage. You can learn more about VWO pricing and plans. 
Conclusion
In this blog, we have tried to provide exhaustive information on the VWO free trial. However, if you have further questions, please get in touch with support@vwo.com. Our support team is available to guide you throughout the free trial. Alternatively, you can also request a live demo to see VWO's capabilities in action.
So, boost your optimization efforts, and grab an all-inclusive 30-day free trial today.