Website Personalization
The how-to manual for personalization on your website; benefits, challenges, and use-cases included.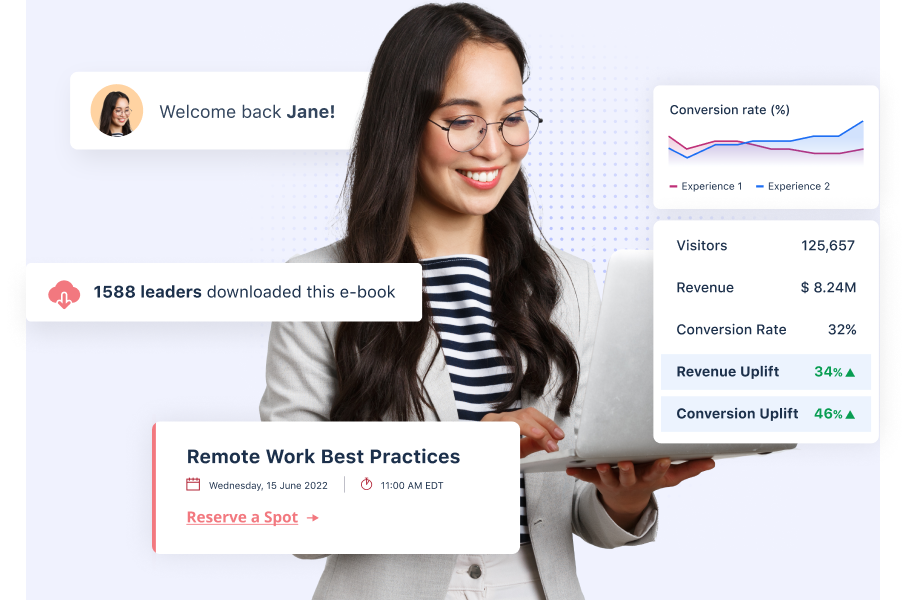 What is website personalization?
Website personalization is the art of offering an exclusive, one-on-one custom made experience to your online visitors when they land on your site. You customize their experience based on their past purchases, their geography or behavior in a manner that serves multiple business purposes – higher customer satisfaction, longer visit duration, boosted site visits, lower bounce rate, better conversions, and an improved brand reputation.
The concept of personalization has been there for decades now. While it has been more prominent in the retail market where you enter a shop, and the seller readily shows products which suit your needs, the scope of personalization was missing in the online marketplace. Realizing its importance, especially in terms of revenue generation and shopping experience, more and more online brands are now exploring this arena.
The better the website personalization experience, the better you can serve your online visitors and help them achieve their goals. This will further lead to better retention rate and better word of mouth for your brand.
In the last decade, personalization has seen a growing trend.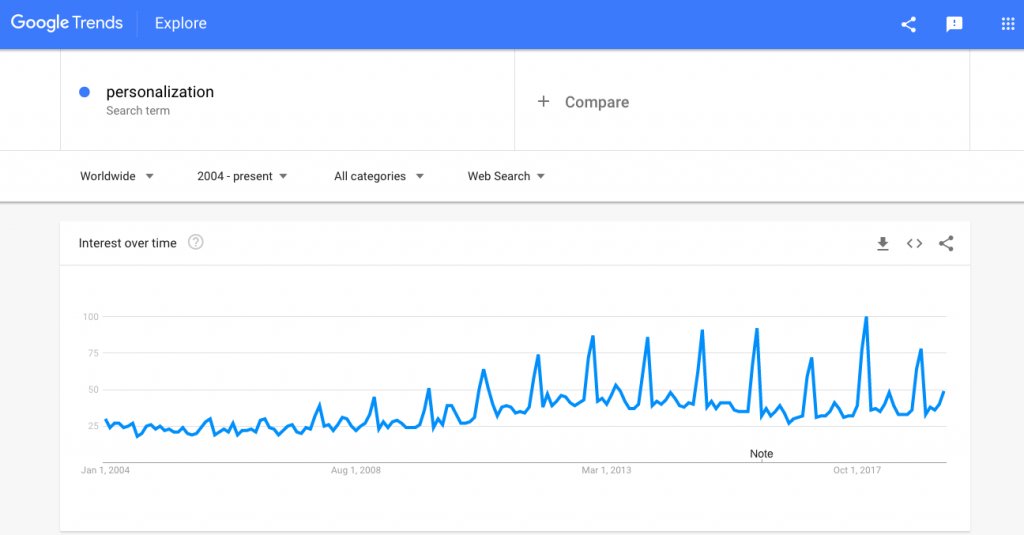 In this guide, we will provide comprehensive information about how to personalize the experiences of your website visitors along with actionable insights to help you understand the entire concept and successfully incorporate it to improve your marketing strategy.
Why is website personalization important?
In an era where companies are competing every minute to grab user attention, personalization serves as a blessing in disguise. Telling your online visitors that you care about their interests and preferences while providing them with relevant content/experience can make them stay longer on your site. Even help them take the desired action.
Amazon is a classic example to quote here. One of the world's leading and most preferred online shopping sites, Amazon's website personalization efforts aren't new to us. They have infected us to the roots, leaving us spoilt for choices every time we pay a visit. You can't help but scroll down till the end and marvel at its personalized recommendations. Have a look: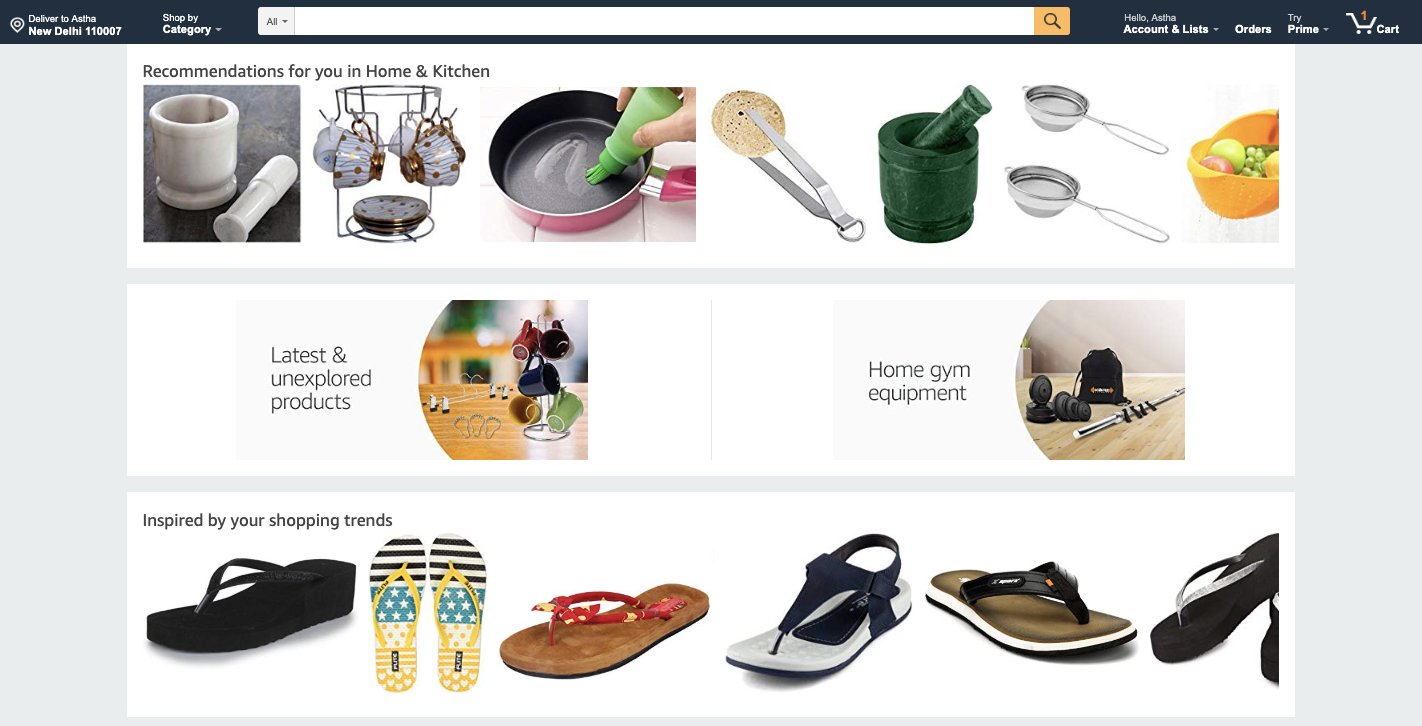 Amazon takes note of everything you do on its platform. As you browse through the eCommerce giant's website, it jots down all the categories you browse through, the kind of items that interest you, the amount of time you spend shopping a particular product and much more. Using such insights, it further personalizes your experience every time you land on its site and compels you to consider purchasing a product despite your current buying needs.
Striking the right balance between, "We think you might like this" and "We're keeping an eye on you" isn't a simple, go-to process. It demands in-depth research work followed by proper planning, finding the right tools to support your process, and testing your hypothesis before jumping to any large-scale eCommerce personalization initiatives.

What are the benefits of website personalization?
Imagine an everyday chore. When you enter a departmental store, you're greeted with dedicated aisles stacking dozens over dozens of items, where all you needed was a 100 gram stick of your favorite butter. To get to the butter section, you've had to navigate your way through myriad aisles reading through the section boards, which is typically time-consuming, sometimes even frustrating, making my overall buying experience quite poor.
What if there was a dedicated staff member who greets you by your name, knows your favorite butter brand and even the fact that you typically come to the store every Tuesday for your weekly ritual of buying butter and other related grocery items, and takes you directly to the butter section?
That's personalization.
Personalization is the key ingredient to enhance the user experience. The better you address the needs and wants of your users, the higher are their chances of entering your conversion funnel and turning into loyal customers.
Among the several benefits of personalizing visitors' website experience, below are the top 5 benefits.
Optimized landing pages
Your website's landing pages are typically a visitor's first interaction with your brand's identity. They represent what's in store for the visitors. Adding a personalized touch to such pages like addressing your visitors by their name, or greeting them "Good Morning" at the appropriate time of the day in their native language will not only impress them but also make your website stand out.
UK-based fashion retailer, Very.co.uk is an ideal example of landing page personalization. In addition to showing items of interest to logged in customers based on their previous searches on the site, its promotions are also weather-based. Here, take a look:
Here's another one for the hot weather:
Landing page personalization can be done in two ways – with the help of better converting CTAs and showing more relevant content recommendations.

A) Better converting CTAs
Call-to-actions are one of the best ways to entice your visitors and get them to take action on your site. A good, carefully crafted CTA can encourage your website visitors to start a free trial, read a blog post, take a survey, and even watch a demo they may otherwise be least interested in.
Irrespective of the kind of CTA you show on your site, adding a personalized touch can make a difference. For example, if a person visits VWO's site for the first time, they're shown a "Request a Demo" CTA. On the other hand, if they're already registered with VWO, they're shown the "Dashboard" CTA.
Here is another example of how MakeMyTrip.com, one of India's leading travel agencies enticed its users to bid and win huge discounts on the travel destinations that they recently searched on their platforms.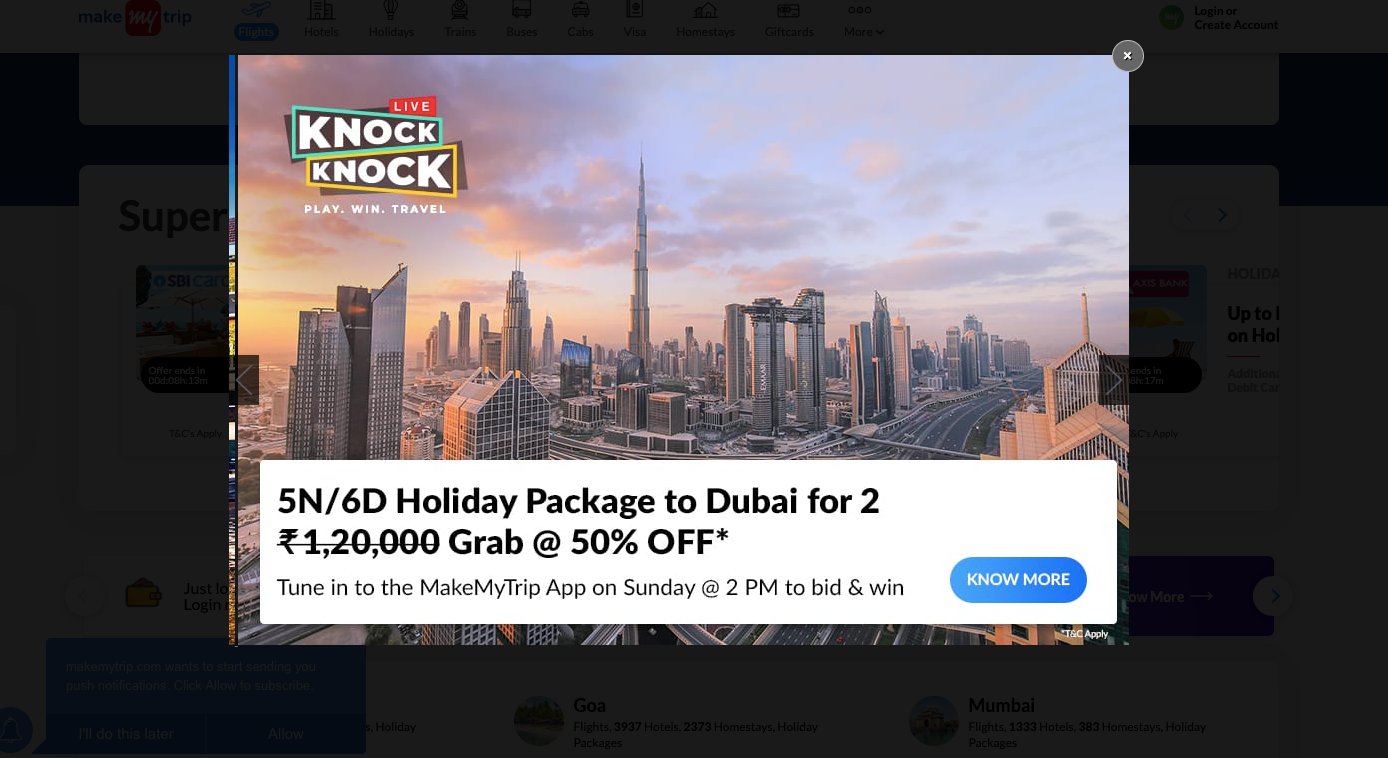 Such pop-ups with soft CTAs and attractive text can help entice about-to-abandon customers to check out your offers again, further re-engage them with your platform and improve their chances to make a purchase.
Research by HubSpot also shows that personalizing CTAs can make websites perform 202% better than generic CTAs.
B) More relevant content recommendations
Irrelevant content recommendations can be really annoying. It's like someone's trying to sell you a product you're either not interested in or already have.
To avail the maximum benefits of website personalization and to avoid visitors from leaving your site, recommend content that interests them. Use your collated data to personalize their experience. Show them products, services, or content that's fresh and relevant. This can not only keep them from abandoning your site but also boost website time spent, enhance customer loyalty and ultimately cause a better retention rate.
Google is by far the best example to quote here. The search engine generates precise data basis a user's browsing history, takes note of their individual behavior, and systematically shows content that matches their preferences.
It's like having a friend who knows exactly what you need and helps you get it with utmost ease and comfort.
Better qualified leads
Leads that are properly nurtured, segmented, and shown targeted content have higher chances of entering your sales funnel. They are more likely to buy or subscribe to your products or services than new visitors on your website.
Enhanced user experience on the website
When you give your visitors what they actually want, they tend to stick longer. A good example of the same can be observed in higher watch time on media sites like Netflix or Youtube due to personalized recommended content or can be seen in multiple product recommendations viewed on Amazon.com.


Greater brand affirmity
All of the points discussed above are closely tied to two key goals – generate more revenue and build brand affirmity. When you better understand your online buyers, visitors, prospects, and decision-makers, you're in a position to offer them what they want and ultimately grow and drive more revenue.
How to get started with website personalization?
Personalization is the art of telling your visitors that they're valuable; their sheer presence on your website matters; and you promise to provide them with an experience that is custom made for them.
Before diving deep into how website personalization works, let's see how you can kickstart this journey.
1. Understanding website personalization fundamentals
Personalization applies to every aspect of an online visitor's journey. To comprehend your business challenges and see where personalization can actually add value to your overall business goals, start by seeking answers to some basic questions.
A) How to identify your target audience?
Every industry, or as a matter of fact, every company operating in the online marketplace enters the domain to sell their products or services to as many people as possible. But often, defining exactly whom to sell or identifying your exact target audience to personalize their experience on your site becomes a challenge. To overcome the problem:
Look at your current visitor base
List all your products/services and see who is currently buying or are likely to buy them.
Analyze what do people buy from you, and
Which ones are bringing in more business
Understanding your most important visitors can help you start personalization. You can further segment these most important visitors into different personas like those based on geography (US, UK, Australia) or the basis of their past purchase history (frequent buyer, luxury shopper, high-value buyer). This can significantly ease your work to identify your target audience and be in a better position to plan your sales strategies.
B) How to understand the intent of your visitors?
Once you've identified your target audience, you now need to find out what they really want when they visit your website. The best way to do so is by identifying their exact intent. This can help you offer them the right kind of products or services and spoil them for choices.
Contextual Intent: This is one of the most commonly used as well as recommended means to understand your visitor base. Look at the keywords they use to search for your products using search ads and other relevant methods and arrive on your site. Using these keywords, you can dynamically show site content which matches their exact intent and attract them to enter your sales funnel.
Behavior-based Intent: This type of intent suggests that the browsing history of your potential customers can give you a lot of insight about their likes and dislikes. Use this information to personalize their experience and make every visit worth the effort — for example, a customer's past purchases, browsing history, and other such behaviors.
Stated Intent: This is typically a method wherein you directly seek some basic information from the visitors landing on your site and then personalize their experience. For instance, asking visitors about the industry they work in, their area of expertise, company size, etc. to show software products which would best suit their role.
C) How to convey your message through personalization?
After intent identification, you can now focus on drafting strategies about what you want to say to them. Think of the first message or content you want your visitors to see when they land on your website for the first time. Try and create a combination of images/videos, offers, content, and a strong call-to-action, which not only promotes your products/services but also compels your visitors to explore your platform in all the lengths and breadths possible.
Personalize each of these assets based on the audience you're planning to target and the data points available for them. Show them the products/services relevant to their field of work, the industry they cater to, their geographic location, etc.
D) How to implement personalization on different web pages?
Finally, identify where you can personalize. Think of website areas or pages you can best target to connect with your target audience. Homepage, category pages, product pages, pricing pages, and checkout pages are good options to start. Personalizing each of these pages can help cater your visitors in the best possible manner.
For example, if your target audience is women aged between 20 and 35 who look for budgeted jewelry options, you can personalize your website pages in the following manner.
It is important to understand that every visitor visiting your site will not always land on your homepage. They may be directed to your site's inner pages as well.
A good custom website personalization solution for a website enables you to draft campaign strategies that not only run across pages but also engage visitors wherever they land or browse through your site without the need for any page specific configurations.
2. Personalization and user segmentation
No matter how specific or broad your brand's niche is, every visitor that lands on your website counts. This is because they may be your potential leads who will ultimately give you business. Hence, treating each one of them in the best possible manner is important.
But, how to personalize a visitor's experience? Let's find out!
A) Location
Location is practically one of the most common and straightforward ways to personalize the experience of your target audience. Although it differs depending upon the scope of your business, geo-location furnishes information that can tremendously help you personalize the experience of your website visitors. For example, you're running a SaaS business and want to expand your customer base in a particular geographic location, say Australia. You can show visitors coming from Australia registration discounts if your data suggests you get faster conversions with discounting in Australia.
Meanwhile, if you're an eCommerce business operating across the globe, you can use dynamic website personalization to target visitors based on their current location and show products which are the most popular in that geography or products which may not be available for shipment anywhere else. For instance, show summer clothes to someone coming from a warmer climate while winter clothes to coming from a cooler climate. Display different shipping terms to different people depending upon their location. Even float different discount schemes in different cities of a country depending upon the spending capacity of your target audience.
Irrespective of the use cases mentioned above, creating specialized or personalized campaigns by identifying users on the basis of their location allows you to offer them an experience that feels personal and unique. Something they can relate to.
B) Visitor behavior
On your website, you can track and observe their overall interaction with your platform using specialized analytical tools. You can map the way they navigate, engaged with your site's content, and take actions. This can help you understand their overall behavior, such as:
referral site(s) and/or the search term(s) used by the visitors to land on your website.
pages they navigate through while on your website
the categories they extensively engage with
the action(s) they take on your website
the pages where they drop off or exit
You can effectively use this behavioral data to personalize visitor experience and ensure their engagement with your brand, as well as make them take the desired action. If the visitor is one of your existing customers, then behavioral targeting factors will not only change but also become more specific to their history with your platform. Show them content that would best suit their needs and taste (basis their previous interactions with your platform).
Let's consider Amazon's example here. When a visitor first lands on Amazon's homepage, it's shown a page enlisting the company's top-selling products along with currently running offers and sale deals. Notice that the offers and product recommendations would be the same for anyone coming to the site from that geography and time of the year and would not be hyper-personalized as per personal preferences.
Meanwhile, a visitor who is already registered with Amazon and has previously reviewed or purchased products will see something like this:

The screenshot above shows "Recently Viewed" items along with "Today's Deals" and other specific categories depending upon the customer's behavior on the site. Amazon effectively and extensively uses visitor behavior metrics along with geo-location to offer a personalized experience that makes customers feel special and even spoilt for choices.
C) Demographic
Taking visitor behavior one step forward, you can also use demographic information to personalize user experience. Demographic data typically furnishes information like age, gender, familial and marital status, income, education, and occupation of a person. Segmenting your audience based on these demographics is surely a great way of personalization. For it makes a lot of sense to show different products to a middle-aged woman against a millennial man because the two personas will naturally have different preferences and needs.
In other words, the information you already have about your buyers, such as their interests, previous purchase histories, etc. You can use this information to further optimize and personalize their buying experience.
D) Firmographics
Firmographics mostly apply to the B2B industry. Visitors landing on your site come from various geo-locations and search intents. But, some need more specific, more targeted messaging than others.
For instance, B2B companies may find it more valuable to target visitors on the basis of their firmographics information or industry verticals they belong to. For example, financial services, digital marketing, legal, healthcare, travel, or entertainment. Each visitor from these firmographics verticals may have their own specific needs and requirements which your generalized messages may not be able to address. You may also be selling different services to different industries.
Tailoring testimonials, custom logos, local language content, customer reviews, special pricing, or plans based on a visitor's industry can make your brand look more attractive and trustworthy. Meanwhile, helping you convert them into potential leads easily and quickly.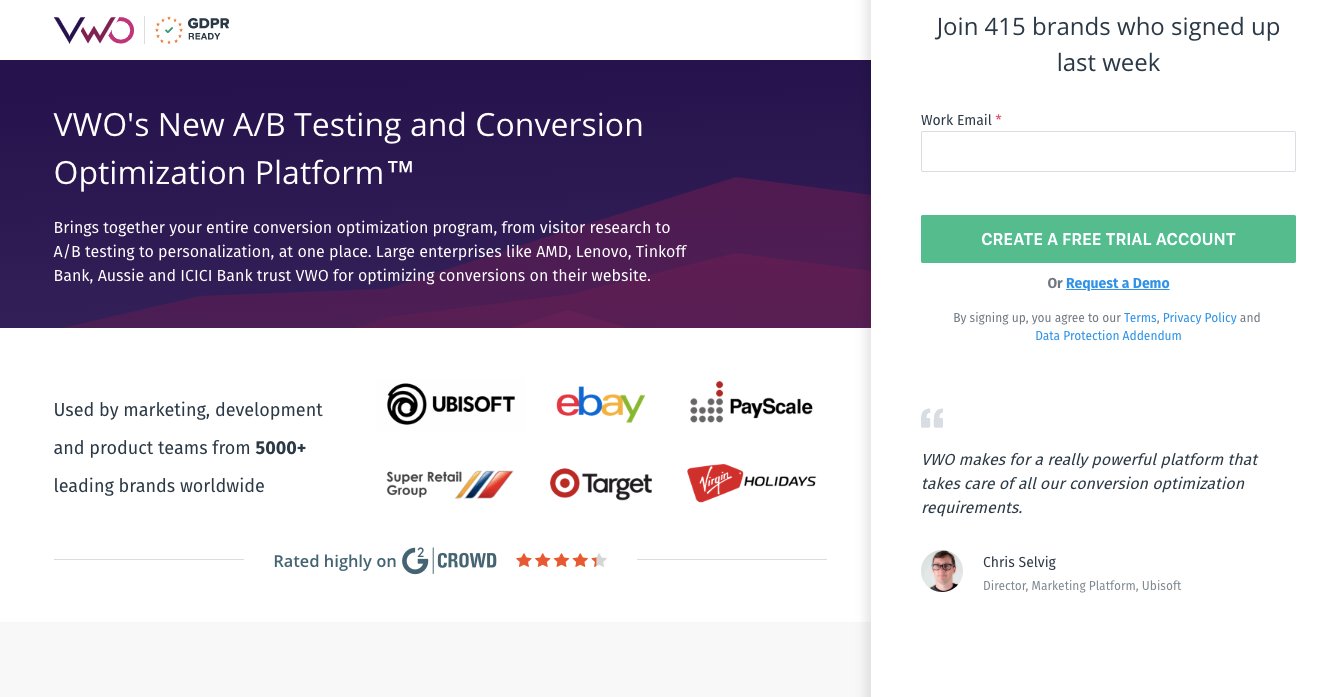 E) Psychographics
To understand what your visitors think and want from your platform, you need to supplement your website personalization strategies with data based on their motivations, rather than just focusing on their demographics. If you are not willing to take care of the emotions, desires, needs, and preferences of your visitors, they will instantly bounce off and never come back. Personalization is quickly transforming from "nice-to-have" to "must-have."
Global players like Netflix, Spotify, and Amazon, to name a few are well-known to use psychographic information to cater to their target audience. For example, if Netflix knows that you watch a lot of movies about women empowerment, it may recommend a movie with strong women characters.
Psychographic information not only highlights what a visitor likes, but also details upon their communication preferences, and consequently recommends content that's most likely to persuade visitors and personalize their overall experience.
Types of website personalization
A) Based on data-gathering methods
As already established, website personalization is an umbrella term that houses a myriad of things. In this section, we'll primarily focus our attention on two main types of website personalization.
1. Explicit Website Personalization
Explicit personalization happens when a website experience is customized according to the criteria set by the visitors themselves. For instance, Nikon.com explicitly personalizes the experience of its visitors by asking them to select their geographic location. The platform saves these preferences in cookies, which allows visitors to skip this step when they visit Nikon.com for the second or subsequent times.
In the explicit mode, visitors choose their preference: my location, my gender, etc. This helps a website to show products/services which are most relevant to the visitors rather than furnishing their entire list of offerings.
2. Implicit Website Personalization
Implicit website personalization can be divided into two categories: behavior-based personalization and contextual personalization.
i) Behavior-Based Website Personalization
This type of personalization is purely based on the relationship between a customer's browsing history and a website's content. Implicit personalization typically relies on a huge amount of data and metadata to customize the interaction between the two entities and offer a personalized experience. Here are some examples to help you understand better:
Amazon uses implicit personalization to recommend products to its customers.
Twitter uses its massive database to recommended friends to follow on its platform.
The New York Times uses this type of personalization method to suggest related content.
Spotify uses implicit personalization to recommend songs as per a listener's taste and preferences.
ii) Contextual Personalization
Contextual personalization typically personalizes the experience of a visitor based on the context in which they're browsing your site. Context can be basis their time of day or basis the weather outside or basis if like watching videos more than reading written text etc.
Google is the perfect example to explain contextual personalization. The search engine suggests activities or destinations based on a visitor's current location and time rather than presenting data with no means to an end. In other words, Google uses context to show on-point information, further making the experience its visitors more personalized and relevant.
In some cases, many websites also use a combination of explicit and contextual information to improve visitor experience. For instance, when Google Maps tells a person they are 16 minutes away from their destination, it's not only using the person's explicit information stored in their profile but contextual information as well. That is, informing the person that the place they're heading to may close down till the time they arrive at their destination; giving live traffic updates, and so on.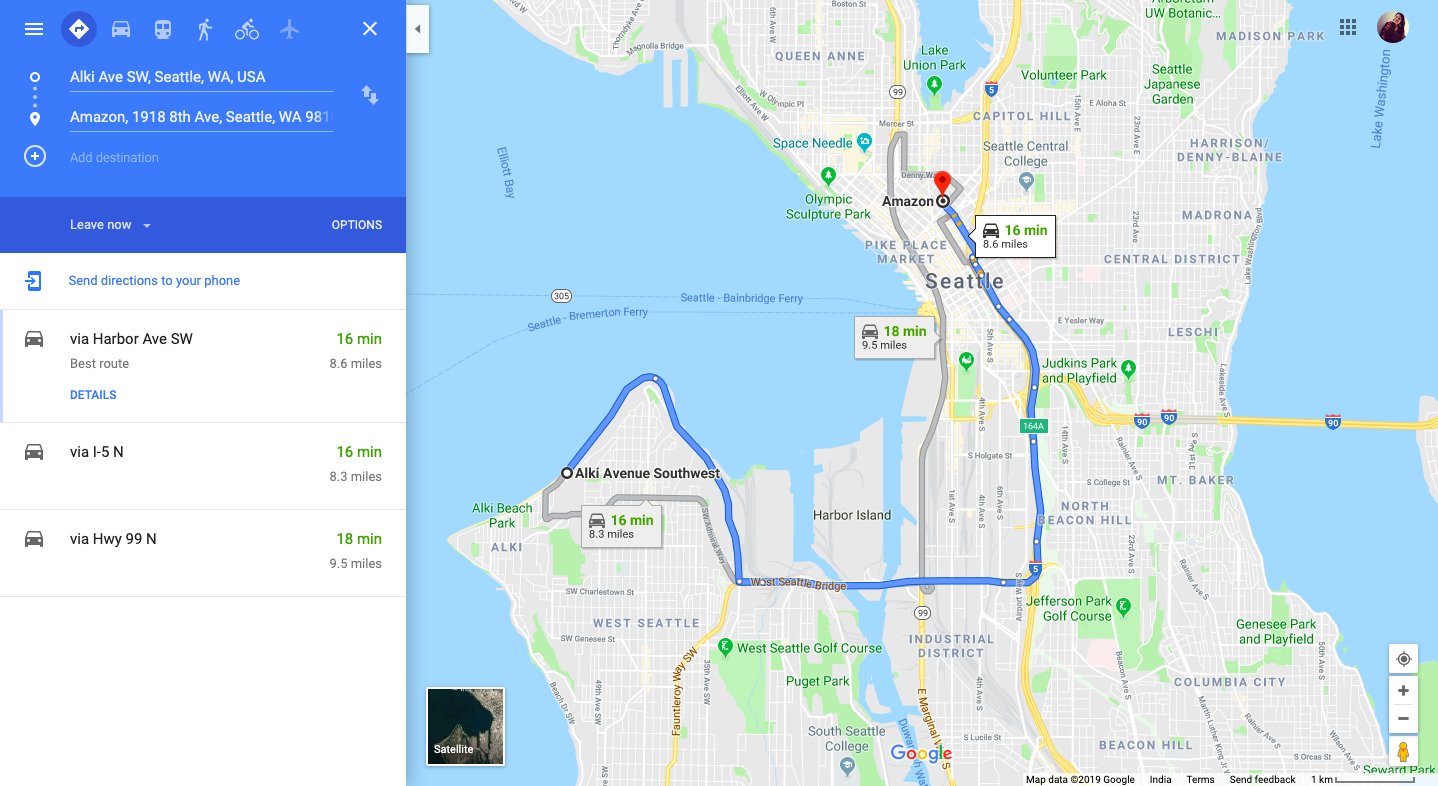 B) Based on experiences
The above different types of website personalizations can be delivered to the end-user in primarily two formats: interruptive experience and seamless experience.
1. Interruptive experiences
Interrupted experiences classify as experiences that a person doesn't expect from a brand and aren't even integral to their current website experience. But, in a way, they help entice customers to take (prompted) actions and help engage with your brand in a better way. The biggest benefit of interruptive experiences is that they can be used as and when required and need not be shown by default to all visitors. Pop-ups, infobars, and push notifications along with web or mobile app messages qualify as best examples of interruptive experiences.
2. Seamless experiences
A contrast to interruptive, seamless experiences are an integral part of the experience you offer to a visitor. In a way, visitors expect you to provide these unique experiences when they're there on your website. The best part of seamless experiences are that they offer a smooth transition between personalized and non-personalized section of the website.
Website personalization ideas and strategies
Begin your website personalization process, and everyone will recommend 'goal setting' as the first and foremost step to take. But, we evangelize a slightly different process altogether.
When it comes to website personalization, you can't really personalize the experience of your visitors until you have the right kind of visitor information to back what you're planning. The more you know about your visitors, the more personalized content you can create and add to your website, and the better conversions and sales you can drive. With VWO Personalize you can deliver delightfully relevant experiences to your visitors at the right place and right time. Take an all-inclusive free trial to check out VWO's features.
So, here's how we define an ideal website personalization process.
Step 1: Visitor data collection
In a highly dynamic and customer-centric marketplace, the ability to capture the attention of your prospects, while gathering the right kind of data and effectively using it to fine-tune your marketing strategies, is the key to offering excellent customer experience. Besides, companies that can leverage this knowledge to their benefit outperform their competitors by 85% in sales growth and 25% in gross margin.
As you start formulating a strategy to initiate website personalization, it is important to think about the kind of visitor data you need to understand your prospects. Post which, you can use the power of machine learning and predictive analysis to figure out the right means and ways to deliver an experience your visitors expect. So, how to gather customer data? Let's find out.
A) Ask the visitors directly
One of the best ways to gather visitor data is to ask them for their basic information directly. You can do that by making them fill a form, fetch details when they subscribe to a service, register on your platform, or buy something for the first time. This way, you can gather as much information as you see necessary – their name, gender, phone number, email address, current location, work industry, designation, company name, and so forth. Such details can not only help you get in touch with your prospects quickly but also understand their background, and contextualize their journey accordingly.
B) Map customer journey
Most brands fuel their recommendation engines according to a customer's journey on their platform. Noting their behavior not only gives you a clue about their interests, preferences and in-moment intent, but also serves as a smart way to ensure that you're collecting enough data to create a complete picture of what's essentially needed. Besides page views, you can also track time spent by a customer on each page, their engagement with your site's content, how far they're scrolling, where they're bouncing off, and so on. Meanwhile, you can also evaluate how a visitor is responding to your campaigns such as if they're opening or clicking through your emails, dismissing or clicking through push notifications, and so forth. Every piece of information gathered is essential to upscale the process of website personalization.
C) Cookies and web beacons
The next obvious places from where you fetch authentic and reliable data are website cookies and web beacons. These technologies allow site owners to track visitor browsing history on their site even if they're currently not on the site. With cookies, you can analyze where your customers have been, what they're looking for, and where they go after they're done browsing through your platform.
D) Company records and social media
Next on the list is using your own company records to curate customer data. This can be done by digging deep into customer service and sales records, transaction histories, and customer interaction with sales and support representatives. Social media is another way to gather data, especially if your customers use Facebook, Google, Linkedin, or any other third-party tool to log into their account. Besides, any data shared by a customer on a public platform such as a social media site, it's is open for everyone to access.
E) Email activity tracking
As per a blog published by WIRED, more than 40% of emails sent to customers across the world are tracked by the senders. Email marketing and tracking is one of the only ways to learn whether or not customers are opening your emails, and even get information about the kind of devices they use.
F) Enriching from external data sources
Apart from the above-mentioned primary and secondary data gathering sources, you can also buy data from third-party aggregators. The sole purpose of these companies is to responsibly collect, analyze, and sell customer and business data to other companies. Looking at a broader spectrum of data can help companies like yours to discover new business avenues and target customers that might be interested in your product. Typical data offered by a third party aggregator includes:
Declared Data: Comprises of information knowingly provided by customers through avenues like online forms, registration forms, subscriptions, etc.
Inferred Data: Provides non-demographic data, such as a customer's interest and preferences gathered from their online activities.
Observed data: Concrete information gleans by tracking a customer's online activities, including browsing history, interaction with page elements, etc.
Step 2: Visitor profiling
Once you've collected all the visitor data from all the relevant sources, the next step is to create customer profiles. Also known as a persona, a customer profile serves as a comprehensive guide that details upon the methods and techniques you can use to reach your ideal target audience. It gives you a structured look at the goals of your customers – what they're looking for on your website – which can further help to create personalized messaging strategies to appeal to them.
VWO Data360 is the customer data platform that allows you to collect, aggregate, and enrich your customer data in real-time. With your customers interacting with you across many touchpoints, tremendous data sits in silos. VWO Data360 centralizes your data to build a holistic profile of your customers making the data meaningful and actionable for you. Take a free trial or request a demo from our product experts to understand how this data platform can help you.
Let's assume that you're the owner of an online cake shop and your site is visited by more than a hundred visitors every day. Of these hundred people, only 5% of them place an order, and the rest simply bounce off. It's a disturbing figure, and you decide to dive deep into what's wrong.
Evaluating the behavior of your customers using qualitative and quantitative analytical tools and all the data you've gathered so far, you realized that you still do not have a clear picture of your target audience. This is where customer profiling becomes important.
As stated above, a customer profile is essentially a virtual human being with a name, age, and even physical features. Here's how a customer profile looks like.
The very essence of customer personas and pools is not just to understand how to cater different target segments but also to formulate core strategies to personalize their experience every time they land on your website.
Continuing with our above online cake shop example, your bakery serves three major kinds of customers. Below is an abridged version of each customer profile:
Every customer segment is unique, not only in terms of their physical description but also the kind of products they like. You can use such information to create specific website personalization strategies and target them individually. Furthermore, such segmentation can also help you seek answers to questions like "who," "where," and "how to reach your prospects," to enhance your personalization plans.
Step 3: Set your goals
This is where you start defining goals for each of your customer personas and your website. Goals can be anything – from increasing conversions to reducing bounce rate, facilitating product/service discoveries to driving repeat purchases and much more. Also, your goals can vary across different audience segments, according to industries and organizations, and even on the basis of different locations.
But, before you go ahead, make sure you have answers to all the questions that pop-up in your head related to goal setting. Some of these can be:
What are the hesitations you're trying to fix here?
What are the best ways to engage with your website visitors?
Is there a preferred language that you should focus on to cater to your target audience?
Are there any specific areas where your users will best respond to your personalization efforts?
Connecting all the missing dots is important. Once you're done analyzing the why's and what's of setting goals, you'll get a clear picture of how to proceed further.
Step 4: Prepare a strategy
This is practically the step where you begin your personalization journey – prepare fool-proof strategies to personalize the experience of your customers.
On a base level, five pages should be on your list of priorities. These are:
Homepage:
Your homepage is one of the most important pages of your site. Adding a personalized touch to this page can help capitalize new as well as returning customers.
Here are some homepage areas that should be a part of your website personalization strategy:
Hero Image: Instead of integrating a generic banner image on your site that's visible to everyone who lands on your homepage, show different banners to different customer personas. This will help them easily relate to your brand.
Product Recommendations: People appreciate personalized product recommendations on homepages, especially when it comes to eCommerce and travel sites. So, start your product discovery process early. Show them relevant recommendations as soon as they land on your homepage and capture their attention at the earliest.
Website Content: Displaying the right kind of content on your homepage can make a lot of difference. Add elements like personalized greetings, banners with catchy copies and attractive images and CTAs, engaging videos, and articles and buying guides that relate to your brand and products.
Navigation Tab: Sites with a dropdown navigation menu that show the relevant product or content recommendations to targeted customer personas can also be considered.
Product page
Second, on the list of pages that must be a part of your website personalization strategy are product pages. Here, you can attract customers by showing them products similar to the ones they have bought in the past or are likely to have interest in, as they are related products or frequently bought together. For instance, when you're browsing through iPhones on Amazon, you'd often see multiple recommendations listed just below a product's details. Something like this.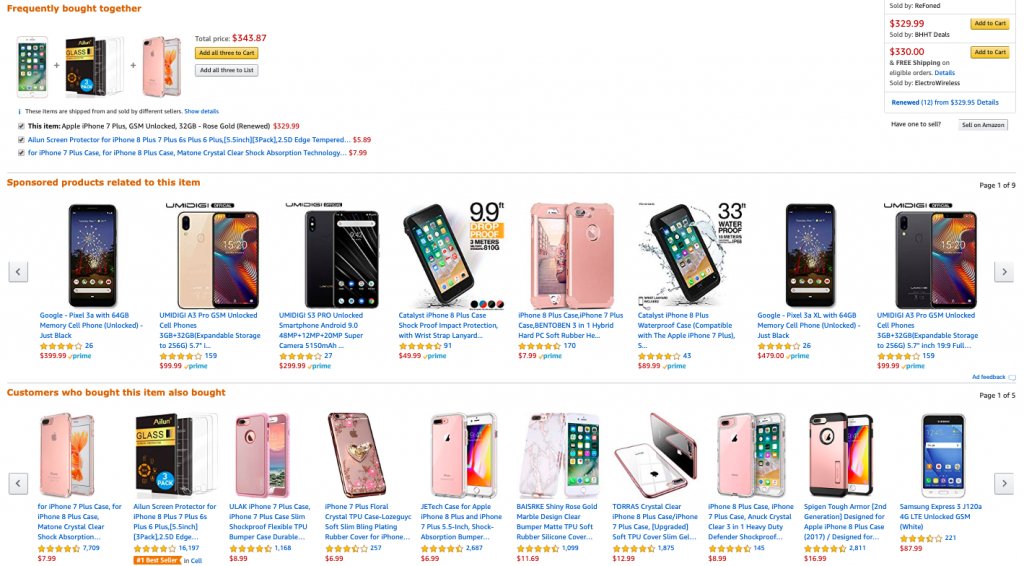 This serves two purposes – you not only provide easy product recommendations to customers (related to the product they're currently checking out) but also compel them to check out other similar products.
Search results
In most cases, when a visitor searches for a particular product or service using the onsite search button, they're shown a myriad of results. Visitors have to navigate through these populated results to find what they want. Adding a personalized touch to this webpage element can make a lot of difference in terms of conversions.
With personalization in position, you can dynamically display relevant products to customers based on their profile and behavior on the site. This will not only generate unique search results for each user but also help them find their product(s) quicker than usual.
No search result page
This is again an obvious page to personalize, yet often ignored. Each time a visitor lands on a no search results page, they're shown a templatized message quoting "No Results Found." This typically frustrates a visitor, causing them to abandon your site and move to a competitor. Adding some product recommendations on this very page on the basis of visitor's browsing history can keep them engaged on your platform, browse through other products, and make a purchase.
Shopping cart page
The rule of thumb here is to maximize purchases while eliminating all sorts of distractions which can trigger cart abandonment. Shopping cart page is another area where you can personalize the experience of your customers by showing them impulse items, related products, potential upsell items, and accessories. Additionally, you can allow customers to quickly add items to their cart without the need to leave the cart page. This way, you can increase their chances of placing an order then and there and even make them buy more products than they initially thought. Here's an image to help you understand better.
Step 5: Plan and implement website personalization strategy
Below defined are four simple steps to plan and implement your website personalization strategy smartly.

1. Identify campaigns
After doing all the groundwork, it's time to start drafting actual campaigns to implement your personalization strategy.
Begin by jotting down all the key goals (as you've defined above) for your website personalization program. List down all the things/pages you want to improve and personalize. Say, you may want to make your existing content more accessible to generate better demand in the market, increase upsells on your financial services or facilitate product discovery to enhance average order value on your eCommerce site.
Now, think about all the ways to address each of these problems. For instance, to grow average order size, you can recommend similar purchase items to customers as per the items in their cart or based on their browsing history. You could also make suggestions on the product page itself. List out all the tactics, indicate the right channels, and run time of these campaigns along with the metric(s) you'll need to measure their effectiveness.
2. Prioritize campaigns
Once you've identified campaigns and planned everything out, the next step is to establish a mechanism to prioritize your drafted campaigns. Compare the anticipated impact of each of the campaigns against the expected level of their difficulty.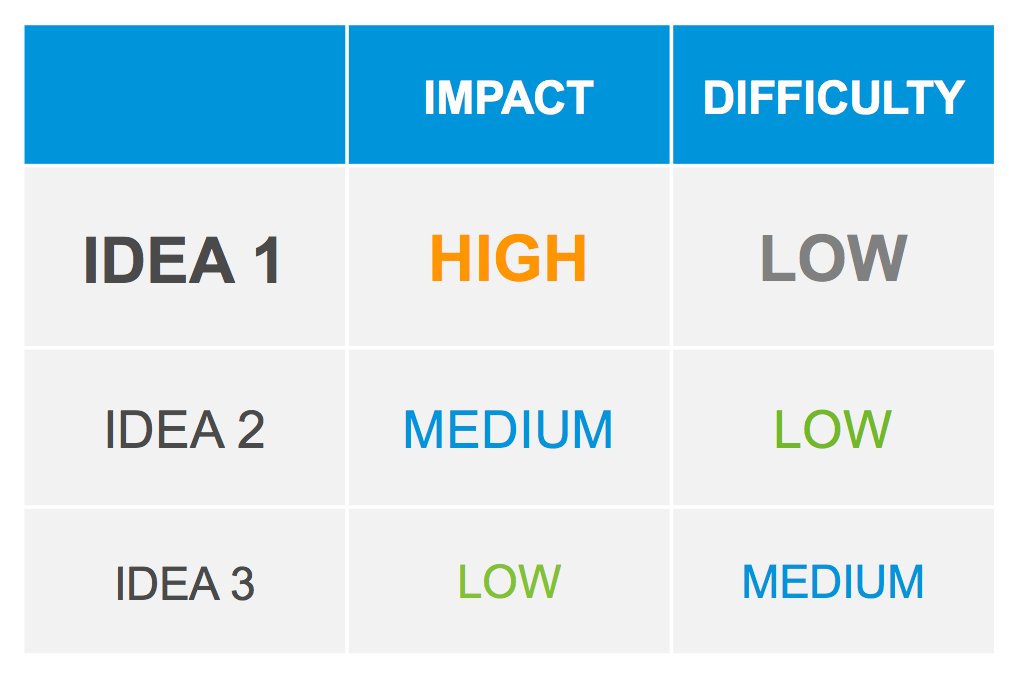 Prioritize campaigns that are easy to implement and promise high impact. Meanwhile, the ones which are comparatively tricky to implement and guarantee much impact on your overall goals, sit and thoroughly brainstorm before implementing them. Maybe A/B test your hypothesis before making the final call.
3. Use the right algorithms to fine tune your campaigns
One of the most important things to note while setting a campaign is that machine-learning algorithms have more scalability than age-old personalization driven rules. Although they continue to be useful for implementing simple campaigns, algorithms allow you to deep dive into the sea of website personalization. They allow you to give a more individualized experience, which not only helps you grab the attention your identified customer personas but also aids to achieve your set goals.
4. Test and iterate
Just like any other marketing strategy, testing and iterating your website personalization campaigns on a regular is important. Once you've launched a campaign, run an A/B test against its non-personalized control to ensure that it would provide a lift to your conversions and other penned goals. You can use VWO's Visual Editor to easily make changes and launch a new variation. Continuous testing also helps identify flawed areas on your website and immediately make amendments.
The second aspect is the usage of data. While you may be sitting on a pile of it, the important thing is to leverage it correctly to optimize experiences. VWO allows you to test your ideas and target an experiment based on patterns found in such data repositories. With its rule-based personalization, you can target an A/B test to a specific segment of visitors based on the data you have on them.
Step 6: Measure success
Using the right metrics to measure the success of your website personalization is very important. Not just in terms of mapping the performance of your campaigns, but for determining your ROI channels and seeing whether or not they're working in your favor.
In general, website personalization efforts can be measured across three different stages – early, mid, and late-stage.
Early-stage metrics
These metrics are typically used to map the impact of website personalization – whether or not they're generating customer interest and engagement on your website. Consider measuring the following:
Time Spent on the Site: This helps tracks the amount of time spent by a visitor your site—across several pages.
Visitor Frequency: This metric tracks the number of times the same visitor has come to your site. Revisits are usually considered as a good indicator of interest.
Content Consumed/Pages Visited: This metric helps you check the amount of content a visitor is consuming or the number of pages they're browsing through per visit. The higher the number, the better it is.
The Volume of New vs. Returning Visitors: Although it doesn't help track engagement on your site, it's still an interesting metric to track a trend. The volume of your new visitors against returning customers (over a certain period of time) can determine the potential reach of your brand.
Time Spent on an Individual Site Page: This metric tracks the amount of time spent by a particular visitor on an individual page. The longer the time spent, the higher are a visitor's/customer's chances of engaging with your product/service and eventually taking the desired action. This is closely related to the time spent by visitors on your site.
Mid-stage metrics
These metrics are more focused towards getting the right kind of visitors to engage with your brand and enter your database as qualified leads. Finding more of the right type of visitors is one of the key advantages of implementing website personalization, and therefore, every brand should track and measure. Some common mid-stage metrics are as follows:
Number of actions taken on a site: When a visitor comes to your platform and fills out a form – be it for a coupon, content asset, product/service information or to subscribe to your mailing list – you get more hands-on information about them. In addition to mapping engagement, driving lead-generating activities on your site can also be a critical metric to measure success.
Direct user feedback: This is where people can let you know whether they liked or disliked their buying experience. This can be taken through various ways: website survey forms, forms in emails sent to the customer, website chats, direct phone calls etc.
Visitor quality: Measuring the quality of your visitors in terms of whether they're the ones you'd initially planned to target (customer persona segments as defined above) can help you understand a lot of things.

Did you evaluate all the parameters before defining customer personas?
Are you targeting the right people?
Did you cover all known and potential customer segments while preparing your targeted customer personas?

Uplift in ROI: The main aim of website personalization is to personalize every web page where people can potentially land. Tracking if there's an uplift in conversion rates from these pages can help measure the success of your defined goals.
Late-stage metrics
Not only does website personalization help meet your business goals and generate ROI, but also see its impact on the overall activities of your brand when compared with competitors. Some late-stage metrics you must track are as follows:
Opportunities: Although it's more of a B2B-centric metric, it helps determine how website personalization activities can fill the pipeline of your sales team with innumerate opportunities. Additionally, it's also one of the most powerful metrics to study your ROI-driven efforts.
Revenue attribution: This metric is more consumer-equivalent in nature. It defines the amount of revenue generated through website personalization activities – typically covering on-site purchases and if applicable, immediate offline purchases as well.
Personalization and customization – What's the difference?
Personalization and customization are often used interchangeably. And why not! Both of them, in a way, serve the same purpose – deliver a dynamic, tailored experience, promise better user engagement, and aid in improved conversion rate optimization. But, there's a fine line between the two techniques. Let's check out!
Personalization
Personalization is the means to provide visitors with a one-on-one experience and meet their individual needs effectively and efficiently; making interactions faster and quicker and consequently increasing the chances of converting them into repeat visitors. Personalization typically happens through automation, where a system tailors a visitor's experience based on their past behavior and other related metrics.
For example, Spotify, one of the largest digital music platforms in the world, personalizes its homepage for each of its users based on their previous searches. The best part? Personalization is an on-going process that keeps amending website content to match the varying needs and preferences of customers and leaving them spoilt for choices all the time.
Customization
Similar to personalization, customization delivers site content that can be tailored to suit the particular needs and interests of visitors. However, in contrast to its cousin, customization makes the user do the needful.
Customization puts visitors in charge of their own experience. Letting them explicitly choose the kind of information or content they want to see. bbc.com is a classic example of customization. The platform allows users to make their own selection of what they want to see or read on the platform and even set preferences regarding how information must be displayed to them — for instance, showing sports news followed by top stories and Editor's Pick articles.
Nike By You is another example worth quoting here. The site allows you to custom design your own shoes. Select your own shoe base (heel, lining, tongue, etc.), add colors as per your taste, make other necessary amendments, and place an order.
Another key difference between the two is that customization is possible only for a finite number of cases. However, personalization can have infinite combinations. For an eCommerce store receiving 100K visitors a month, a customized website can serve customized website experience for up to 8 to 10 persons but a personalized website can deliver a unique experience to each of the 100K visitors provided we have the right data and targeting in place.
The pros and cons
Both personalization and customization are two unique tools that aim to ultimately enhance visitor experience, their interaction with the platform and turn into repeat customers. But each of these comes with its own set of pros and cons. Let's take a look!
A) Personalization
Pros

Personalization is an automated process. It doesn't demand any extra efforts – neither from the brand's side nor the visitor.
A seamlessly personalized website not only shows users the kind of information or content they wish to see, but also tends to boost their engagement with the platform and increase conversions.
Personalization can be done on a larger scale as compared to customization.

Cons

It sometimes puts customer privacy into jeopardy. This is the reason why some people find personalization and hyper-personalized websites unnerving.
It can be typically hard to develop and maintain a fully personalized website as personalization is still evolving in its own space of work. The slightest of discrepancies in the deployment can turn the tables for the company – i.e. distracting users than luring them to convert into repeat customers.
B) Customization
Pros

Customization can easily enhance a user's overall experience on your platform by letting them be in-charge. Decide what they want to see or how they want to engage with your platform in a user-privacy friendly way.
Customization is technically easier to implement than full-scale personalization

Cons

Customization demands a lot of work, especially from a visitor's end as they have to take out time to set their own preferences, personalize their experience, take into account their likes and dislikes and filter out irrelevant content.
Offering a customized experience has a higher implementation cost than personalization.
Although customization is one of the best ways to provide users with exactly what they want, this sometimes becomes problematic, especially in the case of users who do not know what they want or what they're doing on your platform.
The scope of customization is limited as compared to personalization. This is, if there are dozens of ways to customize content, there are infinite ways to personalize it.
Every visitor is different, and as far as customization and personalization are concerned, knowing your target audience is the key to success in both the cases. Also, considering the fact that both these techniques constantly demand maintenance, personalization, despite its cons, is taking over customization in every possible aspect.
Personalization and A/B testing – How they complement each other
To illustrate the relationship between personalization and A/B testing, let's consider an example.
Two people visit your online bakery. Let's call them Mr. X and Mr. Y. As soon as they come to your site they are greeted with two different lists of offerings – Mr. X is shown a list of your best cakes, while Mr. Y is shown a list of your newly introduced category of cookies. You then test the behavior of your visitors – whether they browse through their respectively shown categories and make a purchase or exit. You note the results to attribute the effectiveness of your strategic plans.
Using visitor history data, you saw that Mr. X had bought a cake in the past, while Mr. Y purchased a pack of cookies. Based on this information you personalized their experience by showing them products (similar to their last purchased items) when they revisited your site.
In contrast, while A/B testing, you would experiment with two different variations of the cakes on your homepage hoping your visitors would be interested in one or the other. Notice that while A/B testing, we're completely disregarding the user's past journey or behavior with the site.
Here, we note that while personalization helps you focus on offering products on the basis of your visitor's previous interaction with your website, A/B testing, can mis-serve one or both results. The chances of your visitors buying your products are higher when they're recommended items which are relevant to them, rather than randomly persuading them to engage with something they're not interested in.
But there's a catch!
While both personalization and A/B testing are fundamentally different, they complement each other quite well. One can very well use A/B testing to test macro changes (website level changes which impact all visitors equally) on the site and focus on last mile experience using personalization (based on user personas). Things like CTA size and the copy can be A/B tested while which products should be shown and what messaging should be used can be personalized based on the visitor and their preferences.
If you do not test and verify your thought-of personalization plans before deploying them across your platform in the hope of increasing conversions, all the work done in the process gets wasted. In a nutshell, without A/B testing, you're basically firing arrows in the dark hoping they'd hit the target – with no surety of course.
Website personalization best practices
The core concept of website personalization is still in its initial phase. It's constantly evolving with the ever-changing needs, demands, and preferences of customers across industries. This means that companies need to consistently innovate and test their strategies to not only offer the best-personalized experience to their respective visitors but also stay ahead of the curve, in today's highly competitive online marketplace.
Here, in this section, we've enlisted seven best practices to follow when personalizing your website.
1. Real-time decision making
One of the best ways to make the most of your website personalization efforts is to utilize visitor data while they're active on your site. This allows you to deliver the right kind of message or recommend the right products/services before they bounce off.
2. Don't overdo your recommendations
While personalization promotes the idea of showing your customers what's most relevant to them, it can sometimes turn ugly. Customers may get irritated seeing the same product/service or content recommendation and even abandon your site. Instead, allow them to explore your site beyond what you recommend to them. Doing so will not only compel them to discover new things on your website but also give you the chance to evolve your website personalization efforts further.
3. Proper channeling is important
Not all channels or pages on your website function equally in all kinds of situations. Hence, knowing your target audience and analyzing where to deliver the right message or show relevant recommendations to them is utmost essential. You can't show a customer some cake options when they're rigorously looking for homemade chocolate packages on your website.
4. Test your hypothesis before deploying
Every website personalization campaign is a hypothesis which must be measured and tested before deploying. This is because it is not necessary that some personalization efforts which worked for one company would effectively work for another company as well. Adopt a measured and calculated approach and test the impact of your thought-of hypothesis just as you A/B test changes on a webpage. The insights you derive from your tests can help you understand whether or not your personalization efforts would meet your set goal (increase site visitors, conversions, or time spent on your site) or should you improve them further.
5. Regularly monitor your analytics
Just like A/B testing page elements on your site, you must also track the performance of your website personalization efforts using qualitative and quantitative analytical tools. This will allow you to see where your personalized site elements are falling short or performing well, and even give you insights on what to do to improve their capabilities further.
You can use VWO's analytical tools, including heatmaps, scroll maps, session recording, form analysis, and funnel analysis to test if the scope of personalization is working well for your brand. You can also use VWO's AI-powered free heatmap generator to see how visitors are likely to interact with your website elements.
6. Revisit your website personalization strategies regularly
Personalization is neither a one-size-fits-all approach nor a set-it-and-forget-it tactic. No matter how successful website personalization may be working for your online business, amending your efforts now and then to match the changing needs of customers is utmost essential. Revisit your personalization strategies on a regular basis and make changes wherever necessary. The more you experiment with new ideas, the better you'll be able to serve your customers.
7. Add a clear privacy statement
The process of website personalization demands collection of visitor data, be it as simple as their name, email ID, contact number, the current location of operation, or peeking through their browsing history and so on. Intruding into one's privacy may not be a good idea. Unless you clearly state the terms of information used in your site's privacy policy section along with an assurance that information is gathered for visitor's own benefit and will not be misused in any possible manner. Such declaration provides visitors with a sense of security and builds brand trust.
Top 4 Website personalization examples (With Use Cases)
Owing to a number of benefits offered by website personalization, more and more companies are entering and exploring this arena of experimentation. Let's see how ventures running in different industrial segments are being benefited from website personalization.
1. B2B industry
When it comes to generating demand and converting more visitors into repeat buyers, B2B is a tough market to please. You're not focusing on selling your products/services to visitors whose only concern is whether or not a widget would match their drapes. You're essentially targeting small to large enterprises who have complex obligations and priorities to match. Offering a personalized experience to such visitors (as compared to other industries) allows you to build a strong personal relationship with them before they enter your sales process. It also gives you an opportunity to keep them intact for many years to come.
Use-Case #1: Evergage Helps Visitors Find Relevant Content through its One-to-One Recommendations
Content, in general, is very important for B2B companies, throughout their purchase funnel, as it serves as the backbone to their demand gen programs. And, after investing a lot of time in creating high-end content pieces, you'd definitely want to make sure that the right segment of your audience reads them – and as many as possible. Otherwise, it's a sheer waste of time, money, and effort.
Evergage, a leading cloud-based software company, creates a plethora of content pieces for a variety of its visitors – adding myriad use cases fetched from different industries, and for different stages of the funnel. Instead of generally promoting all its content pieces in one single section, the B2B company uses one-to-one content recommendation feature to ensure that visitors landing on its site see content that's most relevant to them basis their affinities, previous downloads and the industries they cater to. For instance, Evergage shows algorithmically driven content recommendations in its main menu bar and throughout its entire resources page as well.
Use-Case #2: IP based Homepage Personalization
Dropbox is one of the world's leading file hosting service providers. With an aim to offer a personalized experience to its visitors, the company shows different homepages to different users based on their IP addresses. Here's how!
2. eCommerce industry
Personalization today, has become an integral part of the B2C industry. More so, it's not something that consumers expect, they demand a personalized experience. Here are some classic examples of B2C personalization.
Use-Case #1: Adjust Navigation According to the Interest of the Visitors
ASOS is one of the leading eCommerce platforms that offers a myriad variety of both men and women clothes, accessories, beauty products, and more. Pay a visit to ASOS for the first time and you'll see the following homepage.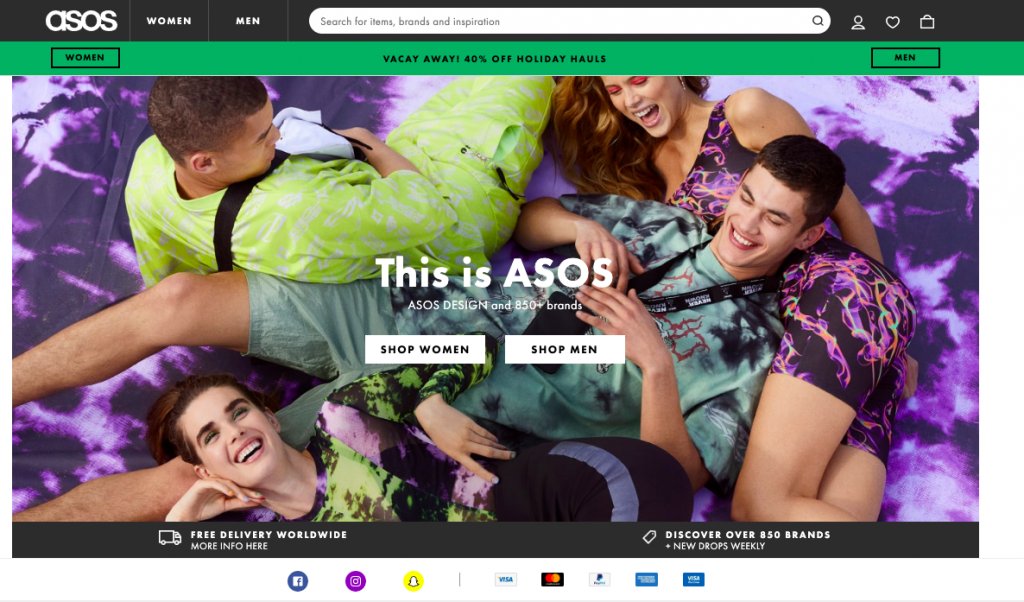 Meanwhile, if you navigated through the site, for instance, browsed through the "Women" section, you'll see a homepage more centric to your latest search. Something like this: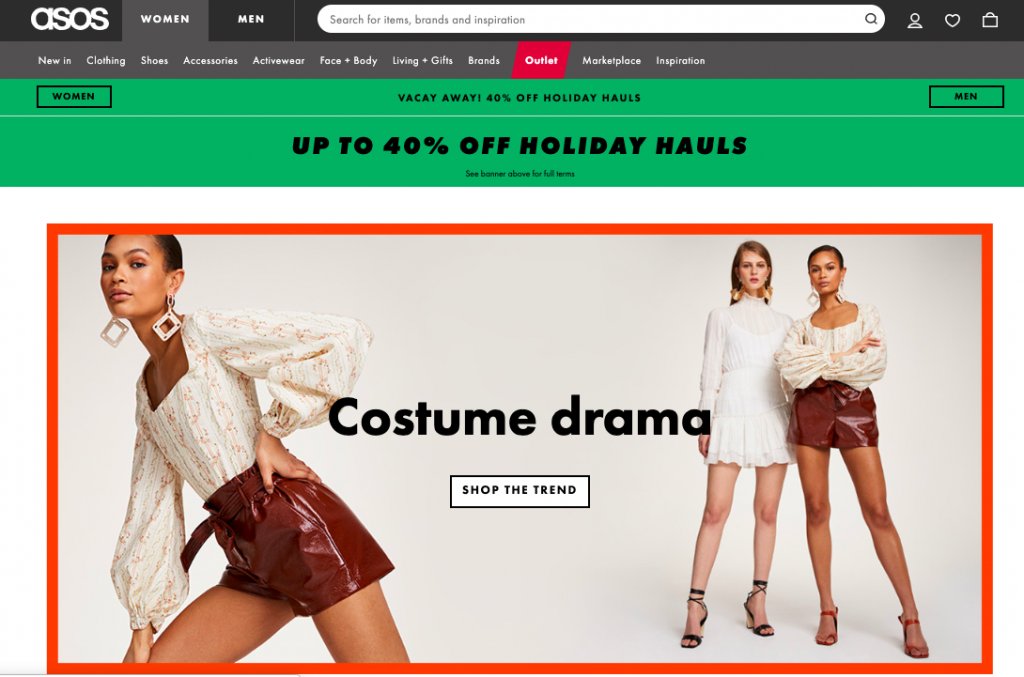 Using specific personalization techniques, cookie retargeting to be precise, the brand ensures that its visitors see what interests them the most.
Use-Case #2: Recommend Products Based on a Visitor's Browsing Behavior
Amazon is by far the best example of personalization. The eCommerce giant has integrated personalization to its roots. For example, check the image below.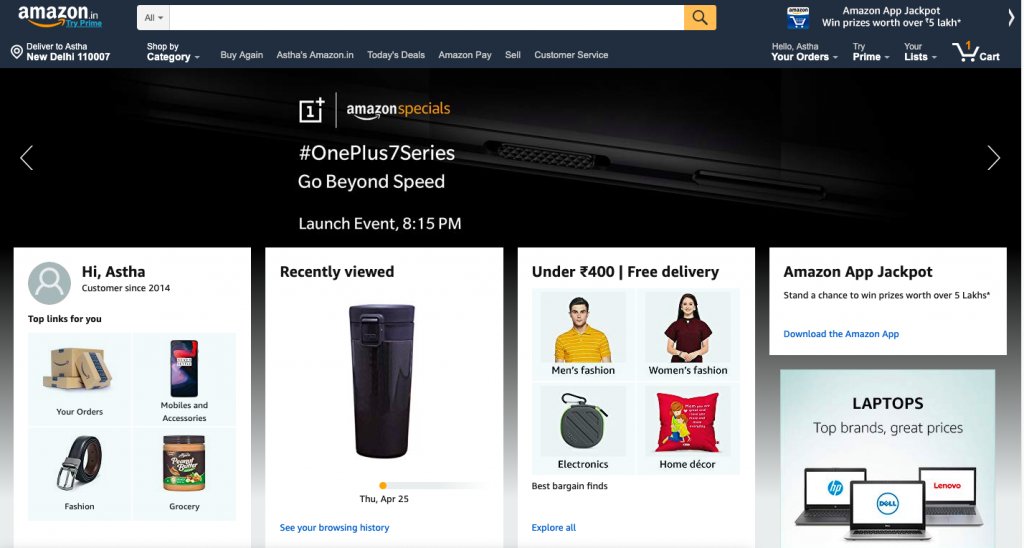 The homepage not only greets you by your first name, but also informs how long you've been using the platform. In this case, Astha has been Amazon's customer since 2014. Furthermore, it showcases 'top links' as per the customer's taste, recently viewed item, as well as product recommendations basis their search history.
Additionally, when you browse through a product, it also recommends items related to it while might be of interest to you.


Such personalization serves dual purpose for Amazon. It not only saves its customers from the hassle of looking for similar products (phone cover and screen guards in this case) but also increases the chances of selling more products in one go.
3. Travel industry
Thanks to the ease of collecting visitor data using advanced analytical tools, the travel industry too is making the most of website personalization benefits. Today, travel brands have more information and the right kind of tools to make their products as well as communications more effective and meaningful, and offer an experience that compels customers to come back for more.
Use-Case #1 Use Geo-Location Personalization to Attract Visitors and Convert them into Repeat Buyers
Booking.com is one of the best examples of a travel site that understands the power of personalization. When you log in to the site, Booking.com shows a recommendation widget. If you notice, the site personalizes these recommendations in real time. But how? You haven't really shared any personal information with the site.
Upon landing, Booking.com identifies the location of its visitors. Based on their IP addresses, the site creates recommendations. Typically, these recommendations are based on most frequently searched travel destinations by people in and around their area – Omaha, Nabraska in case of Image 1, and New Delhi, India in case of Image 2.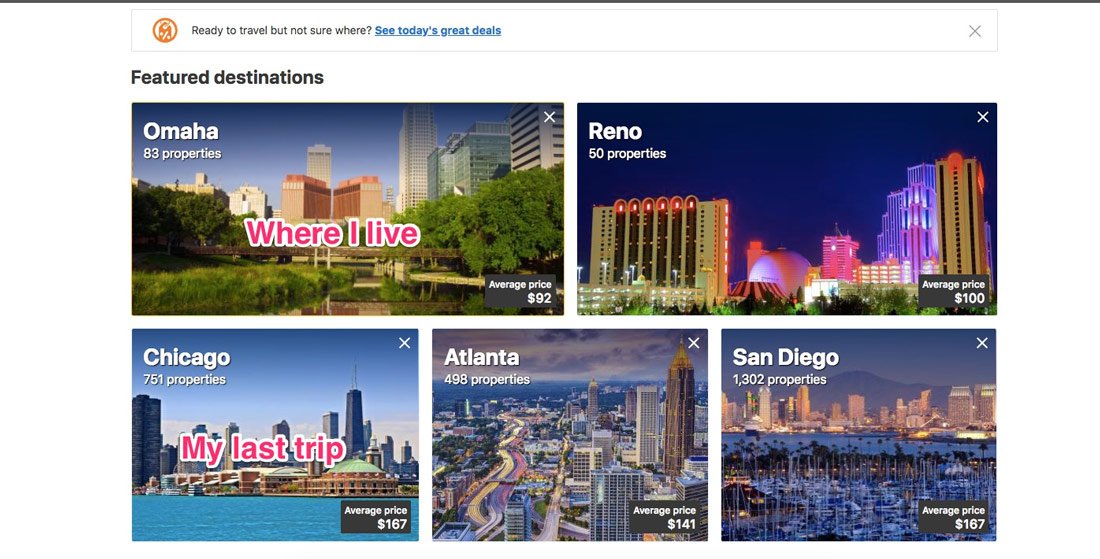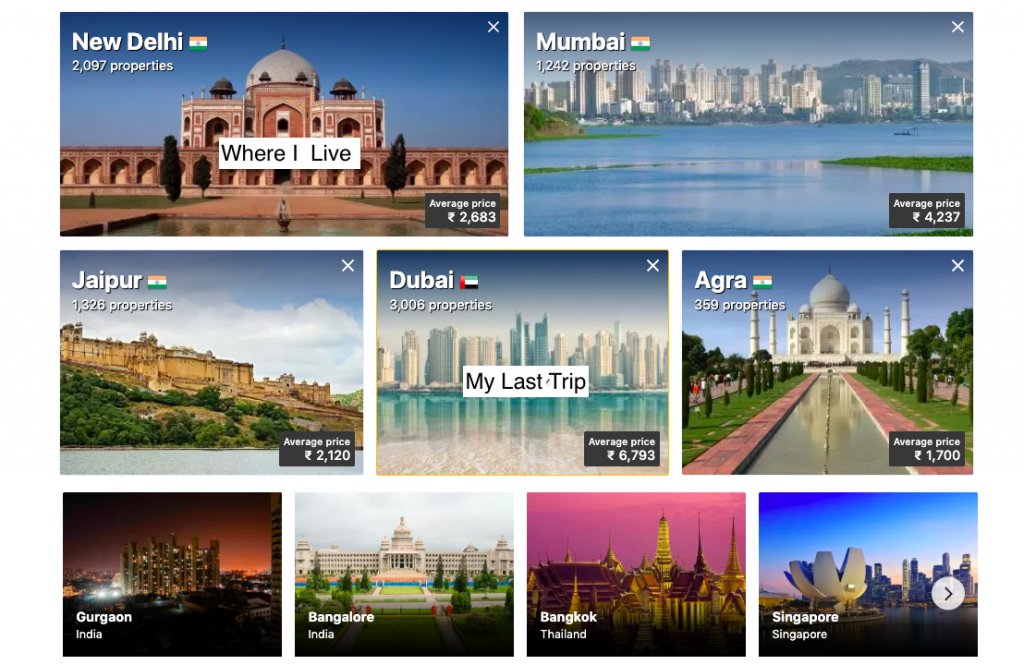 Use-Case #2 Use Search History to offer Personalized Recommendations
Agoda.com is no exception to personalization. Being one of the world's leading online travel & related service providers, the company ensures that every customer that logs on its website is greeted with a personal touch. Here's how!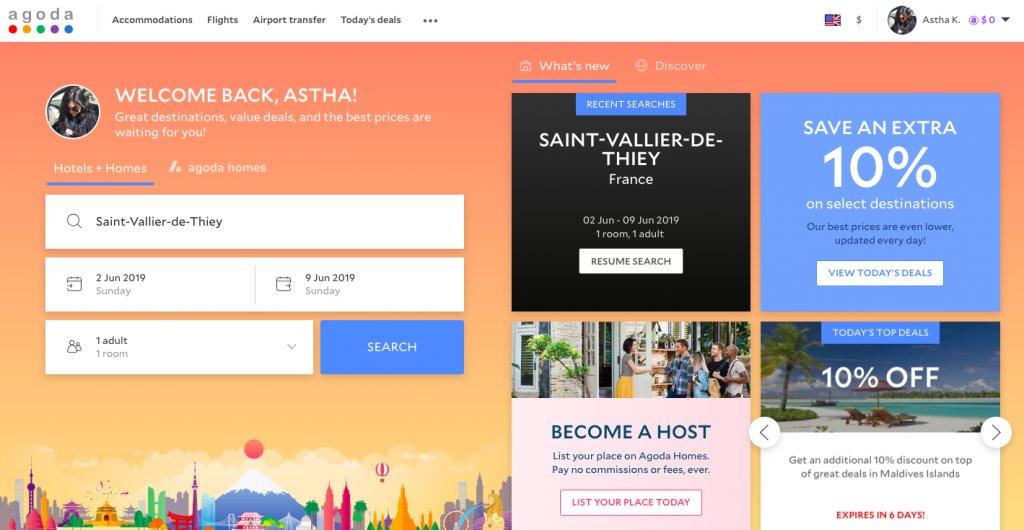 In addition to this, the site also shows a customer their recent searches (by analyzing their search history) and allows them to resume their search as well as complete their abandoned booking.
As you dig a little deeper into Agoda's site, you'll see that the site does a great job creating urgency through social proof. Here's how!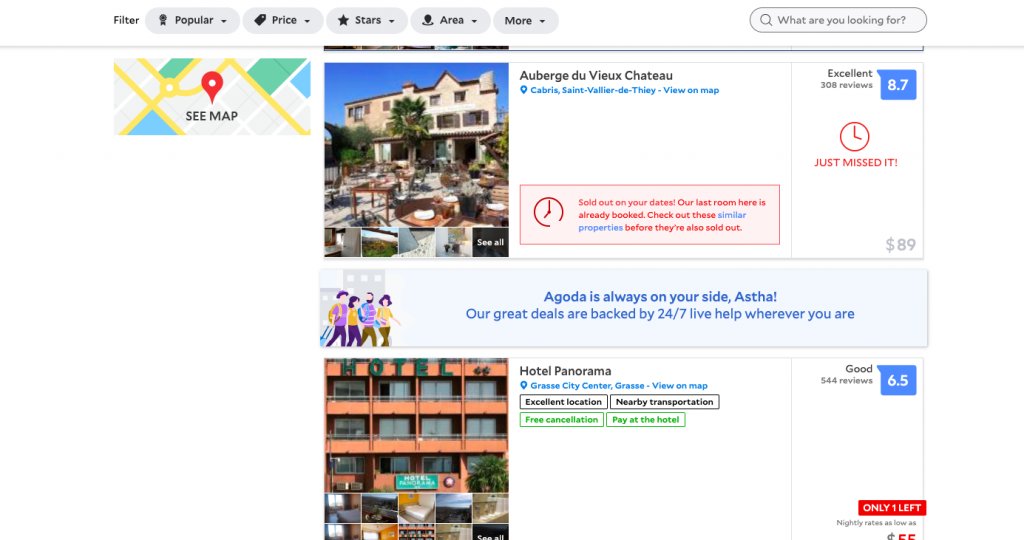 In the image above, Agoda.com let's you know that there's literally only one room left for your selected dates, and you must make the most of the opportunity before it's lost. Additionally, instead of filtering out the sold out rooms, it makes them visible to solidify the need to act fast before the opportunity is lost. The use of copy is pretty good.
Lastly, adding a trust banner, "Agoda is always on your side Astha! Our great deals are backed by 24/7 live help wherever you are" is another great way to tell customers that Agoda is there to back them throughout their journey.
4. Media & Entertainment industry
From movie/series recommendations to song suggestions, online consumers today are getting used to seeing content that matches their interests. In fact, as per an article published by Loyalty360, about 74% of customers feel frustrated when they are not offered a personalized experience. Customers tend to stick to brands that at least know their name, understand their needs, preferences, and tastes, and present content that's most relevant to them. Here are some examples of companies which are pulling out really well.
Use-Case No #1: Provide One-on-one Customer Experience
It's no secret that Spotify, the digital music service provider, has brought about a revolution in how media and entertainment brands should perceive as well as adopt personalization.
The music giant not only personalizes playlists based on the taste and preferences of its listeners but also ensures that people cherish their one-on-one experience.
Every now and then Spotify also rolls out new and improved personalization strategies to lure its customers and leave them spoilt for choices. For instance, in the past the music service provider offered personalized playlists like Discover Weekly, Release Radar, and Daily Mixes, among others, to allow its listeners to enjoy the music of their choice and be introduced to new, trending songs which matched their interests. Now, Spotify has brought about a change here. It now offers playlists which are personalized for each listener based on their individual taste. This means that no two listeners have the same playlist.
Use-Case #2 Using the Right Algorithms to Improve Platform Functionality as well as Customer Experience
In its 15 years of existence, Facebook has completely revamped the way people communicate with each other today. The digital social media network not only allows individuals to share photos, videos, play games, and have conversations, but gives a very personalized newsfeed of what's happening around – with friends and in groups you're following. It typically shows you posts that are most relevant to what and whom you want to see. For instance, if you love cooking and follow food-related pages, Facebook personalizes your experience by showing content posted by those pages.
Facebook uses a series of algorithms along with collecting real-time data to understand what its customers like and dislike. Based on their behavior, the digital platform then personalizes the experience of its users and shows content that's typically 90% accurate to their interests.
Website personalization tools
There are many content management systems and eCommerce platforms offering basic personalization options. However, a website personalization tool is needed for complex targeting capabilities.
Choosing a tool depends on factors like company size, company use cases, marketing tech stack, budget, and the marketing team's experience. While there are many tools available in the market, here is a curated list of website personalization tools known for their product capability and versatile use cases.
VWO Personalize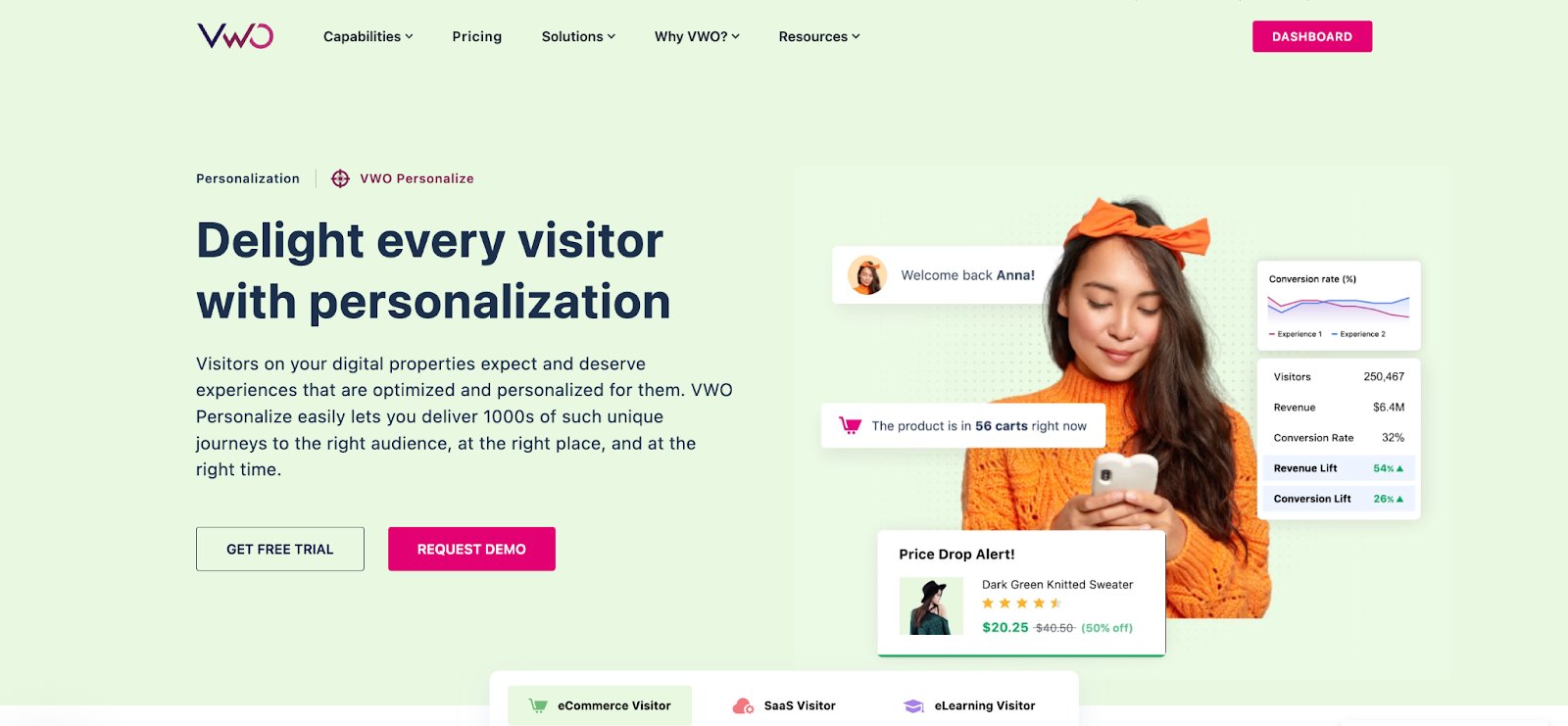 VWO Personalize lets you build personalized experiences for visitor segments without the dependency on the development team. It was ranked a leader in the personalization engine category of G2 Summer 2022 Reports. Here are some of the noteworthy features:
WYSIWYG Visual Editor to create a personalized experience for cohorts in a couple of clicks.
Real-time reports with the ability to slice and dice data to get insights.
Native and API integration with third-party analytics, CMS, CDP, and ABM to analyze customer behavior and create complex customer cohorts with ease.
Strong privacy and security protocols to keep your customer's data safe and secure.
VWO crafted this tool from its experience of serving 2500+ customers. VWO Personalize is available for a free trial with a quota of 10k visitors per month. Click here to grab the free trial.
Mutiny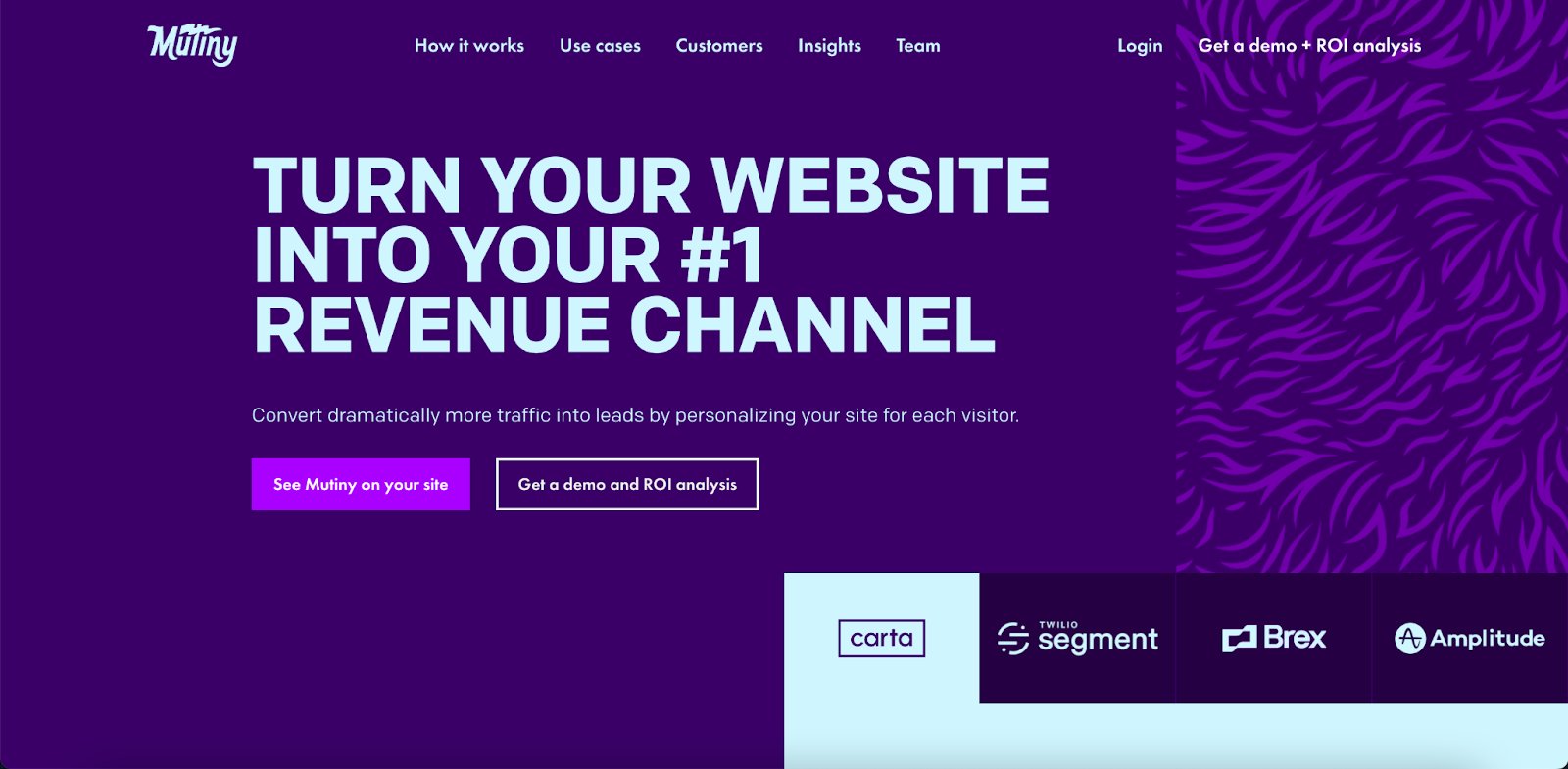 Mutiny is a web personalization tool to create personalized web experiences for the end user without an engineering or data analytics team. Here are the offered features:
Visual editor with AI suggestions to create personalized web pages.
Complex targeting based on 300 attributes from sales and marketing tools.
Real-time reports with the ability to export data to third-party analytics tools.
Salesforce Evergage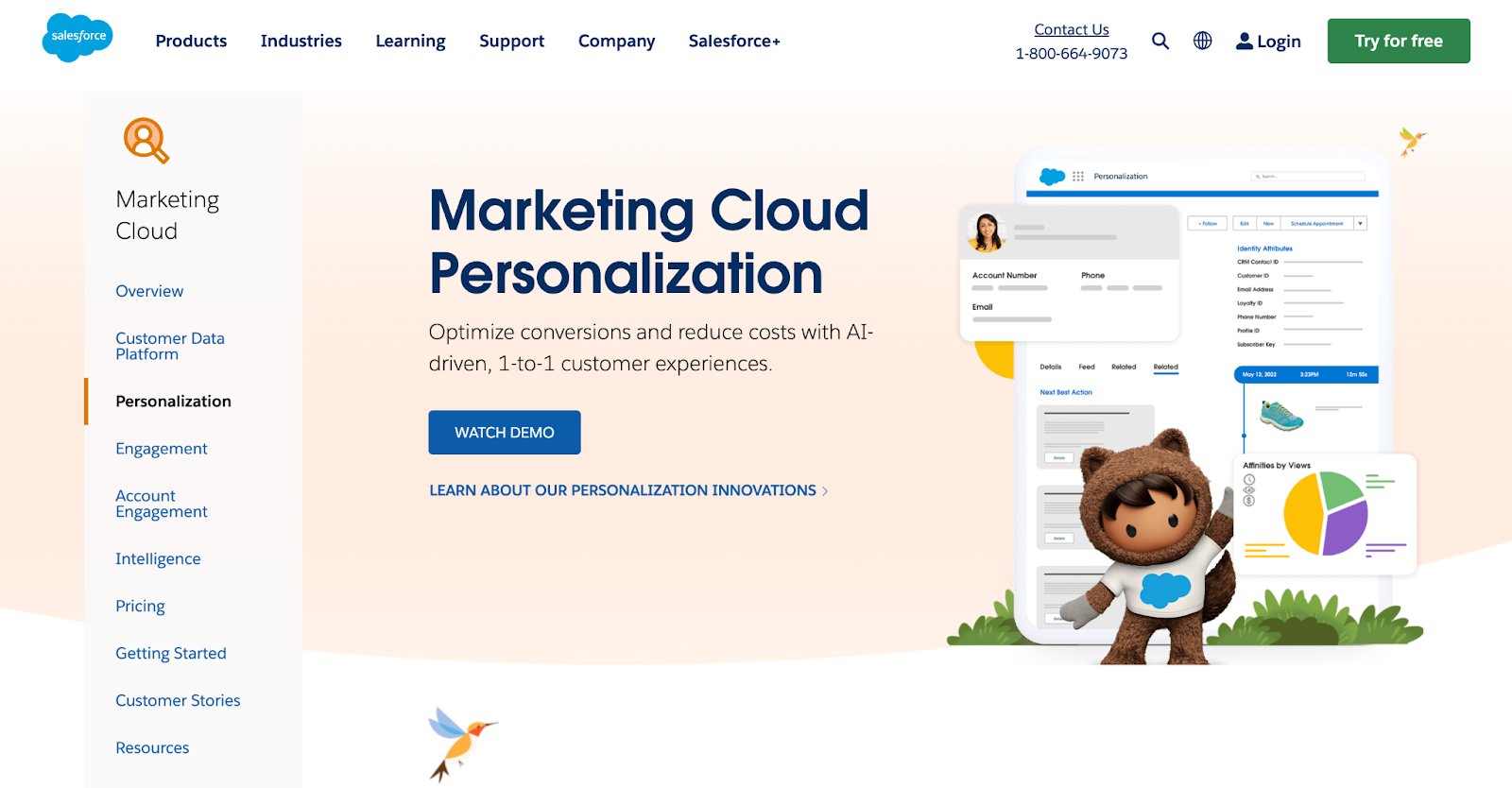 Salesforce Evergage is a cloud personalization platform that gives a complete view of customers and prospects and allows the creation of a tailored user experience. Here are some of its features:
AI-driven personalization of offers and recommendations sections to improve conversion.
Behavior-based personalization, like starting an outbound journey when a user abandons a cart.
AI-based A/B testing of individual customer experience for hyper-personalization.
Dynamic Yield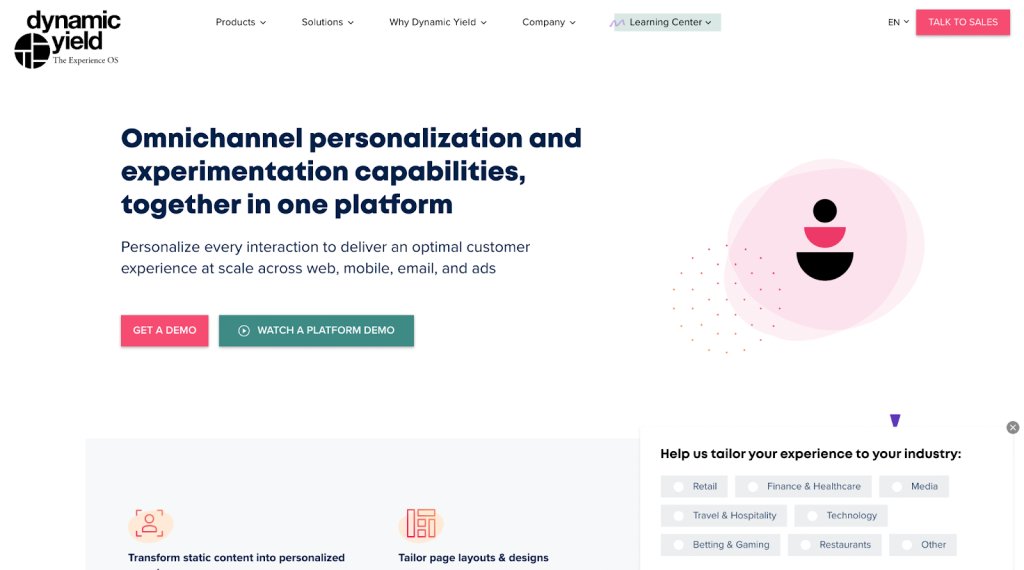 Dynamic Yield is an omnichannel personalization tool to create a tailored experience for users on the web, mobile, email, and ads. The company has a client base of 350+ enterprise customers. Some of the available features are as follows:
Visual drag-and-drop editor to create a personalized experience for user segments.
Server-side and client-side testing to experiment and deliver personalization.
AI-powered automation to choose relevant page content for each user.
Optimizely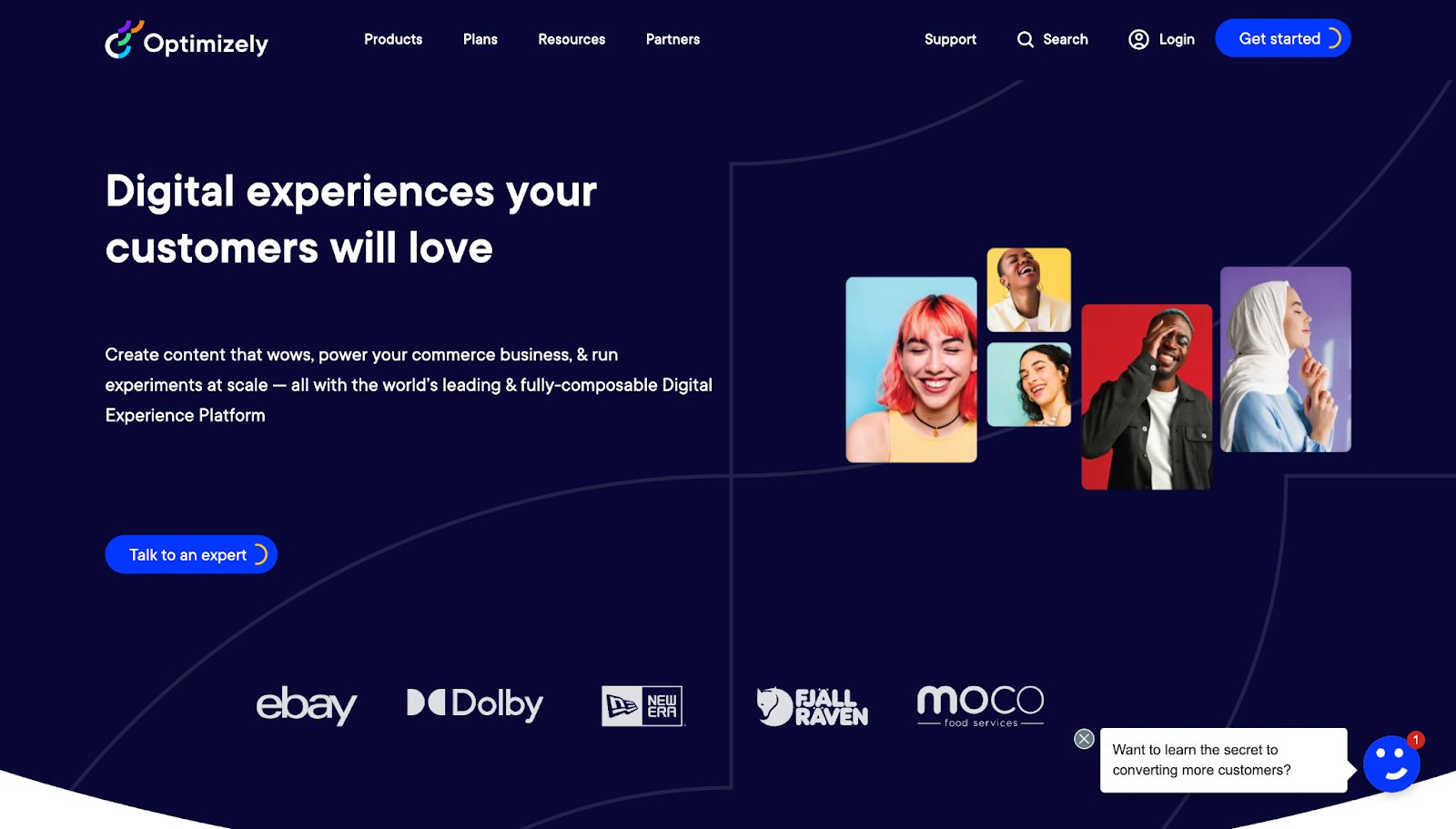 Optimizely offers web personalization to deliver targeted messaging and experience on the website in real time. The tool gives the ability to swap sections of the webpage to give personalized experiences. Here are its features:
Machine learning model to recommend audience segments for personalization.
Visual editor for mobile and responsive sites with advanced code editor and API for developer.
Real-time reports giving insights on personalized experience performance against the original version.
Conclusion
In today's highly competitive online market landscape, being personal, timely, and relevant is the key to making your brand stand out as well as proving to customers that you have the right products and services for them.
Web personalization is not just another technology that you can experiment with, it's a branch of knowledge that empowers you to effectively and efficiently connect with your customers, engage with them, improve your cross-channel marketing strategies and increase ROI to manifold.
Frequently asked questions on website personalization
Deliver great experiences. Grow faster, starting today.