Using Personalization To Increase AOV And Conversion Rates
Dear |FNAME|,
As a valued customer, we'd like to…
For many eCommerce companies, the first personalization project begins with FNAME. We have become really good at personalizing emails because we know that it works. Emails personalized with recipients' first names increase open rates by 2.6 percent.
Shoppers are more attracted to marketing that targets their interests and purchase patterns. This doesn't only apply to emails – using personalization in your eCommerce branded store is the best way to build a relationship and keep customers converting.
The more often customers return, the better you become at delivering relevant suggestions and content for them. According to an Adobe study, 40% of online revenue comes from returning customers…who only represent 8% of site traffic. Using personalized eCommerce recommendations, enterprises can build a stronger, more profitable relationship with their users.
Now is the time to optimize revenue opportunities and become better at selling to the right customers at the right time. Read on to learn how to use personalization to drive up average order value, or AOV.
Importance of Good Data
Personalization doesn't work if you don't know anything about your customers. The more relevant and accurate data you gather, the more refined and detailed picture you can draw. Customers are happy to help you get to know them too. 75% of shoppers like it when brands personalize products and offers, while 74% of online customers get frustrated with a website when content that appears has nothing to do with their interests.
When customers sign up on your site or check out for the first time, use this opportunity to collect information. This will help you with informed promotion and planning recommendations in the future.
As your relationship grows, you can continue to learn more about your customers.
How often are they buying?

What is their AOV?

What campaigns have converted for them?
Finally, customers have the most information about themselves. Allowing them to personalize their own experience by sharing their gender or interest information is a simple way to ensure that you aren't showing them irrelevant information or products.
Customer data can come from anywhere, and it's necessary when personalizing experiences. In summary, look for the following data points:
Location/IP address

Channel of entry (social/email/Amazon)

New or Returning customer

Previous searches

Shopping history

Shopping patterns (based on parameters such as the AOV)

Customer segments (people who are like them)

Customer-provided information (gender, interests)
Enabling social logins like Connect with Facebook will also help you get demographic information about your customers, without them having to provide it themselves.
Now that we've got a good picture of our customers, we can start personalizing their experience. There're three main ways to do this—by segmenting, history, or trend analysis.
Personalization by Segmenting Customers
There are several ways you can personalize a customer's experience even without asking for any information. When customers land on your site, you already know more about them than you might think.
Practical Tips
Use geotargeting to show the correct language and currency.
Right now, I'm in Austria, so Wool and Gang default to Austria shipping rates and are showing me prices in Euros. This reduces concerns international customers might have about shipping abroad or currency exchange. Reducing concerns means an easier checkout experience, which means better conversions.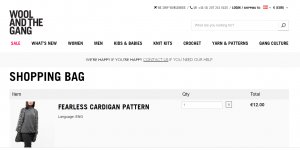 Using cookies to know if a customer is new or returning.
If they are new customers, prompt them with a pop-up module to sign up and get a discount on their first purchase. Welcome them to your site, explain who you are, and save their email addresses for future selling opportunities.
Spearmint LOVE offers 10% off for first-time visitors if they sign up for the newsletter. It's a little bonus that later helps convert visitors at a higher value.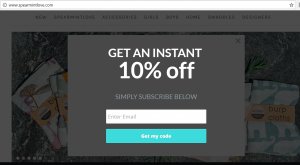 Segment on the basis of individual shoppers vs. wholesalers
"Wholesalers" is another segment of customers who have different needs. Individual shoppers want quick, one-off purchases and may not be as likely to sign in or create accounts on branded sites.
But catering to wholesale clients by allowing them to sign in to receive special discounts and review orders without calling an account management team makes the experience much better for them. Clarion Safety sells industrial-grade safety labels. This organization has created a special experience for wholesale customers that allows them to use different check-out options, such as "charge to the account."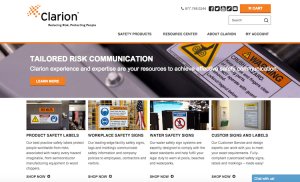 Identify and segment by the channel as a source of entry
Different paths signal different intents.
If they found your products through Pinterest, they are looking to browse and are more visual. If they clicked an email coupon, they could be price conscious and should be shown more sale items. Get inside your customers' brains and show them what they want to see—this will provide you the highest chance of a conversion.
Personalization by Previous Activity
After a relationship has been established between you and your customers—whether that's just through visiting or years of purchasing history—you have information about them from their previous activity. Use this information to customize their experience, and upsell and cross-sell products that are relevant to them.
Practical Tip
Before purchasing, visitors go back and forth with regard to an item when not sure. They might visit the same site multiple times in a week. A surefire way to get them to convert is to show them their recently viewed items whenever they visit your website. If you're able to offer a discount on products that they've viewed multiple times, it might help you seal the deal.
EpicTV combines this strategy with the least purchase amount for free shipping. This means that visitors will usually add something from their recently viewed list just to achieve that perk.
When customers are viewing their carts, at that instance, you can use previous searches or purchases to suggest complementary items. Red's Baby uses this method to suggest accessories for the main purchase and incrementally increase the AOV. I added a stroller to my shopping cart, and this site suggested matching accessories—all under $50. At this instance, suggesting other types of strollers wouldn't be effective.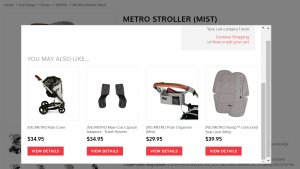 Think about what it's like meeting customers in the real world. The more you see them, the more history you have of them. You might know that they have kids or that they like to play squash on weekends.
This context makes personalized recommendations and upsells easier. Try and replicate this online. Shopping at an eCommerce retailer doesn't need to be impersonal, and it shouldn't be.
Personalization by Building Patterns
Taking the time to build a better recommendation engine makes sense and helps generate additional revenue. According to Barilliance and data based on 1.5 billion online shopping sessions, personalized on-site product recommendations constitute 11.5% of revenue through eCommerce sites. That's a big chunk of revenue to miss out on!  
Practical Tip
To optimize across all customer visits, dive into analytics and look for purchasing patterns. Do shoppers tend to return often if they buy a specific item? Do many shoppers buy a combination of items at the same time? Finding and taking advantage of these opportunities can help drive up AOV.
For example, recommending products that other customers bought helps crowd source the best options. Check out these suggestions by Blue Tomato when viewing an item. 

Flash Tattoos speaks their customer's language and makes their Recommendation section fun. "You'd also look good in" is a flattering way to suggest similar products across different styles.

If customers have viewed the shipping policy and not purchased, they might be hesitant about shipping costs. Try offering free shipping at a certain cart value to convert potentially cost-sensitive customers. Finding these patterns that expose reasons for cart abandonment helps create a better experience for your customers. They'll feel like you are addressing their concerns before they even ask!
Final Tips
Now that you're ready to start personalizing the shopping experience, we've got a few final tips for you:
When you're suggesting or upselling, use your screen space wisely:
Remember the purpose of each screen, and don't distract customers from completing their purchase. On the checkout screen, the single Call-to-Action should be to convert and pay for what they've selected. Cluttering the screen with additional products can reduce your overall conversion rate.
Personalization isn't a set-it-and-forget-it tactic:
You need to constantly reevaluate your metrics, hypotheses, and experiments to keep getting better at selling to your customers. Don't be afraid to try things out and get personal! Your customers will love it and reward you for it with higher AOVs.
Over to You
Have more ideas on how to increase AOV and conversion rates with personalization? Send us your feedback and views at marketing@vwo.com

If you would like to know how VWO Personalize can enable you to build delightful, contextual experiences, take a free trial or request a demo with our product experts.