How Data Can Drive Increased Personalization
I was on a hunt to find the perfect skincare brand for me, and guess what? I learned that if you want to create a lasting impression, personalization is the way to go.
I was evaluating two skincare brands to make a decision on which one would be the best fit for me. I remember receiving generic emails from one luxury skincare brand that simply spoke about their achievements and who they were. It felt impersonal and lacked the emotional connection I was looking for. On the other hand, I received emails from another luxury skincare brand that were personalized to my preferences and skin concerns. This level of customization not only showed that they cared about my individual needs, but it also made me feel valued as a customer.
And this got me thinking – as much as brands love the idea of using personalization in their marketing efforts, not every brand gets it right.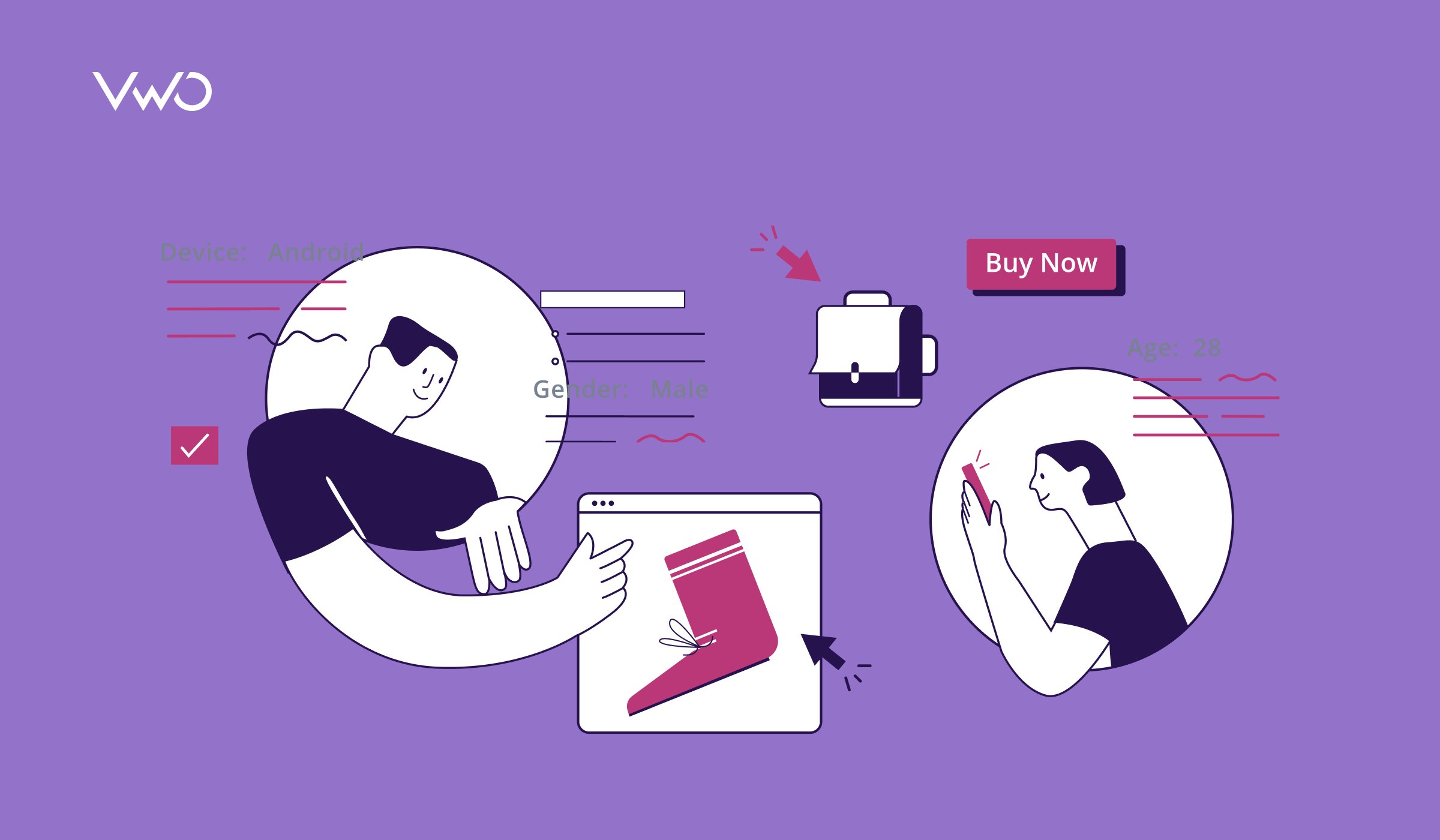 Personalization isn't just about sending out random discounts or automated birthday greetings. It's about understanding the customer, their preferences, and behavior across different touchpoints and delivering a tailored experience.
This is where visitor or customer data lays the foundation of kickass personalized campaigns. If brands don't collect and bring together customer data, they'll be light years away from acing their personalization game.
In this blog, I discuss why and how you can use data to get personalization right so you connect with your audiences and improve their experiences with your brand. Let's begin then.
What Data Should You Track?
Long gone are those days when businesses could rely on just identification data to create basic-level personalized content.
Today, you need to track everything a customer does across their buying journey starting from awareness to purchase and even post-purchase. So, here are the types of user data you need to collect to deliver personalized experiences.
1. Identification Data
This type of data provides basic demographic information about a person.
Name
Location
Contact
Age
Job title
2. Descriptional Data
This data centers around where users work, their habits, and their lifestyles.
In which company do they work?
What is the size of the company?
What's the salary they get?
Lifestyle, habits, and hobbies of visitors.
3. Contextual Data
Contextual data shows a visitor's unique properties and gives context to their session on your website.
Are they using a desktop, mobile, or tablet?
What is the location of the device?
Which browser do they use?
What day of the week did they last purchase?
What time of the day do they purchase?
4. Behavioral Data
Behavioral data tells a great deal about a user's interactions with your brand. Such data will answer questions like:
How many times has a user purchased from your website?
Has any user brought the same product twice?
What products do a user search for the most on your website?
Has the user clicked on any upsell offers?
How many times does a user interact with a live chat?
How many times a user has opened the monthly newsletter email?
When you combine the power of all types of data, you unlock the real magic of personalization.

How Can You Track & Use Data For Personalization?
Collecting data from multiple customer touchpoints is challenging already. Using this data in the proper context is even more difficult. Wondering who can make the job easy for you? The answer is simple – a Customer Data Platform.
If you want to strike a chord with your customers through your personalization efforts, then a CDP is going to be your true friend and guide. Here are some reasons why CDPs are a must-have for modern businesses.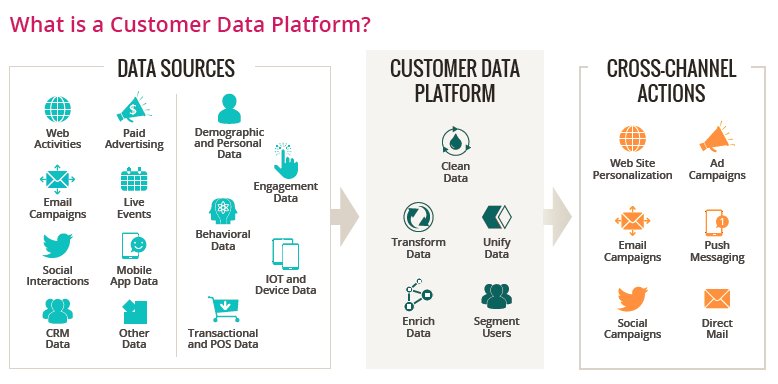 1. Collect & Unify Data
Collecting and bringing together all the data is step one in the personalization game. From what your users are searching for on your website to how they're interacting with your email campaigns, to even if they clicked on your targeted ads or checked out a product demo in-store, your CDP can scoop up data from everywhere. Whether you want to keep tabs on what your visitors are up to, track their behavior, or see how they react to different things, your CDP brings it all together from a ton of sources (like DMPs, CRMs, ABMs, browsers, and so on). Then it unites them all together in its database so you can use them to send out personalized campaigns across channels through any third-party platforms you want.
2. Single Customer View
With the data all consolidated and brought together, the CDP can now create a Single Customer View (SCV) where you can find everything related to a visitor in a single profile page – properties, attributes, segments, and experiments they are part of. This view hosts real-time and accurate data on each visitor that allows you to tailor your marketing efforts to deliver the right message at the right time to each individual.
Okay, let's think back to my experience with the luxury skincare brand that sent generic emails. If they had a super smart single customer view with all that extra data, they could've easily sent me tailored offers or content based on my preferences or concerns. Not taking advantage of all that data to connect with customers at the right time is a big loss, right?
Further, having a centralized view ensures that all individuals within your organization know where to access customer data. This streamlines the process and eliminates the need to spend time searching for and verifying data, thereby increasing its usefulness and value for your company as a whole.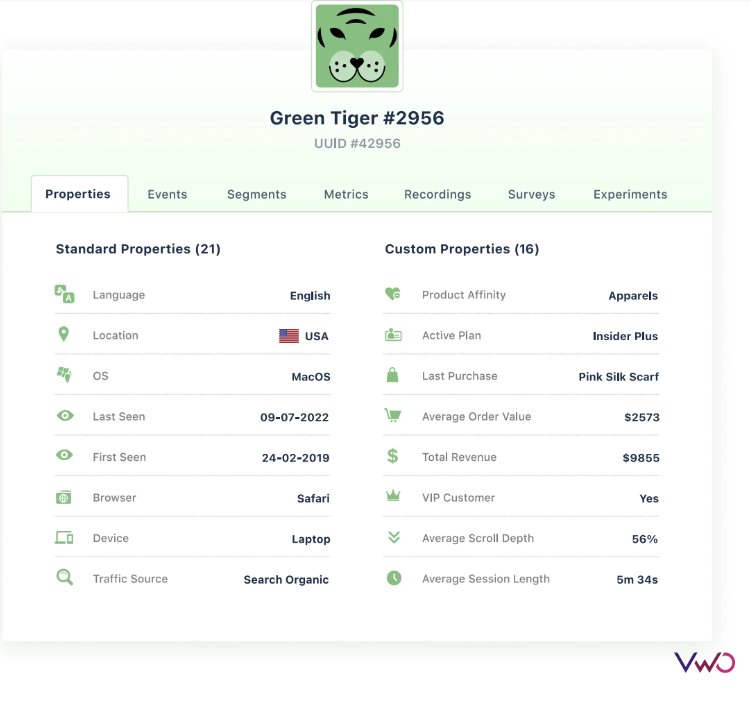 3. Segmentation
Okay, now that SCVs are ready, it's time to figure out who your key website visitors are so you can better cater to their needs. Segmentation is a surefire way to do that. Let me give you an example to help you understand.
So you're the owner of an online shoe store and you're curious to see how well your new orthopedic shoes are doing in Canada. Based on the data drawn from SCVs, you group customers aged between 40-55 sharing a common interest in this type of shoes in a single cohort. Within this, you further see that most of them are women. All you want to know now is where they're finding out about your product, and it turns out they're coming from organic search results. Now that you've narrowed it down to a very specific segment, you can start an ad campaign aimed at these customers who looked for these shoes but didn't buy anything yet.
This is how a CDP allows you to unlock the power of data, fine-tune your customer segmentation, and launch targeted campaigns for maximum conversion. Also, this is just one way to use customer data for personalization. You can also use it to make all sorts of personalized campaigns, like email, website content, and push notifications.
Why VWO For Data And Personalization?
VWO Data360 is the robust customer data platform you need to add to your martech stack. Of course, there is a multitude of choices available in the market. But when you opt for VWO Data360, you enjoy the benefits of some fantastic features that set this platform apart from the rest. Here are some of them:
1. Houses Advanced User Behavioral Insights
VWO has a host of behavioral analytics tools like heatmaps, form analytics, session recordings, and survey analytics. You can use behavioral data from here to feed into data collection in Data360 and therefore create accurate and up-to-date customer profiles.
2. Allows Creation Of Custom Business Metrics
From average order value to lifetime value per user, you can build and track complicated metrics like these by applying rules on the user's page-level engagement. In fact, any numerical data that is seen to impact your business goals can be turned into a metric only on this platform!
3. Integrates With Other VWO Capabilities
VWO Data360 and VWO Personalize work hand in hand to deliver the ultimate personalized experience. Data360 collects and consolidates data from all sources, creating a single customer view. This data is then seamlessly integrated with Personalize, which allows you to segment your audience and launch tailored campaigns based on their interests, behaviors, and attributes.
An example of how personalization with VWO works
Imagine yours is a hotel booking website, and you're using Data360 which collects data from various sources and consolidates them to create SCVs for every visitor.
Based on data collected by the CDP, let's say you create a segment of visitors aged between 30-45 looking for hotels that offer cab rentals in Manhattan, one of the premier business districts in the US. Next, you head over to VWO Personalize to launch a personalized website banner where you offer 20% off on booking business hotels with cab rentals targeting this user segment.
Here's another scenario. Say you want to promote the Las Vegas romantic package your company has curated very recently. You can use CDP data to create a segment of audiences from the US who interacted with your social media post announcing the launch of this new package. Through Personalize, you can set up a campaign where you show a pop-up that reads – Discover why Las Vegas is called the Romantic Capital of the world. Individuals who engage further with this pop-up may be given a discount if they make a booking for this package. Driven by data from start to end, this is a step-by-step process to nurture leads and ultimately push them down the hotel conversion funnel.
No matter in which industry you operate, the collaboration between Data360 and Personalize makes it easy for you to deliver a data-backed seamless personalization strategy that drives results.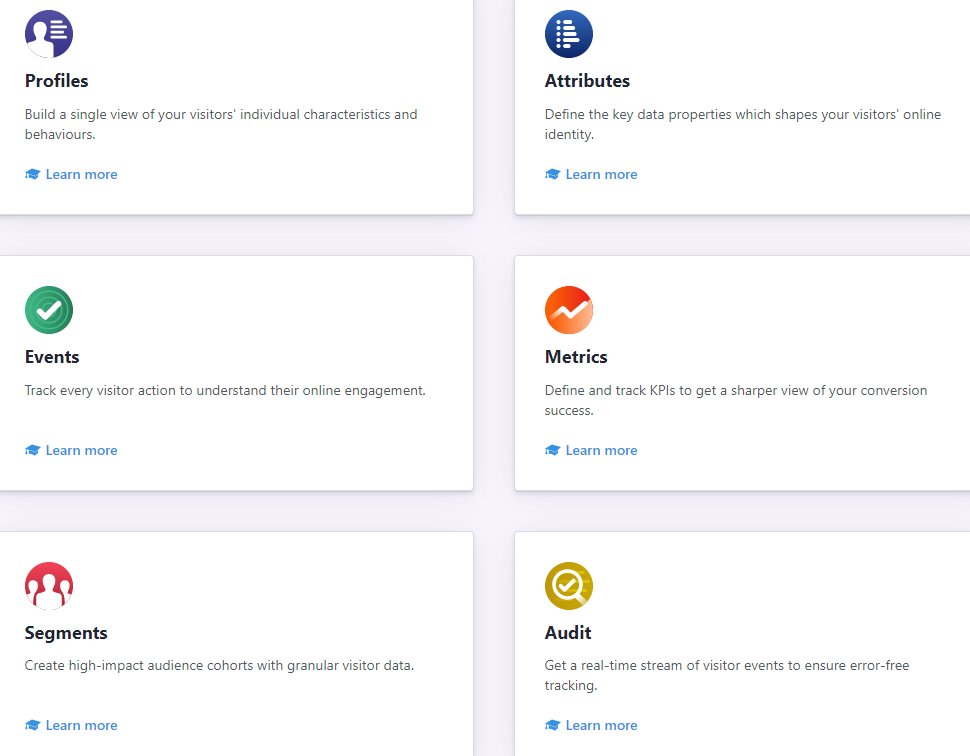 What About Data Privacy?
Data and privacy go hand in hand and there are no two ways about it. This is why VWO is built on a privacy-first approach that adheres to global data protection standards and regulations.
Its Data360 feature uses secure architecture and tight privacy controls to protect visitor data. Enterprise-grade encryption is used to hash unique user IDs and PII is automatically removed from profiles. Additional filters and rules can be added for further data security. All data is hosted on the Google Cloud Platform and distributed across multiple global locations.
Along with other stand certifications, VWO is compliant with regulations such as GDPR, CCPA, and HIPAA.

Your Journey To Data-Driven Personalization Starts Today
If you don't mind me being a little dramatic, I'd say data and personalization are a match made in heaven. While you need data to personalize, you need to personalize to make sense of all data, otherwise, it's like a bunch of Legos serving no purpose when scattered but giving rise to something meaningful when organized properly.
With VWO Data360 and VWO Personalize, you can harness the power of data like never before. And the best part is you can make the most of other VWO capabilities like behavioral insight analytics, experimentation, deploy, program management, and so on. Take a full-featured trial to chart your path to data-backed personalization.