What is behavioral targeting?
Behavioral targeting is a technique used in digital marketing and online advertising to target customers based on their web-browsing behavior. This behavioral data is used to create and display relevant content and ads and enables improving the effectiveness of marketing campaigns.
Behavioral targeting combines contact data with real-time information about the online activity/inactivity of your contacts to execute highly personalized and timely marketing activities.
A complete user profile is created by combining:
Pages viewed/browsing history
Previous search terms
Time spent on a website
Ads, content, and buttons clicked
Last date of the website visit
Purchase history
Cookies
Additional data about user activities with the website
Why is behavioral targeting important?
Before web-tracking technology made behavioral targeting possible, digital advertisers relied on contextual targeting, where ads would appear based on a user's related keywords and relevant topics (e.g., advertising kitchen knives on a cooking blog). However, behavioral targeting has several strong benefits over contextual targeting, including customized advertising and retargeting.
Using behavioral targeting, you can generate targeted advertising for the activities most crucial to your company. This will help you more effectively target members of your audience and provide more individualized experiences that will enhance engagement and boost the ROI.
Behavioral targeting vs contextual targeting
Behavioral targeting
This type of targeting makes it easy for advertisers and marketers to approach individual users. This approach is guided by the belief that the advertisement or content should be significant not to the website itself but to the user who is viewing it. Due to the increasing accessibility of user data, behavioral targeting has been extensively applied in digital advertising and marketing for more than a decade. An adequate amount of user data is required for behavioral targeting to be successful.
Contextual targeting
Ads displayed using contextual targeting are relevant to the content of the page. The context of the ad is used as the only data source for this targeting method, not information about the user. However, the relevance of contextual ads can be improved by integrating behavioral data.
Types of behavioral targeting
Marketing can be personalized using the below forms of behavioral targeting:
Onsite behavioral targeting
This kind of targeting involves the placement of ads on a specific website that enables businesses to learn about their customers' interests and provide the finest solutions. These advertisements are usually displayed on product categories or home pages, where consumers may view goods that could be of interest to them. Marketers do this to nudge visitors a little bit farther into their website and take a lead-generating action such as subscribing, inquiring, or purchasing. This kind of advertisement improves and personalizes the online user experience.
Network behavioral targeting
Network behavioral targeting involves the collection of cookies and IP data but does not collect names, emails, or other personally identifiable information. Algorithms interpret data regarding user preferences and purchasing intentions. Based on this, users are segmented and presented with tailored content. For instance, if a user searches for anti-age personal care items, the marketer builds and targets the profile of the user as a female over the age of 30.
Benefits of behavioral targeting
Campaigns that concentrate on behavioral target markets help both the marketer and the customer.
Advantages for the marketer:
Improve user engagement
With the use of behavioral targeting, marketers can attract people that follow distinct behaviors or are interested in a certain kind of content. It allows advertisers and publishers to design and develop adverts that make it simple for visitors to get information about the business, instilling in them the confidence and trust that is so important for encouraging customer involvement.
Boost in CTR
You will have a better chance of converting customers if you create personalized campaigns that are tailored to their interests and preferences. On the site, they might discover similar products or services or find information about a certain brand. This increases the chances of receiving more clicks.
Improved conversion rates
Users are more likely to engage with targeted content since it is significant to them, and they will perform the desired action, such as learning more about a product or purchasing it, hence increasing the conversion rate. Therefore, businesses can increase sales, customers, and revenue as a result of this strategy.
Advantages for the customer:
Enhanced user experience
Behavioral targeting can make the online buying experience more enjoyable and easy for customers in addition to improving their ad experience. This method makes it simpler for customers to identify essential items and learn more about them. For example, they can easily complete the "add to cart" and checkout processes with a few clicks. Viewers appreciate their surfing experience more when the adverts are mostly personalized, which increases user satisfaction and happiness.
Improved online shopping efficiency
Consumers can visit online stores fast by clicking through advertisements for items they are interested in seeing that are prominently displayed in their web browsers. Frequently, this results in a redirect to the page detailing the specific product that was featured in the advertisement leading to a faster checkout process after adding the item to the shopping basket.
Timely reminders and notifications for new products
Personalized ads displayed at the right time can assist users in returning to the website to complete an online purchase if they have been distracted from doing so.
Behavioral targeting process
In this section, we will discuss the process through which behavioral targeting develops customized and effective user experiences. It all comes down to monitoring internet user activity and gathering information from it. Some of the steps followed are below: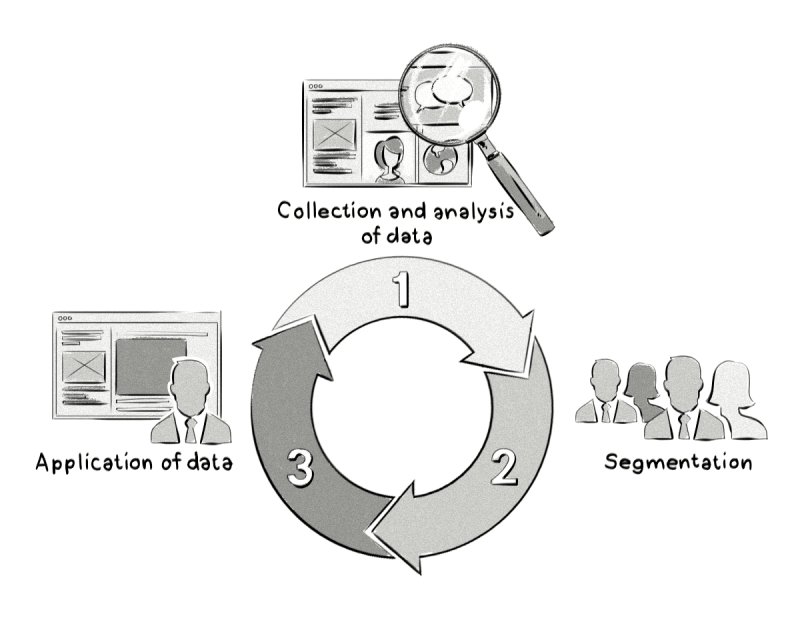 Data collection and analysis
There are multiple ways in which user data is collected, but third-party cookies are the most common method. The cookies collect information about new page visits, ad clicks, and time spent on certain articles or content. As more data is collected, user behavioral patterns can be formed, which improves targeted accuracy.
Segmentation
Following analysis, user segments are created using the acquired behavioral data. Forming these groups assists websites that emphasize behavioral targeting to become aware of the preferences, interests, and purchase patterns of each of these distinct audience segments.
Data application
Campaigns are tailored to match specific user segments to make advertising more relevant to particular groups of users and increase conversions and response rates. Customers will no longer see random adverts when they return to the network or website; instead, they will only get customized content and targeted advertising based on their past online behavior.
Conclusion
The advent of behavioral targeting has made it easier to increase conversion rates like never before. In addition to saving energy and resources, you can improve the cost-effectiveness of your marketing efforts when you publish content to reach users who have demonstrated specific interest. With VWO Data360, you can collect, aggregate, and enrich your customer data in real time. Additionally, ensure data quality and enforce governance across all channels to optimize experiments, personalize buying journeys, and fine-tune marketing campaigns.