How Audience Targeting helps you build Personalized Experiences
A deep dive into how VWO's advanced targeting capabilities, robust integration ecosystem, and sophisticated experimentation infrastructure work together to run tests on your customer segments and increase conversions.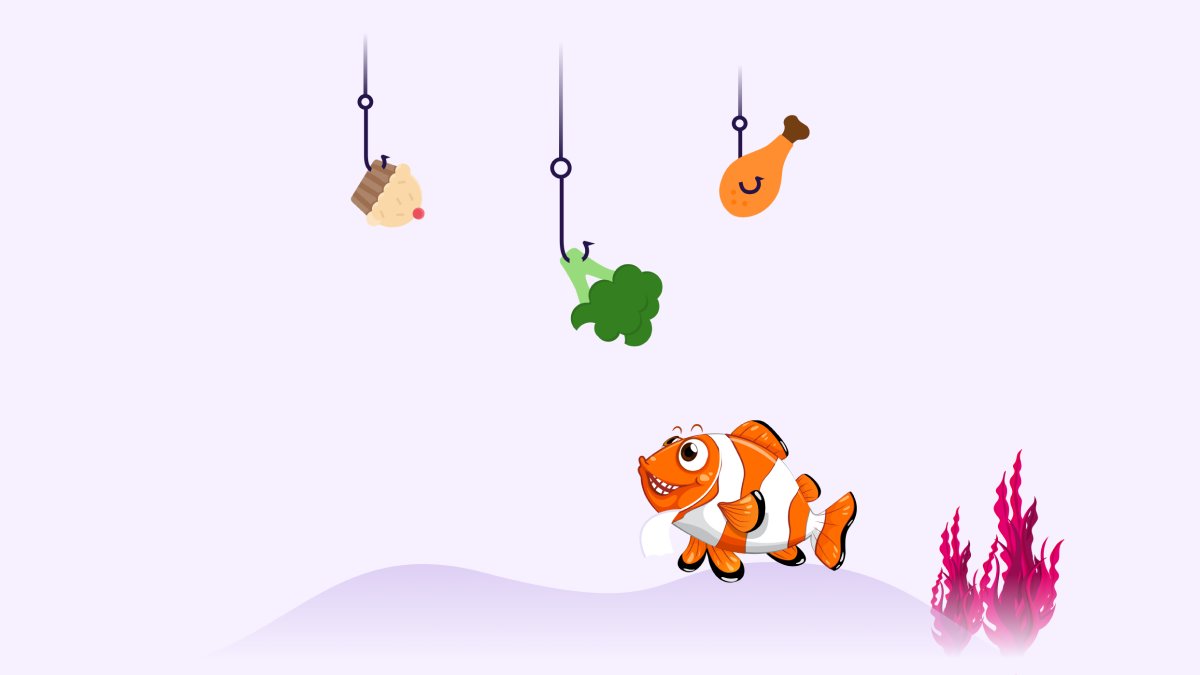 Customer buying behavior is continuously evolving. This is why converting website visitors to paid customers is becoming increasingly difficult. If your goal is conversion optimization, I am confident you will resonate with the fact that 'just' having customer data is not sufficient to build relevant experiences.
You could be sitting on a pile of data containing customer interactions, behaviors, preferences, and buying journeys across various customer data platforms, ABM tools, marketing automation systems, and other similar data repositories. But is that enough? How you leverage all this data is central to optimizing experiences, and it's what changes the game in your favor. What you need is the ability to test your ideas and target an experiment based on patterns found in such data repositories.
Now, we make this simple for you with the VWO Experimentation Platform. We have rule-based personalization where you can target an A/B test to a specific segment of visitors based on the data you have on them. Not just this, you can also personalize the experience, i.e. make one landing page and show a different copy to different visitors using individual data via dynamic text.
VWO gives you the flexibility to perform advanced tests like multivariate, multi-device, multi-page(the funnel), and mutually exclusive tests and also enables you to formulate a hypothesis by looking at real-time behavioral insights of your website visitors. The advanced targeting and dynamic text capabilities help you further personalize your experiences and target specific customer cohorts important to your business.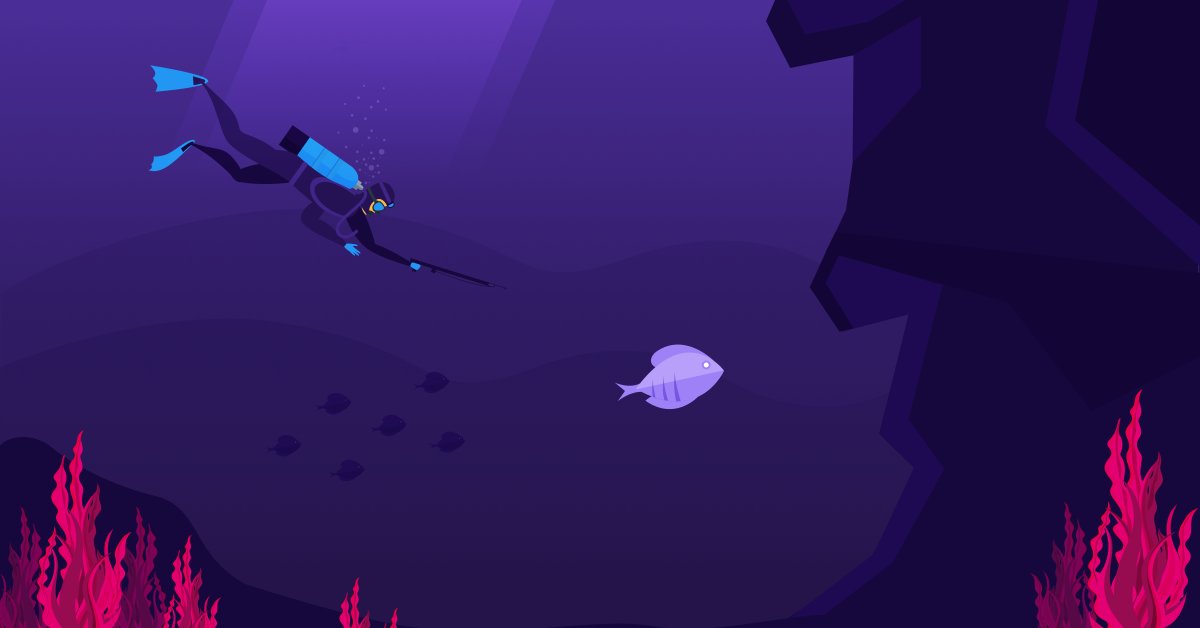 This article will help you dive into how VWO's advanced customer targeting can validate your personalization ideas, create relevant experiences, and boost ROI.
Let's dive into how you can run testing campaigns using advanced targeting
Firstly, let's discuss what capabilities advanced targeting brings to the table. With advanced targeting, you can target audiences in your tests in three ways – using
Pre-defined Audiences
Attribute-based Uploaded Audiences
Third-Party Data Audiences
Pre-defined Audiences are different behavior-based visitor segments on your website created on the basis of actions like clicks on an element, time spent on a page, page scrolls, and exit intent. Attributes List helps you target VWO campaigns to a specific audience using visitor attributes. You need to create a list with visitor attributes such as Cookie values, JavaScript Variables, or any other identifier and upload it to VWO. Third-Party Audiences are custom segments you create by connecting VWO to your tech stack so that you can use data specific to your customer cohorts.
Depending on the third-party integration, this can be a behavioral segment like anonymous users, repeat users, users inactive for 90 days, or ABM metrics like revenue range, industry, etc. You can also build complex segments by combining the three using logic conditions and saving them for reuse later.
Now, let's see how you use this capability to validate your testing ideas.
Imagine that you have customers across Europe and North America, and data tell you that 10% of your European customers have been inactive in the last six months (which says you are tracking by Lytics). As part of your digital strategy, you would like to test whether a promotional offer communicated to this particular set of customers would motivate them to reactivate their accounts. With Advanced Targeting capability, you can run an experiment to target a variation with the promotional offer to only the traffic originating from Europe and fulfilling the inactive condition. Our client-side experimentation interface makes this easy to do for even non-developers.
Watch how easily you can set conditions and pull third-party customer data (which in this case is behavioral data from Lytics) to create said customer cohorts, and run personalized A/B Test campaigns from within the VWO platform.
Our robust, easy-to-understand reporting will help you determine if your hypothesis is true. Suppose your variation is giving an uplift from your baseline conversion which is also statistically significant, don't worry, the VWO Bayesian-powered Stats engine takes care of recommending the next steps. In that case, you can confidently and quickly deploy the winning variation to your customer segment and convert your testing idea into an excellent experience for your customers.
Use cases for Advanced Targeting
Experimentation with advanced targeting capability opens up a whole set of new use cases that were (almost) impossible earlier using the conventional targeting methods that focus on demographics – device, browser, location, etc. Some examples of value-based use cases are:
Campaign to make anonymous visitors convert by showing them a specific promotion while running a different promotion for highly engaged visitors.
Delivering customized content using visitors' company or industry type.
Experiment to deliver personalized, relevant content using visitors' company revenue range and employee range.
Let's expand a use case in detail to see how it evolves into a personalization idea. Say you want to create a variation in an experiment for a visitor who has displayed the following attributes.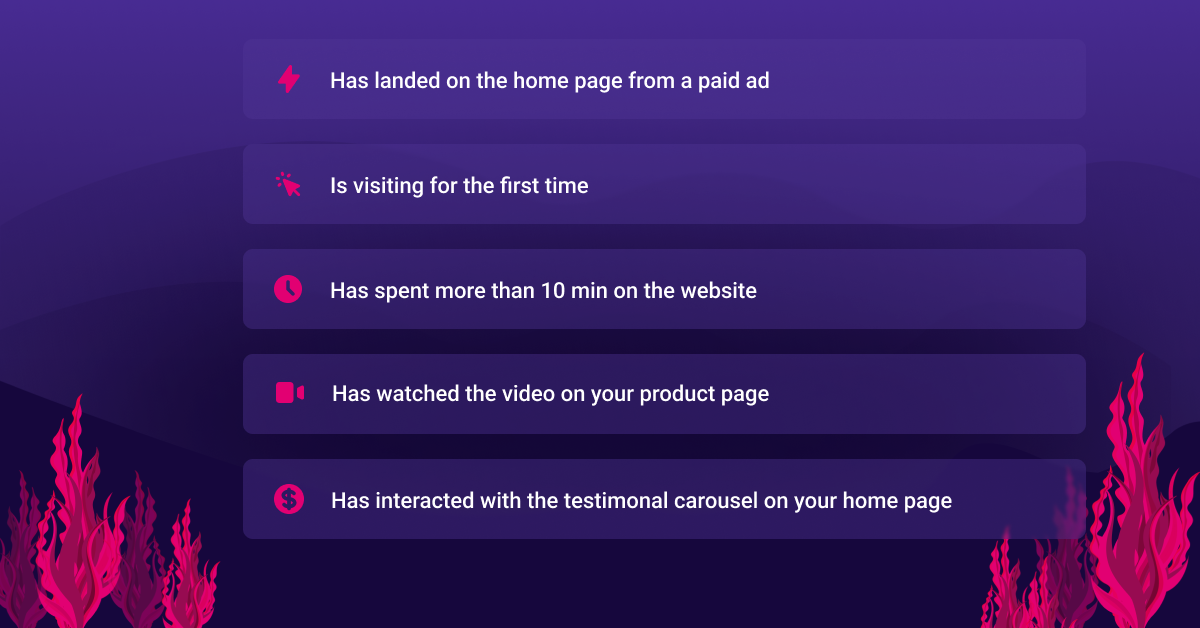 You can create a custom segment with the above attributes from within VWO. Watch how easily you can add conditions to segment your audience and target them with a personalized variation.
Let's assume your data confirms that visitors with these attributes come with the specific intent of understanding your product in more detail and exploring the pricing options available. You can then personalize the sales message you want to display on the home page specifically for these visitors. Finally, your A/B testing tool targets this specific set of visitors by showing them the variation with the personalized sales message and gives you results on whether the messaging is a hit or a miss.
Where can the data come from? Almost anywhere.
Third-party Integrations
Ideally, you should integrate your experimentation platform with your data tools to run A/B tests at scale with the unique customer cohorts from your data repositories.
For example, if you're managing an eCommerce store on Mixpanel, you want to run an experiment on the checkout page only for visitors who are part of your store's loyalty program. Our native integration with Mixpanel will allow you to select this cohort as the audience for your experiment on the checkout page.
Similarly, if you use DemandBase for your personalization needs, you can deliver personalized content to any user from a specific company's IP address and test its impact, or run A/B tests only for targeted companies meeting certain criteria, for example, all fortune 100 companies located in the US.
The comprehensive ecosystem of integrations that VWO offers, and is constantly building upon, empowers your experimentation program. You can leverage the data from customer data platforms, ABM tools, and marketing data repositories by seamlessly importing rich data cohorts defined outside of VWO in third-party tools like Demandbase, Triblio, Clearbit, 6sense, and Lytics. You can then run campaigns on them without re-configuring the audience within VWO again.
With the integrations supported by VWO, you can:
Quickly build B2B audiences using the attributes imported from the integrations.
Use the imported audiences as targeting conditions in VWO for A/B testing campaigns.
Test and optimize the experience for a specific set of audiences with targeted messaging to validate your personalization ideas.
Create a view for capturing recordings of this specific set of audiences. This will get insights into how your key audience segments interact with your website differently.
Uploaded audiences
Let's say you wish to target a particular campaign to all the premium users of VWO. Let's assume there were 100K visitors; all of those would have a unique cookie value in the user_id cookie. One way is to get in touch with the engineering team to get the list of every user ID that qualifies as a premium user. It is achieved by generating a cookie for people who match the user id in the list, which VWO then uses for targeting.
You can then upload this list of user ids to VWO. The Attributes List feature requires you to create a list (.csv or.txt) with the 100k user ids, upload it to VWO, and use it as a campaign targeting condition. All this, without the support from the engineering team. It's that simple.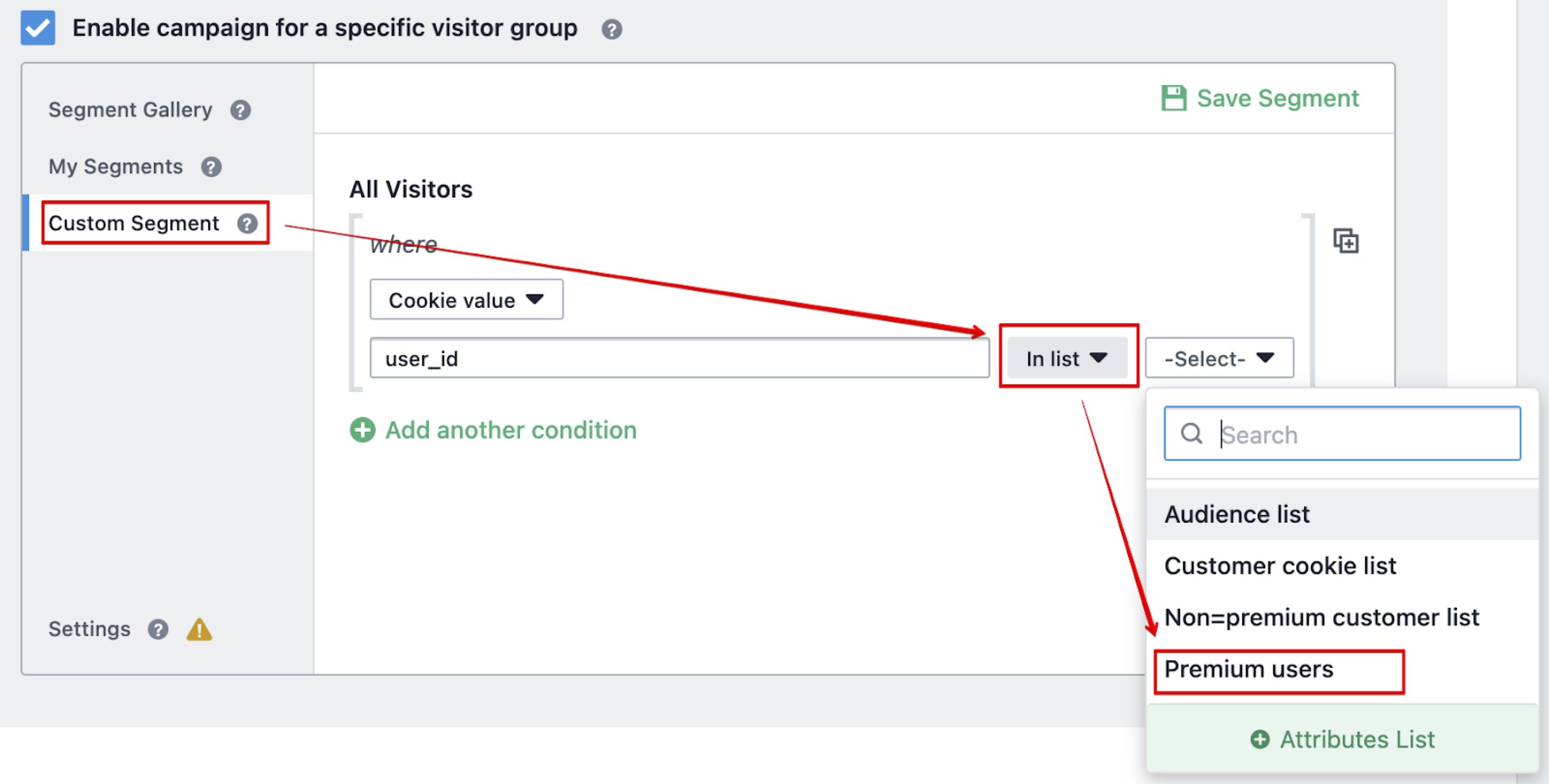 The final word
When it comes to conversion optimization, the ability to target an experiment based on user behavior or account-level attributes is a powerful lever in the hands of a marketer like you. But instead of shooting in the dark, you need to make data-backed decisions and validate your personalization efforts before rolling out new experiences for your audiences. Your experimentation platform, therefore, needs to possess two crucial capabilities:
Advanced customer targeting allows you to run experiments on customer cohorts built on complex conditions easily.
Easy integration with customer data portals without the need to import the data into your A/B testing tool to run experiments.
With VWO, you can start right away. Sign up for a free trial and explore the advanced targeting capabilities. You can also request a demo with our product experts or learn more about customer segmentation and the latest, most exciting product updates.