What is Behavioral Targeting? 4 Important Benefits for Marketers
Over the past decade, marketers have heavily advocated the use of contextual targeting (placing ads where "best-fit" potential customers are likely to browse) to get more visitors aboard and convert them into buyers with a subsequent repeat purchase. But with the advent of web-tracking technology, behavioral targeting has overridden contextual targeting by the margin.
In addition to segmenting visitors basis their web browsing behavior, behavioral targeting helps achieve higher engagement in an age and day where online swimmers are developing strong avoidance towards irrelevant ad formats.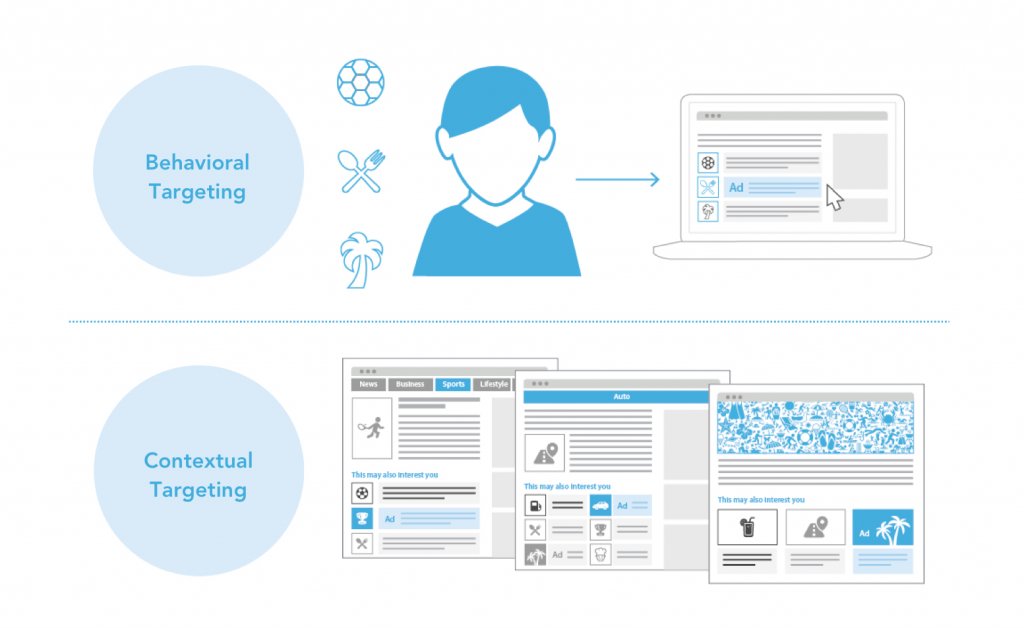 Furthermore, when used alongside personalization, behavioral targeting can help (and has helped) businesses scale up at an exponential pace. Needless to say, that market giants like Amazon, Netflix, and Booking are live examples of companies heavily using behavioral targeting to amp up their engagement and conversion rate.
Let's understand how to leverage behavioral targeting to your advantage.
The Behavioral Targeting Process
1. Data Collection and Analysis
Visitor behavioral targeting data is typically gathered from multiple sources, including websites, mobile apps, CRM systems, and many other marketing automation systems. This data further comprises of an individual's:
Demographics
Login information (in case of registered users) such as frequency of logins, particular hours of logins, number of devices used to login, and so on.
Sites/Pages users visit on the site
Session duration
Depth of content engagement
Last engagement date and items purchased
Page real estate
While gathering such data seems like a comparatively simpler task, many special types of tracking pixels or third-party cookies are employed to do the needful. Once collected, the data is then used to analyze and create audience segments.
Using data management platforms also serves beneficial. For a reason that they don't just allow you to harvest data about your target audience such as looking at a consumer's offline information and other data their device(s) gathers on a regular basis, but also store all the information, analyze it, and use it for successful behavioral targeting.
2. Segmentation
At this stage, visitors are combined into different segments basis their behavior. For instance, people who frequently buy chocolates are put under one category, whereas the ones who buy cakes are put under another.
3. Data Application
Basis segmentation, unique campaigns are now designed and implemented, at this stage, to match the needs and requirements of specific audience segments and make every advertisement more relevant to them. This not only helps add a personalized touch to your campaigns but increases the chances of more responses and conversions as well.
However, setting up campaigns is just the onset. Measuring and validating the performance of your personas and targeted content is equally essential. Using qualitative and quantitative tools such as analytics, heatmaps, scrollmaps, and visitor behavior analysis, as well as A/B testing your campaigns on specific segments to understand whether or not you're moving the right direction, is crucial.
Behavioral Targeting and Personalization
More than a luxury (or an added advantage) website personalization is now hygiene helping businesses flourish in the era of stiff competition. Treating each website visitor as a separate and unique entity, and engaging with them in a more complex interaction than the conventional one-site-fits-all strategy has become paramount. So, by interpreting a visitor's intention in real-time using behavioral targeting, it becomes possible to respond to each intention in a personalized manner.
Here are some personalization techniques where behavioral targeting plays a prominent role:
Recommendation engines that show products/services basis an visitor's past content consumption: Youtube is a great example to quote here. The video-sharing platform, through its personalized recommendation engine, provides multiple video recommendations to its users along side showing relevant ads.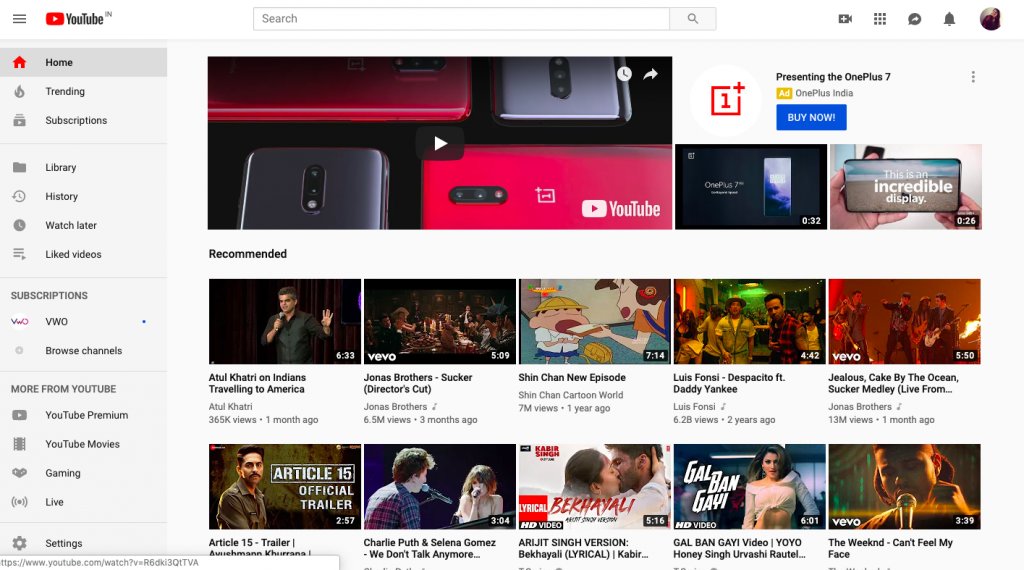 Targeted email campaigns based on the behavior of a user: Amazon masters this domain. If a user pays a visit to the eCommerce giant's platform, browses through some of its smartphone categories, but leaves without making any purchase, Amazon instantly sends a personalized email (check the image below) to the user sharing a list of similar items that might be of interest to them.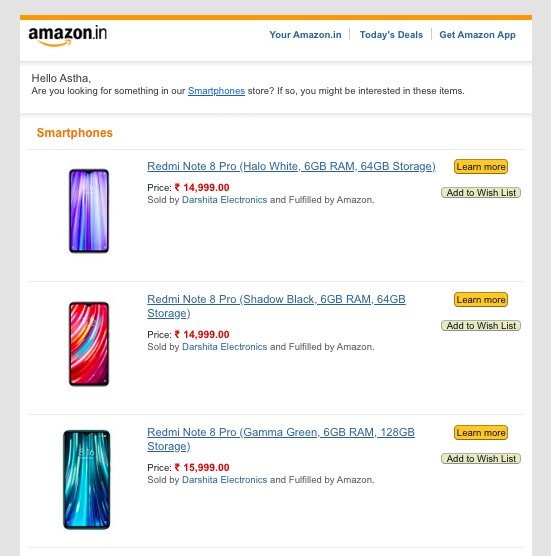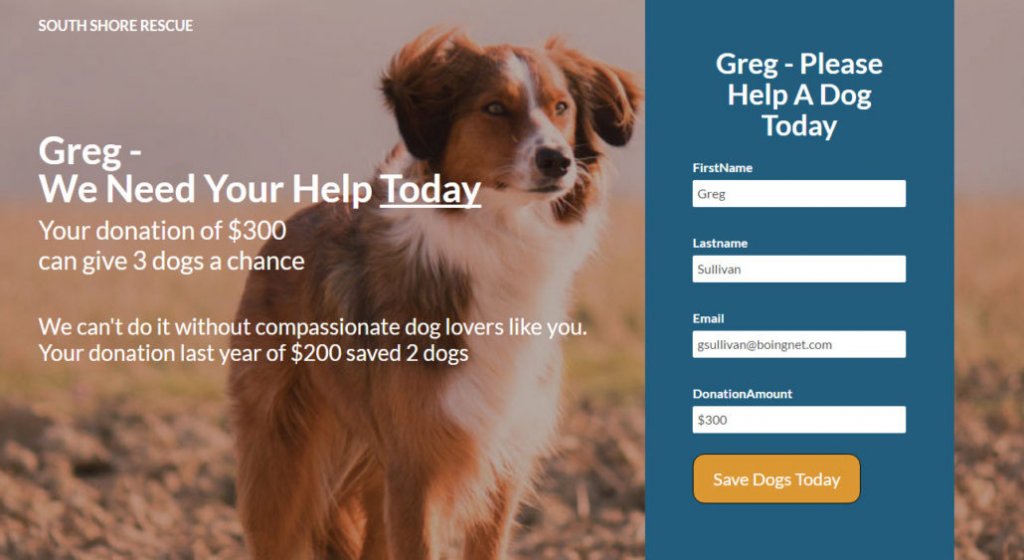 Benefits of Behavioral Targeting
Besides being a good marketing technique, the advantages of using behavioral targeting are much more tangible than abstract number systems. Creating campaigns using visitor behavior data not only benefits business, but visitors themselves can reap multiple rewards as well. Below mentioned are some advantages of behavioral advertising:
Increase On-site Engagement
Behavioral targeting serves as one of the best techniques to re-target and/or re-engage with visitors that abandoned your site due to some or other reason(s). By putting together the missing pieces of information about a visitor's on-site journey such as, the products/services they showcased their interest in but left without buying, and other similar information, you can retarget them by showing content (messages, products/services, etc.) that reinstate the closed conversion process.
For instance, Flipkart uses emails to to re-target and re-engage its customers and get them to enter their conversion funnel.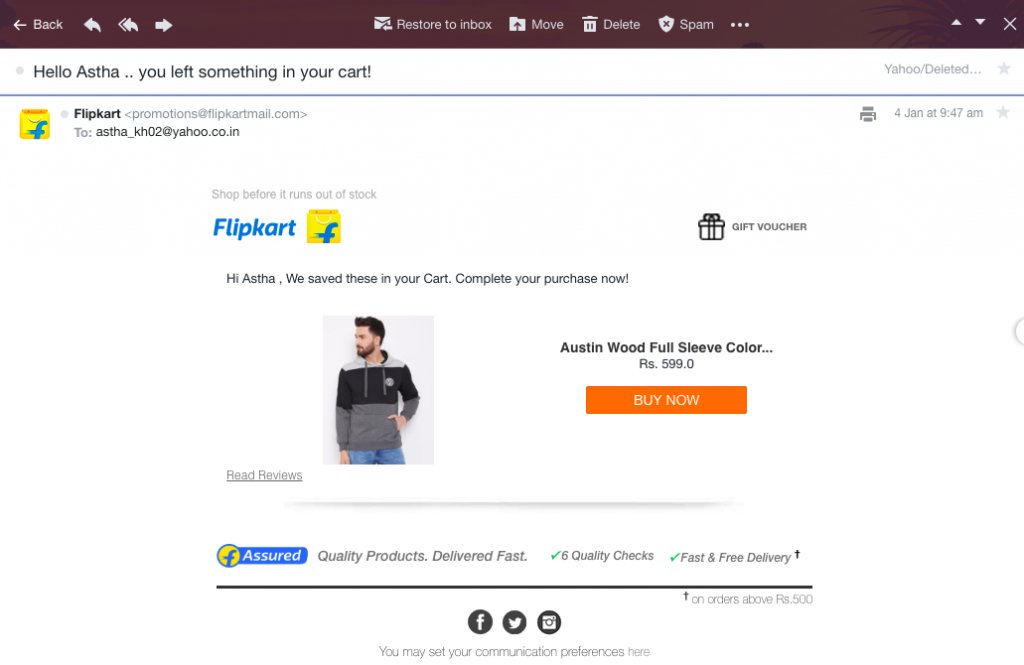 Initiate Long-lasting Communications
With behavioral targeting at hand, the possibilities of engaging with all sorts of visitors segments are endless. For instance, if you're planning to target visitors from Amsterdam, then create special newsletters for visitors hailing from this specific region. Let them take a peek into your newsletter to instill trust, and then invite them to subscribe to the newsletter services. Such a method not only helps initiate long-lasting communication but also get more visitors aboard your lead-gen ship.
Hook Indecisive Prospects
While swimming through your site, some visitors may display behaviors suggesting they're interested in your offering, but at the same time, they also have doubts about whether or not to proceed. If that's the case, then push these indecisive prospects a little hard. Bait them with some incentives or discounts, and even show personalized recommendations for them to be more conclusive in their decision. Here's an example for you to understand.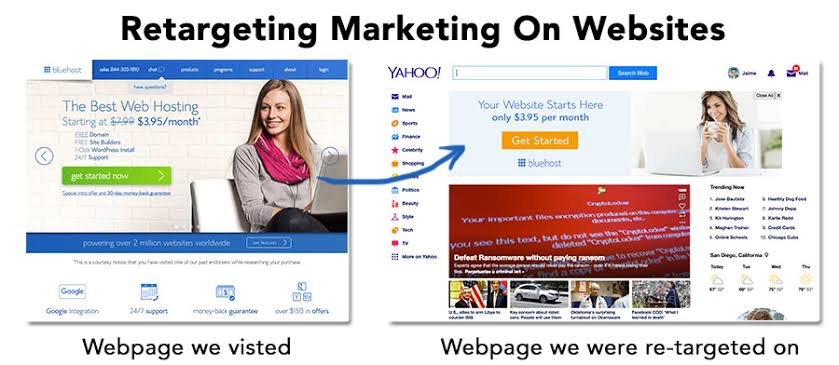 Note that "indecisive behavior" can be identified by the number of pages a visitor views, their time spent on the site, and many other similar patterns of search. It's typically up to you to settle on metrics you wish to analyze according to your site's profile and target to define and segment indecisive prospects into one bucket.
Increase Average Order Value
Every time a visitor explores your website, they leave unique navigation pattern. It is this pattern that proves beneficial and helps recommend products/services that correspond to the visitor's preference. By helping your on-site visitors discover similar and interesting products/services can not only help increase the number of orders you receive but their overall value as well.
To conclude, behavioral targeting is a powerful tool that creates an opportunity for businesses to understand better and meet the needs of their target audience while achieving their business goals and increasing ROI.