Behavioral Targeting: the most underused technique in today's marketing
We recently launched geo-behavioral targeting feature in VWO. (We also launched usability testing module; our vision is to offer all tools and techniques a marketer would need for conversion rate optimization). People use A/B testing, multivariate testing, analytics and usability studies for improving sales and conversions. However, I feel behavioral targeting is massively underused. Part of the reason could be due to difficulty of implementation, but with tools like ours (and others in the market), it is becoming easier by the day to get started with all sorts of targeting and personalization campaigns.
What is behavioral targeting?
Different visitors behave differently on your website. The traffic you get on your website is composed of visitors with different intentions: some are on your website for purchasing your products, some are there for joining your organization (finding careers page), some are there for simply researching, and others are probably there by mistake and have not even tiny interest in what you are selling. Most websites and landing pages on the Internet are same for all these different kinds of visitors. That is why we see websites crammed with multiple call-to-actions (buy now, sign up for newsletter, free trial, like us on Facebook, and what not). These websites try appealing to all sorts of visitors, but finally, end up appealing nobody.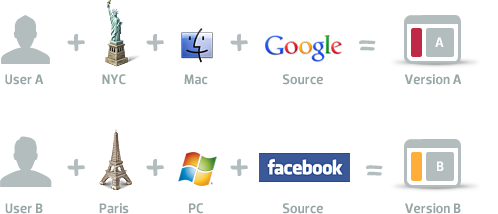 In my landing page optimization tips article, I recommended knowing who your target customer is and having only one clear call to action button (and thereby neglecting other visitors). But, isn't it a much better idea personalization of website or landing page for each kind of visitor? Imagine having one call to action personalized to each visitor type. Behavioral targeting lets you achieve precisely this.
Def. Behavioral targeting is a method using which you can target different content, offers, variations or campaigns to different visitors depending on their behavior and attributes on your website (and off your website too).
There are many variables that you can use for such targeting. Some of the most prominent ones are: (All these are supported by VWO)
Location (city, country, region)
Referring URL (where did the visitor come from?)
Campaign (which ad did the visitor click on?)
Device (iPhone, iPad, Android or Windows/Linux/Mac)
Visitor frequency (new visitor, or returning one? Is it his/her 2nd visit or 5th?)
Search keywords (did the visitor arrive searching for 'red shoes' or 'christmas specials'?)
There are many more variables (including using custom data such as gender, age, etc.) which can be used for targeting.
So, behavioral targeting must be hard?
Actually, no! On the surface of it, though, implementing such a technology does sound like a mystery. The work involved in creating specialized content and offers for different visitor segments seems pretty intimidating. Moreover, even if you have got the creatives done, who would implement the technology behind determining attributes of a visitor and then showing the targeted content? Well, for this either you can cook up your own technology (like many big firms such as Amazon, eBay, etc. do it), or use one of the platforms (like ours).
To give you a simple example, you can use our visual editor for creating specialized content (without knowledge or effort of HTML), and then simply choose to show that content for a specific segment. Take a look at the screenshot below: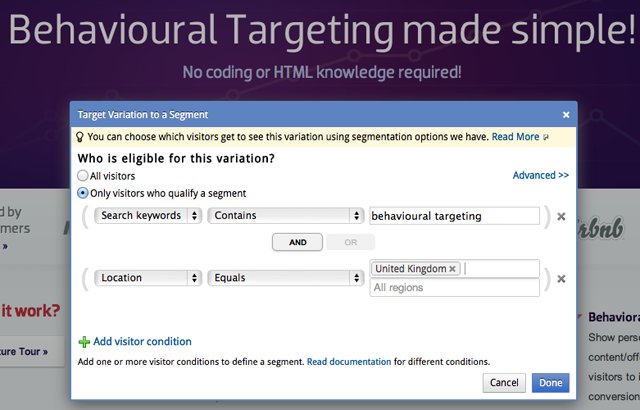 So, for example, our default headline is 'Increase your website sales and conversions', but if someone from the UK searches for 'behavioural targeting' and ends up on our homepage, customizing the headline for him/her would be as simple as a few clicks and a couple of keystrokes.
Examples of behavioral targeting
The example above was a very simple one, but indeed you can setup all sorts of interesting targeting campaigns. Some more examples would be:
Inserting search keywords dynamically into headline or content of the landing page
Showing particular offers depending on search keywords or referral URLs (of partners)
On a hotel website, customizing testimonials / messaging depending on country or city of the visitor
On a corporate website, showing careers section prominently if the visitor is from the city where company HQ is located
On an eCommerce website, providing discounts or showing loyalty offers depending if the visitor is new or returning
Promoting Facebook widget if the visitor has come from Facebook, or promoting Twitter/Google Plus otherwise
Promoting different set of products / offers depending on time (evening, morning or afternoon) or day (weekends v/s weekdays)
The possibilities are endless. But, how do you find out which segments to target?
Getting started with behavioral targeting
The first step for behavioral targeting is to understand your visitor mix carefully. You have to know who your majority of visitors are, and if they naturally fall into different segments. For this not only you have to use your website analytics program, but you also have to use your business, domain and product knowledge. For example, for VWO, we know that our visitor primarily fall into 3 categories: small businesses, enterprises and agencies. Further, their interests are usually in A/B testing, multivariate testing or behavioral targeting. We can drill down further and see from which countries do maximum of our customers belong to. Based on all these variables, we can setup a very effective behavioral targeting campaign.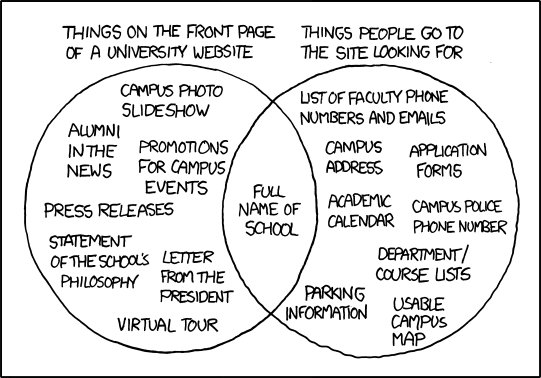 However, setting up such a campaign is not the sole thing that needs to be done. Measuring and validating performance of your segments and targeted content is also essential. So (using our own product, of course) we will actually do A/B tests on specific segments to answer questions like:
Whether customizing key pages in local languages for our visitors from Netherlands, Japan, China or other countries increases conversions and sales?
Whether we can recommend certain plans (such as small agency, enterprise or agency) depending on which keywords a visitor searched for (for example, our hypothesis is that 'a/b testing tool' is mainly used by small businesses, while enterprises generally use 'a/b testing solution' or 'a/b testing platform')?
Whether it makes sense to prioritize certain features on homepage (depending on what they searched: 'a/b testing' or 'multivariate testing'), or depending whether they came from LinkedIn or Facebook or Twitter?
Only after statistical significance is reached for these tests, do we go ahead and implement these targeting campaigns permanently. Transitioning from A/B tests for specific segments to permanent behavioral targeting is very easy. Simply clone an A/B test and setup targeting for the variations.
Hopefully this post convinced you how useful behavioral targeting could be! Do let us know if you have experience with behavioral targeting, and if you found it useful. We are planning a comprehensive targeting strategy on our own website. It should be fun and interesting! (I will, of course, share results on this blog)
What has been your experience of behavioral targeting?