6 Lesser-Known Ideas to Improve Conversion Rates of Your Website
Lost for ideas to test? Really? Think again! Chances are it's just your imagination that's confining the lucrative opportunities for you.
Take a good look at your website again. Does it have a signup form? A checkout page? A call-to-action button? A features/product page? Some content? And still you say there's nothing left for you to improve conversion rates? I highly doubt that.
Okay, instead of pestering you about how "it's all in your mind" that you do not have anything to test, let me give you a few quick lesser-known ideas you can use for your tests and see how they work for you:
1. Double-check Your Form Fields and Give Examples of What Needs to be Written in Every Field
Many of you might be thinking, "Ah! I know this one. The same old – reduce the form fields. What's new in that? Boooo!"Relax, people! Let me begin at least? Will you?
Now…When most of us eliminate form-fields, we often do it instinctively and doesn't put in too much thought into it. After all, it seems almost obvious what is required and what isn't. Right? Well, not really!
Tell me how many of you knew that it isn't really mandatory for you to ask for Name from your customers when you are asking for their credit card details? It all depends on your payment processor. I bet not many of you knew that!
Kick Off Labs do not request for name from their customers when they signup for their free trial: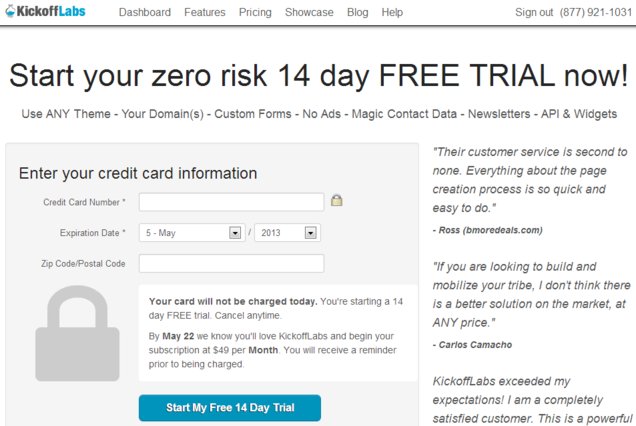 GumRoad is another example that eliminates the Name field and keeps their fields to minimum for their customers: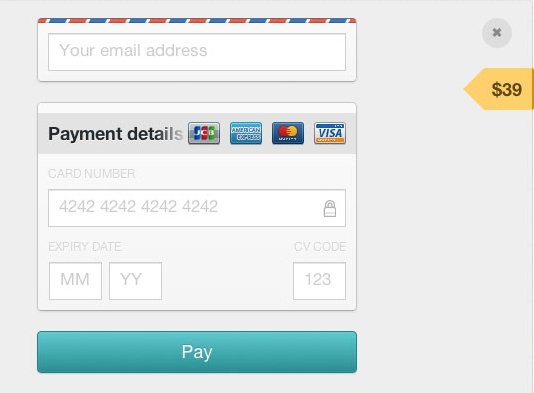 So next time you add those first name and last name fields in your form, recheck with your payment processor if it's really required.
Also, some fields can just be eliminated if you're willing to put in a little more effort. Like, if a form requires a visitor to submit their telephone number, maybe you can see if you can just skip the area code field for them? You'll be surprised to know how many people are not really sure about their area code (Yes, forgive them for being a little ignorant. It's okay!).
If that doesn't seem like a possibility, be sure to provide a link or something along that field that lists all area names with their area code, sorted alphabetically of course. The point is, it is easy to assume that all of them would know their area code. But why take the risk?
So you see how something that "seemed" obvious actually isn't? Now go recheck those fields again than merely following your instincts. The more you reduce the effort and time on the part of visitors, the higher will be your conversion rates.
Another interesting addition you may try for form fields is guiding people about what exactly needs to be filled in each field in every field. Like, a date field can suggest the format (dd-mm-yy) in which it has to be entered to avoid any confusion. You can refer to the GumRoad image above again for this and see how they make everything clear about what needs to be filled in every field. Don't make your visitors wonder too much. Think hard and do their part of the thinking to eliminate their pain points.
2. Give the current Coupon Codes on the checkout page
It's amazing to see how people take ideas on the face value and just implement it on their website without thinking it through. Providing coupon codes box on the checkout page is a classic example here.
Think about it yourself. If you've reached the checkout page of a website and it asks you for a promo code you just realized you don't have, what will you do?
Of course majority of you will Google for one. Who would want to pay more when you know five minutes of searching can get you a good discount on your purchase? And that's it! Once they are out of your website, there are so many distractions, you never know which one catches their attention. There's a high probability some of your would-be customers just added themselves to "bounce". And you will be thinking "Oh! I'm offering a coupon codes box on my website. My visitors would be so happy. That should SO increase my conversion rates, man!"
Sure, you can now see the loophole here. How do you correct it now? Simple, provide a "View current promos" link right next to the promos box or you can just ask people for their email address and mail the relevant code to them directly.
Sephora shows a link right below their coupon codes button for their current promo codes that their visitors can utilize right away without being distracted from their purchase process: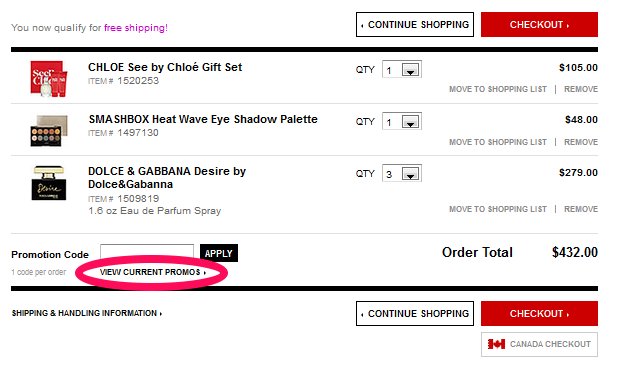 3. Pin Your Social Media Buttons/Blog Subscriptions/Get More Information Banners
A lot many authority blogs are taking up this practice to increase their reader base. But this is just an idea. You can seek inspiration from it and use it any which way you deem it effective on your website.
Below is a screenshot from Neil Patel's blog, QuickSprout. The social media buttons on the left and the Get More Information banner on the right are both fixed elements on the blog. It's amazing how his team utilized a testimonial from a rather prominent client to increase clickthroughs to the banner.

At VWO, we also implemented something similar and the result turned out to be freaking awesome. You can read the complete case study to see how a fixed "We're hiring in Delhi" chicklet on our website increased visits to our careers page by 149%.
4.  Come up with a Kick-ass Value Proposition
Don't make the mistake of confusing slogans with value proposition. "L'Oréal. Because we're worth it," for example, is not a value proposition. It's a slogan.
Your value proposition should emphasize the primary benefit of your site/product that gives you an edge over your competitors. It should be clear and expressed in the language of your customers.
Observing discussions and replies at your social media pages and collecting feedback to see how your customers talk about your product/services will give you a good idea about the language that you should use. You cannot just guess it. I love the one by Crazy Egg, which is given in the image below:


Offering various website tracking tools to its customers, the value proposition just nails it for them. So be sure you're keeping it crisp and tasteful. Your offering should be clear for your prospects the moment they read it. If your visitors have to read more to understand what you're offering, you're not doing it right. Here's an article on value proposition you might find useful.
5. Turn-Off Your CAPTCHA
Who loves captcha? Not me, for sure! Especially some of them where it's so hard to read those unclear alphabets that you just have to guess them only to find that you were wrong and follow the same cycle again. How annoying! It's like sitting for an eye check all over again.
Yes, I know people are too tired of spam and this has almost become a standard. So I mostly surrender to the whole charade. But only if there could be a way out of it? If you see any possibility that it seems worthwhile to chuck out the whole thing, it would be great!
Maybe you can remove it just for a few days for a quick A/B test and see if it increases your conversion rate? And if it does, compare it with the number of spam accounts created in this time and make an informed decision about it? It's easy to fall in the trap and blindly follow what others are doing. But deconstructing the very core of the philosophy to find out the real facts is not what everyone has the courage for. Don't be a part of the herd. Look for what works for you!
And at the end of it all, if you really have to, make sure you're using it right. You can read this article for some CAPTCHA usability tips.
Just so you know, PayPal doesn't use CAPTCHA on their signup page: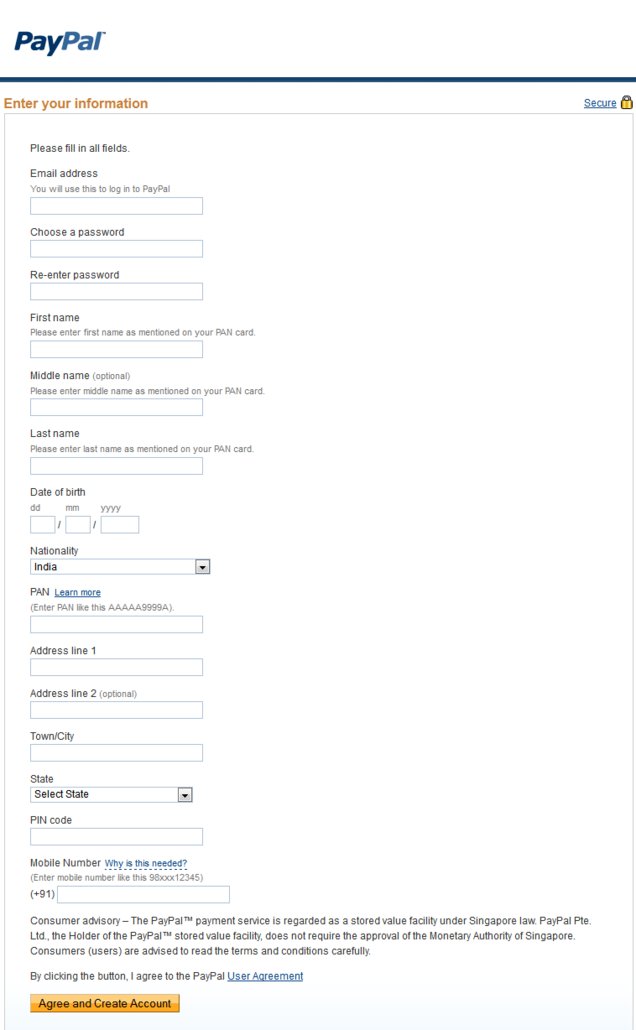 6. Show Your Signup Form on the Homepage
Okay, this is not too common but some of you might already be sticking to this one. Like I said before, reduce the effort on the part of visitors the best way you can.
If you have only 3-4 form fields, why do you have to make a separate page just to fill out the form? People might even leave from the homepage without looking at the form even once. Make it fast and easy. Show it on the homepage and you're all done!
FormStack provides a signup on the homepage itself:
What are you thinking now? Go explore the lesser-explored territories. Going that extra mile has its own charm. If it works for you, don't forget to drop in here and share it with me. If it doesn't, it's always an experience you can learn from.
Your Turn
Okay, so this was the list from my side. What's your list? What are some of the unusual tests you tried and succeeded with? Share it with us in the comments section.