What is retargeting?
Retargeting is a valuable strategy to get potential customers to return to your website and purchase. It establishes touch points so that clients might be reminded of the goods and services they liked also after exiting your website without taking an action.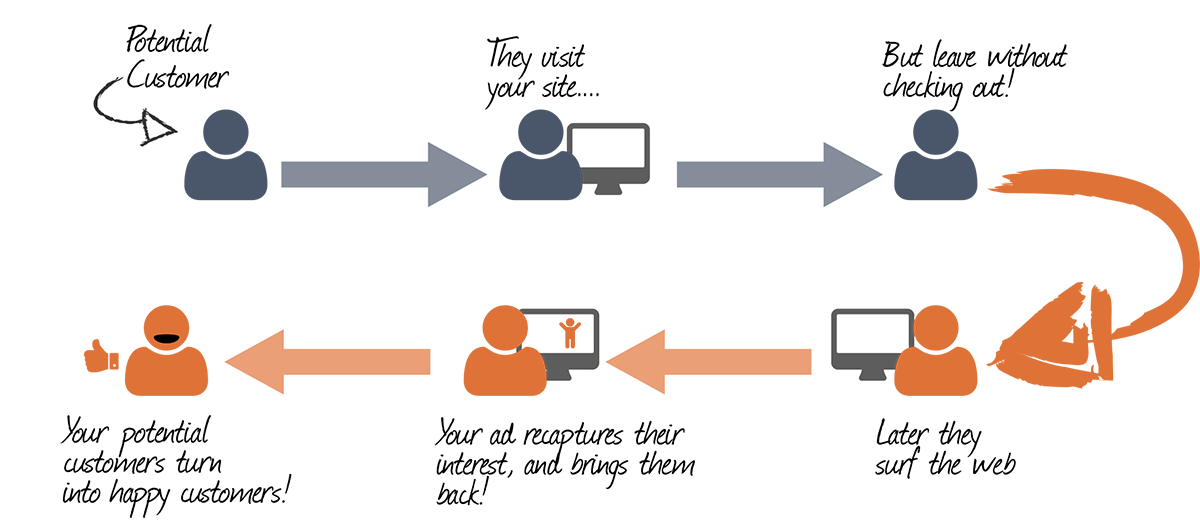 Retargeting vs Remarketing
Retargeting and remarketing are frequently mistaken for one another. Despite some of their similarities, they also differ in a few key ways, which are shown below.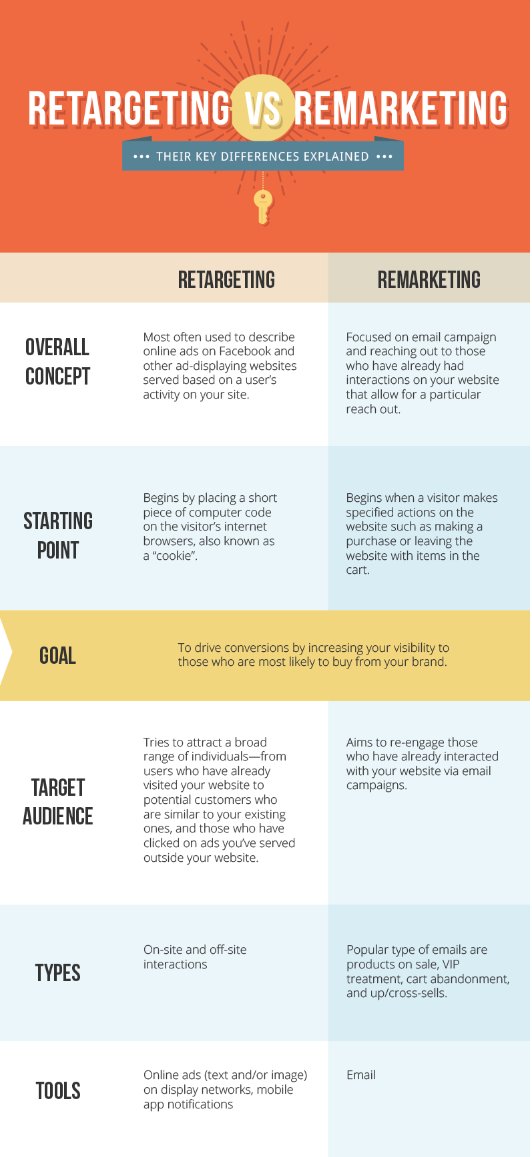 How retargeting works
Retargeting is a cookie-based technique that lets you track and 'follow' discreetly your audience around the Internet. Including a "pixel" on your website that is unseen is a frequent retargeting approach. All of your visitors are then tagged by this tool and added to a list.
Retargeting: when does it work best?
Retargeting is a powerful tool for improving branding and conversions, but it works best when it is part of a larger digital strategy.
Retargeting functions best when combined with demand creation, inbound and outbound marketing, or both. Although content marketing, AdWords, and targeted display methods work well for growing traffic, they do little to boost conversion rates. Retargeting, on the other hand, can aid in raising conversions but it cannot bring visitors to your website. Utilizing one or more tools to attract traffic and remarketing to maximize that traffic will increase your chances of success.
Retargeting objectives
The main types of retargeting campaigns typically running are those for awareness and conversion. Some of the objectives achieved are:
Create awareness
Awareness campaigns are beneficial whenever you want to re-engage website visitors and educate them about essential offers, products, or new releases.
Although such ads offer less focused material to users who haven't interacted with your business much, they function as a springboard for a far more successful campaign objective: conversions.
Promote conversions
Conversion objectives are straightforward: you want visitors to click on your advertisement and then take action, like completing a form on a landing page. Traditional conversion metrics, such as website clicks, form submissions, and cost per lead, may be used to track the effectiveness of conversion initiatives.
Conversion campaigns can be used for multiple parts – for example, pixel-based ads can generate leads and direct people to landing pages whereas list-based ads turn them into qualified leads.
Completion of the buyer's journey
Retargeting can help qualified leads go through the buyer's journey cycle. Retargeting may be used, for instance, to offer a list of people who have acquired an e-book to join to receive a free trial of your goods. When customers realize how your solution might help them achieve their objectives, they could be motivated to sign up as paying customers.
Boost customer lifetime value (CLTV)
Customer lifetime value is the amount of revenue you may anticipate from a single client throughout their association with your company. Retargeting encourages customers to keep buying from you by focusing on your brand. Their CLTV increases with further purchases.
Minimize cart abandonment
A consumer is said to have "abandoned cart" when they add anything to their shopping cart but then decide not to check out and pay. Retargeting can assist you in gaining back these lost consumers and act as a kind reminder that the product they were considering is still available for purchase.
New product introduction
Retargeting enables you to share new items with clients who have previously explored your website, bought something from you or demonstrated a general interest in your company. You may send people who notice your advertisements to your website so they can learn more about your new offering and be persuaded to purchase.
Benefits of retargeting
Your marketing plan must include a retargeting strategy since it offers several advantages. Retargeting's ability to increase sales is its most obvious advantage. More advantages of retargeting include the following:
Identify and contact potential customers in your target market.
Amplify brand recognition and foster trust
Learn how to re-engage your audience by gaining new insights.
Maximize the return on investment for advertising campaigns
Increase retention and engagement
Types of retargeting
The majority of marketers first consider search retargeting when discussing retargeting. The most successful marketers, however, look into different remarketing strategies. Various retargeting techniques to attract and keep a potential audience are listed below.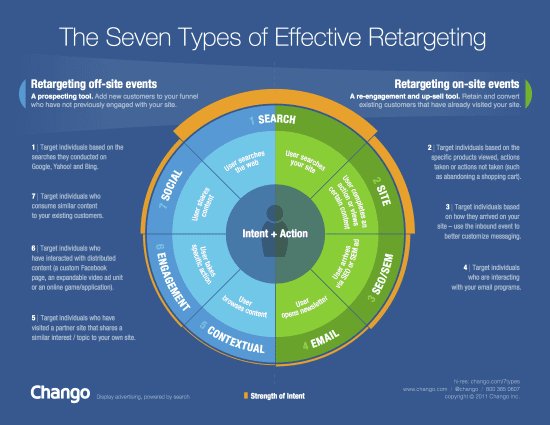 Search retargeting
Essentially, when employing search retargeting, you are going after internet users who have conducted searches on search engines using terms or phrases related to your company. Make sure you offer your creativity in a way that takes purpose into account.
Site retargeting
Site retargeting may be thought of as bringing you and the searcher one step closer to each other because they have already landed on and viewed your website. Once they do, you may use your messages to tag them and follow them online.
SEO retargeting
The search phrases people used before clicking through to or landing on your site are the focus of SEM/SEO retargeting, which is closely connected to site retargeting. When you combine these phrases with the activities visitors perform there, you gain a whole new degree of understanding of their motivations. Make the most of this to improve your content and your creativity.
Email retargeting
As implied by the name, it enables you to retarget individuals depending on their responses to your emails. In this situation, it's crucial to pay attention to engagement levels since someone who opens an email shouldn't be seen in the same way as someone who clicks a link, forwards it, or doesn't even open it at all.
Contextual retargeting
Essentially, it entails targeting visitors of one site with pixels from another site that is highly relevant to a seeker. Consider an airline and a regional hotel site promoting to one other's audience based on searched-for or booked destinations.
Engagement retargeting
This sort of retargeting works well with companies that offer interaction channels like movies, rich media, flash games, etc. It may be the least frequently employed by the ordinary marketer. Advertisers may determine a user's intent and degree of engagement based on the sort of action they perform to provide highly tailored display adverts.
Pixel-based retargeting
Allows you to display advertising to anonymous site visitors. A browser cookie is recorded with the data when a potential customer visits your website. Later, based on the user's surfing history, the cookie is utilized to display advertisements.
Social retargeting
This functions similarly to pixel retargeting. It presents advertisements to users who have engaged with your social media content.
List-based retargeting
Enables you to submit a client email list to a platform for remarketing. Then you may make an advertisement that is specifically directed to them.
Onsite retargeting
This type of retargeting encourages visitors to stay on your website longer to buy anything or to enjoy an upsell.
Retargeting strategies
One of the easiest methods to attract customers who have abandoned your website to return is through retargeting, which may also serve as a reminder of the items they were considering buying.
Below are a few retargeting techniques to assist you in doing that:
Audience and content segmentation
There are multiple ways to group up your audience that will respond better to different types of content rather than the same message for all. Some of the groups that can be formed are
Visitors abandoning cart
Recent Visitors
Frequent purchasers
Recent bounce offs
Duration of last visit (could be a month back or maybe two days ago)
Depending on the above criteria, you may retarget visitors to your website with whatever offers suit the most, such as
Same-day delivery
Free shipping
Rewards and discount programs
Exit-intent popups
Emphasize the search terms and phrases
Retargeting customers who have already conducted searches using terms or phrases related to your industry is a simple strategy to increase sales. The primary distinction between search retargeting and other kinds is that this tactic targets visitors whose email addresses you didn't obtain and who have never visited your website.
By focusing on search phrases, you have the chance to reach a wider audience because you won't be limiting yourself to only your existing consumer base but also a new one.
Combine information from multiple sources
Reaching consumers with highly tailored information is crucial in today's competitive retail environment. This entails gathering and combining data from various platforms, channels, and devices to have a complete understanding of consumers' product preferences and desire to buy.
Target the email openers
You may target users who access your email advertisements by including the retargeting pixel within your email signature or the HTML structure.
This strategy works because you are targeting recipients who have previously shown an interest in you by clicking and opening your emails. They're therefore more likely to respond to your message and take appropriate action as a reaction.
Exclude website visitors who visit for just a few seconds
Likely, visitors to your website who don't stay long aren't very interested in your company. Therefore, concentrating your retargeting efforts on them might result in a waste of your advertising spending. It's a good idea to keep those individuals out of your effort, but the timing might be challenging. Test different periods and see what happens when you compare the outcomes.
Optimize ads and landing pages
For your brand to deliver the most engaging experience to your target audience, you should optimize your ads and landing pages.
Here are several quick methods to accomplish that
Consider a frequency threshold
Rotate multiple versions of your ads
Conclusion
Retargeting when used intelligently, helps marketers to create a comprehensive and long-lasting CRO infrastructure that serves missed visitors at every phase of the process.
Retargeting would enable you to improve the conversion rates of your marketing initiatives while also ensuring that you were able to win back any lost consumers.