Why landing pages matter and how they impact conversion rates
This guest post is written by Lior Levin, a marketing consultant for Producteev, a company that offers a to do list app for businesses and individuals. Lior also consults for a neon sign store that provides a variety of custom neon signs.
Be it content marketing, offer promotion, getting the word out, selling products or getting customers to buy your services – you just can't live without "landing pages". Anyone keen on "selling online" knows that you need a special page on your website to convince your visitors that this is what they are looking for.
Moreover, you just can't use the same landing page for every other product, service or marketing campaign. Depending upon the requirements and technicalities of your business, you have to craft landing pages and get the job done. This sounds easy but it is not, as assumptions and theoretical hypothesis are far removed from practical goals. For example, you may find a marketer doing very good with short landing pages. The marketer is selling ebooks priced at $10 but you just can't use the same strategy to sell a $100 product on home decoration. You have to devise your own plan, pull out a marketing strategy and see what works for you.
Now as far as landing pages are concerned, why is marketing so important? The short answer is marketing is a necessary evil for any business, not just landing pages. The goal of marketing is to "market yourself" which means, you want people to know that your business exists. For every product, there is a targeted audience and you want that audience to know about you. Marketing is thus, a very crucial step in lead generation and plays a vital role in the success of any type of online business.
Before you decide the appropriate marketing strategy of your landing page, here are a few things you should know:
Landing Pages – What Are They And How They Work
A landing page, better known as a lead capture page, allows the marketer to convert a "stop by" visitor into a lead. This could mean signing up the customer into his monthly newsletter, letting him download a free ebook in exchange of his email address or better, selling him the product. The goal of a landing page is to either sell something or let the visitor submit his contact information through a web form.
With the modernization of the Internet and the introduction of web 2.0 / social sites, the goal of landing pages have taken a steep turn in recent years. Although the classical goals remain intact, but now online marketers are experimenting with modern goals to achieve the same purpose, although using a different vehicle to reach the same destination. For example, a landing page may entice the visitor to "Like" your business page on Facebook and download a freebie in exchange. This adds up to the viral element and if your page goes viral on Facebook and gets a lot of traction, your marketing strategy is considered a success.
In general, it takes multiple shots to convince a visitor to buy your product or subscribe to your service. That is where marketing becomes crucial, because you have to ensure that you don't lose the visitor at any case.
The following example illustrates how landing pages work: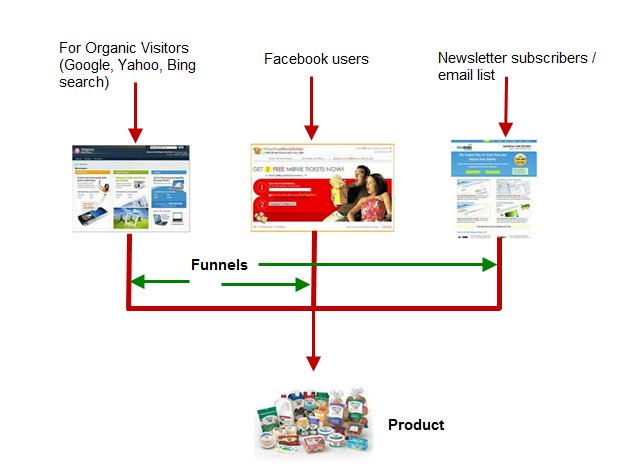 The Marketing Strategy For Different Landing Pages
Depending upon the "type" of your audience, you have to devise a marketing strategy so that your landing pages bear the maximum fruit. For example, users who come to your website from search engines have probably never heard of you and need their answer as fast as possible. Hence, in order to convince them that you are a trusted source, you have to devise a landing page which commands trust.
A perfect marketing plan is to showcase your portfolio, your best work and give them something for free in exchange of a newsletter subscription. This will give you more ground and time using which you will be able to convince this lead that your product has "value" and when he is convinced, he will surely buy your product.
Now, let's consider other traffic mediums and how your marketing plan should change for inorganic leads.
Facebook users or customers who find you from social media websites have probably heard about your business through a personal contact. That means, they already have some faith in you before they even decide to arrive at your landing page. Hence, it would be a good idea to encourage them to "Like" your Facebook fan page and show them how their friends have successfully bought your product and are happy customers. Once this lead is convinced that your product offers value (and he has trust because a lot of his friends have used your service), he will surely subscribe to your service or buy your product.
The key is winning the trust of your visitors as early as possible and convincing them that your product has value. Users from search engines are completely new leads, hence you need a different marketing plan to win their "trust". Users from social sites are somewhat convinced, hence you need a different marketing plan to elevate your sales. Your newsletter subscribers are "best bets", hence you need a different marketing plan to retain them as well as portray them your other products, goods or services.
Regardless of however strong and attractive your landing page might be, it won't bring effective results without a proper marketing strategy. A sports car, if run on a local street is equivalent to a rented taxi, you need a highway or a racing track to unveil its fullest potential.