A Cheat Sheet on Using Microsites To Build Traffic
Nitin Deshdeep
Nitin is a traveler, a cinephile, and a webaholic. (He just can't get enough of cat videos!) Professionally, Nitin is a marketer at VWO, who loves to write about Conversion Optimization.
Just a few years ago, microsites used to be the go-to channel for promotions, for many businesses.
However, with the increasing popularity of (relatively) new, alternative channels such as social media and mobile, microsites have been sidelined a little.
Still, there are situations where microsites can be your best bet as a marketing channel, to boost web traffic.
This post will tell you when to use microsites (and when not to).
It covers the following topics:
What's a Microsite?
A microsite is a brand-specific website (or a single web page) that companies use to promote their individual products, events, or campaigns.
Microsites are hosted on their own domain, and have a different URL than the URL of their company websites.
Here's the Wikipedia definition:
"A microsite is an individual web page or a small cluster of pages which are meant to function as a discrete entity within an existing website or to complement an offline activity. The microsite's main landing page can have its own domain name or subdomain"
Microsites, usually, are non-application based sites: They would not have eCommerce functionality, or an elaborate sales funnel. They are information-laden sites, aimed at engaging as many users as possible.
Ideally, microsites use fun, interaction-based content on their page(s) that helps their brand(s) in connecting with users.
Furthermore, microsites do not provide any information about the parent brand (or company). They do not contain web pages like "About Us," "The Team," etc.
Let's take an example to understand the concept better.
BMW has a microsite dedicated to its X-series cars for users in India: http://www.bmwx.co.in.
We can notice that the BMW microsite has its own domain (and is not hosted under a sub-domain or a sub-directory of the main BMW website).
As soon as the microsite loads, it greets users with a racy, adrenaline-pumping video featuring an X-series car. The video effectively demonstrates the car's unique features — imposing road presence and sheer power. It engages the users, and with that establishes the brand value of the car (or the series).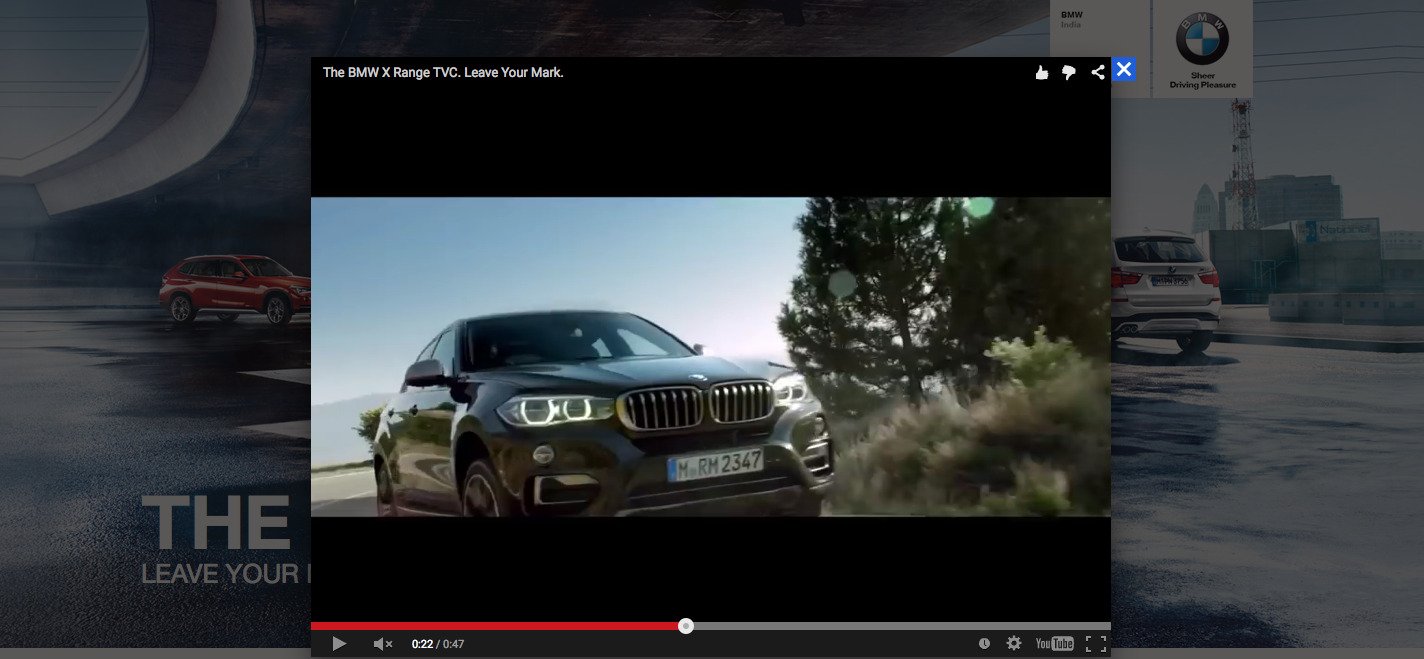 As we move below on the site, we find a bunch of tweets from users that mention a common hashtag. The hashtag is a part of BMW's social campaign, as mentioned in the image above the tweets. The "tweets from users" is also an interesting read on what other people are talking about the BMW X-series. This keeps the users engaged further.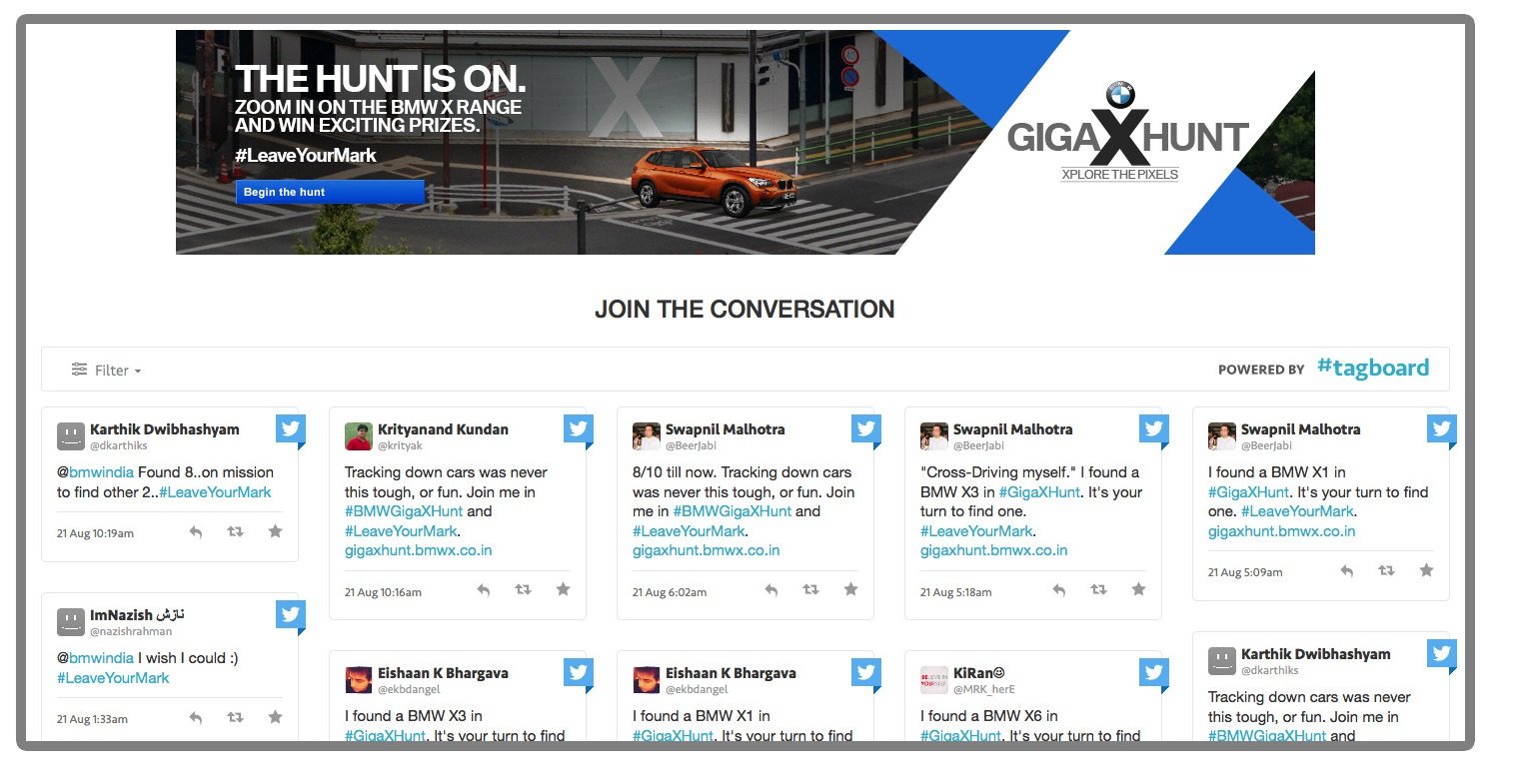 The microsite does not talk about BMW as a company, and also does not provide any information about other cars that BMW manufactures. Its content sticks closely with the brand in focus.
Use-cases for Microsites
#1 Launching a New Product
Whenever a new product is ready for a launch, a ton of promotional campaigns are carried out to generate interest and curiosity about it, among potential customers. These campaigns typically include print media promotions, promotion in exhibitions, social media and email campaigns, and more. The audience of these campaigns, which is interested in knowing more about the product, can be redirected to a microsite that has all the information about the product.
The microsite will influence the audience further, by offering detailed and engaging multimedia content. And since the microsite is completely branded with the product's characteristics, it will help the audience recall the product more.
#2 Generating Targeted Leads
You can use microsites to capture those leads who already show an interest towards your product (or service). Such leads have a greater chance of converting into customers.
Microsites can be a great medium for you to get quality leads.
For example, Audi India effectively uses this strategy to capture leads for its range of cars in the country. It uses the microsite: auditestdrive.in.
Audi India taps those web users who have already indicated an intent to take a test-drive of one its cars. It does that by running ad campaigns on search engines, around the keyword "audi test drive" or "audi <car name> test drive."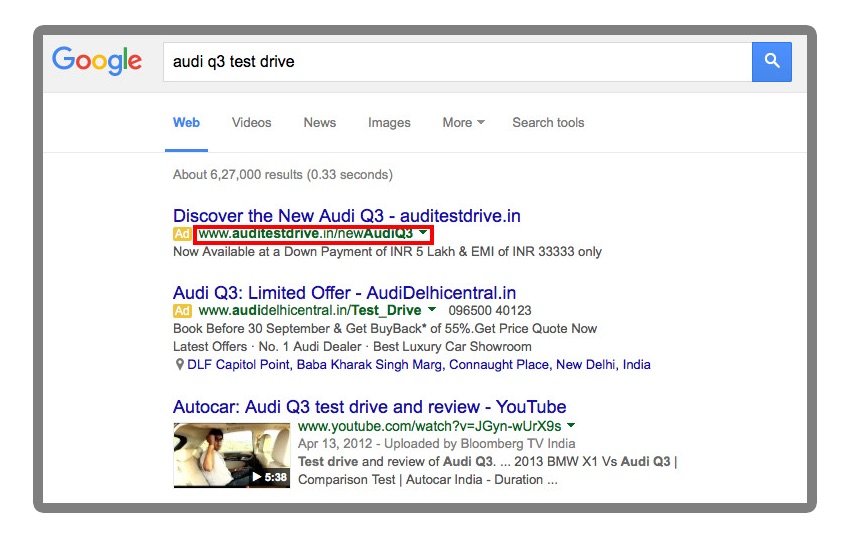 Once users click on the ad, they are directed to the microsite. The microsite has a minimalistic interface, including a single web page with an enquiry form.

#3 Targeting Markets by Geography
If your business is spread around different geographies, microsites can help you find users from the locations individually.
With microsites, you can target users that are looking for products in a specific geography.
I'm going to take Audi as an example, again.
Here, the campaign is aimed at capturing leads specific to a geography. The company runs ad campaigns that directs users to the location-specific microsite, for users searching "Audi <location name>" on search engines.

Here's a screenshot from the microsite: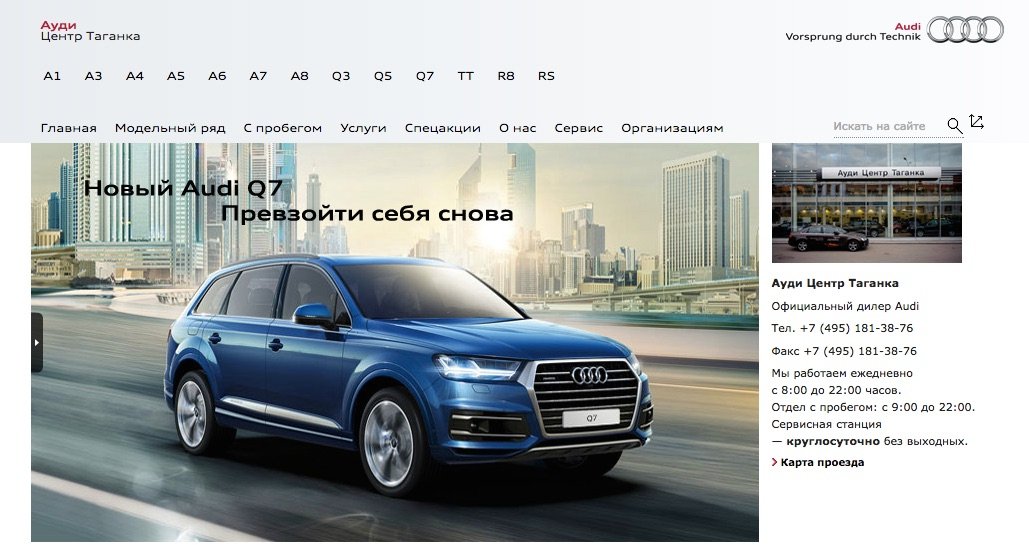 #4 Standing Out From The Corporate Brand
There are many brands that do not blend well with the look and feel of their parent companies' websites. Such brands need their own microsites, which display their individual values and characteristics.
Microsites give freedom in designing a brand-specific experience.
The UI and UX of a brand's microsite can be designed on the basis of how the brand is perceived by people.
Related Post: 5 Design Principles To Instantly Boost The Conversion Rate Of Your Website
#5 Promoting Events
There are several types of physical events and campaigns that companies regularly organize to enhance their brand presence (or simply, generate business).
You can host the details and registrations about an event on a microsite. Unlike a corporate website, microsites will allow you to be as elaborate as required.
Microsites can be a perfect platform for the promotion of physical events.
Here is an example of a microsite (www.tcsnycmarathon.org) about a marathon-running event conducted by TCS.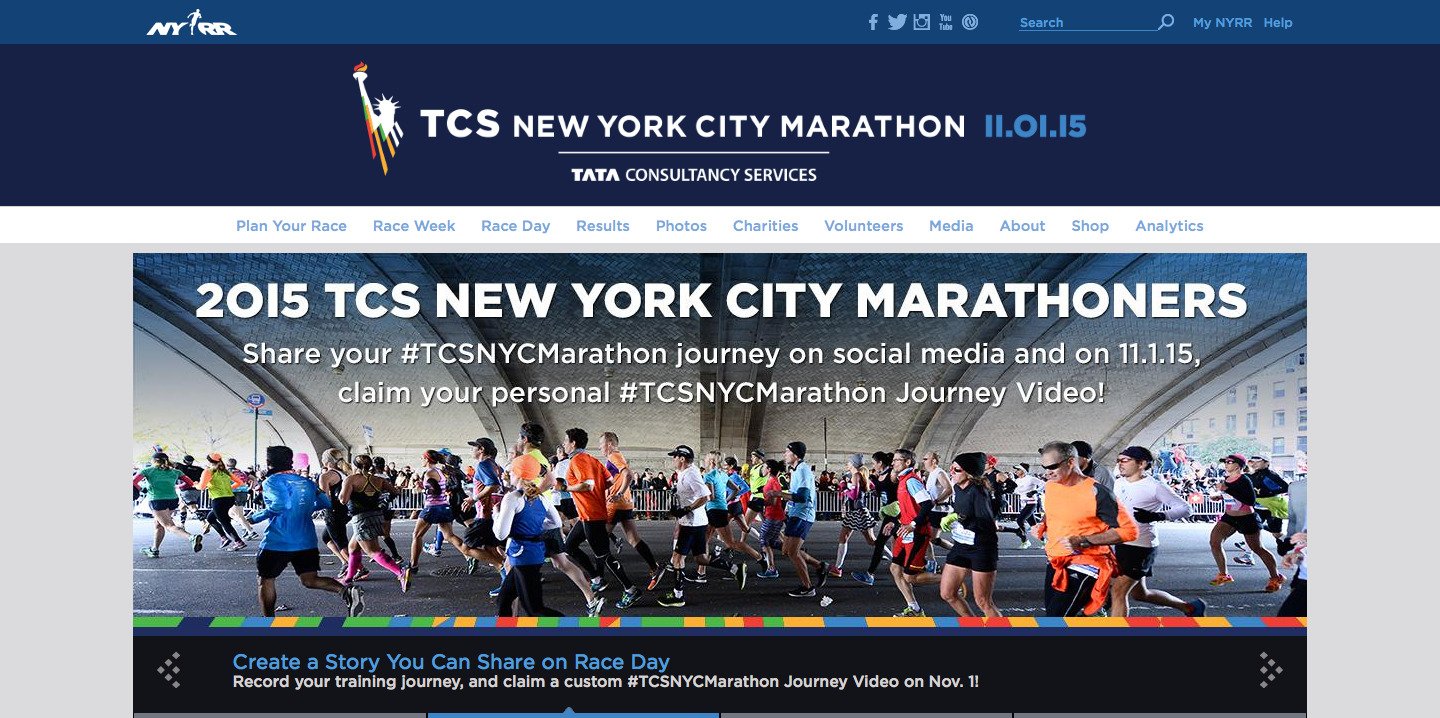 Benefits of Microsites:
The advantages of microsites are summarized below.
Targeted Campaigns
They allow brands to deliver highly targeted content to specific segments of their audience.
Lead Generation
Microsites can be used to generate high-intent leads for businesses.
Brand Awareness
They help brands establish their brand presence on the internet, through their own web space.
Virality Potential
Their engaging content help create buzz — word of mouth publicity — around a certain product or event.
SEO for Niche Keywords
Microsites can help businesses attain better search-engine ranking for particular keywords — using focused content.
Disadvantages of Microsites:
With so many advantages of microsites, it's almost irresistible to have a microsite of your own. However, there are two sides of the story.
Microsites have big disadvantages, too.
Find them below.
Huge Costs

Building a microsite is essentially building a new website. When building a website from the scratch, there are various expenses involved. The cost of website-domain, cost of maintenance, and cost of developers and designers, are just to name a few.
And the more elaborate a microsite is, the higher its cost will be.
Content Development Efforts

Since the main goal of microsites is to engage users, the site's content has to be top-notch. The text content, images, videos, and user-generated content, that goes into a microsite must relate to the audience, the brand, and SEO strategies.
Significant Time Commitment

A microsite are not a one-time setup thing. It has to be updated with content regularly, during the whole duration of its marketing campaign.
Short Life-cycle

Once the marketing campaign associated with a microsite ends, the microsite is practically abandoned. The resources invested in developing the microsite go under-utilized.
Microsites and The SEO Debate
In the past, many businesses exploited microsites as a tool for SEO, greatly.
They used to run multiple microsites that were developed around different keywords, giving them a chance to appear on top of different search engine result pages. It also gave them a chance to appear more than once (or twice, at times) in a single result page.
Their other objective of creating multiple microsites was to provide backlinks to a primary website. The backlinks would help improve the primary website's SEO ranking.
However, this does not happen anymore. Rather, this is not possible anymore.
Search engines have now become much smarter. They constantly learn about all black hat techniques across the internet, and penalize (down-rank) websites which practice them.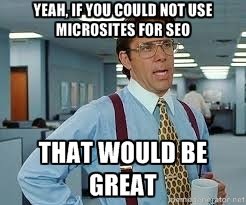 Below are the main reasons why you shouldn't build microsite for the sole purpose of SEO for your brand/company:
Microsites Can Rarely Become Authority Sites
Here's why:
Microsites don't have many incoming links from other authority sites around the web.
They don't have huge traffic, as they target a small segment of audience.
Their link sources aren't diverse.
Building authority takes time, and microsites usually have small life.
Duplicate Content
If you're developing microsites with re-purposed or duplicate content, search engines will only list the one which they know is the original one.
Search engines would rarely display web pages with same content on top of their search results.
Microsites Compete With Your Primary Site
If your microsite and primary site are targeting similar keywords, both of them will suffer in traffic. The sites will be competing with each other to receive traffic.
And on top of that, you would be spending twice the amount of your resources than you need to.
Thin Number of Backlinks
When there are multiple microsites for your brand, the density of backlinks for each of them is diluted.
Suppose there are a total of 100 backlinks for 5 microsites. This makes it 20 backlinks per site, on an average. If instead, there was a single primary site having 100 backlinks, the site would have ranked much higher in search engine results compared to any one of the microsites.
Microsites and Paid Ads
Microsites can work great in tandem with paid ad campaigns in search engines (as seen in the examples used in this post).
If you're looking for a short term promotional campaign, and have a healthy budget in hand, then sponsored search results can help you get significant traffic to your microsite.
Further, you can target long-tail keywords in your campaigns to reduce the spending on ads and inviting quality traffic. Long-tail keywords offer a couple of advantages: They have a lower bid price than the bid price of popular keywords, and they find users that already have some context about the microsite's content.
Here's a graph showing the relationship between keyword description and the probability of a conversion.
Conclusion
Microsites are a great way to promote brands and events — separately from their parent brand/company. Microsites offer great freedom to design their web space according to individual brand characteristics, without any restrictions. Moreover, together with paid search-ad campaigns, microsites can generate targeted leads for your business.
However, microsites can be costly and require a lot of time and effort. Hence, whether to go for a microsite or not should be a well-thought decision.