App Marketing Strategies That Have Changed the Industry
Note: The article is written by Dave Bell, Co-Founder and CEO of Gummicube, a leading App Store Optimization agency. Any and all opinions expressed are Dave's.
The beginnings of the mobile app industry
The advent of mobile apps started in the late '90s as the first color phones started to make their way into the hands of consumers. During these days, it was a totally new experience for consumers to download apps right from the cellular network to their device.
For mobile app marketers, it was also the first time that the walled garden of carrier decks started to rear their ugly heads. Often it was the network operators (or internet providers) who picked the winners or losers – This was the precursor to the charts in the current app stores.
As the founder of Chasma, an early mobile games publisher that released hits like Whac-a-Mole, Slingo2Go, and Fox Poker Superstars, I can remember traveling to each carrier with a roadshow of apps to get a select few placed on deck! How things have changed…
Naturally, as more and more apps were added, the ability to get visibility and exposure became more and more difficult. Was placement controlled by personal preferences at the carrier? Are competitors illicitly paying for placement? Are the decisions made at random? This was clearly not the most "fair" model and relationships were critical to success.
When smartphones first became mainstream with the introduction of the iPhone, there was suddenly an opening in the walled garden in the form of new advertising networks. The power shifted away from carriers to users—users could now find and discover apps online and developers could advertise to them and send traffic directly to their app.
The mature mobile marketplace
Today we have the opposite problem of walled gardens. Millions of apps and directory-based search makes the discovery process difficult for users while also making promoting an app difficult for developers. This has made app testing, marketing, and optimization critical to attracting and retaining users. On top of this, the mobile marketplace changes so quickly that marketing techniques must constantly adapt and evolve to remain relevant.
The internet has spawned millions of new apps, businesses, products, and platforms which vary from innovative game-changers to reskins, copycats, and the occasional app that steals from the IP of a major brand without a second thought. This is a sign of maturity in any free market, but how does one compete in this kind of environment? Here is a list of strategies that can help app developers and marketers to succeed in this modern environment.
Marketing strategies to maximize your app's success
1. Consider and test all available marketing channels
Most app marketers will default to the regular digital advertising channels. But what many don't realize is that both traditional and digital marketing channels play a role in the success of top applications. For example, the typical television advertisement causes engagement with the brand long after the conclusion of the ad spot. According to a study, 25%-30% percent of consumers search for terms related to the brand or product weeks after they first see a commercial. So think outside the box when considering your advertising channel mix.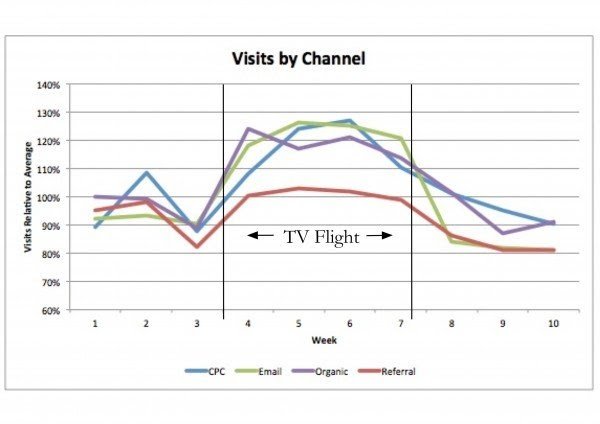 2. Ensure your app is optimized for search
It's no secret that users research apps before downloading, whether reading reviews or turning to Google. Even though you may get a click on your ad and have attribution tools tell you that your campaign generated an install—the user probably did some research first. Make sure your app is optimized to rank in search engines from launch.
3. Leverage influencers and word of mouth
Influencers play a critical role in spreading viral adoption of an application, and targeting the right online communities can accelerate the growth of your app. In fact, this study indicates that up to 50% of users discover apps socially or due to recommendations. Still, many users will search for your app instead of clicking the shared link.
4. Balance your marketing investment across the ecosystem
The above graph illustrates a marketing ecosystem in which every channel is dependent on good execution in others for success. Marketers simply can't "buy installs" nor can they spend massive budgets on television ads without first having their app store optimization in place. Doing one thing without the other wastes money and creates inefficiencies in the user acquisition funnel. It isn't a coincidence that many channels drive users to search for an application. More than 63% of app discovery was driven or assisted by app store search.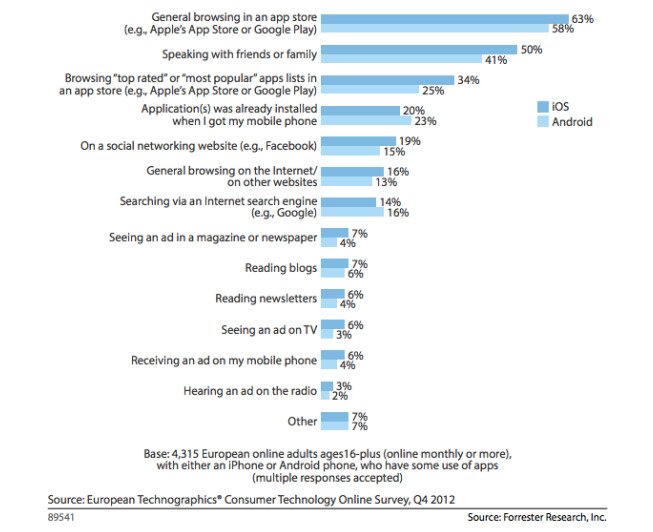 5. Understand your target market
Understanding what compels users to choose your app over others is also critical. Looking at data and analytics can help understand users and audiences, as can heatmaps.
To gather even better insight, use focus group discussions with live end-users. This way you can curate a representative sample of users to provide real feedback as to what they like or do not like about the on-page experience. This gives marketers the quantitative and qualitative data that is needed to make balanced decisions that lead to the success of their application.

6. Test and learn rigorously
Simple changes in the call to action on screenshots or even the colors of the icon can increase downloads significantly when tied together with an app store optimization program that generates visibility for your app page. For example, Gemr, a social app for communities of collectors in the App Store, went through dozens of A/B tests before settling on their final icon and creative. "It is a process that requires patience and iteration. As we continued to iterate and learn from user behavior in the App Store, we were able to see incredible growth," said Brannen Huske, CEO of Gemr. This was of course combined with research and selecting the best possible keywords so users could discover the app in the first place.
The fundamental truth necessary for success
Overall, there are two key priorities to finding success in app stores.
First, focus on building apps, products, and services that are real businesses. Ask yourself what problems you are solving, how your app is unique from anything currently available, and whether what you are building would stand on its own as a revenue-generating company. I cannot stress the importance of this enough. No amount of marketing can create a successful app if there isn't a need for it in the market.
It is very challenging to build an app or product in this modern hyper competitive landscape. But in the end, success in the app stores requires the combination of a product-market fit and intelligent marketing across all channels, using all available tools.