We have published numerous case studies regarding user behavior while shopping online. Sometimes, it's the color of the checkout button that makes the big difference and sometimes it's A/B testing checkout process that helps our clients make more money. Today, we are publishing a case study that explores effect of having a live chat widget on signups.
A/B testing live chat widget: does it increase signups?
One of our customers, Ez Texting, found that putting a live chat widget helped increase their signups by 31% over the original design (which did not have a live chat widget). Ez Texting provides web-based text messaging services to over 50,000 clients ranging from small organizations to Fortune 500 firms. Here's how their original signup form looked like:
Control (original design)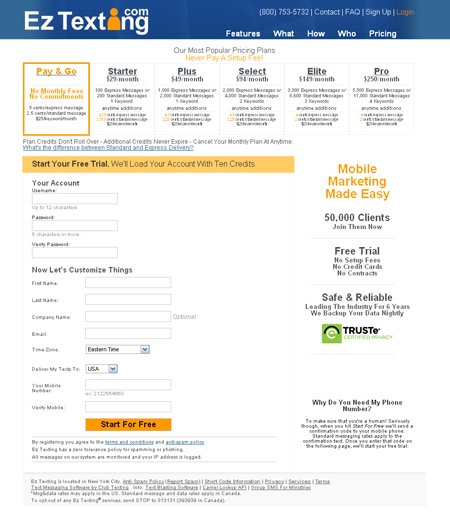 Variation (with live chat widget): 31% increase in signups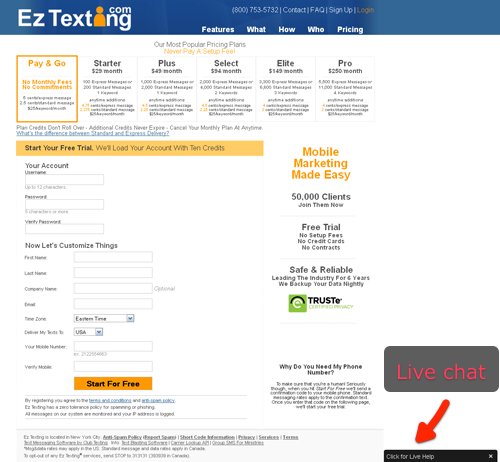 Ez Texting put an Olark chat widget on the variation and created an A/B test using Visual Website Optimizer. And, as you know, they managed to increase signups by 31%. The chat widget was strategically placed so that if a user has any doubts before making successful signup, he could ask it on the live chat widget.
Lessons from this A/B test
Josh Malin from Ez Texting is a deep believer in power of A/B tests and hence had following to say:
"I know that testing can contradict deeply held beliefs but it is helpful every now and then to go through a test that confirms this. It makes it that much easier in the future to test other long-held beliefs. And of course it's always great to have solid data to explain the inclusion of some counterintuitive element on our front end sales site to everyone else at the company"
On asking Josh how much Visual Website Optimizer was valuable for their A/B testing, this is what he had to say:
"Absolutely essential. We have used all sorts of manual and automated A/B testing methods, but VWO is the most pleasant to use."
Hope you liked this case study. To read other success stories, head over to our A/B testing case study library.