VWO Launches Customizable Widget Library to Run Nudge Based A/B Tests
VWO Visual Editor now comes packed with a customizable widget library to help you easily deploy and test pop up notifications across your website and test their effectiveness.
With this latest feature enhancement, you can now test if urgency, offers, content, social proof or exit intent-based pop-ups move the needle for the goals you define. So, whether you want to nudge a visitor to sign-up for a webinar for your SaaS website or create FOMO for the end-of-season sale for your eCommerce store and quickly evaluate the impact, we got you covered.
Some Ideas to Get You Started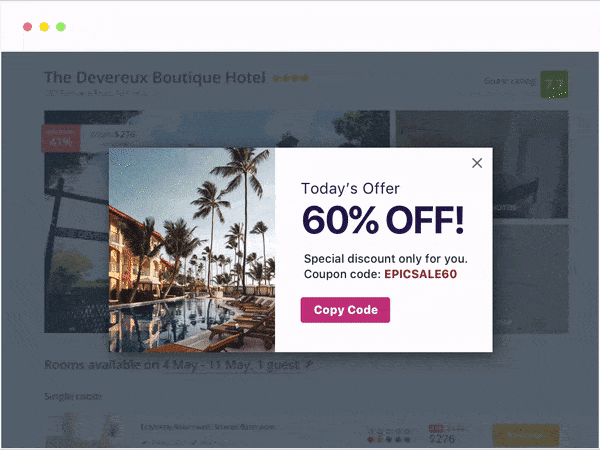 Deploy it at Lightning Speed with No Help From Your Developers
Since this customizable library is built into the Visual Editor (WYSIWYG), you can choose the type of widget, customize all its attributes including content, design theme, position and push it live within minutes. Without writing a single line of code.
Customize When The Widget is Shown
You can control and define the trigger mechanism for the pop-ups you create based on visitor properties or their on-page/site behavior. Whether it is exit-intent, time spent on the page, visiting a defined page or simply to a returning visitor, you can trigger the widgets to drive conversions.
A/B Test Any Element of the Widget
While the first thing you may want to test is the impact of adding just a nudge in itself versus not having one at all. The opportunity to exceed your defined goals lies in continually optimizing these widgets. So, you can easily create multiple variations of these widgets and test every element like the content, color theme, CTA, etc. to find the winning formulae.
Capturing Data Via Embedded Forms
The widgets have an option of an embedded form for you to easily collect the form fill data. You can simply choose templates with forms embedded so that you can capture leads right through the widget and send the data to the CRM of your choice that helps you build forms such as Marketo, HubSpot, Mailchimp, etc.
Personalize the Widgets
You can personalize the widgets to have a different message based on what stage of the funnel the visitor is in.
Say you are a travel website. The first thing you want is that the visitor signs up, and show interest in a travel plan and then finally book. Based on what action the visitor has done, you can customize the content to nudge the visitor to either sign up, or select a package from your catalog, or make a booking. All this by simply applying segments to campaigns with widgets.
Another example for SaaS businesses can be to customize the message based on visitor type. You can nudge the visitor to sign up if they have only interacted with your website and not with the blog or your knowledge base. For visitors that have interacted with your blog, you could show them a newsletter sign up form and for the people who have interacted with the knowledge base are probably your customers – so you can nudge them towards the upcoming webinar.
A Lot More Coming up in the Future
We are really excited about this launch and here is a sneak peek at what we have in store for you: 
We will add customization options to alter the frequency of occurrence, recurrence of the widget, etc soon.
We plan to add more widgets to our library soon. Please let us know if you have any suggestions for us at

support@vwo.com