What is User Intent?
User intent, also called search intent, is the intention with which users search on Google or other search engines.
Search engines aim to understand the user intent behind every search query and display relevant search results that can meet the intent and help users achieve their goals.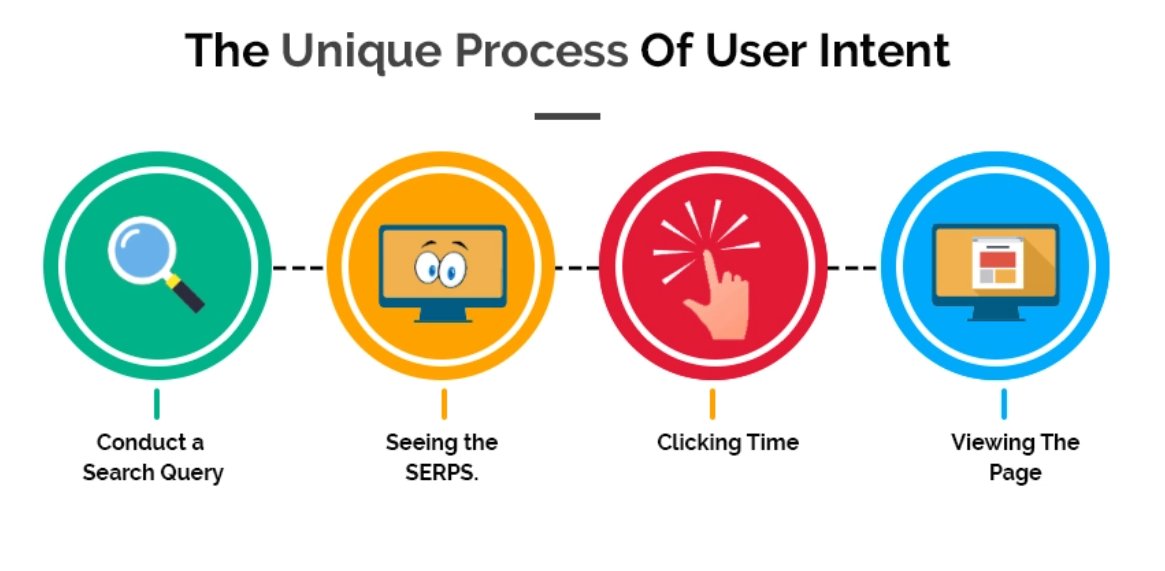 Four types of user intents
There are broadly four types of user/search intents in SEO:
Navigational
When users search with a brand name, they want to be led to a particular website. This is called navigational intent. These searches happen either because users don't remember the website URL or think entering the name on the search engine is the easier way to arrive at the website.
Informational
Often users search with terms that indicate that they want to find out more information about those topics. This qualifies to be informational intent. Such search queries mean users want to gain more knowledge about a particular topic or solve a problem of theirs by doing in-depth research.
Commercial
Some users have the intention of comparing different products or services before they make the final purchase decision. This intent is called commercial investigation.
Transactional
Search queries that show a user wants to make a purchase can be said to have transactional intent. Users making these queries have gone past the research phase, considered several options, and now want to purchase a product or service. These search queries contain terms like buy, discount, deal, and so on.
Here are some examples of different user intents
Let's say you want to buy some fashion jewelry from a particular eCommerce website called Baublebar. When you search by entering its name on the search bar, its website shows up right at the top. This search query shows your navigational intent.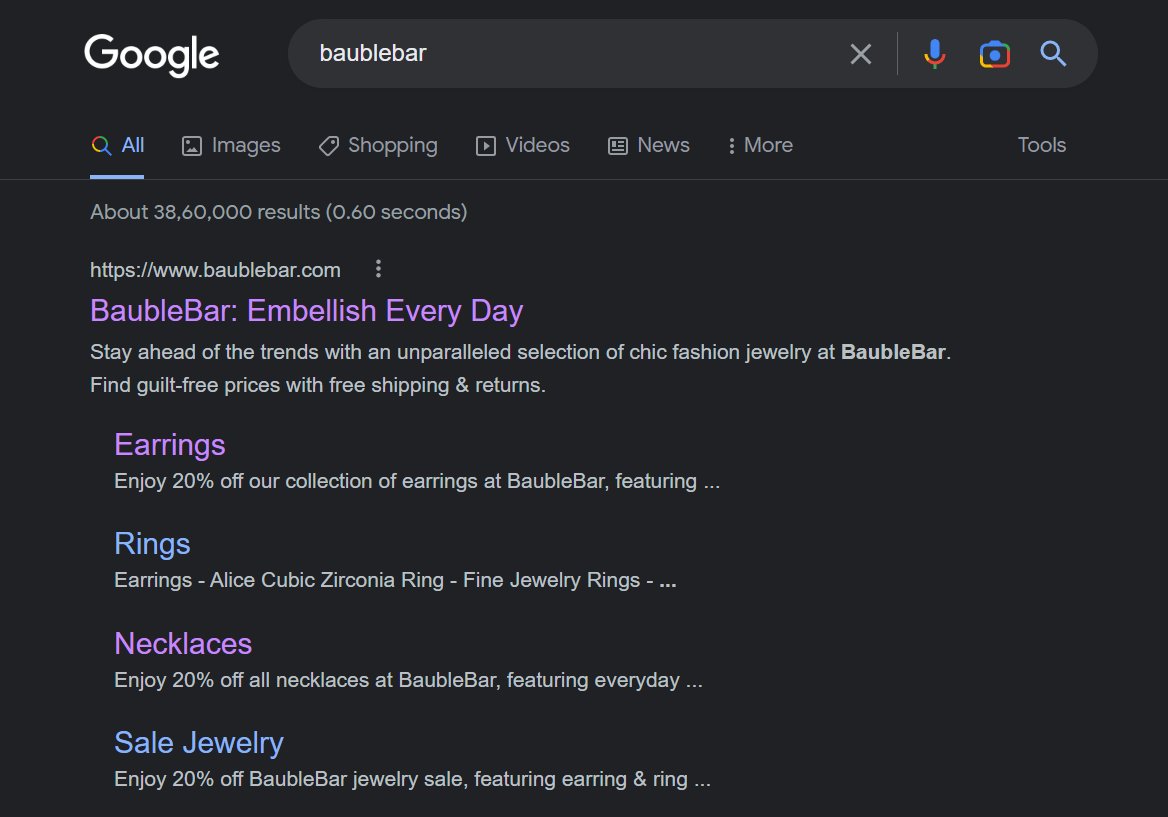 Now, you want to explore interesting ways to style statement necklaces, so you make a search query by entering 'how to style a statement necklace'. Since you want to gain more information about a particular topic, you exhibit informational intent.
Suppose you want to consider a few more options before deciding where to purchase a necklace from. This is why, you search with – who sells the best statement necklace? This query shows you want to compare products from different brands before buying something. Hence, this qualifies as a commercial investigation intent.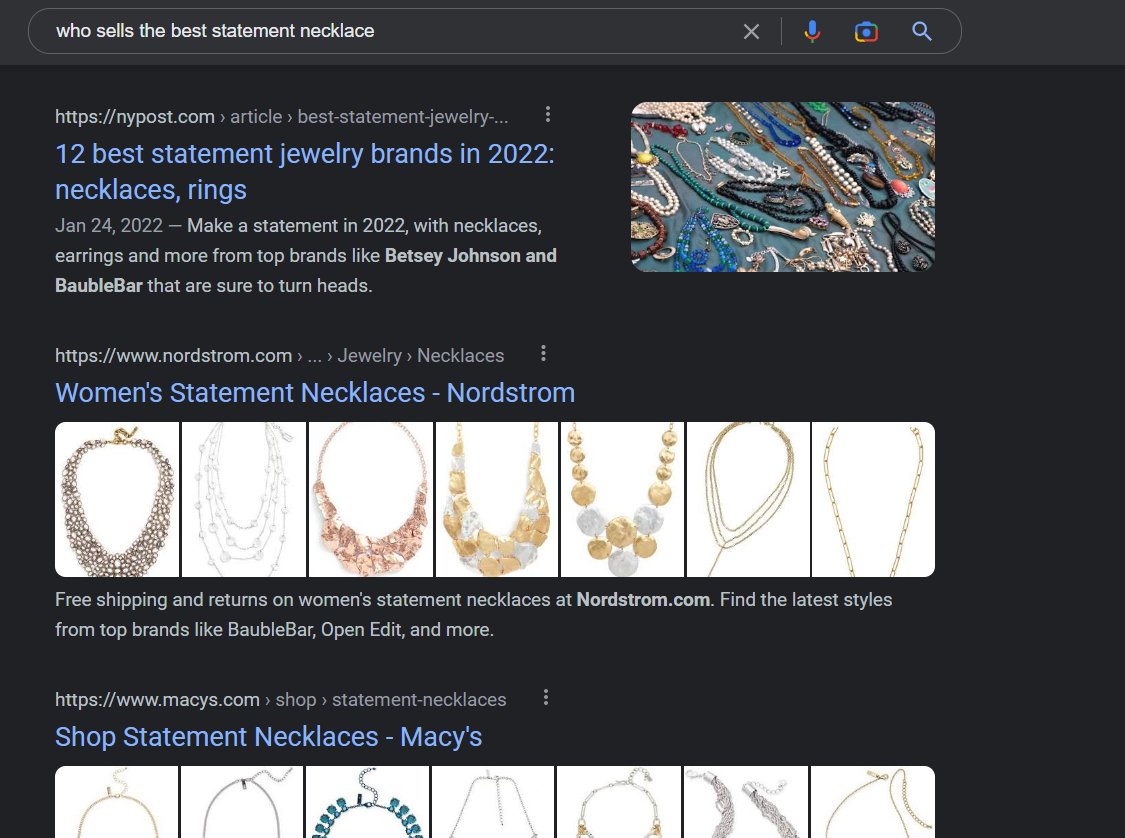 If you don't want to make any of the above search queries and you want to buy a necklace on sale, you can search with something like – a statement necklace at a discount. This shows your transactional intent. And the search results with different relevant products at discounted prices encourage you to purchase by meeting your intent.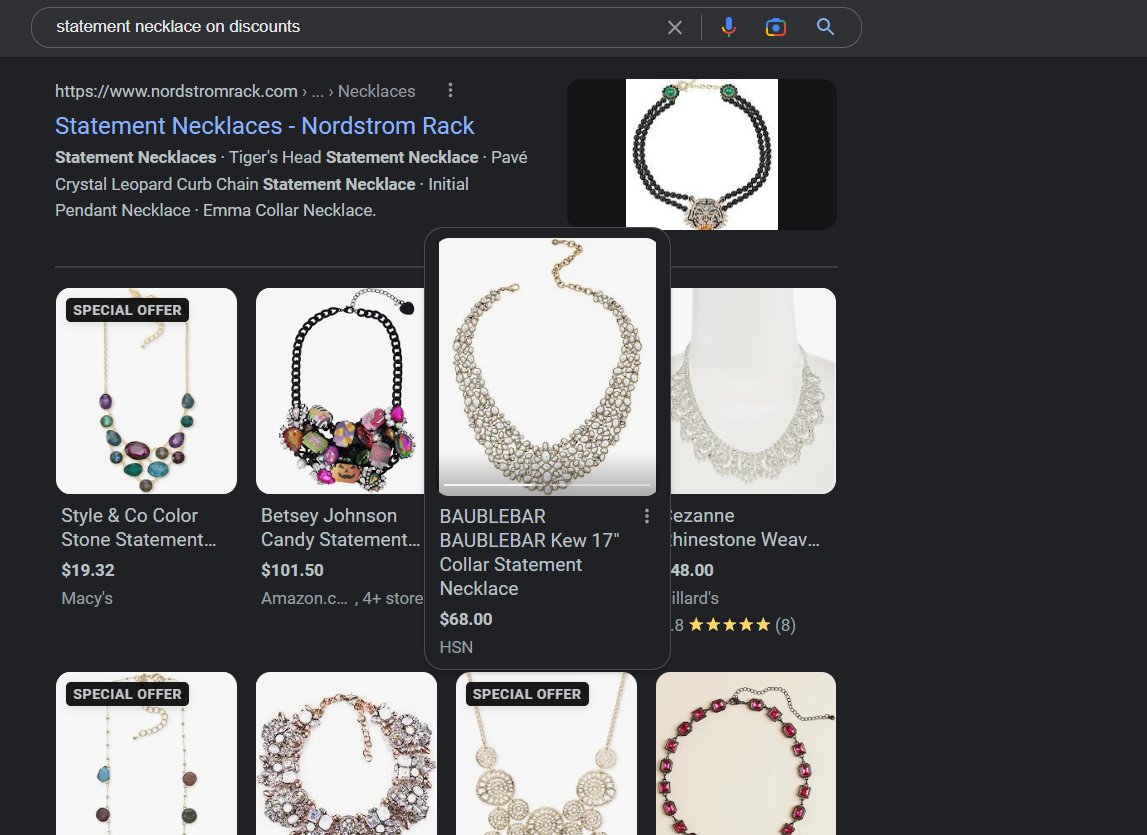 What makes user intent so important?
The world's most-used search engine, Google, updates its algorithms that impact how pages are ranked on its search engine result page. Unlike what happened some years ago when stuffing in some relevant keywords was enough to make your content rank, relying on keywords alone does not do the trick anymore.
Apart from including relevant keywords organically in your content, you must ensure that your content meets the user intent behind every search query searchers make. This is not to say that other ranking factors don't matter as much. But with Google dedicating an entire section to Understanding User Intent in its Quality Raters Guidelines, there's no way you can win at SEO without addressing user intent.
Improved visibility on search engine
Google pulls up search results that meet user intent behind a particular search term. The better you meet the user intent, the higher your content will rank, provided other ranking factors are also satisfied. This gives your content and website higher visibility and an edge over competitor websites.
Increased traffic to your website
A higher ranking on SERPs means users are more likely to click through to your website as against other competitor sites that rank below you. This helps bring high traffic to your website. In fact, the match between the search query having a particular search intent and the search result satisfying the same intent means only quality traffic comes to your website. 
Higher revenue and sales
When you make the necessary information available to your audiences, they trust you enough to convert sometimes. This leads to higher conversions and sales. With that said, remember not every visitor to your website will convert. You can use tools like VWO Insights and VWO Testing to understand visitor behavior on your website and test different website elements to make room for more conversions. But getting quality traffic to your website is the first point where you filter what to bring and not to bring to your website by meeting the right user intent.
How do you optimize for user intent?
Now that you know the types of user intents and the importance of such intents in SEO, let's discuss some ways you can optimize for user intents.
Look what competitors are doing
If you see competitors' content ranking higher than yours for a keyword with a particular intent, pay attention to what they're doing right and you can pick some cues from them and improve. Look at how they format their content, what topics they cover, and also what they're missing that you think you can add to your content.
Categorize content ideas as per user intent
Be clear on what you want to write, how to write, and what to include from the get-go. How do you do that? By categorizing different content ideas by 4 different user intents. Let's say your company offers a SaaS email marketing tool and you see your target audiences searching for 'best email marketing tools in 2023'. Creating a list of such tools will let you address the commercial intent of your audiences.
Check search results for more ideas
Apart from the content of high-ranking websites on the SERP, you should also check 'People also ask' and 'Related searches' sections of Google to get more content ideas based on informational queries. Therefore, analyzing every search result is important to leverage user intent for SEO success.
Did you know?
Creating content that meets user intent is crucial for another reason. Google analyzes the post-click behavior of users to rank pages. So, if your users click through to your website, stay for a very short duration, returns to the engine, and visit another website, this sends signals to Google saying your page has not met their intent.
On the other hand, if users stay on your website for a long time and then click on some other website links, that will still send a positive signal about user interaction on your website to Google. All of these influence how Google ranks your page or any other company's page on its SERP.
This makes it imperative for you to improve user experiences by testing different elements on your website. It serves a little purpose if users visit your page seeing relevant title and snippet but finds the page overall unappealing due to text-heavy paragraphs and missing CTA buttons which could help them take an action on your website.
The integrated experimentation platform VWO can help you test as many elements as you want on your website to optimize user experiences for higher conversions. By improving post-click behavior, the platform can also aid in your SEO strategy. Further, you can explore its various other capabilities that are rare to find under a single umbrella of any other experimentation platform. Take a full-featured trial to explore the VWO benefits.