Google's Page Experience Update 2021: Prioritize UX Optimization for Success
Your website represents the character of your brand in the digital world. It is the catalytic force behind converting visitors into customers who first get hooked to your brand and then go on to become staunch ambassadors. Therefore, every element on your webpage needs to be present for a reason; which is to serve a memorable experience to the visitor.
What is a good page experience?
You deliver a good page experience to visitors when your page is built keeping in mind their expectations. It can be tempting to talk about what you want visitors to know about your product and build a page that persuades them to take the action you'd like them to take. But a website with great UX enables visitors to perform the tasks they wish to perform.
Page experience is also about ensuring that your web pages load quickly, serve relevant information as clearly as possible without distractions, and are a safe browsing environment for visitors.
The importance of UX here cannot be stressed enough.
A PWC survey reveals that 32% users walk away from a brand they love after a single bad experience.
In the same survey, 54% of US consumers say that customer experience on digital mediums of most companies needs improvement.
This means a high number of websites are not optimized for page experience. This is likely to change with Google's new algorithm – Page Experience, which is set to launch in June 2021. With this update, Google is aiming to prioritize websites that serve good page experience to their users over others.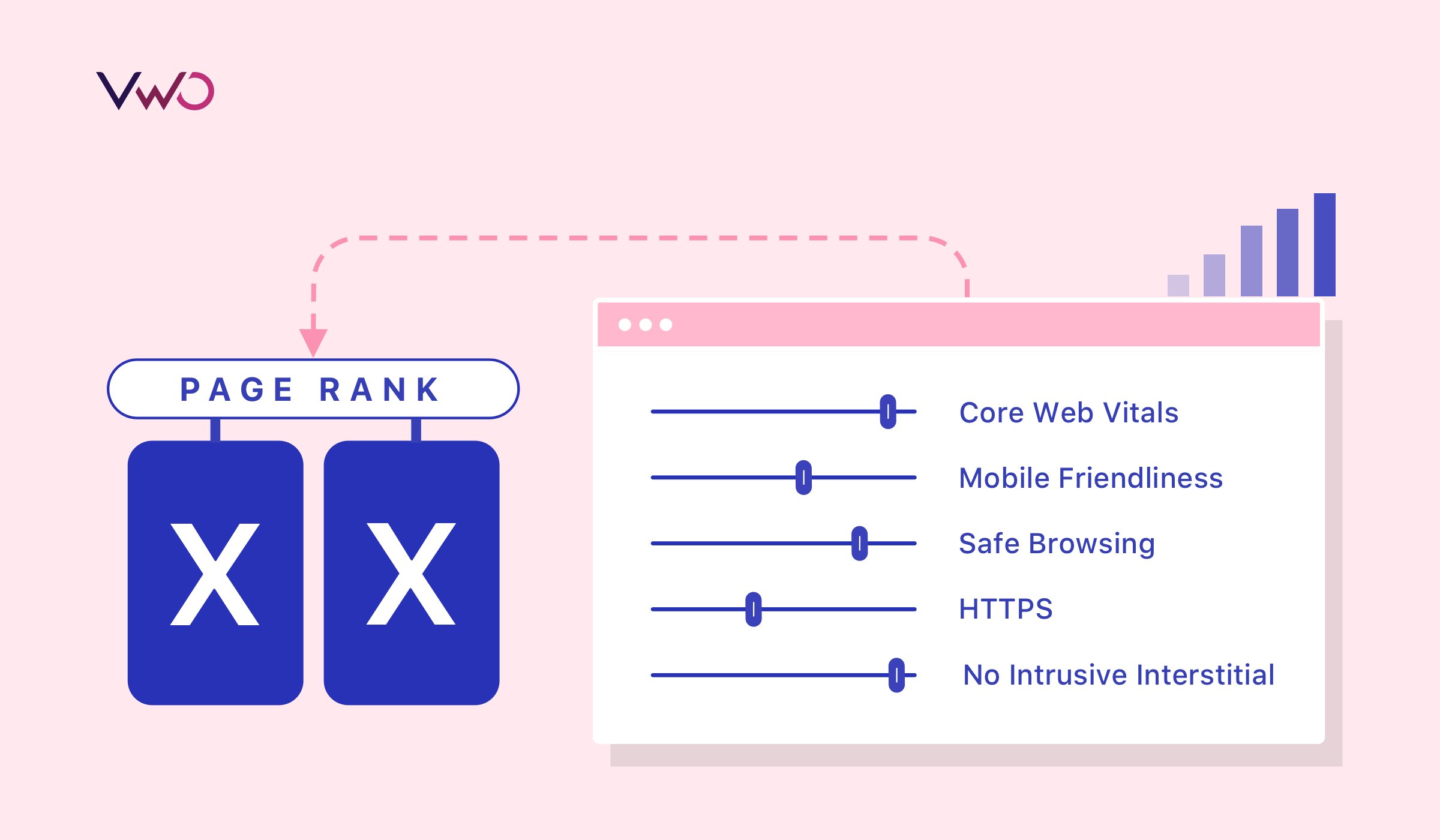 A win-win situation for brands and customers alike
Brand queries have always impacted rankings, but most brands that rank are not as big as the Nikes or American Expresses of the world. With this update, there's even more opportunity for smaller brands to rank high if they have the right kind of content and deliver a delightful browsing experience.
So if it was previously tough for you to fetch website visitors organically, this is your chance to rank higher. Even if you're not well-known so far, you can perform better on the search engine results page if you show content that is relevant and useful to users. In the process of focusing on UX, you're also serving your visitors better and paving the way for higher conversions on your website.
There's quite a bit of information available on Google's algorithm, and you're sure to have gone through the factors that constitute page experience:
Core Web Vitals – The loading performance, interactivity, and visual stability of your website.
Mobile Friendliness – The experience delivered to users who're accessing your website through mobile devices.
Safe Browsing – To check whether your website contains malicious or deceptive content.
HTTPS – To check if your website's connection is secure and the pages are served over HTTPS.
No Intrusive Interstitial – The accessibility of the content on your website.
We won't repeat what you already know. Things like AMP, load speed optimization, security, malware control, are straightforward optimizations to help you get ready for this update.
According to us, the bigger challenge is identifying the user experience that wins you the delight of users and improves conversions. This is where brands need to put in work. There is some input provided by Google to define the core metrics within the web vitals – Largest Contentful Paint (LCP), First Input Delay (FID) and Cumulative Layout Shift (CLS).
But in order to get these metrics right, you need to improve upon what successful brands have been doing for a long time now –
Listen to your customers
Give customers what they're looking for
If you've incorporated the above steps in your optimization strategy, and have ensured that your online presence is technically viable in terms of speed and security, you're potentially ready for this update.

Framework for improving website UX and performance
If you're a marketer in today's impact era, it is necessary for you to see the value in having a single customer view and analyzing entire user journeys. You need to –
Uncover what your audience really wants
Plan your growth roadmap and prioritize based on your goals
Learn what drives growth by testing various experiences
Delight your audience by implementing the learnings at various touchpoints
Build a process where the above activities run in a continuous loop
At a micro level, this framework incorporates the below process of experimentation –

Research and identify which parts of your conversion funnel need fixing. Use a combination of web analytics, heatmaps, session recordings, funnel analysis, on-page surveys, customer interviews, and other methods for valuable insights into visitor behavior.
Build a structured hypothesis. This should be based on observations that reveal a problem that needs fixing, include a solution for a defined audience, and the expected impact/uplift on the goal.
Prioritize your test ideas using the ICE model.

Importance: How valuable is the audience for whom you're making this change?
Confidence: How confident are you of achieving a better experience for users from this change?
Ease: How easy is it to implement this change?

Choose the right kind of test based on your hypothesis – A/B test, Split URL test, Multivariate test
Measure to learn whether your UX improvement efforts are working.
Other high impact changes that you can make
Content optimization
Remember that content will remain king and play the most critical role in determining page rankings. Audit your content to ensure it is easy to understand, solves a problem for visitors or addresses their needs, and is unique. Figure out which kind of content fetches the attention of visitors, and what persuades them to take action by A/B testing.
Look at the content quality on your competitions' websites, and find out how their content is different from yours – then aim to make yours better.

Speed optimization
Optimize your website for speed and reduce 4xx errors (minimize HTTP requests, use asynchronous loading files, check JS loading and server response times, use compression and caching, and check image file sizes).
Ensure that you have lazy loading correctly set up.
Get rid of any broken links.
A quick note here on how VWO impacts your website loading performance –
VWO delays the non-critical payload until all resources of your website have been loaded so that the visitor is able to interact with your website without any blocking time or delays in interactions. It reduces the Blocking Time to a negligible minimum ensuring little to no impact on your core web vitals.
UX optimization
Revisit your popular pages regularly and study the heatmaps of these pages. You will be able to identify the friction points and fix them to deliver a better UX.
Optimize for mobile search. Get your website mobile-ready by leveraging browser caching, reducing code, and reducing redirects. Also ensure that the design is responsive to smaller screens and the site structure is optimized for mobile.
Make sure that your CTAs are contextual based on specific points in the user journey on your website. Ideally they should convey some benefit to the user, apart from being well-designed and correctly positioned.
SEO optimization
Use alt text descriptions that are short, contextual, and ideally have a keyword because they are used by search engine crawlers for indexing.
Security optimization
Check your pages for malware or any deceptive content. Make sure it is safe for browsing and any personal information that the user enters is not at risk.
Use a secure HTTPS connection for your web pages.
Conclusion
Once the update is rolled out in mid-June 2021, user experience will become a direct ranking factor on Google. So if you haven't already assessed your optimizing strategy and prioritized user experience, you're pushing it to the wire.
Start making use of heatmaps and A/B tests to analyze your website's interactivity and its responsiveness to visitors. Run more experiments and figure out the design, functionality, and interactivity, to which your audience responds positively. Then make sure that you adapt to their preferences as swiftly as possible. This is the most logical way to achieve customer delight, improve your rankings, and achieve higher conversions.