The Company
Corcentric is a financial process automation software. It specializes in Accounts Payable automation, imaging, and workflow solutions. Corcentric maximizes ease of use and eliminates the risk of Accounts Payable outsourcing with a configurable, cloud architecture SaaS model that incorporates advanced imaging technology.
Their homepage clearly defines the value proposition of the software. There's also a neat yellow-colored CTA — asking people to sign up for a demo — on their homepage. If we go by the Von Restorff effect, the yellow colored CTA makes the primary goal of the website stand out pretty well.
This is how the original homepage looked like:

The Test
In this case study we are going to see how the copy on the CTA button affected its click-through rate. This test was run by Greenlane Search Marketing to optimize the conversions on Concentric homepage.
The hypothesis was that changing the CTA copy from "Get a Demo" to "Free Demo" would persuade more visitors to click on the button.
This is how the variation looked like: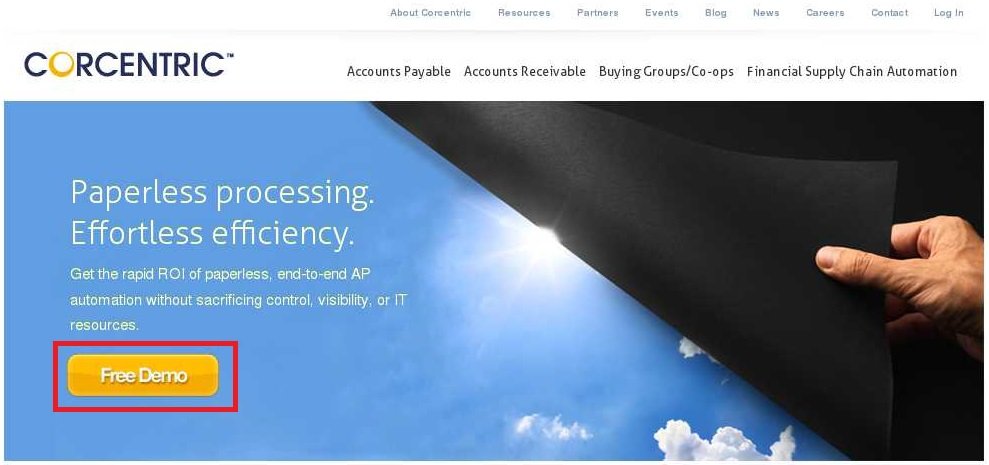 The A/B test was run on close to 800 visitors for a duration of 2 weeks using VWO. And the improvement was astonishing. The variation emerged as a winner and recorded an increase of 99.42% in the click-through rate of CTA button.
The Word "free"
The word "free", as mentioned in an article by Shopify, is one of 4 words that have the ability to engage with customers at a subconscious level. The word "free" has also featured in almost every marketer's list of must-use words in headlines, CTAs and copy. And if neurosciencemarketing blog is to be believed, FREE! is more powerful than any rational economic analysis would suggest.
In Corcentric's case also, adding the word "free" did the trick. It got them an additional 99% clicks in just 2 weeks.
Here are some of VWO case studies where involving the word "free" improved conversions:
And did I tell you, VWO is absolutely free for 30 days? You don't even need to take out your credit card.
Because hey, we all like free things? Don't we?
Let's Talk
Would love to know your experiences with the word "free". Let's talk in the comments section below. 🙂