Success Story
ISM eCompany Helped Tele2 Increase Their Subscription Renewals using VWO
27%
Subscription renewals
About ISM eCompany
A full-service digital commerce agency headquartered in the Netherlands, ISM eCompany is most renowned for its future-proof and distinctive data-driven digital marketing services for eCommerce websites. ISM eCompany has been in the market for 28 years and is backed by 150 plus specialists. It also has a vast clientele that typically includes brand manufacturers, retailers, and wholesalers with domestic and global digital commerce ambitions.
ISM eCompany has been using VWO since 2011 for all its A/B testing and conversion optimization needs. We got in touch with Loef Kleinmeijer, Team Lead Conversion & CRO Consultant at ISM eCompany, to learn about his experience with VWO and share some of his learnings.  
Loef has run many experiments for many of ISM eCompany's clients using VWO. One of these experiments, with a European telecommunications operator Tele2, is elaborated here.
Goals
Tele2 is one of the leading Dutch-based mobile subscription service providers headquartered in the Netherlands. The company's primary objective is to offer the best mobile subscription plans to its customers. It also aims to make it easy and convenient for visitors to find their preferred mobile devices and increase subscriptions on its product listing pages.
Observations
In an in-depth conversation with Loef and his team, the execs at Tele2 expressed their concerns regarding the decreasing subscription rate on Tele2 product listing pages. To understand the problem, Loef and his team referred to multiple data sources, including neuro research, user tests, and web analytics data. 
The insights from the research revealed that most people scrolled through the entire product listing page to look for their preferred smartphone brand rather than using the filter option present right above the mobile device listing. 
Tests run
Based on their research, Loef and his team hypothesized that adding brand filters next to the general filter button on the smartphone overview page will increase the number of visitors who continue to move ahead in the order-flow and the configuration page for renewal. This, in turn, will also cause an increase in the conversion rate. 
To validate their hypothesis, ISM eCompany used VWO Testing to create a new version of the smartphone overview page. As discussed, they added brand filters next to the general filter in the variation version.
Here's how the control and variation looked like: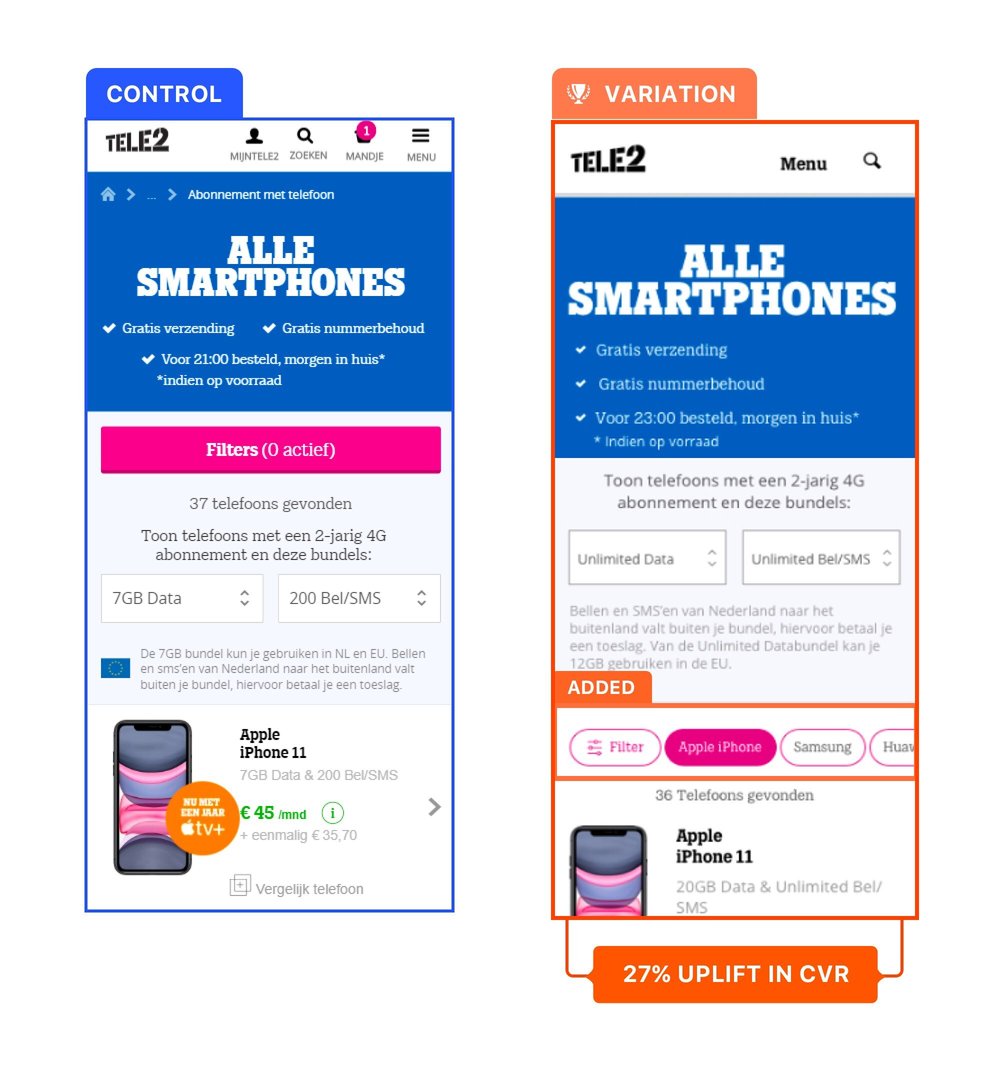 The test was run for 28 days and saw an uplift in both filter usage and subscription sales. They registered a 13.7% increase in conversion rate for new subscriptions and a 27% increase in conversion rate for existing customers renewing their subscription. 
The team noted that by giving the brand filters a more prominent position on the smartphone, the overview page stimulates users to filter and narrow down their selection. In this way, users can find the most suitable device quicker, which, in turn, prompts them to take the desired action faster.
Conclusion
ISM eCompany plans to scale and deepen its CRO programs based on its current strong data-driven way of working. This includes gathering even more insights from data on the entire customer journey (on- and off-site). These insights will serve as the starting point for optimization through A/B tests and other validation methods. The company also plans to gather more learnings per test by using additional metrics and segments, combining heatmaps and recordings with test variations, and linking everything together to increase their knowledge of human psychology and user behavior. To understand human psychology and user behaviour through these tests, start your free trial today.
Loef and his team believe that such a methodology will allow them to run more tests on specific visitors segments and achieve an even higher success ratio and impact in these tests.
VWO is a highly user-friendly and economical tool. It offers an intuitive user interface. It makes it easy to run experiments, gather customer insights, check for leakages in the sales funnels, looking at customer journeys using recordings, and conducting usability tests. The ease of segmenting the audience while creating 'control' and 'variation' is also something that makes VWO stand out.

Loef Kleinmeijer

Team Lead Conversion & CRO Consultant
In the future, ISM eCompany intends to explore more of VWO's capabilities and make it an integral part of its standard testing and optimization toolkit. So far, the company has used VWO to uplift the revenue of many of its clients and plans to continue doing so.

Experiment goals
Increase number of subscriptions
Impact
27% increase in Subscription renewals
Explore Our Other Success Stories
Start and scale your A/B testing with VWO