How To Optimize Conversion Rate On Website Templates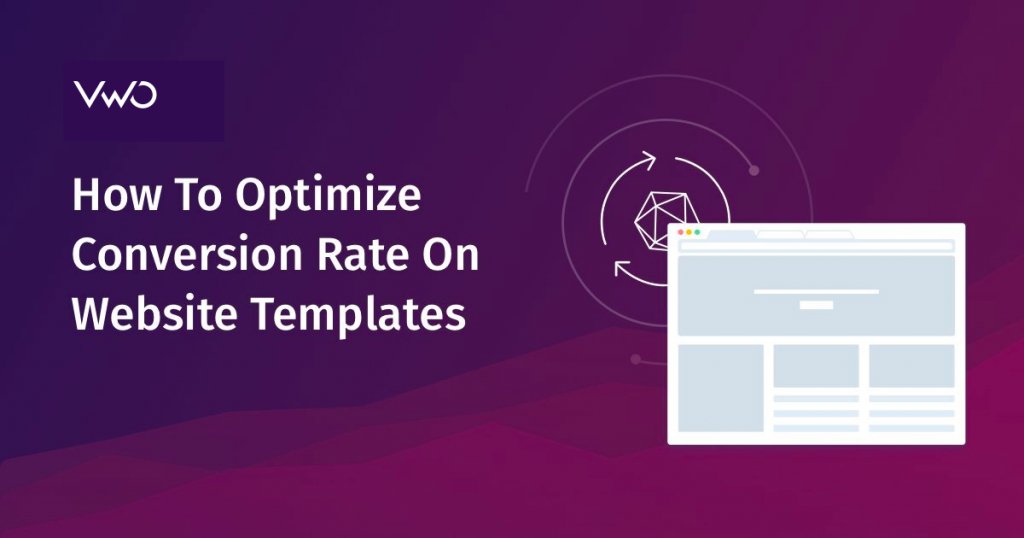 The huge number of website templates available today has made it easier than ever to launch a professional-looking website—whether or not you know how to code.
Besides representing an easy, useful starting point, templates are more cost-effective than contracting with a designer (which can cost $10,000+). They also let business owners leverage established design patterns to create a consistent, pleasing digital experience.
According to Josh Dunsterville of KlientBoost, as interviewed by Shanelle Mullin of ConversionXL:
"As humans, we pay attention to patterns, in fact we seek them out. We expect when we visit a site to find the logo in the top left corner, followed by the navigation in the top right. When we come to a site that breaks these patterns, it does one of two things. It either intrigues us, or frustrates us."
That said, all of these benefits come with an important caution: website templates are built by designers to look pretty, not by CRO specialists to convert.
Using a website template can help you launch an MVP quickly and affordably. But after your site is live, it's up to you to undertake the conversion rate optimization work necessary to drive maximum performance.
Process
For performing CRO on website templates, you require appropriate tools for your situation and a plan to use them.
Choose Your Tools and Technical Processes
Thanks to advancements in web technology, you have plenty of options to choose from when it comes to split testing tools.
If your website runs on WordPress, a platform-specific split testing plug-in may provide the targeted functionality you need to work within your CMS. Alternatively, if you are looking for a tool that's platform-agnostic and free, Google Content Experiments is another great option.  
If you need more complex testing and customization options, look for third-party tools like VWO. As an example, if you've built an eCommerce store on Shopify, which doesn't have a native split testing tool built in, you may find the program's Shopify integration helpful.
Take features, pricing, and your personal comfort with each option into consideration before you make your final decision.
Choose What to Test
To some degree, deciding the specific tests you'll run may indicate your choice of tools and techniques. If you want to test the impact of different product landing page variations on the overall revenue, for example, you'll need a tool that's capable of attributing and calculating the monetary value of individual conversions.
Beyond this decision, however, the process of choosing what to test can be overwhelming. Since website templates are made from so many different moving parts, how do you decide where to begin?
The following 3 approaches should give you clarity:
1. Optimize Closest to the Money
In an article for Shopify, Tommy Walker shares the following sample screenshot:

Looking at this data, Walker states:
"Think about the people who visit your site. Some are random, some are window shopping, some will never buy. But those people who add something to their cart and reach the checkout… they're motivated."
Although you could start anywhere with your website template CRO, Walker suggests looking at the abandoned checkouts mainly because that's where the most motivated prospects are. In this case, figuring out how to turn more than 47 buyers out of 192 shoppers would have an immediate bottom line impact.
On an eCommerce website template, that means the checkout or the pricing (especially if you're using a product sourcing solution that offers suggested prices).
On an educational blog or corporate template, that might mean the CTAs that lead to your desired action. In either case, find the step before prospects become leads or customers and focus your attention there, no matter what type of website template you are working with.
2. Test Big Wins vs. Small Tweaks
The Obama campaign's 41 shades of blue split test is famous for a reason. But when you're working off a stock website template, testing button colors should be the last thing on your mind.
ConversionXL's Peep Laja puts it this way:
"There is no best color, it's always about visual hierarchy. Sure you can find tests online where somebody found gains via testing colors, but they're all no-brainers. Don't waste time on testing no-brainers, just implement. You don't have enough traffic, nobody does. Use your traffic on high-impact stuff. Test data-driven hypotheses."
When working with website templates, one of the easiest ways to find big wins to test is to compare your template with your competitors' sites. What elements do they have that your site design doesn't?
Maybe it's a row of trust logos on the checkout page. Maybe it's a product page layout that emphasizes larger images.
Try to figure out what makes them tick. Then, test similar variations on your site against its default template design. Going big will give you a better direction for moving forward than lining up multiple, small tweaks.
3. Optimize for Performance
Remember earlier how I told you that website templates aren't built by CRO experts? Well, they aren't built by web performance experts either….
The result, in many cases, is website templates that load slowly and perform poorly, even if these look really cool after they are loaded. Gavin Ballard, writing for Shopify, describes it this way:
"Sitting on a high-bandwidth connection in our offices, and not experiencing our stores through the eyes of customers, it's easy for both developers and clients to overlook performance and instead focus on that snazzy new lightbox or worry about the colour palette."
Website template optimization doesn't have to be about page layouts or checkout flows. Speeding up your site might be enough to boost performance, given that "a 1 second delay in page response can result in a 7% reduction in conversions."
4. Survey Visitors on Site Behavior
Finally, don't forget that one of the fastest ways to uncover problems with your website template is one of the easiest—just ask people.
Use live chat tools or survey tools (depending on your business's unique needs and processes) to ask why people chose not to purchase. Was there information missing? Did they feel your site was untrustworthy for some reason?
Take the feedback you receive using this approach and use it to drive the future testing decisions you'll make.
Website Template Testing Challenges
According to Josh Uebergang, writing for Shopify, as you develop a website template CRO program, there are several challenges you need to be aware of. Site users on platforms like Shopify, WooCommerce, or BigCommerce must be especially cautious. Some of these challenges are as follows:
If checkouts happen off-site (as in, on a domain like checkout.shopify.com), it may be difficult to track and properly attribute the final revenue generated. This is especially the case with Safari users.

Sending out abandoned cart emails—as

all e-commerce sellers should be doing

—can throw off the results of your CRO campaigns.

Users who browse on one device and complete their purchases on another can cause the same attribution problem.
Uebergang offers solutions for these challenges in his article. These involve properly configuring your third-party testing tool and integrating its data with Google Analytics. But for now, what's most important is recognizing some of the challenges you may encounter when testing your website template.
Building a Website Template CRO Campaign
Technical challenges aside, one of the worst things you can do with this information is nothing.
Remember, your website template wasn't built to make sales. It was built to look good enough for you to purchase it from the template marketplace of your choice.
Use the tools and strategies described above to start improving its performance today. Don't put your business at a disadvantage by sticking with a template that isn't optimized to your needs.
What other tips do you have to add on the website template CRO? Leave a note in the comments below with your suggestions.