Almost all conversion experts talk down image sliders.
You might argue that some big websites still have them on their homepage. But the truth is, these websites are most likely run by the ignorant lot.
Yes, if they are not testing, they are like Jon Snow. They know nothing about conversions.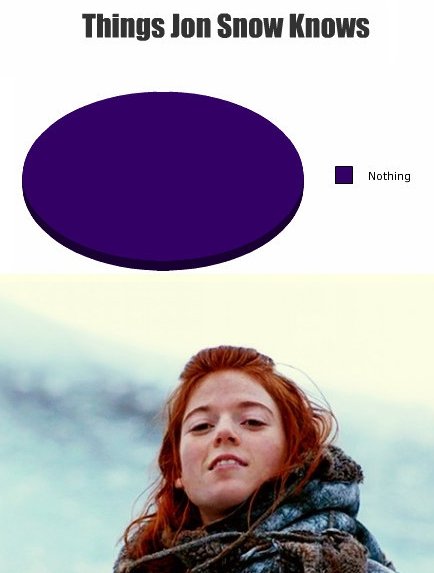 Bottom line — you want conversions? Test your image sliders/carousels.
I've talked about my dislike for image sliders before.
But for those of you who haven't read it, here's a quick recap of some data points and research to explain why an image slider is the evil spell harming your website:
They are a usability catastrophe – They take away control from your visitors, giving them an annoying browsing experience.
They increase page load time. And every single second of delay in load time can reduce conversions by 7%.
People often ignore them. A NN group study mentioned that "The user's target was at the top of the page in 98-point font. But she failed to find it because the panel auto-rotated instead of staying still."
They push down the content of the page, which might harm your SEO after the page layout update announced by Google few months ago. And don't forget, they often occupy the most important online real estate on a website that one can otherwise utilize much more wisely.
They offer umpteen choices for visitors, which causes action paralysis and hurts conversions.
Many studies have shown that as little as 1% of total visitors interact with the slider.
Even the conversion majors, like Peep Laja and Tim Aish, are quite eloquent about their dislike for these sliders.
Now that you understand why image sliders are so disliked, let's talk about our case study now.
The Company
Meddelandelån Sverige AB is a Swedish company that offers quick loans online. To get the loan, visitors have to go through a small 3-step process, following which they are granted the approval if they fulfill certain criteria.
Here's the 3-step process that all applicants are required to follow:
Step #1: Selecting the loan amount and timeframe using the widget on the homepage
Step #2: Identification check (using a PIN-code, bank account or online identification)
Step #3: Submission of personal information (contact details, monthly income, and others)
If the credit check goes well, the money is transferred to the applicant's bank account.
The Hypothesis
Sampsa Vainio is Meddelandelån's conversion guy who ran this test. He first set up a conversion tracking test on the homepage to analyze how visitors behave on their website. The test revealed that even though their image slider has offers with clear headlines, like "Borrow 500 Kr for free as a new customer," their carousel was not getting any clickthroughs.
Having read about perils of using an image slider on a website, he saw an opportunity for improvement and decided to run an image slider A/B test on the homepage using VWO.
Here is how the image slider looked on Meddelandelån's homepage: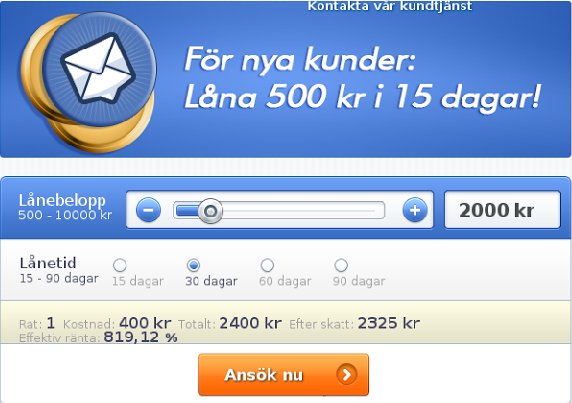 He hypothesized that replacing the slider with an impactful headline will cause more visitors to use the widget (placed below the slider) to apply for a loan and increase their website's conversion rate.
The new headline with an emphasis on their value proposition thus replaced the slider in the variant and was pitted against the original page. Here is the new headline along with the sub-head that was used:
Small Internet Loans
Borrow money 7 days a week with clear pricing and honest terms
To add credibility, a short text was also added about company's presence in the industry since 2005 and having thousands of happy customers.
This is how the variant looked when the slider was replaced with a headline (and supporting text):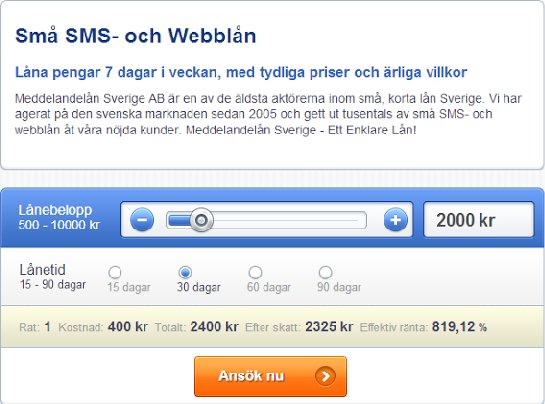 Results
The overall website conversion rate as well as the value per visitor increased by 5% for the variant. This interprets to an estimated 50,000 Kr (or $7600 USD) additional monthly revenue. Assuming nothing changes, this is a win of $90,000 USD per year.
In case you are thinking of testing image sliders on your site too, here are a few things you can consider to replace them:
Impactful headlines
Static image of a trending/profitable category
Use each slide as a static image to target different visitor segments
Customize static offer for repeat visitors based on their behavior on the site. For example, if a visitor spent most of her time on site on women footwear previously, the next time she visits, you can show her an enticing image of women footwear on the homepage (instead of showing a carousel). You can easily implement this with behavioral targeting feature in VWO.
What's Your Take?
Do you like image sliders? Have you ever tried testing them on your website? Share your insights with me in the comments section.
Image credit: MemeCenter.com