For eCommerce websites, having the right product mix is very important. If you don't have products that your customers want, they are going to leave the website and never come back again. And unless you are Amazon or Walmart, you cannot afford to have all sorts of of products to offer (handling inventory, shipping, policies is a logistical challenge so most eCommerce companies specialize in specific niches). So knowing which products to offer is a big challenge for online retailers. This problem becomes even more difficult for the fast-changing technology products such as cell phones.

One of our customers, Mobal, sell international cell phones online. Since the primary product they offer is a cell phone number that works across the globe, choice of handset is a secondary factor in a purchase decision. Or, so they thought! When they A/B tested a new line of handsets by offering additional Android option, they saw sales grow by 27%. This significant increase happened just by adding one new product! No design changes, no new cell phones plans — just a new handset option.
What was A/B tested and why?
Their goal was to determine whether replacing their current deluxe phone with an Android smartphone, or adding an Android smartphone to their current offering would provide an increase in sales over the current 3 phone models they offered. They ran an A/B test on their international cell phones landing page which gets traffic from organic, PPC and direct sources.
Control Page – Budget, Classic and Deluxe Phone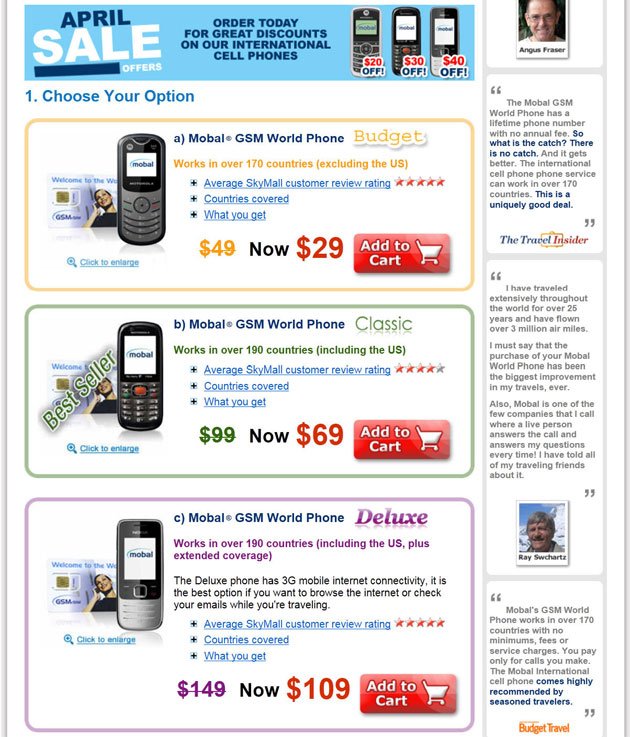 The primary motivation for this A/B test was to see whether there is any demand for smart-phones from international travelers and also to assess the impact of offering a smartphone on their other products. Since international travelers value service and network coverage, they were unsure which variation would convert the best.
Variations tested
They started a test with 3 pages just changing the phone product section of each. One was the original page (control) that you saw above. Other variation looked like below screenshot:
3 options variation (with Android option). 13% increase in sales.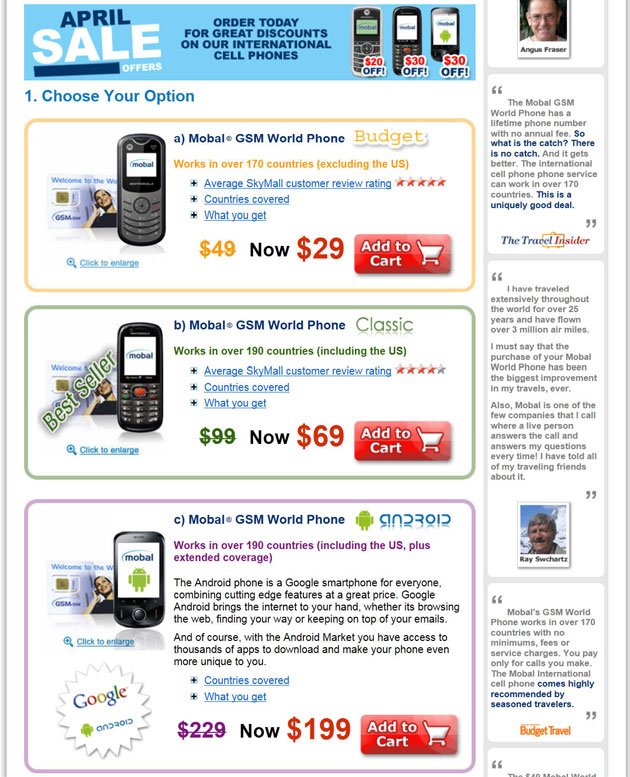 Results: 27% increase of sales
The results were very surprising with the 4 phone option (see a screenshot below) converting 27.77% better than the control page, they felt that an additional phone option may have had an adverse effect on the overall conversion rate but the test proved them wrong. It was also interesting to see that replacing their current deluxe phone with an Android handset saw an increase in conversion over the control page of 13.3%. Clearly, Android phones worked like magic and helped them gain a lot more customers!
4 options variation (with both Android and Deluxe phone option). 27% increase in sales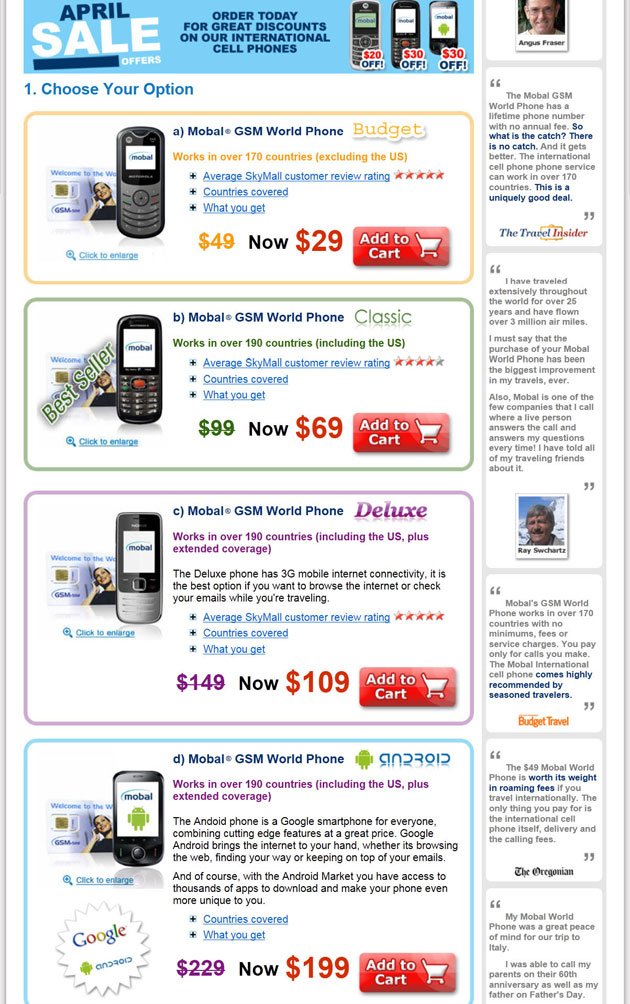 From this A/B test, they concluded that offering four phone options meant a significant increase in the number of phone sales we had and that there was a demand in the market for smartphones.
Since they used Visual Website Optimizer for their split test, they gave us a testimonial:
Visual Website Optimizer allowed us to simply and efficiently conduct a split URL test for our 3 options. The easy to use dashboard system meant that we could identify which product selection offered us the biggest increase in sales.
So, if you are an eCommerce website, make sure you regularly A/B test your product mix. You never know which new products may increase your overall conversions and sales!