Customers appreciate smart content. The buyer journey of a lead can be influenced by data-driven content. It is no surprise that dynamic content is in demand given the frequency with which consumers log onto the internet, in addition to the sharp rise in mobile devices. Creating dynamic content allows you to create a personalized experience for your visitors or readers, no matter where they are at the moment. Let's find out what dynamic content means.
What is dynamic content?
Dynamic content refers to any digital or online content that transforms in response to a user's actions, choices, and interests. Based on information such as visitor location, time of visit, preferred language settings, and device type, it is tailored and evolves to provide a rewarding and user-friendly digital experience.
Various forms of dynamic content can be:
Descriptions
Text
Blogs
Announcements
Pictures
Animations
Video or audio
Landing pages
Newsletters/emails
Ads
Dynamic content is becoming an essential component of marketing. To deliver delightful experiences throughout the buying process, brands are becoming increasingly engaged in customer-centric marketing. This can be accomplished by deploying a dynamic content system to tailor events according to each individual's needs and contextualizing it to the situation.
Benefits of dynamic content
Adopting dynamic content on your site has many advantages. A list of the main benefits of implementing dynamic content is provided below:
Draw in your audience – Websites that provide visitors with what they want are more likely to receive repeat traffic, whether it be a new product, informative content, a blog, a promotional offer, or even useful videos. By regularly adding new dynamic content, you may pique the interest of your readers and encourage them to return.
Enhanced relevance – A higher level of relevance is achieved because customers rate your website in a matter of seconds. To reduce bounce rate and boost conversions, it's essential to present suitable and relevant offers.
Customized interactions – Like relevancy, dynamic content enables the creation of individual experiences. This increases sales fosters trust and improves the whole user experience.
Fast & efficient – Dynamic content may now be loaded swiftly and flawlessly thanks to customization technology. You can make quick websites without relying solely on static material (example: Google, Wiki, etc,)
Smooth flow – Websites can upload dynamic content over a previously loaded web page without the visitor knowing of it by combining server-side scripts with scripts that run in the browser.
Enhanced SEO – A strong SEO includes keywords that are linked to quality content. This makes websites with dynamic content easily recognizable by search engines, as a result, boosting the online ranking.
Obtain valuable marketing insights – A combination of dynamic content with analytical tools can aid the marketing team's ability to swiftly identify what customers want and which topics are trending.
Generate revenue – Eventually, it is all about revenue, and dynamic content helps achieve just that by boosting website traffic, increasing the number of visitors who become customers, and assisting in the sale of more of your goods and services.
Types of dynamic content & stages of implementation
The infographic below provides a quick overview of the different forms of dynamic content that marketers can deploy at each stage of the buying process, from awareness through customer acquisition to retention and engagement.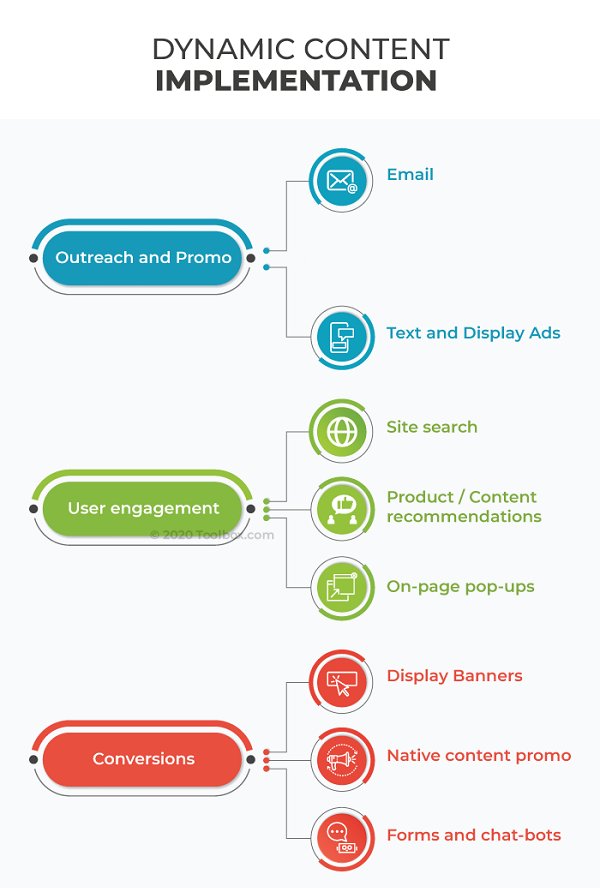 Let's discuss in detail:
Awareness phase – promotion and outreach
One of the major indicators for measuring marketing success, regardless of whether you are a product or services firm, is generating leads through the two most popular marketing outreach and awareness-building tactics, – email and paid campaigns. Let's look at how implementing dynamic content can act as a powerful catalyst to enhance the outcomes of these outreach campaigns:
Email
Email campaigns can be made more meaningful and engaging for readers
by dynamically developing and optimizing email templates according to viewers' preferences, demographics, and stages of the buying cycle. Some of the dynamic content that can be used is:
Personalized greetings by adding the recipient's name to the email.
Easy online event registrations
Relevant CTAs to complete a particular action such as completing a purchase, renewing the subscription, etc.
Paid campaigns
While managing paid campaigns – display, search, text, and, social ads, dynamic content can assist in improving the below aspects of the ad delivery and result:
Digital text ad titles are smartly mapped to user searches. For example- Google Adwords
Dynamic display ads for remarketing campaigns in which advertisements are carefully chosen depending on previous user interest.
User engagement phase
Once you have successfully drawn a person to your website, it is crucial to engage them with the most contextually appropriate material so that they are more likely to become prospects or clients. Below are the areas of the website where dynamic content can be implemented:
Site search
Implementing a simple search bar or symbol will drastically improve site navigation and make it easier for users to get to their desired destination web pages.

Recommendations – product/content
An effective recommendation engine can intelligently choose and recommend articles, products, and feature information pages that are appropriate to the visitor's buyer persona and consumer experience. Dynamic content can be used:
On-page pop-ups
Pop-ups with dynamic content might be user or page-specific. As long as they are carefully planned to be non-intrusive, contextual, and applicable to the customer or buyer's journey, they are permanent engagement and retention tools to enhance conversions.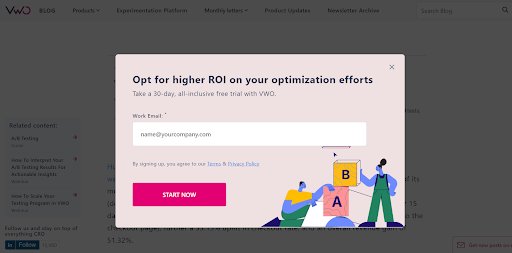 Conversion phase
After attracting visitors to a website, it's time to convert them by getting them to execute the necessary action. The following dynamic content choices can be used on significant conversion-boosting opportunities:
Display banners
Dynamic display banners play an extremely interesting part in showing contextually relevant content to the visitors. They can be utilized to display ads to encourage user interaction in:
Web pages
Emails and newsletter
Apps or software
Promotional content
Another method of increasing conversions is by including dynamic promotional content within an article or blog post to promote components that make sense contextually and provide value to the reader.
Chatbots and forms
The idea here is to use dynamic content to accelerate and simplify the conversion process or CTA.
Using browser cookies is one of the most effective ways to implement dynamic content on lead forms and chatbots. This technique allows for the automatic filling of fields that are shared by two forms, which need not even be from the same website. Once the user has completed the initial form, the information is saved in the browser.
Best practices – dynamic content
It takes a lot of effort, resources, and time to make your content dynamic, accessible, and interactive. However, the investment is unquestionably worthwhile. Here are some recommended best practices for using dynamic content:
Completely understand your users and customers.
Utilize data to keep an eye on your content flow
Always test your content to ensure that it is mobile-friendly.
Personalize dynamic content to give users a sense of importance.
Prioritize your marketing goals to implement different types of dynamic content.
A/B testing and dynamic content optimization
A/B testing is a dependable approach for optimizing your dynamic content.
To optimize dynamic content, test variables, text, pop-ups, or banners. By doing this, you'll be able to determine which design, for instance, motivates visitors to purchase your goods, fill out a form, register, visit a landing page, and much more.
Why choose dynamic content over static content?
Since the beginning of the internet, static material has been the standard. This is because it is significantly simpler to implement than the dynamic content substitute. The disadvantage of static material is that it cannot be customized, which lowers the website's performance. Dynamic content has a few definite advantages, despite being a little more challenging to set up:
It offers a more user-friendly experience
It helps keep in check some vital metrics such as conversions, bounce rate, return visits, etc.
It is clean and doesn't mess up the original website layout.
Once implemented, it requires less attention or care.
Dynamic content is becoming a common standard feature used by many websites to ensure client happiness and a successful customer journey. To better inform or entertain their users, webmasters can employ a variety of communication channels and information that has been precisely calibrated. Dynamic content, which can even develop matching information, makes operations easier for the user and boosts a website's conversion rate.