6 B2B Content Ideas to Increase Conversions
Think about the products and services you are using to run your business. How did you choose them?
You must have started with lots of questions (related to the use case, budget, impact, etc.). Then, there is a very high probability that at each stage of the buying process, you must have come across some content that answered a doubt and let you move forward. In the end, you must have chosen the tool that resolved all your doubts.
Content is like a signpost that leads you to the destination while moving on an unknown path. On that unknown path, you followed the signpost that made things clear for you. Similarly, your potential client is also moving on that unknown path. So, do you want to build signposts that will appeal to them?
If you're interested in building content that will brighten your potential client's path to the destination, we have six B2B content ideas for you. Each idea includes examples that have leveraged these formats to increase engagement and conversions.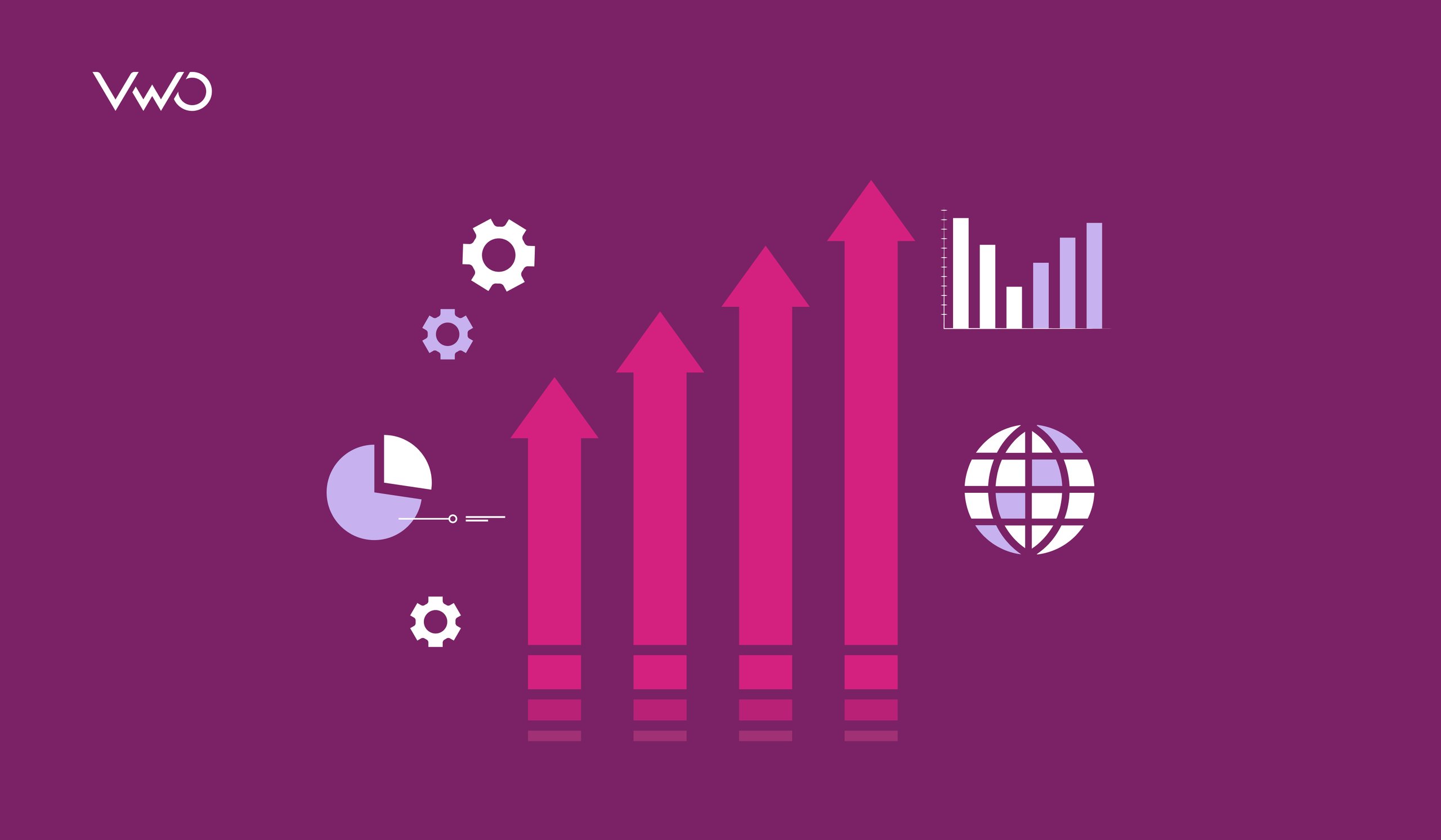 1. Pillar pages
In any successful content marketing plan, pillar pages play an integral role. Essentially, a pillar page refers to an extensive and detailed content piece that delves into a broad topic within your industry or business. It functions as a central hub that connects all the relevant subtopics and content on your website, providing links to and from other pages and content.
Pillar pages should give a comprehensive and captivating perspective on a subject matter. Additionally, they should be visually appealing, user-friendly and incorporate a variety of multimedia elements, including images and text.
Pillar pages work best in improving conversion at the top of the funnel (ToFu). A pillar page can attract more traffic to your site as it showcases expertise, authority, and trustworthiness, which makes content rank higher in SERPs.
Take the example of the pillar page created by VWO on A/B testing.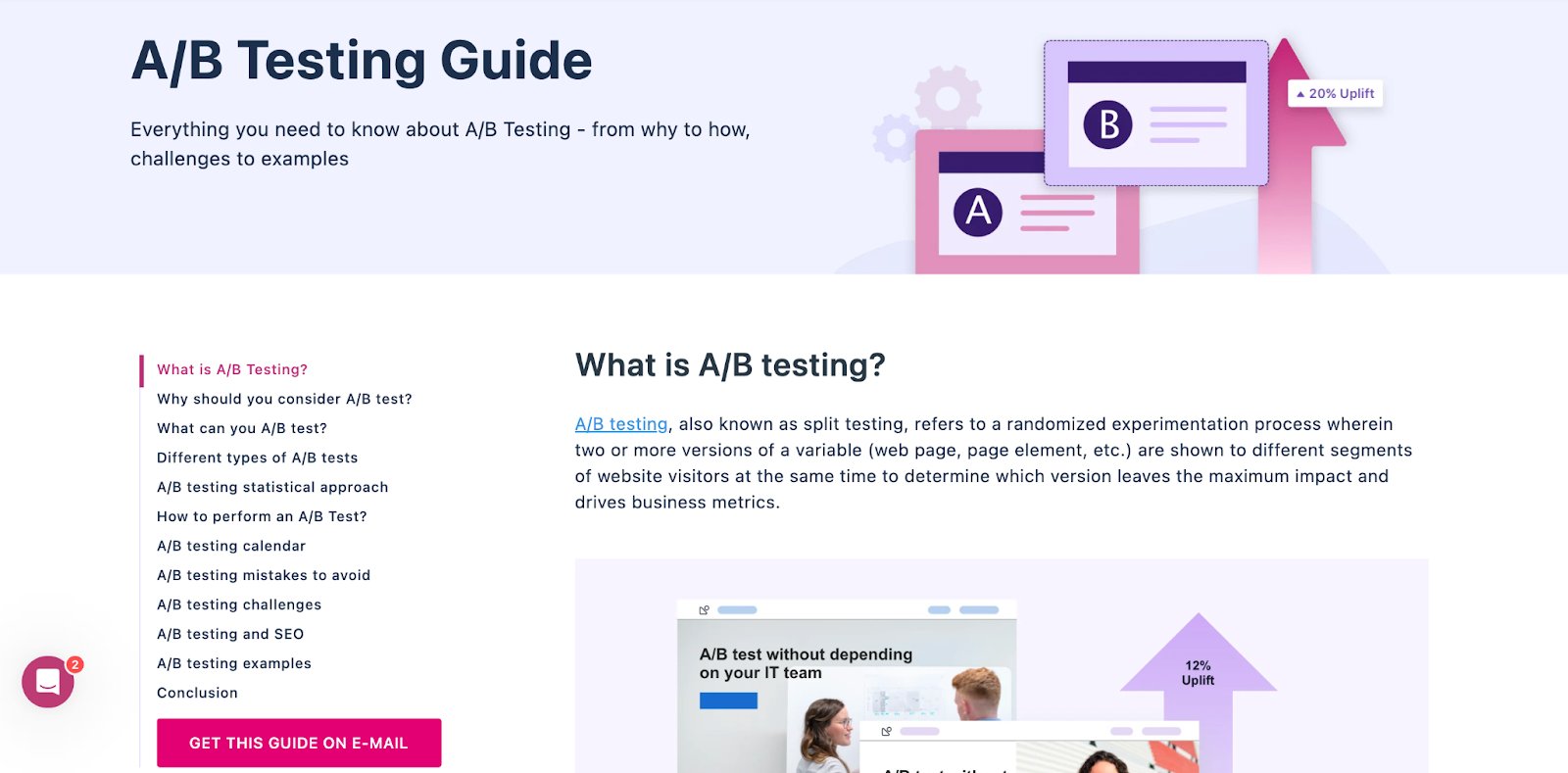 It touches on the broad topic of A/B testing and explains all the related subtopics to make it exhaustive and compelling simultaneously. The guide page showcases a table of contents that makes visitors aware of the content and jumps to a section of interest.
The guide has images and actionable tips, making it visually appealing and easy to digest. Also, a call-to-action to email the guide allows for achieving the objective of generating a lead.
The landing page has achieved a top-five ranking in the SERPS for keywords such as A/B testing, with a monthly search volume of over 10,000 in countries like the USA. This has resulted in a substantial influx of traffic to the page. Additionally, it projects VWO as a thought leader in online experimentation.
That's the power of pillar pages. Though it takes significant time and effort to create these, the rewards are worthy of all the input.
2. Visual-based storytelling
In the age of information overload, the human attention span is fleeting, and your content strategy must include modern content delivery mediums based on visual storytelling. Content formats like Google Web Stories, short videos, and video series are becoming popular as they are visually appealing and quick to consume.
Visual-based storytelling does not aim to replace long-form content formats such as pillar pages, guides, landing pages, and blog posts. Instead, it offers a distinct approach to engaging with audiences by conveying content concisely and narratively. This unique mode of storytelling can be highly effective in enhancing brand awareness and expanding the reach to a broader audience, which in turn increases the conversion at the ToFu.
Mailchimp is one of the leading players in the email marketing and marketing automation space that incorporated visual base storytelling with its Mailchimp Presents initiative.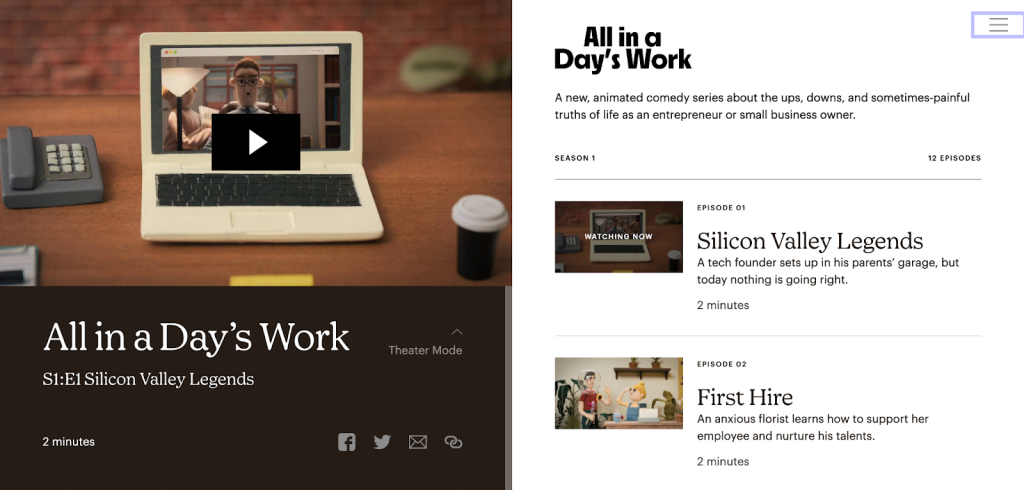 Mailchimp Presents shares content related to entrepreneurial spirit via video and audio-based content. The video series and films engage the audience with stories and motivate them to be entrepreneurial. The subtle CTAs to Mailchimp offerings promote the brand and how it can help businesses scale up.
Such initiatives bring a fresh perspective to the brand's outreach initiatives rather than just promoting links to new blog posts. Though such initiatives require significant capital and human resources investment, a small business can start with other visual-based mediums like Google Web Stories, YouTube Shorts, etc.
3. Webinars
A webinar is an incredibly engaging and powerful way to communicate ideas, share knowledge, and build connections with your audience. A survey in 2021 that included 115 marketing practitioners concluded webinars as the most effective ToFu demand generation tactic.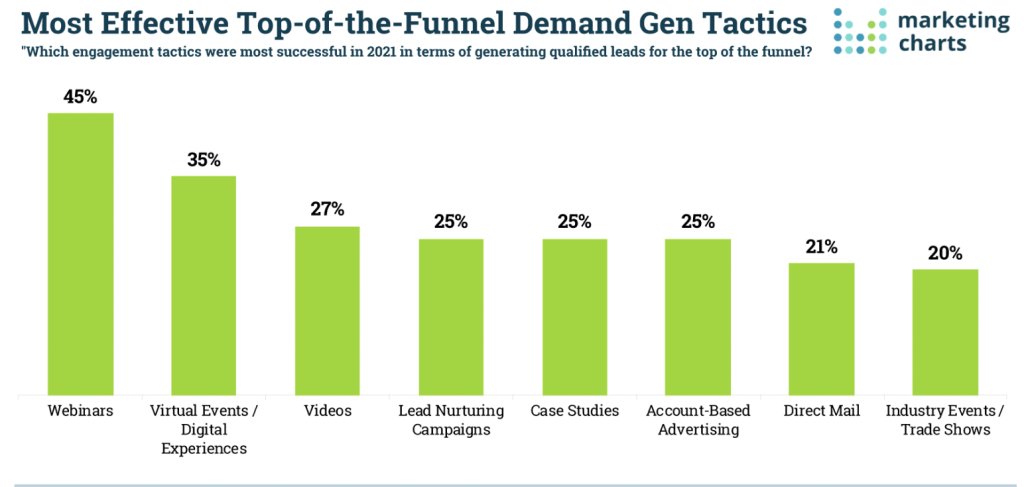 Additionally, webinars are one of the few strategies where there is two-way communication between you and your audience. Many companies conduct ask-me-anything (AMA) webinars to resolve doubts and questions related to the product, which helps increase the conversion rate at the middle of the funnel (MoFu).
By bringing in guest speakers and thought leaders from your domain, you can capture your listeners' attention and draw them in, helping them to connect with your content on a deeper level. Also, by incorporating personal anecdotes, case studies, and examples from your own or other brands' experiences, you can bring your content to life and inspire your listeners to take action.
For example, CNBC organized a @work Spotlight Series event in 2020 for CXOs on changing business scenarios and leveraging technologies at work.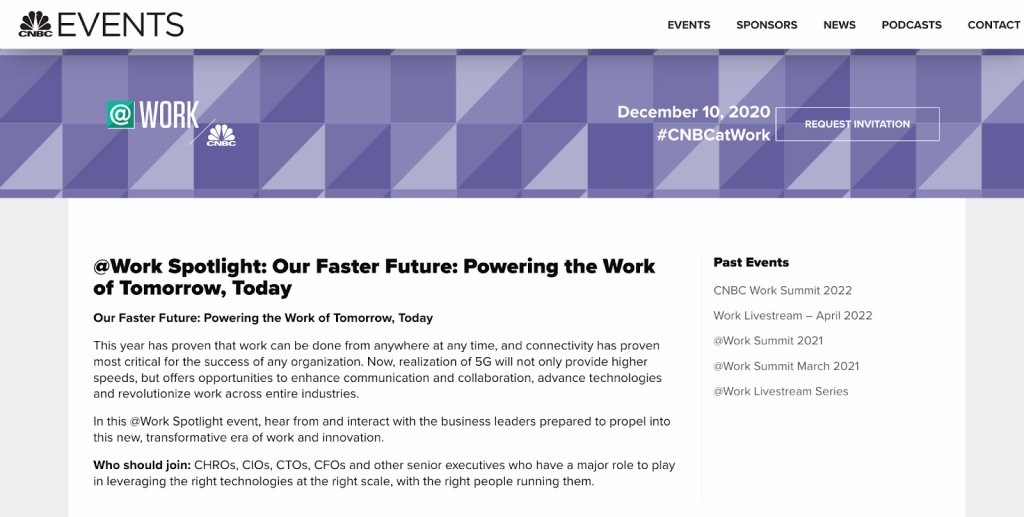 The virtual event series featured esteemed guest speakers from Fortune 500 companies, offering invaluable insights to participants. With an intuitive and engaging experience, including targeted breakout rooms, the event fostered dynamic two-way conversations between attendees and guests.
The results were remarkable, with over 20,000 average views on weekly live streams and a staggering 1 million unique visitors to CNBC's Digital Events Hub, showcasing the event's widespread success.
4. Case studies
In the B2B realm, case studies serve as a powerful medium to highlight the positive impact your product has brought to your clients. They also serve as compelling evidence for potential clients to evaluate your product based on the tangible results achieved by competitors or players within the same industry.
Case studies are a collaborative effort between your company and your clients, and the data presented in them must be accurate and genuine. Exaggeration or understatement can lead to legal implications, which is why case studies are considered a highly reliable source of information for companies to assess the effectiveness of a product.
Take the example of VWO's Success Stories.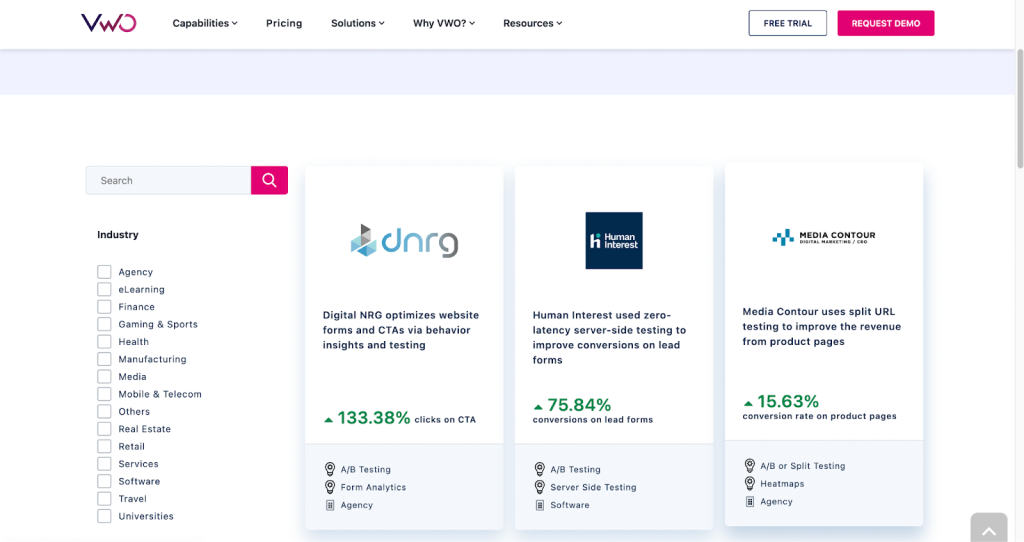 The success story landing page indicates the brand name, industry, utilized VWO product, and improvement in the conversion metric.
It allows a potential customer to easily skim through the numerous success stories, identify their industry, and report uplift before delving deep to get more information. Additionally, it enables the sales team to share relevant case studies while they are conversing with a potential client to finalize a deal.
Thus, case studies aid in giving a final nudge to a client to buy the product, as they showcase the product's potential and answer doubts related to the product's performance. Which helps in converting leads from the bottom of the funnel (BoFu) into clients.
5. Online courses
Online courses have become increasingly popular over the years and for good reasons. Many companies offer paid and free courses to increase brand affinity, revenue, customer retention rate, and project domain expertise.
A good online course targets a specific topic catering to a specific user segment. It enables learners to delve deep into the topic and equips them with valuable knowledge. An online course should clearly outline its duration, prerequisites, a comprehensive table of contents, and expected learning outcomes.
Online courses are efficient in converting leads at the ToFu by providing domain-specific courses and at the BoFu by providing product-related courses.
Take the example of HubSpot to understand the power of utilizing online courses as part of the content strategy.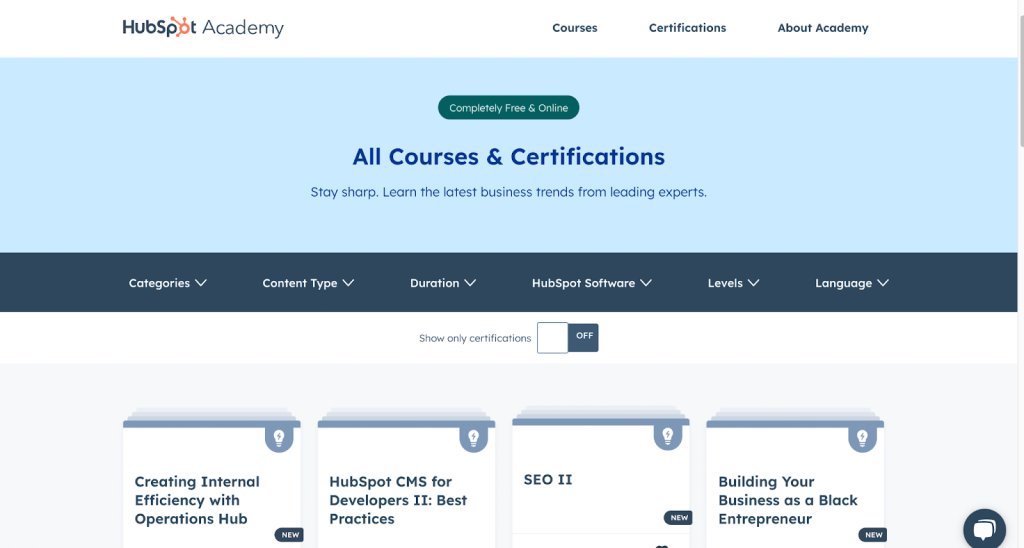 HubSpot offers a wide range of online courses that include certification programs related to marketing/sales and training programs on the HubSpot Product stack. Here is how it has helped Hubspot:
Established HubSpot as a thought leader in the marketing and sales space. Which in turn, enhanced brand reputation and credibility.
Lead to higher customer satisfaction and retention rates because training courses offered on HubSpot Academy have helped customers achieve their marketing and sales goals using HubSpot's products.
Enabled a partner ecosystem, which includes agencies, resellers, and integrators, by offering partner-specific training and certifications. It has helped partners gain expertise in using HubSpot's software and services, enabling them to deliver better results to their clients and drive business growth.
The utilization of online courses has been instrumental in creating an ecosystem where HubSpot clients and partners receive comprehensive training to maximize their return on investment (ROI).
As a potent medium for delivering valuable content, online courses have played a pivotal role in building a loyal customer base, fostering customer success, and enabling partners to deliver exceptional results using HubSpot's offerings.
6. Whitepapers
A whitepaper is a detailed and comprehensive report that focuses on a particular topic. It aims to present a problem and its solution in an unbiased and convincing manner. Unlike promotional materials, a whitepaper does not endorse or criticize any company. Its main purpose is to educate rather than sell products or services. Normally, whitepapers are around 10 to 15 pages long and offer an authoritative perspective on the subject.
The structure of a whitepaper comprises several sections, including a title, an extensive summary, a table of contents, an introduction, an overview of challenges, proposed solutions, recommendations, a concluding statement, a brief company background, and a call-to-action (CTA).
A whitepaper by The OpenGroup on cloud computing can serve as a great guide to understanding how a whitepaper is written and structured. This whitepaper focuses on building Return on Investment (ROI) in cloud computing. It begins with an executive summary and an introduction that outlines the context and existing challenges. The subsequent sections delve into specifics, including financial value and ROI models. These insights are designed to assist you in maximizing ROI from cloud computing. The whitepaper concludes with a summary, references, and acknowledgments.
Notably, it incorporates factual information and statistical data to establish credibility and underscore the expertise of The OpenGroup. The entire whitepaper educates you and elevates your knowledge about the topic without being promotional, which is the purpose of this content format.
Whitepapers are created to establish expertise and cultivate trust within the industry. Positioned at the initial stages of customer engagement, they provide valuable insights and help generate potential leads. Importantly, whitepapers offer informative solutions without directly promoting a product or service.
Boost content performance with VWO
It's not enough to just create content and never look back. In order to truly optimize your content and improve engagement, you need to take a data-driven approach.
It means understanding how visitors interact with your content, identifying areas for improvement, and A/B testing to ensure that your content is not only high-quality but also effective in achieving your goals.
VWO enables you to enhance conversion rates by monitoring and optimizing your content. One common use case is to utilize VWO Insights to analyze the scroll depth at which the majority of users exit high-traffic content formats such as pillar pages and blog posts.
A scrollmap looks like this: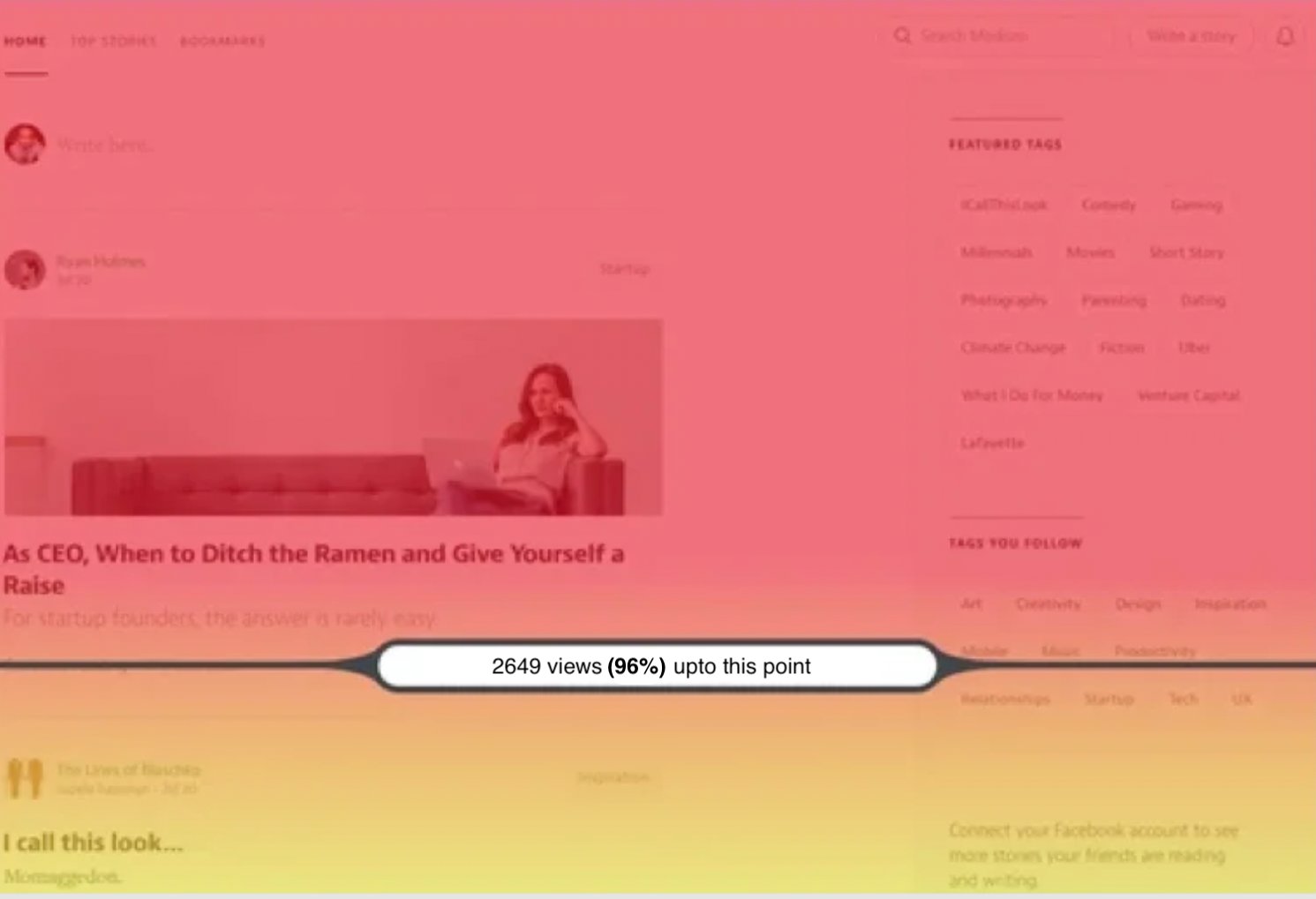 Once you know the scroll depth where most users are leaving, you can utilize VWO Testing to test how adding an image or interactive element can improve the conversion. Additionally, you can move important elements like newsletter sign-up above the point.
Furthermore, VWO Insights provides access to useful data like heatmaps, session recordings, and survey responses, which can aid in understanding visitor engagement with your content, enabling you to generate data-driven hypotheses. You can then optimize your content by conducting experiments with VWO Testing.
Grab a free trial of VWO and learn how to improve important media conversions like social media shares, email-ups, user duration, etc.
Tying it all together
To conclude, these six content ideas can play a significant role in improving conversion rates at different stages of the sales funnel.
The pillar pages provide comprehensive information on broad topics and bring traffic from organic sources, while visual-based storytelling engages audiences and increases brand awareness.
Webinars build connections and offer a two-way communication platform, case studies highlight a product's positive impact, and online courses foster an ecosystem of thought leadership along with a loyal consumer base. While whitepapers help you build trust, showcase authority, and generate leads at the top of the funnel.
Although it requires significant resources and effort, the results are undoubtedly worth it in the long run.