How Marketers Can Deal With Fleeting Attention Span
The average human attention span is a mere 8.25 seconds, which is surprisingly lower than the average attention span of wild flies (9-12 seconds). When visitors land on a digital property, they have a specific purpose and expect to quickly find what they want. If they don't have relevant experience, they will leave. Also, with just a few taps on a screen, one can access an abundance of resources. The untethered information flow means a distributed focus, and even an average landing page fails to gauge the visitor's attention.
For marketers with digital properties, this implies that even a minor negative deviation from visitors' expectations will lower the conversion rate along with a loss of time and money spent attracting the target audience to the digital asset.
So, how to deal with the fleeting attention span? Let's go through some strategies that marketers can use to capture visitor attention and improve engagement on their websites.
Identify the fold where most visitors leave
As a marketing professional, you work hard to design a landing page and create stellar copy. But what if most visitors leave at point A on the website, and all the crucial information about the product with an important call-to-action button comes at a succeeding point B? This means that numerous visitors are moving on without knowing the product. That's why it is necessary to know the point on the page where most visitors lose interest and drop off.
A marketer can identify the fold where most visitors are leaving with the help of a scrollmap. For instance, here is a scrollmap of the homepage of an online watch store.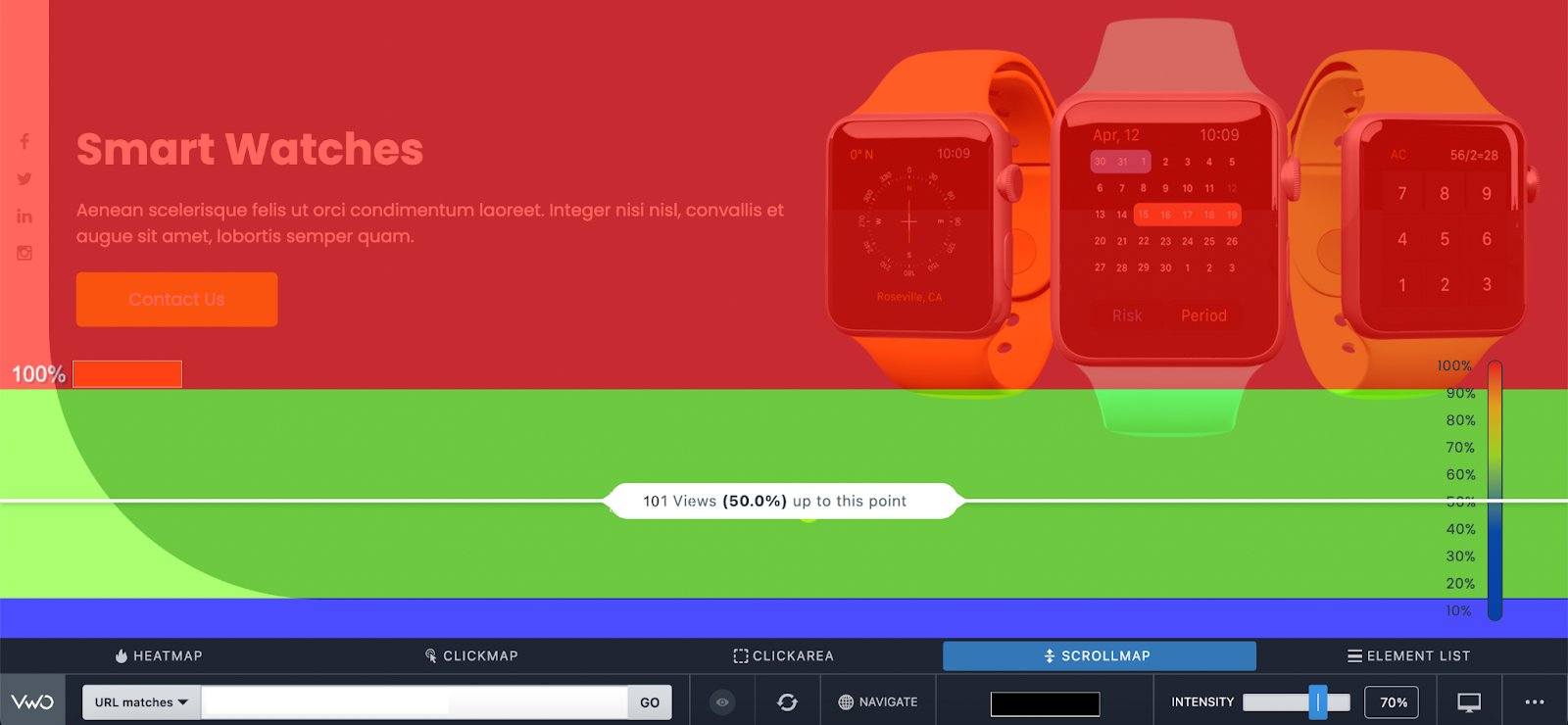 Half of the website's visitors are dropping before reaching the product section located below the fold. To capture their attention, the website administrator can employ several tactics. For instance, at the 50% viewpoint, the website administrator can insert captivating text to highlight the watch's features, pricing, or special offers, such as "The most affordable smartwatch on the market.". It can entice visitors to continue scrolling for more information.
Additionally, incorporating multimedia elements, such as images or videos, can pique visitors' interest and encourage them to explore further. Another approach to address this attention threshold is to move key elements and information about the product above the 50% viewpoint.
It's like either you increase the attention span with attractive elements or show everything important before the visitor loses attention.
Use quick and consumable content
This is the age of information overload, and everybody is looking to get answers that are crisp, visually appealing, and consumed in a minute. Thus, a marketer must resort to content formats like web stories and infographics that suffice all the mentioned requirements.
For example, Refinery 29, an entertainment website, wanted to generate leads for their email digest. They explored the topic of currency manufacturing through a visually appealing medium like Google Web stories.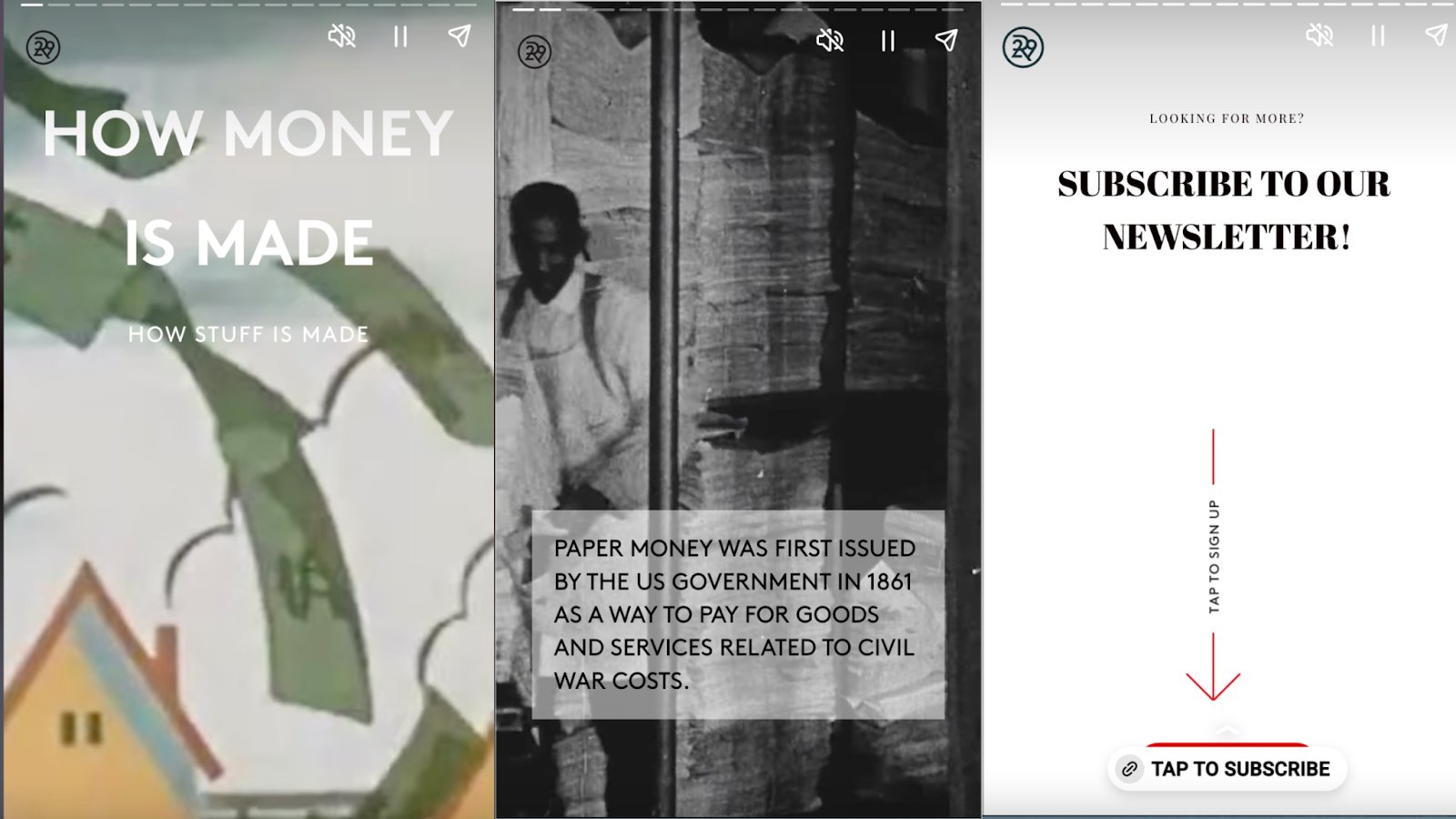 They could have gone through the traditional route of creating a long blog post with a request to join the newsletter at the end. Though web stories are not a replacement for blog posts, if you can explain a topic in a few words with visuals, then a web story can catch the attention and, at the same time, help achieve the marketing goal.
Personalize the visitor experience
Personalization is a sophisticated technique that can enhance visitor satisfaction. Generic headlines and a copy may not effectively communicate your message to individuals with diverse interests, demographics, or ages. Personalization captures visitors' attention by providing highly relevant content that makes them feel valued and unique.
Personalization must address visitors' demands simply and transparently. For instance, here is how Amazon Prime uses personalization to communicate with subscribers.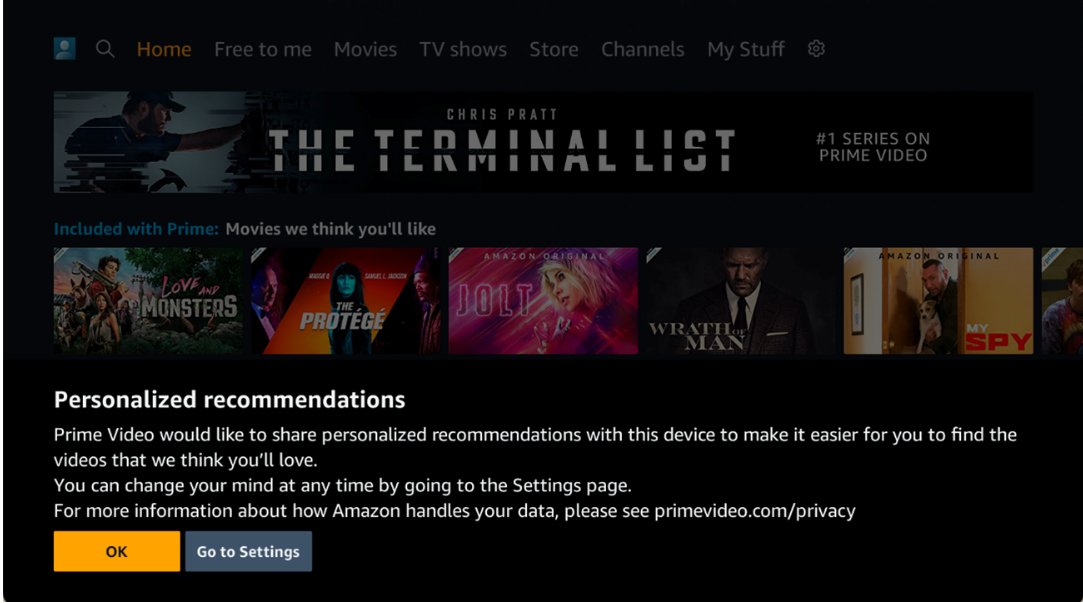 The subscriber knows what's in it for them without any ambiguity. Thus, after opening the app or watching a video, the content recommendation section entices visitors to explore similar content. Likewise, you can communicate with visitors and add personalized sections with clear headings like "You might also like" on the webpage based on past activity.
Additionally, the emergence of customer data platforms (CDPs) makes it easier to have a customer information hub collecting data from various sources. CDP allows tailoring a cross-channel hyper-personalized experience. For example, a regular customer of an eCommerce store with the habit of buying in discounts can get a tailored email, paid ads on social media, and a section on the website with top deals of the month or season. It will make the customer engage with the brand for a longer time, as all digital touchpoints have been customized to serve the intent of the customer.
Reduce page loading speed
Imagine a visitor waiting 4-5 seconds for a webpage to load; with each passing second, the visitor is most likely losing interest and trust in the brand.? There is a substantial negative impact on the conversion rate due to an increase in page load time. Here is an excellent infographic showcasing the relationship between conversion rate and page load speed.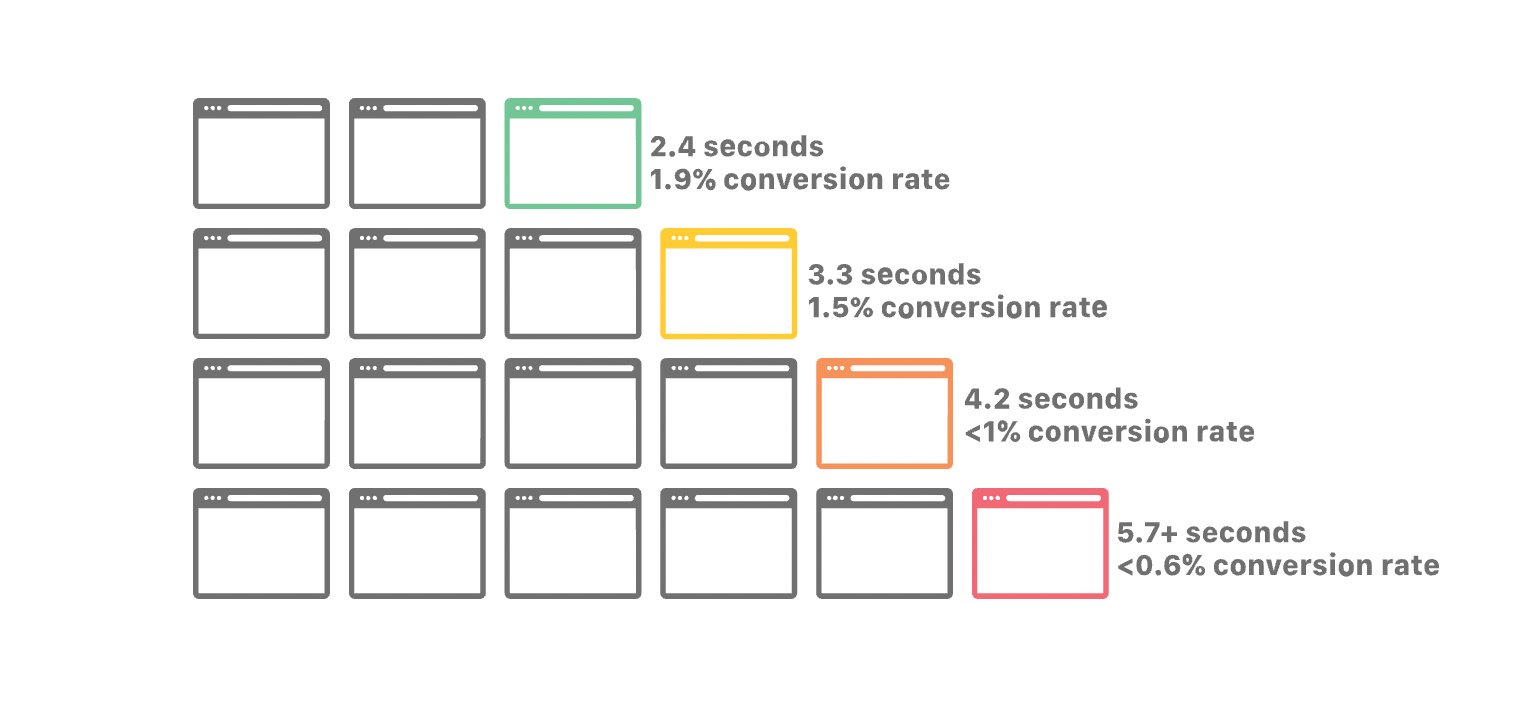 A marketer with the help of the website manager must regularly audit the website speed with tools like GT Metrix, and Google Pagespeed Insights to find possible opportunities to improve the speed. Also, a good content delivery network (CDN) and a dedicated hosting server can ensure the speedy delivery of content across geographical domains.
Engage with interactive elements
What leaves an impression on visitors' minds is experiences, not just plain information. Static content on landing pages limits the experience, and visitors are left to their imagination about the product or concept included in the content copy. Interactive elements fill that gap and allow the visitors to experience the content they just read.
For example, on the VWO Deploy landing page, the visitors get to play with all the features of the editor described in the page copy.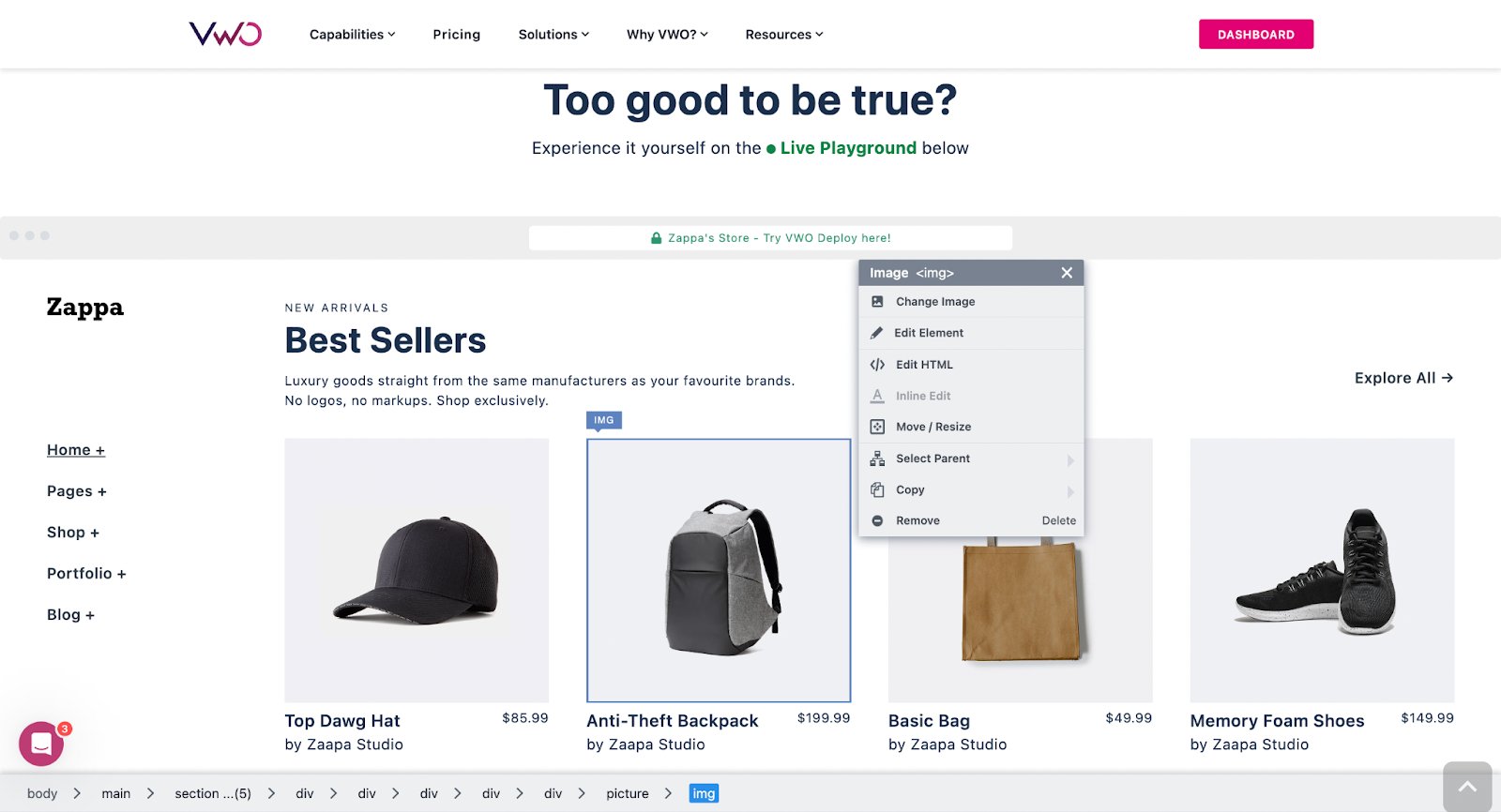 This increases the dwell time of visitors and helps them understand the product they intend to buy. Marketers must include interactive elements that align with the topic of the landing page and spark interest. Here are some of the common interactive elements that you can embed on your landing pages:
Tools and calculators
Quizzes, polls, assessments, and tests
Maps, interactive timelines, and graphics
360-degree video
Drag-drop media editors
Moving forward
Once you've successfully grabbed the visitor's attention, make it count. Avoid ambiguity and provide clear messages that are comprehensible. Communicate what the next steps entail and ensure that they are easily accessible.
As attention spans may continue to decrease, the best way to deal with it is by continuously optimizing the user journey while keeping the three Es in mind: Experience, Expectation, and Ease of use.
Lastly, let the customer enjoy each interaction and see you as a beacon of positivity in the saturating market.