In the days when purchasing required visiting real stores and making your selections, one of the most crucial inquiries by the salesperson at the end of the transaction was, "Is there anything more you'd like?"
"No" was the obvious response. Due to the sudden nature of the onslaught, the shoppers frequently experienced brain freeze and lost all capacity to make decisions.
Imagine if a store employee went in search of all the add-ons for the gadget you're going to purchase. In eCommerce the straightforward and automatic presentation of all comparable items is done through – the famous 'cross-sell'.
What is cross-selling?
Cross-selling is a terrific growth technique that involves recommending related items to go well with a customer's purchase to increase the sale. It identifies and offers goods that meet extra, supplementary demands that the original item is unable to. For instance, a person buying a smartphone may be cross-sold headphones. Cross-selling often directs customers to items they would have bought anyway; by presenting them at the perfect time, a business assures they close the deal.
Since it is much simpler to implement visually than in a physical shop and has shown to be an effective technique for raising average spending per customer, this strategy has gained tremendous popularity in eCommerce. It's a terrific method to boost client retention and lifetime value by strengthening relationships with existing and potential customers.
Some of the well-known phrases that Amazon started implementing:
"Related products/goods",
"Often bought together",
"Customers also bought"
"May also interest you"
"You might also like"
Benefits of cross-selling
Cross-selling is excellent for you and your consumers when it works. When the product more closely meets their demands, your sales rise and their level of customer delight rises.
Cross-selling is frequently used in eCommerce on product pages, at checkout, and in lifecycle promotions. It is a very successful strategy with several benefits for running your business and boosting conversion:
It elevates AOV (Average Order Value), or average expenditure per consumer.
Without turning to new clients, it preserves and boosts your earnings.
It introduces the user to brand-new, undiscovered goods from your inventory and aids in the movement of stale products.
It exposes the shopping habits and tastes of diverse sorts of individuals.
It offers details for modifying your subsequent stock orders.
Personalizing recommendations and foreseeing needs like accessories and replacement components that the buyer might not have thought about, enhances the purchasing experience.
How does cross-selling work?
Businesses must understand both the purchasing behaviours of their clients and how the goods in their catalogue complement one another to properly implement cross-selling. It is feasible to determine which goods will perform best when recommended on other product pages by compiling search and purchase data.
If you are clear about the goods you wish to relate to one another, you may implement these suggestions manually. However, there are other recommendation systems that employ algorithms to help consumers find fresh content.
Without realizing it, we have encountered several cross-selling examples and have been lured daily. Cross-selling is an extremely effective strategy used by online marketplaces like Amazon, which suggest related goods depending on your search.
Let's look at a few cross-selling examples from different businesses to have a better understanding of how additional items and cross-selling function.
Some common examples include:
Fast food restaurants: "Do you want to add fries with that?"
eCommerce websites: "Customers also bought"
A mobile phone retailer: Suggests a new case for the new phone purchased
An electronics retailer: Recommends gadget insurance with a new laptop purchase
Cross-sell vs upsell
Cross-selling is the process of selling a complementary product or service to a customer with the aim to increase the value of a sale. Upselling is anything that increases the price and functionality of the original purchase. It might be an upgrade, another expensive item, or an add-on to the original purchase.
Below is a fast food example, where an upsell might include asking the customer if they want to "super-size" their meal: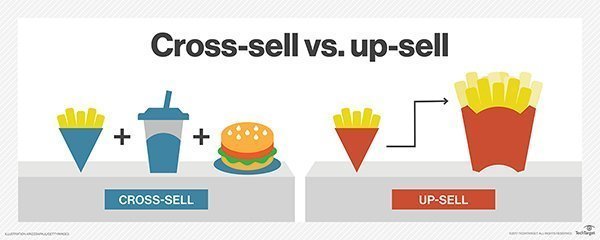 Here the fast-food restaurant is trying to sell a more expensive version of the original purchase.
Steps to create an efficient cross-sell strategy
There isn't a common guidebook for cross-selling. The objectives and results of various cross-selling techniques vary, and not all of them apply to all brands, business models, or clientele. Before selecting which approach will result in the best cross-selling, you may experiment.
The first stage is to thoroughly familiarise yourself with your catalogue to comprehend how the items relate to each other, both within and across categories.
Knowing your items and your clients' typical purchasing patterns will enable you to come up with cross-selling ideas and know when to use them. Below are some common tips for setting up a strategy:
Know your customers and map their needs: This aids in making relevant product suggestions. To achieve this, examine the data you have access to, speak with your most loyal clients and gather feedback, and monitor user journeys for the following:

Preferred goods and services
How various customer groups deploy your products
The primary difficulties each user section experiences
What additional value each customer segment may require
Build cross-selling strategies: Follow these simple guidelines to make your cross-selling plan readily adaptable:

Your product for cross-selling should strengthen the original offering.
It costs less than the original item.
It should be straightforward. In other words, the product shouldn't need to be explained.
Offer items based on previous purchases.
Provide exclusive rates and free delivery.
Promote cross-selling based on shared interests.
Offer product bundles.
Provide incentives for loyalty.
Cross-sell complementary services.
Evaluate opportunities: Cross-selling opportunities are present when:

A customer expresses interest in your services – Keep track of how your target audience interacts with your brand's resources, such as advertisements, social network postings, website visits, inbound inquiries made via chat or phone calls, etc.
When a need is apparent – Maintaining contact with clients and providing them with frequent product developments may be helpful.

Cross-sell at the right time: When it comes to cross-selling, timing is crucial. Remarketing is a method frequently used by brands where you monitor the internet activity of your clients and display them with appropriate adverts (behavioural targeting).
Monitor statistics and evaluate outcomes: You can predict sales and growth by keeping track of and examining cross-sales. The following measurements can give you a general idea:

An increase in the average sales volume per buyer
A rise in CLV
Opportunity Management CRMs
Some more basic tips:

The recommendations must be tactful, and well-supported to avoid overwhelming the user.
Only things that enhance the purchase should be included. Even if they are devoted customers, they won't be interested in everything in your catalogue.
Products known to the client outperform those entirely new or substantially different from the original offering.
Giving immediate recommendations when shopping online, in the shopping cart, or by email is an excellent strategy.
Before you sell, educate. Cross-selling doesn't always take place spontaneously. Some buyers want more information about the advantages and utility of specific product categories to be persuaded (e.g. blogs, tutorials, etc.)
Final words
You shouldn't rely on intuition to determine which options are effective for your clients. You must A/B test several cross-sell tactics to see what works best for each of your visitor groups so you can implement the one that increases sales the most. A/B testing will give you solid data to make the right decisions.
Experiment with the numerous cross-sell strategies mentioned above and optimize them for greater income using VWO on your website. Take an all-inclusive free trial to check out the features available in VWO.