Top 6 Ideas To Boost Customer Engagement
Let's say you want to learn how to ride a bike. Would you start reading books on the mechanics of bicycling or the history of cycling? Or would you seek out actionable tips to get started, or speak to someone who can share practical guidance on how to pedal, brake, and balance?
There's no harm in seeking more information. But actionable tips are more helpful for starting to learn something new.
The same principle applies to customer engagement in marketing. Consuming theories and data around the concept can enrich your knowledge and enhance your awareness. But it is practical tips that will actually fuel your customer engagement engine.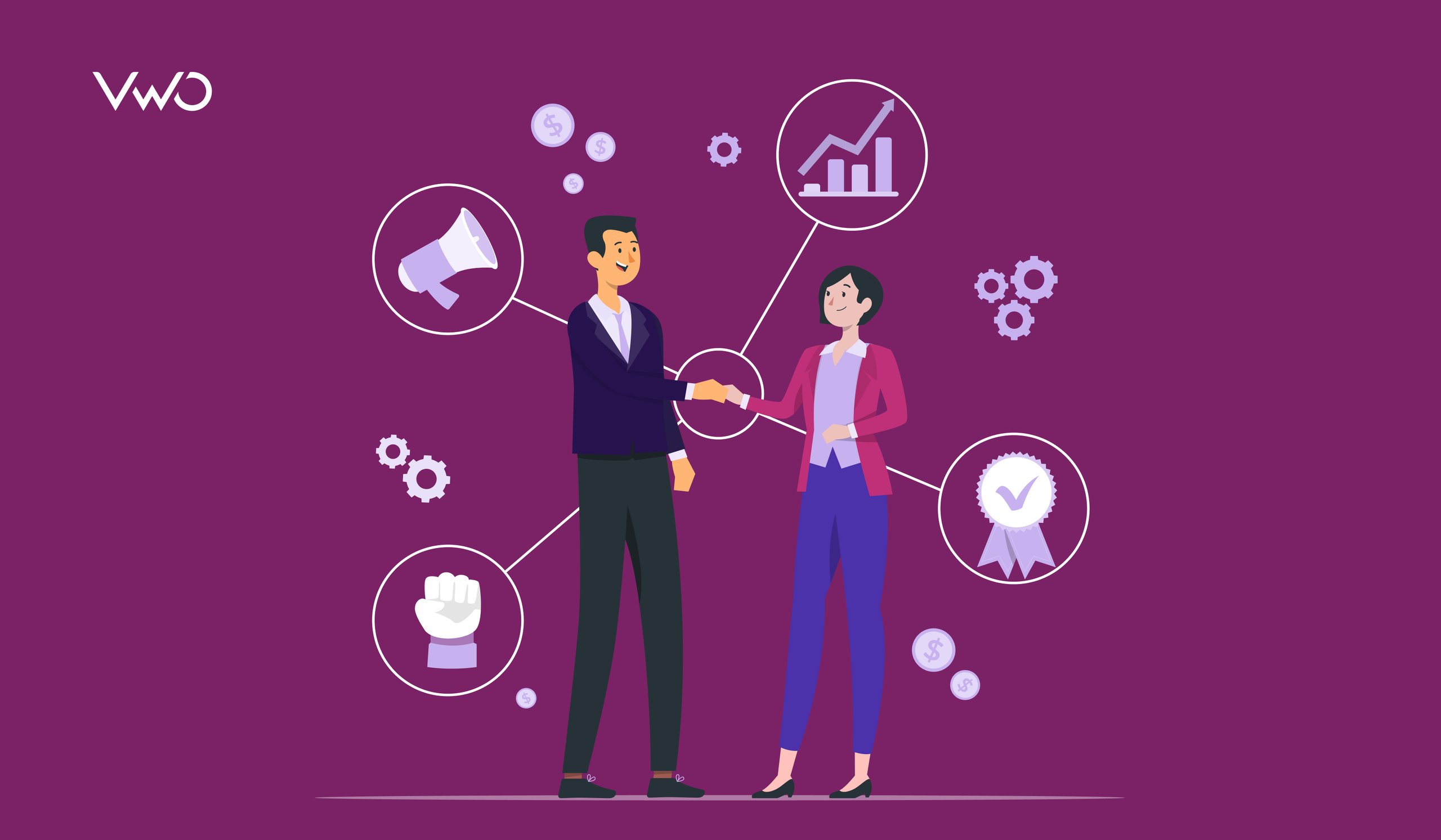 If you are reading this blog, it means you're here for actionable customer engagement tips. You're in the right place!
We are about to discuss proven tips that can help you win customer trust, encourage brand loyalty, and ultimately boost revenue growth for your business.
Keep reading…
Idea 1: Craft a customer-focused content marketing strategy
With online customers being more aware today, content forms the bedrock of your creative customer engagement ideas. However, mere content creation will not garner attention, let alone foster the desired engagement. To attain your engagement objectives, you must center your content around the customers.
Begin by sketching a typical buyer persona and leveraging data to understand customer requirements, interests, motivations, and aspirations, constructing a good customer engagement strategy. Moreover, try different content formats for various channels and touchpoints:
Interactive content
Quizzes, polls, surveys, and interactive videos encourage active participation, keeping customers engaged while collecting valuable insights.
Visual content
Infographics, images, and videos are more appealing and shareable, grabbing attention and conveying information quickly.
User-generated content
Sharing content created by customers, such as reviews, testimonials, and social media posts is a part of successful brand engagement activities.

Educational content
How-to guides, tutorials, and informative articles position your brand as an industry expert and provide value to your audience.
Storytelling
Current digital engagement ideas center on content that connects emotionally with customers, making them more invested in your brand.
Live streaming
Live videos on platforms like social media offer real-time interaction with customers, thereby forming an integral part of your good customer engagement strategies.
In addition to determining the type of content you create, make decisions about posting frequency, distribution strategy, and performance measurement. Also, don't confuse personalized content with your content marketing strategy. While personalized content is crucial for delivering tailored experiences to your audience, your overarching content marketing strategy should exude empathy through compelling storytelling and reflect the personality of your brand.
Idea 2: Gamify customer experiences
Gamification is one of the innovative customer engagement ideas gaining momentum among many businesses. If you have not tried it yet, here are a few ways you can use gamification to engage customers:
Run social media contests where you challenge followers to share product unboxing videos to win free tickets to your company's meet-and-greet or virtual events.
Add treasure hunts during special events like sales or anniversaries and offer personalized rewards to the winners.
Organize quizzes to test visitors' knowledge about your brand and offer special discounts based on their scores.
If you want to make gamification an integral part of customer experience on your digital property like your app, consider launching it as a feature. Suppose you run an online newspaper website where you want to introduce badges for readers using the app. These badges might include titles like 'Engaged Reader,' 'Category Expert,' and 'Social Sharer,' rewarding users who actively participate in discussions, specialize in specific categories, and share articles on social media.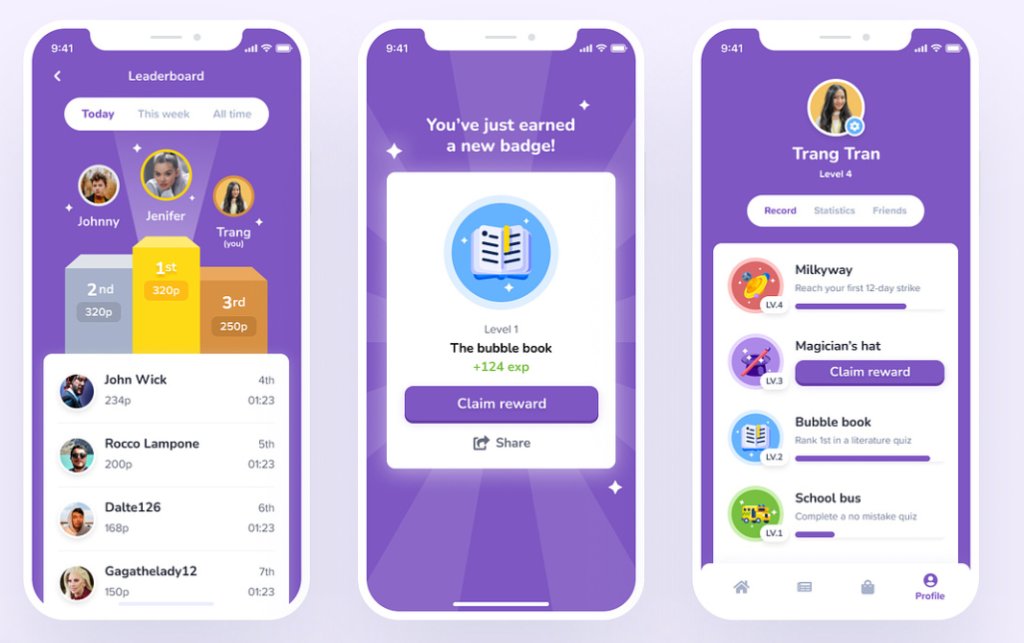 Readers can see their badge collection on their profiles and compare them with others in a friendly competition. Additionally, you could create a leaderboard to showcase the top badge earners.
However, these ideas to engage customers can't be shipped hastily. They must be tested and iterated upon to achieve the desired outcome. Using server-side testing on VWO, you can not only create features like this but also improve its development through incremental releases, feedback collection, and continuous iteration. To know how it works, request a demo now.
Idea 3: Constantly gather customer feedback
A robust customer feedback loop is indispensable for your consumer engagement strategies to show the desired result. Encouraging customers (especially existing customers) to share their opinions and actively listening to their feedback demonstrates that their voices matter, thereby improving customer satisfaction.
Implementing changes or enhancements based on their suggestions not only addresses their needs but also showcases your brand's commitment to continuous improvement. This collaborative approach will help you win loyal customers and increase customer engagement.
Deploying tools like exit pop-ups for departing visitors, incentivizing customer surveys, utilizing live chat for real-time insights, or sending regular feedback forms via email are effective feedback collection methods. These brand engagement ideas help uncover valuable customer perspectives that can be used to refine your customer engagement strategies effectively.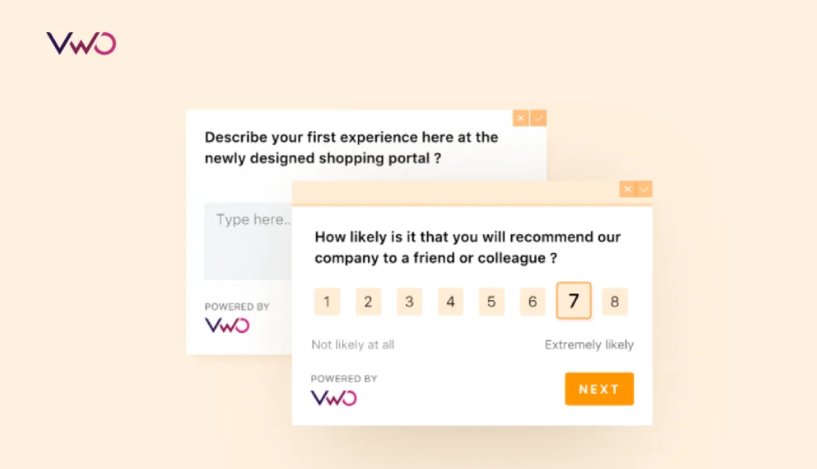 If you want to get started, you can consider creating an on-page survey where you ask visitors what they liked about your website, if they faced any problems trying to look for something, and what they think can be improved. This feedback is your treasure trove of insights to guide your website optimization efforts. Fresh out of the experience of navigating your website, visitors will remember the details and share their honest opinions. Check out more about on-page surveys now.
Idea 4: Humanize your brand communication
Whether you are in B2B or B2C, maintaining detached and emotionless communication won't cultivate valuable customer relationships. Instead, humanizing your communication builds a brand personality that resonates on a personal level, transcending mere product or service associations to cultivate customer engagement.
Begin by strategically infusing a human voice into your content. For your blog, establish a distinctive storytelling style that connects uniquely with your target audience. Infusing empathy into your blog posts strikes an emotional chord, moving beyond mere facts.
On social media, establish exclusive online communities, such as dedicated forums or groups on social media platforms. These spaces not only provide customers with a platform to connect with each other but also foster a deeper connection with your brand. Hosting interactive webinars or Q&A sessions within these communities can further enhance customer engagement and foster a sense of brand belonging. Transparency is key; being authentic resonates with customers who seek genuine interactions when shaping effective customer engagement strategies.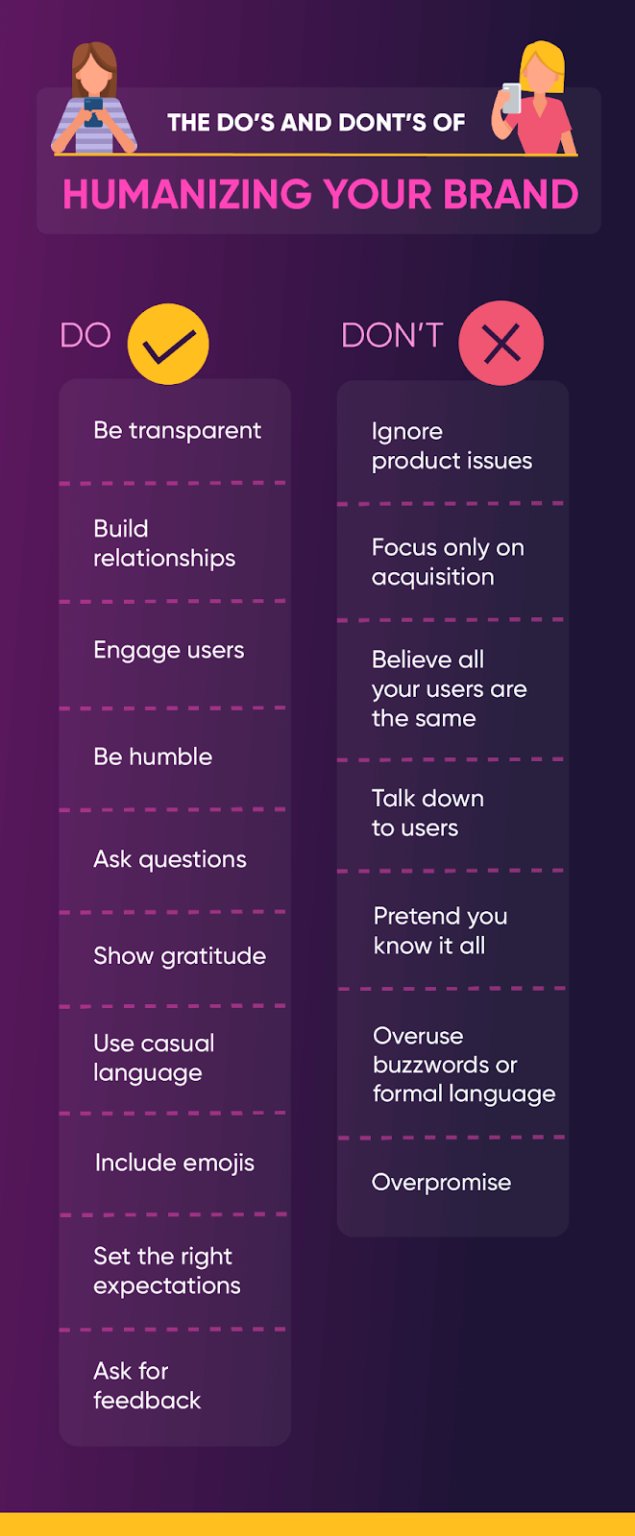 Creating videos and podcasts ranks among the proven user engagement ideas today. Just scroll through your feeds on various social media platforms to see. They lend a human face and voice to your message, fostering a sense of familiarity similar to interactions with friends and family. These are some good examples of customer engagement that can make your communication more relatable and impactful.
Even if you are in B2B, an empathetic and human-like brand voice is crucial. People don't suddenly change upon entering the office. Major corporations are shifting away from traditional client communication due to the evolving B2B marketing landscape. So, why not join in? Experiment with creative client management activities that resonate with your audience, building loyalty in the process.
Idea 5: Personalize customer experiences
Now we come to the sensational part of online marketing today – personalization of customer experiences. Starting from the relevant content users read on social media to the offers they receive in emails and products they are recommended when checking out from a website- these are all due to personalization of their experiences at every touch point of their online journey with a brand.
Thanks to robust database software like Customer Data Platforms that make customer engagement possible by gathering user data from various sources, segmenting them, and creating Single Customer Views (SCVs). For example, you can transfer these customer profiles to your Data Management Platform (DMP) and launch targeted ads for specific user segments. Similarly, these SCVs can be exported to email automation platforms to launch personalized email newsletters for different segments of customers.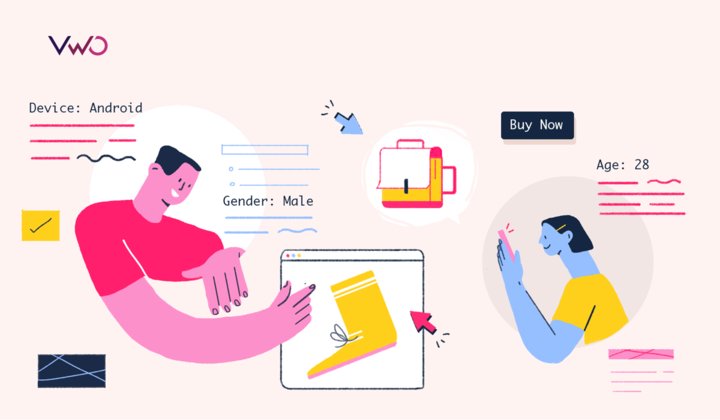 On our VWO platform, you can leverage all three capabilities, VWO Data360 (CDP), VWO Personalize, and VWO Testing. Taking customer profiles from the CDP, you can launch personalization campaigns and even run A/B testing campaigns.
Here is an example of customer engagement. Let's say you own a holiday booking site. Using data from the CDP, you want to display curated travel packages – hiking and safaris, romantic honeymoon getaways, and family travel vacations – to specific audience segments. In this scenario, VWO Personalize can help you launch these targeted segment-specific marketing campaigns.
On the other hand, suppose you want to test whether offering discounts to a segment of your customers can boost sales of your adventure vacation packages. In that case, you can use VWO Testing to run a test and determine if showing a discount in the variation improves your metrics. Take a free trial today.
Idea 6: Create loyal advocates
If you have customers who really like your brand, make sure to nurture those relationships and make them stronger. Keep in touch with them, get their feedback on your latest product launches, and give them special attention, so they know you appreciate them. This will help you convert your existing customers into brand advocates who will support you every step of the way. Here are some great consumer engagement activities to make them feel super special:
Exclusive previews
Offer them exclusive access to new products, services, or features before they're available to the general public. This makes them feel valued and appreciated.
Surprise gifts
Occasionally send them small surprises like personalized thank-you notes, phone calls, gifts, or samples. These unexpected gestures can go a long way in winning loyal customers.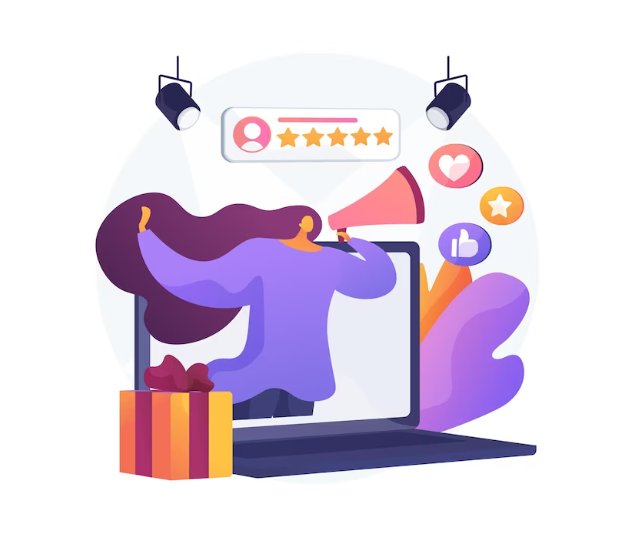 Customer appreciation events
Organize special events or webinars exclusively for your dedicated existing customers, where they can interact with your sales team and learn more about your products or services.
Seek their input
Involve your long-term existing customers in decisions like product names, features, or future offerings. This gives them a sense of ownership and importance.
Referral program
In addition to these loyalty programs, you can launch referral programs that encourage existing customers to refer new customers to try your brand's products or services by offering rewards and incentives.
Conclusion
A popular saying goes, "The best time to start is now". Taking a cue from this, you should not delay launching or improving your customer engagement plans any further. Start moving before your customers consider switching to your competitors due to not getting what they need from your brand. And if you think VWO can help you in executing your customer engagement activity, consider taking a free trial. Explore all its features and decide if it's a great fit for your business.
Frequently asked questions
What are the most effective ways to boost customer engagement?
Boosting customer engagement is crucial to build relationships, engage prospects, and, ultimately, drive business growth. Here are some consumer engagement marketing examples:
Craft a customer-focused content marketing strategy: Tailor content to address customer needs, delivering valuable insights and solutions. Keep content fresh and relatable, nurturing an ongoing connection. 
Gamify customer experiences: Experiment with fun customer engagement ideas like introducing rewards, challenges, and games.  
Constantly gather customer feedback: Regularly seek opinions to show you value their input. Use feedback to refine products or services, making customers feel heard and involved. 
Humanize your brand communication: Speak authentically, share behind-the-scenes stories, and engage in conversations that resonate emotionally, encouraging deeper connections. 
Personalize customer experiences: Tailor interactions based on preferences, behaviors, and history. Personalized offerings show genuine care for users and give them a sense of individual importance. 
Create loyal advocates: Encourage engaged customers to share their positive experiences. Leverage testimonials, referrals, and user-generated content to amplify your brand's credibility. 
What are some strategies for personalizing the customer experience? 

Personalizing the customer experience is paramount for fostering strong connections with them. Firstly, you can collect and analyze customer data to understand preferences, buying habits, and interactions. Then, segment your customers into smaller groups to target them more effectively. For example, you can implement recommendation engines on websites to suggest products tailored to individual interests.
Further, you can leverage personalized email campaigns to show relevant offers and increase customers' purchase frequency with your brand. With these customer engagement strategies, you enhance customer engagement, and loyalty, and lead to a more lasting customer relationship. 

How can I use social media to engage customers? 

There are several great customer engagement ideas to experiment with on social media, and we are sharing the most effective ones here. Start by creating compelling content that resonates with your target audience's interests and pain points. Respond promptly to comments positive reviews, questions, and feedback, showing genuine interest in their opinion.
Some other customer engagement examples are: using interactive features like polls, quizzes, and contests to encourage participation and gather insights. Collaborate with influencers or partner brands to extend your reach and credibility. Share behind-the-scenes glimpses to humanize your brand and connect on a personal level. Regularly update your profiles with relevant information, ensuring a consistent online presence.
What are some ways to use live chat to improve customer engagement?
Live chat remains the top choice for conducting various customer service engagement activities. Firstly, integrate chatbots on your website to handle routine inquiries, ensuring 24×7 availability. Offer instant assistance by addressing queries quickly, and showing you value their time. Use proactive chat invitations to initiate conversations, engaging customers through their journey on your website.
Secondly, consider collecting feedback through chats as part of your customer engagement plan to understand pain points and areas for improvement. Share helpful resources, product recommendations, or exclusive offers within the chat to add value. With these customer engagement strategies, a live chat becomes a dynamic tool for building stronger customer relationships.