This was a part of the
blog earlier which is now
VWO Engage
Learn more here
.
How To Create A Landing Page That Instantly Converts Visitors Into Leads
This is a guest post by Sawaram Suthar. Sawaram is the CMO at Tagove, a live chat software for web and mobile.
You simply cannot reap the full benefits of a successful digital marketing campaign without a landing page. If you have been using landing pages but you're struggling to get the best results from them, it's high time you reevaluate your approach.
When Vivid Board, a company that produces custom whiteboards, saw the potential of landing pages (to grow their revenue) and continually optimized theirs, they saw conversion rates grow from 2% to 27%. That's a lot for any business!
Every landing page has this potential to boost your sales by attracting leads. But how do you ensure that?
Let's consider 6 proven steps to create the perfect landing page for your business:
Step #1: Start with a catchy and clear headline
Your headline is the most important element that you must get right; it must be seductive enough to entice your prospects into becoming your customers.
If a customer spends 5 – 10 seconds on your page, yet, they don't understand what you have to offer, they will quickly jump to other websites.
– Be clear and don't shy away from stating the benefits your prospects will receive.
– Don't use jargon or try to be clever.
– Clarity beats creativity when writing a copy.
For example, L'axelle improved their landing page headline by making their offer clear and actionable, and it led to a 38.3% conversion rate boost, 93% better than their original copy.
This was their initial landing page: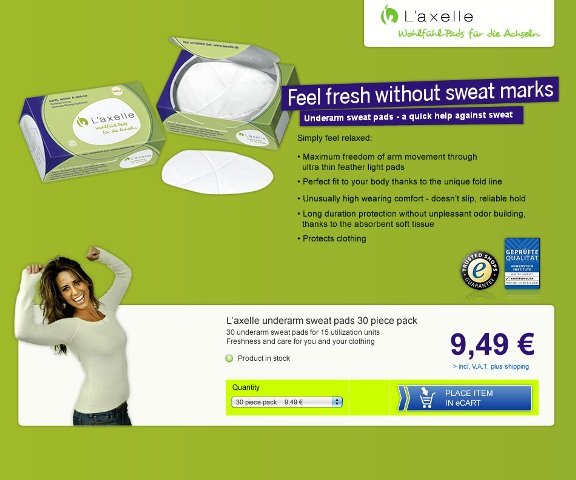 And here is the improved version.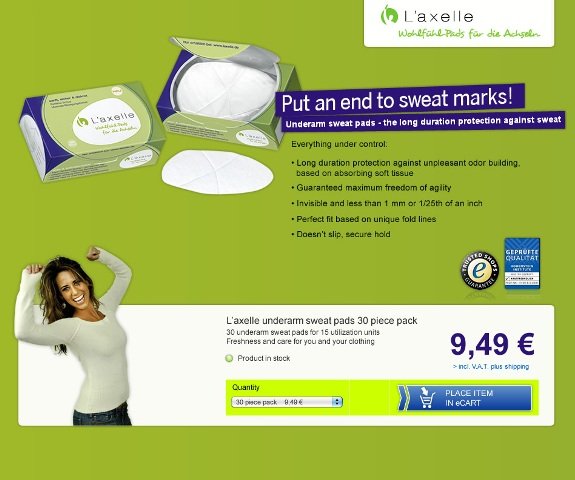 Take away: The headline "Feel fresh" isn't catchy nor persuasive. And it does not send a clear message about their offer. But "Put an end" is actionable and it tells the prospect exactly what they are going to get — there will be no more sweat marks.
There are a lot of headline formulas you can use to optimize for conversions. The important thing is that you should make it clear and actionable. Looking at it, your customers should know exactly how they will benefit within the first 60 seconds.
Step #2: Use visual elements to create a path for the eye
Visuals have a way of making customers feel happy, informed, and motivated. It builds trust too. Visuals should form the emotional foundation of your pages.
37signal increased their lead conversion rate by 102.5% when they added a real person's image to their landing page.
This is the before and after versions of their page. Simply put, adding a photo of a happy person has a way of capturing a prospect's attention and connecting them with your brand.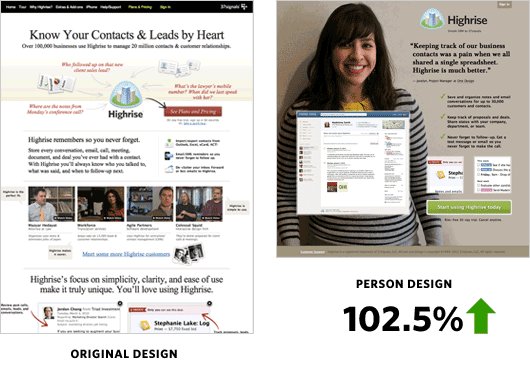 However, don't use images that are too heavy which might slow down your website speed. Optimize your images to load quicker — that's what counts.
Step #3: Use live chat to make customer journey easy
If you get your value proposition right on your landing page, most times, customers want to interact with a real human being. Either for inquiries or to lodge complaints.
The truth is, customers love live chats. A recent study by eMarketer shows that 63% of respondents who engaged in a chat said they were more likely to return to the website, and 62% said they are more likely to buy from the website.
A live chat doesn't only help you in generating leads; it also helps you make your customer's journey easier. Customers tend to have a special feeling after having a productive chat session with a live chat agent. Best of all, following them up will now seem like a personal relationship.
It's easier to move potential customers to the bottom of the sales funnel faster after a live chat session. It's likely that people who will spend time chatting with an agent are qualified leads.
ICICI Prudential recorded 65% conversation rate & 62% rate of closing contract after engaging with customers over live chat & video chat.
Another example is Blue Soda Promo who recorded a 60% conversion rate after engaging with customers over live chat.
Step #4: Use push notifications
At every stage of the customer journey there is always a high churn rate. It's almost inevitable. Some customers might be interested in what you have to offer, but not ready to buy it at the moment. And, it's likely that when they are ready they won't remember your brand again.
However, using non-intrusive push notifications can help you fix this. You can quickly ask your landing page visitors to subscribe to your push notifications, so they can be the first to get your latest discount or coupon codes as they are released.
According to recent research, 68% of customers have enabled push notifications for their apps. This will be a great boost if your website also has a mobile app. It's still fine if it doesn't; you can send website push notifications for Google Chrome users as well.
From the same study, marketers witnessed a 50% higher open rate on push notifications, compared to emails. 50% is a huge difference!
So if customers left their shopping cart without purchasing, you can remind them to complete their purchase with a push notification instantly or after several days.
Step #5: Offer a relevant high-value lead magnet
Adding a lead magnet to your landing page is a plus. It's a great way to tell your prospect, "Hey, come on, you can't visit me and go back with nothing, take this gift!" And of course, prospects will opt-in first before they can get access to the free offer (eBook, video, swipe file, etc.). That way, you can follow them up, qualify them, and convert them into paying customers.
Here is an example from Brand and Demand Solutions where they are giving away a free valuable eBook: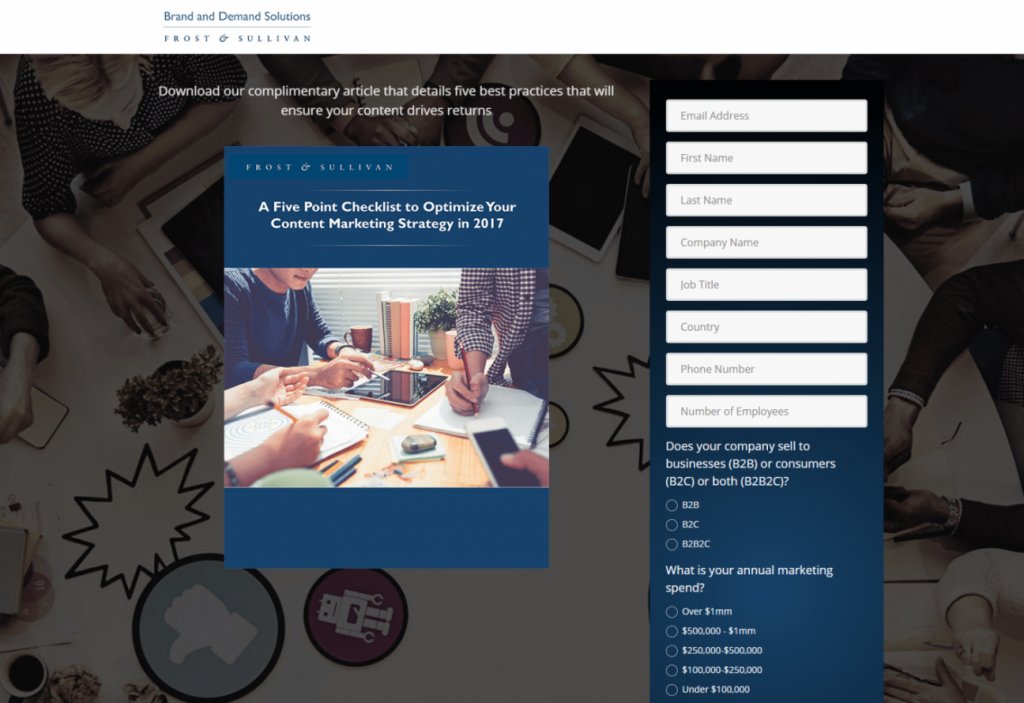 This should help you build your email list of qualified leads and promote your products.
Step #6: A/B Split test landing page elements
The last piece of the puzzle when creating a perfect landing page is split testing. You've got to split test your landing page elements (headline, lead magnet, copy, color, call to action, etc).
Testing different versions of your landing page elements can help you determine what works best for your audience.
Refine your value proposition, test different colors, add different smiling faces, use a video vs. eBook. Split test different elements to know the ones that work best for your campaign and audience.
For example, by replacing a guarantee symbol with trust symbol, Express Watches, an online dealer of Seiko watches increased conversions by 107%.
See the before and after screenshots.
Before: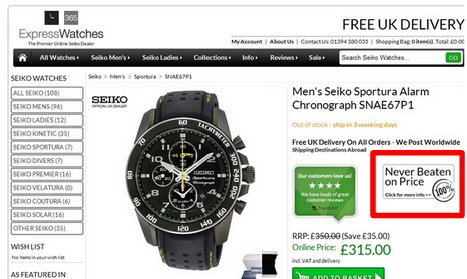 After: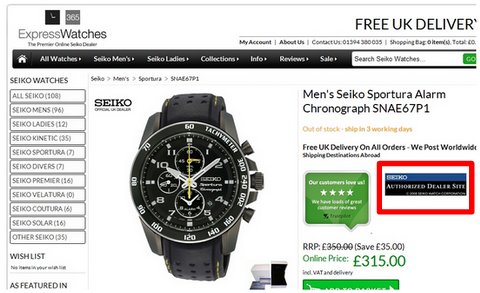 There is no end to split testing. For every landing page you design, make it a rule to always split test different variations.
Conclusion
Every business needs a landing page to stand out and capture their prospect's attention. A full-blown company website would distract new prospects who just visited your website through a marketing campaign.
That's why using a standalone landing page with a specific objective of capturing email address is the key to launching profitable campaigns.