Express Watches, a client of one of our Certified Partners, High Position, is an authorized Seiko watch dealer that ships to over 23 countries and has been in the watch retail industry for more than 21 years. A venture of the Ashleigh Jewellers of Woodbridge, Suffolk, Express Watches believes in getting the basics right to satisfy their customers. And this is evident in their neatly-designed website as they exhibit trust badges for credibility and also promise top-notch, next-day delivery service.
The Business Need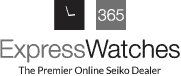 Although at first glance the site gives off the right vibe and seems to have almost everything that it takes to make for a successful website, Express Watches wanted to optimize it further for higher sales.
Test Background
In the past 4-5 years, many industries including the watch industry has been plagued with replicas, making people question the authenticity of products they are buying. This is especially true when they are placing their orders online. And the findings of the user testing survey conducted by Express Watches with Qualaroo emphasized this fact. This gave Express Watches a perspective for their test idea as user-buying anxieties became more evident through the survey than ever before.
The concerns of users that were brought to attention through the survey were:
Are they getting the best price?
Will the watch they ordered be the real deal or a cheap replica?
Is the company/website legitimate? How is the service? Do they assure safe and quick delivery? How safe are their online payment methods?
In a nutshell, Express Watches had to make sure that their online presence is perceived as a trustworthy and reliable entity. Visitors should easily be able to distinguish them as an authentic venture and not confuse them with any fly-by-night websites. After all, they are not a brand per se and should do everything to reaffirm the trust of potential customers and increase sales from their website. At least after the survey, Express Watches knew that addressing these concerns is where they need to get started.
The prominently placed "Seiko Authorized Dealer" badge as well as the small green Trust Pilot badge on product pages were doing their part of the job already (you can read the previous Express Watches case study about how a trust badge increased their conversion rate by 107%%), but Express Watches wanted more bangs for the bucks that they've invested in their online presence.
So the question was – what else can be done?
They came up with the popular yet simple solution of adding reviews on all product pages of the site. Yes, this was a site wide test. But the problem with testimonials is anyone can display them. There should be something that tells people that they can rely on the credibility of the given testimonials and this guided Express Watches to their hypothesis for this test.
Test Hypothesis
The hypothesis was that the larger Trust Pilot widget should help reduce buyer anxieties among visitors and increase sales from the site.
Notice the Authorized Dealer badge in the header and several pointers listed under the "Why buy from Express Watches?" section (on the right corner) in the control version of one of the product pages:
If you scrutinize these things carefully, you'll realize that almost each of these pointers (including the 2-year Seiko warranty and the 30-day refund policy) that are mentioned cater to the various anxieties of visitors on the control page.
The Qualaroo survey left no doubt that visitors have their own apprehensions and many of them are not in the mood to jump the gun merely on the basis of "words" or "claims".
Express Watches needed proof to convince customers of the plausibility of their products and service and to justify the claims that were stated on their website. The site-wide change was made on all product pages and the larger Trust Pilot widget was included. This widget showed some great customer reviews from the Trust Pilot website as it is shown below in the variation page for one of the product pages: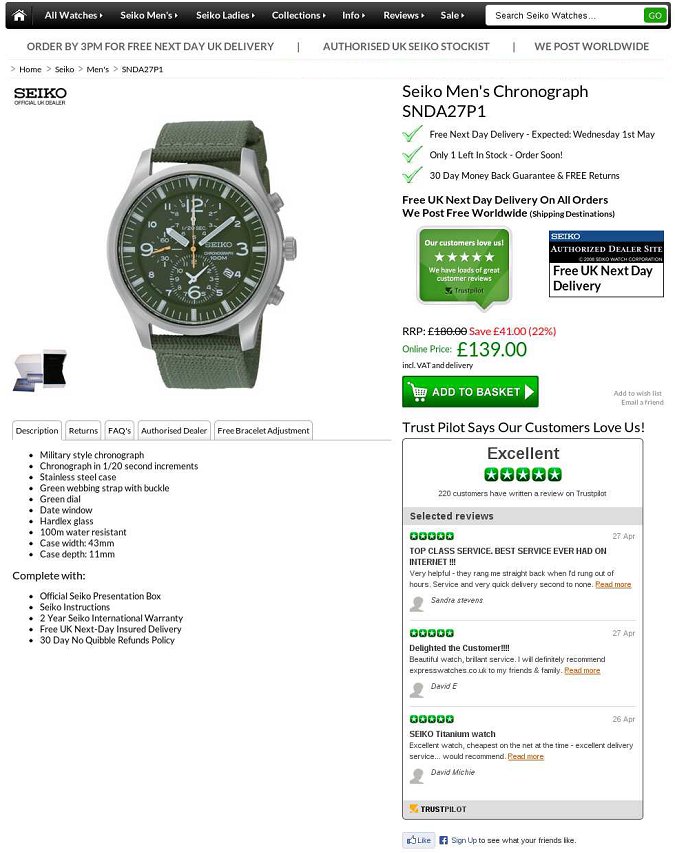 The clear tagline over the widget and right below the "Add to basket" button that says "Trust Pilot Says Our Customers Love Us" also seemed to be perfect to draw potential customers attention to the widget just when it was needed, right before the checkout.
Results
The variation was declared the winner with a percentage improvement of 58.39% and 99% chance to beat original. The test was run for over 2 months and tested thousands of visitors, making the difference in conversion numbers a lot more relevant even when the percentage improvement didn't seem to be "too high". It's now evident that the anxieties of visitors that were earlier proving to be a barrier in their purchase decision were successfully removed to a great extent by this test.
This makes clear that merely including basic trust signs like testimonials, reviews or trust badges on the website is not enough. For higher conversions, it has almost become mandatory that you stay ahead of the curve by thinking of everything from a visitor's point of view.
The widget from Trust Pilot extended the much-needed credibility to the reviews. Otherwise, they wouldn't have had such a large impact on most visitors for they can be written by anyone. Including pictures of customers with reviews or testimonials written by them, along with their full names and website domains (if applicable) also solve the same purpose for many site owners.
Here is the comparison image for you:
[pinit url="https://vwo.com/blog/ecommerce-optimization-customer-reviews-increases-sales" image_url="https://vwocontent.s3.amazonaws.com/images/case-studies/expresswatches-comparison.png" description="Customer review widget increases ecommerce sales by 58.39% for Express Watches" float="left"]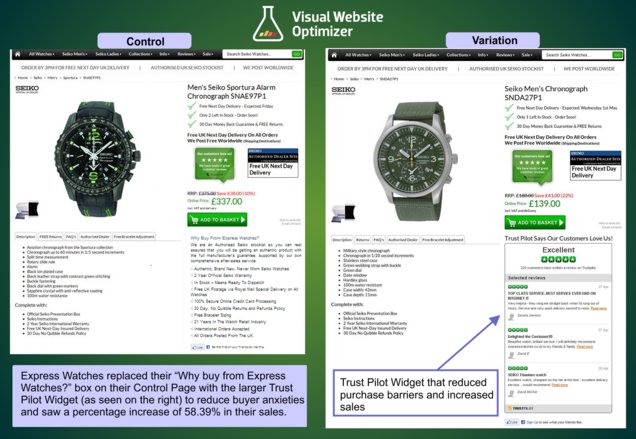 A/B Tests that Express Watches Can Try
Using a more contrasting color for their call-to-action buttons, like red or orange can help increase the clickthrough rate from product pages. Right now, the green color of the buttons doesn't seem to be distinct enough because of the small Trust Pilot badge over the price, which is also in the same color.
Highlighting the large Trust Pilot widget box to draw more attention to it can also make for a good test. Smaller widget can be removed to allow some white space on the page, as in any case, it looks like a mere repetition in the variation page.
What's Your Take?
Which one of these two ideas do you think Express Watches should pursue first and why? If you have any new ideas to suggest, please feel free to share them as well in the comments section.