Success Story
How Hotel Institute Montreux Used VWO To Increase Form Submissions
About Hotel Institute Montreux
Hotel Institute Montreux is a Switzerland-based institution that offers undergraduate and postgraduate courses in Hospitality and Hotel management. This institution attracts students from around the world.
The institute engaged The Reference, a digital marketing agency, to help improve conversions on its lead generation page.
Goals
The main objective of this campaign was to increase conversions (requests for brochures) from the Receive your free brochure page which was the primary lead generation avenue on the institute's website.
Tests run
The original lead generation page had a form. To receive a free brochure, prospective candidates had to fill and submit this form. Here's how the lead generation page and form originally looked: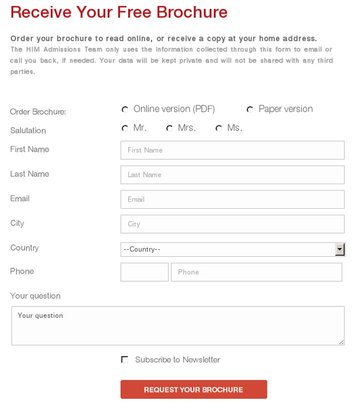 On evaluating various elements on the website, the agency found that although the website had several good testimonials, they were all on the testimonials page; none of these was shown on the lead generation page.
Realizing the importance of testimonials as a source of "social proof" for prospects, the team hypothesized that adding testimonials to the lead generation page would encourage more prospects to request the brochure.
Using the VWO platform, the agency ran a split URL test on the lead generation page to test the underlying hypothesis that testimonials would have a positive impact if visitors get to see them at the online decision-making moment—the Zero Moment of Truth.
They developed a challenger version that looked like this: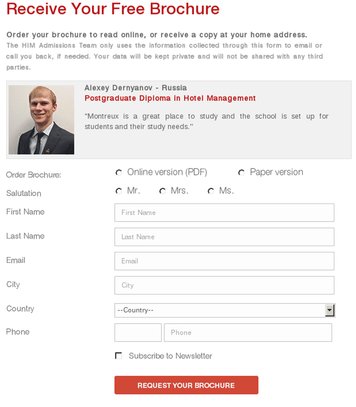 Conclusion
Placing the testimonial right above the lead generation form led to 50% increase in conversions on the form. This further translated to a 54% decrease in cost per lead for the institute's Google AdWords campaigns.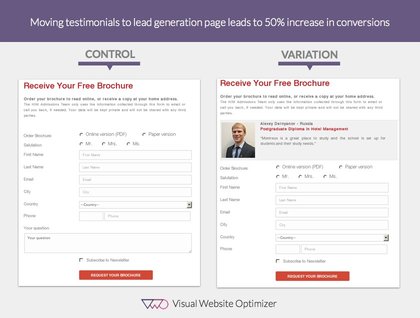 As always, making sense of the results is an important learning. Testimonials work as strong social proof for visitors and hence add credibility to a landing page.
In this case, there was another factor at work—placement. Social proof acts as a strong influence for your visitors' Zero Moment of Truth. Placing social proof close to the CTA (in this case, filling and submitting the lead generation form) tends to magnify the impact on conversions.

Impact
50% increase in Form submissions
Explore Our Other Success Stories
Start and scale your A/B testing with VWO