The finest and most effective user experience can only be created by listening directly to the people for whom your work is intended – your users.
It's wise to have a second set of eyes review your work from a fresh perspective, and this is especially important in the fields of user experience and web design. Otherwise, your bias toward your work could cloud your judgment of it.
What is usability testing?
Usability testing is a technique for assessing how smooth, easy, and effective is the user experience of your product or website. It is the process of getting actual people to use a website, app, or other product you've developed while tracking their actions and reactions. It can be carried out for various types of designs and typically entails watching users as they try to execute tasks. From the beginning of a product's development until its release, it is frequently performed.
Usability testing is an essential process that UX and design experts perform to enable the creation of a successful, productive, and engaging system based on user feedback.
How does usability testing work?
During a usability study, to determine where they run into issues and become confused, users are asked to participate and perform activities, usually while being monitored by a researcher. If more individuals experience the same problems, suggestions are provided to fix these usability concerns.
After conducting the study, the results are analyzed and interesting insights are reported to the project lead.
Importance of usability testing
Usability testing is carried out by actual users, who are likely to spot flaws that website designers, marketers, and product owners are oblivious to due to their extensive familiarity with the website.
Getting new users to test a website and evaluating how actual people are using it already are efficient techniques to figure out whether your visitors:
Are aware of how the website operates and are not misled or frustrated.
Can perform the essential actions.
Bypass flaws and problems with usability.
Have a productive and successful experience.
Identify any other usability issues.
With new products or design upgrades, this kind of user research is extremely critical because, without it, you risk being trapped with a UX design process that only your team members and not your target audience will grasp.
Benefits of usability testing
Usability testing may be beneficial regardless of the development process stage your website is in – from design to the final product. Additionally, ongoing testing of user experience helps as you refine and advance your product over time. Using testing with actual users aids in the following:
Test the mockup
Engage users early in the development process and get their feedback before finalizing a product. Before investing a lot of money to develop an entire website, testing on a sample will help to verify the idea and establish strategies for future capabilities.
Verify that the product lives up to expectations
Testing usability again after finishing the product ensures that everything performs as envisioned.
Determine any problems with complicated flows
Usability testing verifies that procedures are simple and intuitive to the maximum if customers must go through numerous stages to complete them (such as an eCommerce checkout process).
Combine and clarify additional data points
Data collected from other methods can often be understood better with usability testing. For example, a heatmap might indicate that people are ignoring an important part of a landing page, but observation of users will reveal why.
 Identify and correct minor defects
Usability testing may aid in locating tiny faults such as broken links, website flaws, and unintentionally overlooked grammar problems in addition to the bigger usability problems. These inaccuracies may not seem significant in isolation, but taken as a whole, they affect how people perceive the credibility and competence of a website.
Enhance compassion and understanding
Usability testing is an excellent approach to examining things from the perspective of current and future users.
Obtain support in implementing the change
Knowing about a website problem is one thing, witnessing users experience it is quite another. Short videos showing significant usability testing results may be an extremely effective approach to persuade your business to adapt.
Final result – improved user experience
The success of a product depends on the quality of the consumer experience. A usability test can detect problems that would not otherwise be found, so you can develop the most user-friendly product possible.
Methods for conducting usability testing
The below infographics define and differentiate between various available methods of usability testing: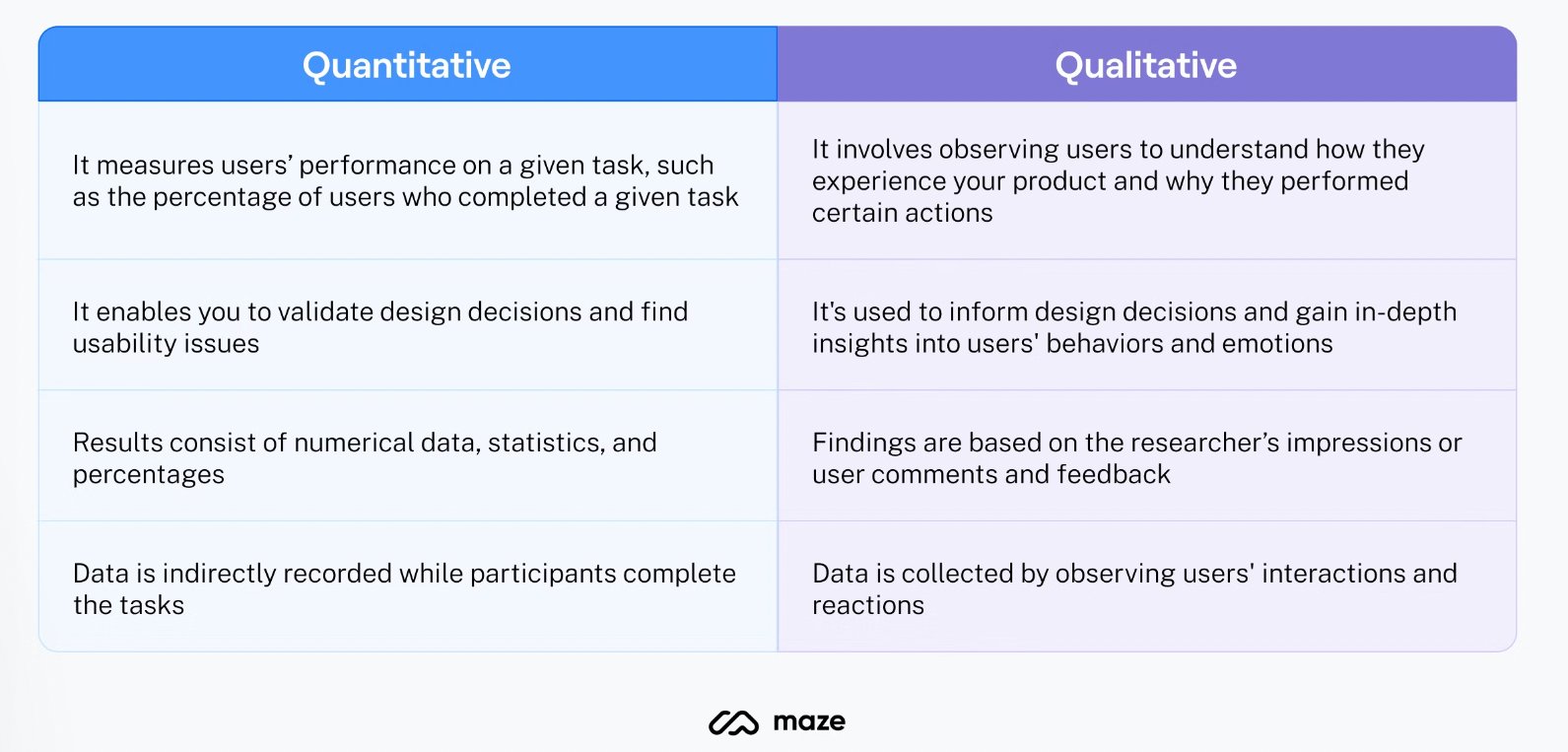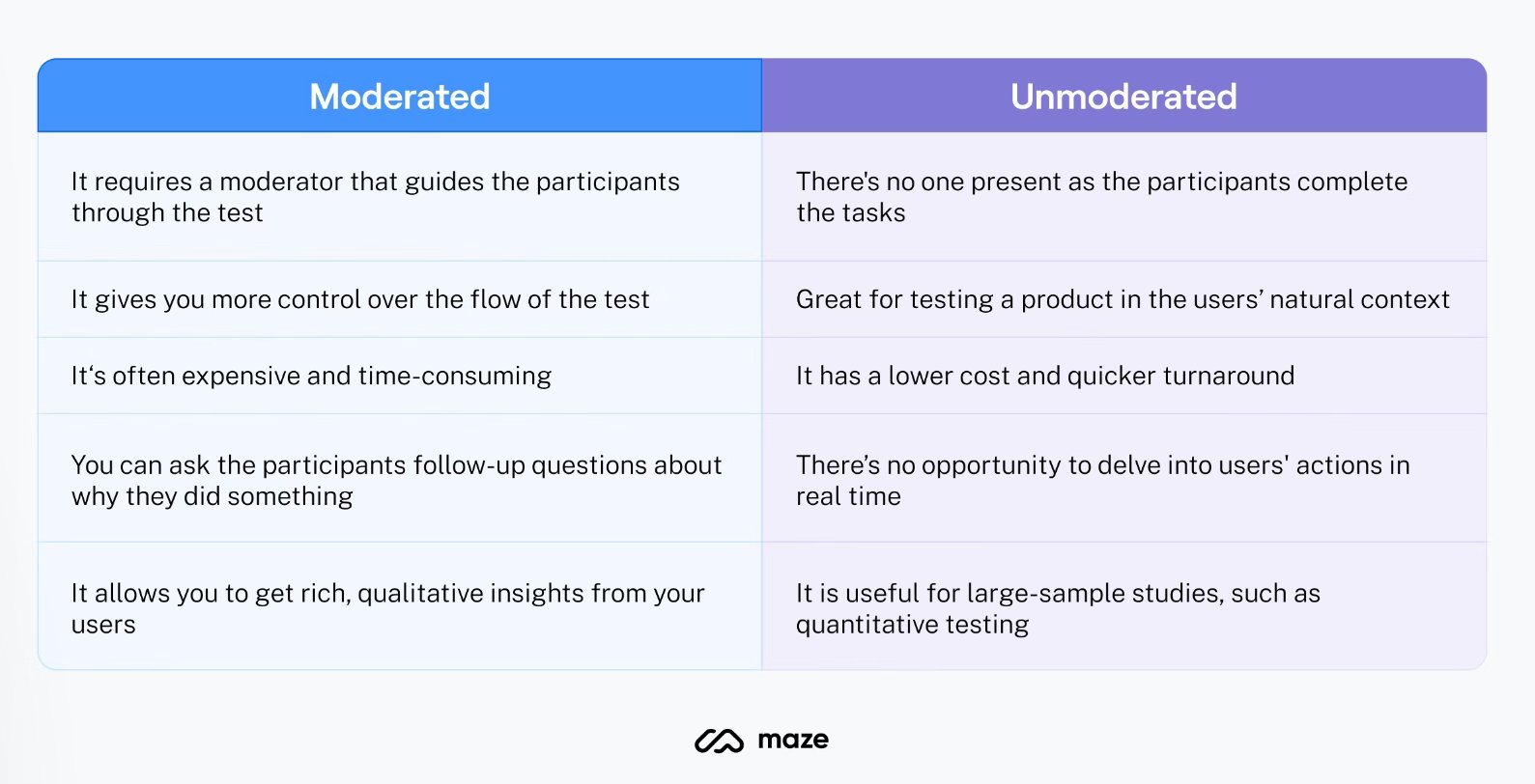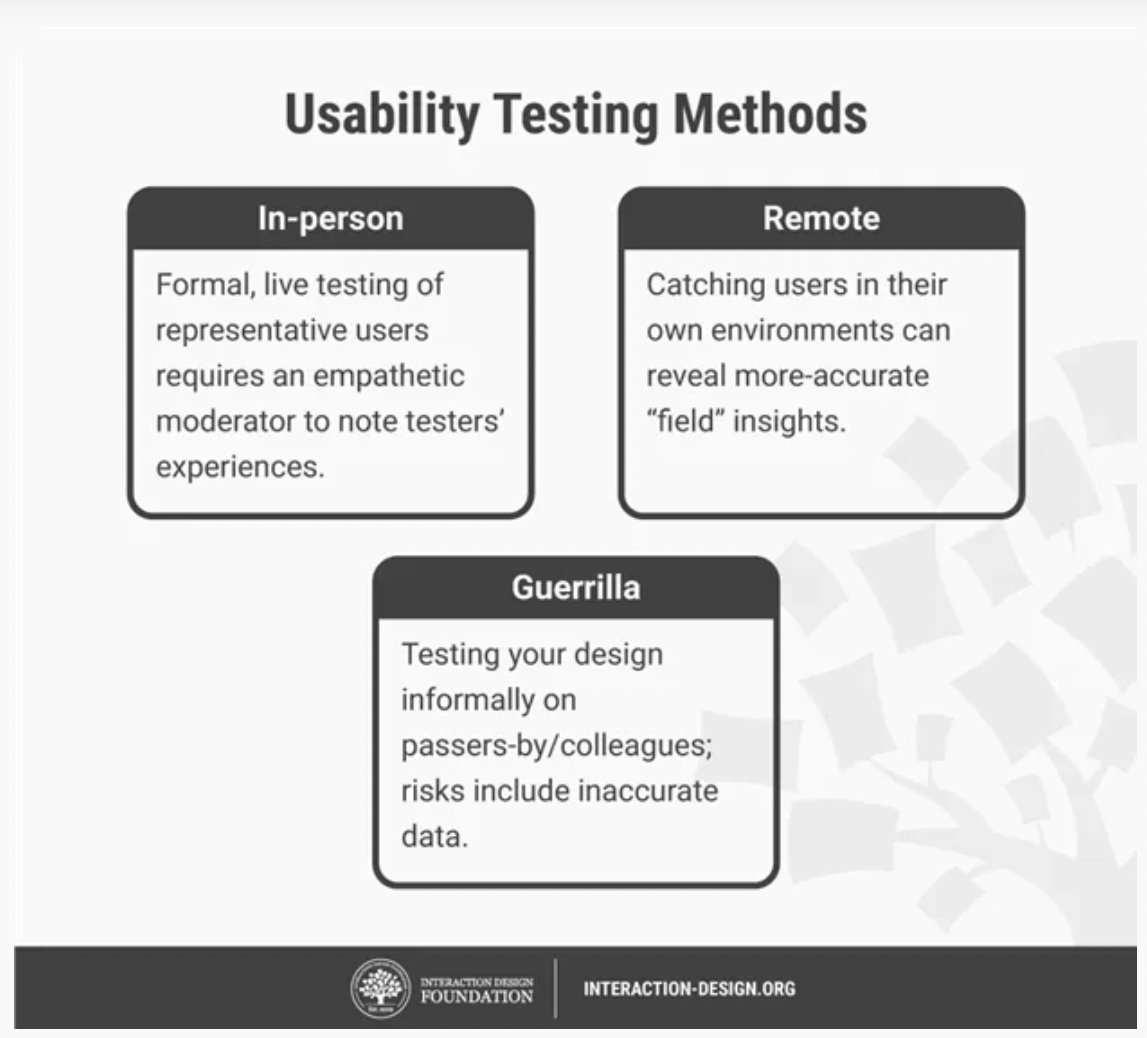 Steps to perform usability testing
For usability testing to work effectively, the below steps should be followed:
Plan
The first and most important step of usability testing is to plan the specifications. Your decisions at the beginning of the testing process determine how it will proceed and what results to expect. Things to be covered are:
Define:

The intent and objective of the test.
The concern areas you want to concentrate on.

Decide how you want to conduct the test, eg: remotely, in person, etc.
Make a checklist of the type of representative users (target audience).
Finalize the questions you want to ask.
Establish tasks
Clearly describe tasks with achievable objectives.
Place the most crucial things first to achieve your goals.
Develop simulations that allow users to test the design in real-world situations. This implies that rather than giving them directions, you let them figure it out independently.
Identify suitable test subjects
Who you engage as representative users and how depends on your testing objectives and budget. Based on the pre-determined target audience from step 1, select a suitable mix of users in this stage. You can find potential participants through:
Specialized hiring firms with a large pool of qualified applicants.
A pop-up survey on your website.
Your social media channels.
Requests to clients to participate in the test.
Conduct a usability test session
When it's time to start the usability testing session, the moderators should deal with each participant according to a predetermined methodology that ensures that each test subject will have a consistent overall experience. To conduct the session smoothly, follow the below tips:
Create an appropriate environment for testing.
To ease the participants into the activity, begin with a warm-up session.
Prepare ahead of time by doing a test run to rule out any logistical challenges, such as a bad connection or audio or video recording problems.
Assess user behavior using the indicators below:

Quantitative: 

Task execution times
Achievement and failure rates
User effort involved – number of clicks etc.

Qualitative: 

Users' stress indicators: facial expressions, body language shifts, etc
Users' subjective satisfaction scores as given in a post-task survey
Users' perception of the effort and complexity of the task

Take notes to create a final test report.
Sessions should be recorded so that the outcomes may be reviewed and analyzed later.
The key components of moderating test sessions are establishing a relationship with the participant and smoothly leading them through the activities. Listed below are some pointers for being a successful moderator: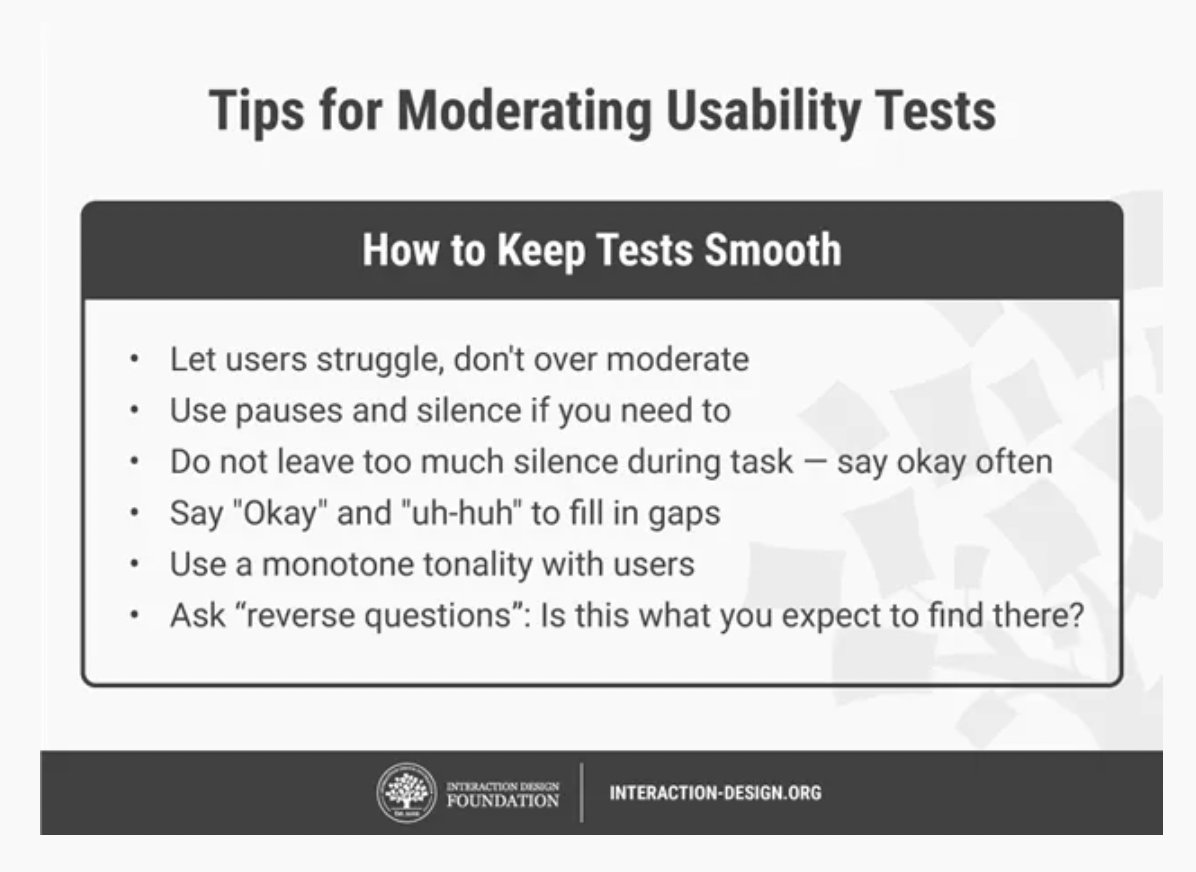 Analyze the test results
It's time to assess the findings and draw conclusions once you've gathered all of the data. The problems that surface throughout the test may be highlighted in your reports and used as a springboard for the upcoming revisions. Work with your designers and/or product managers, examine the outcomes of your tests and make any necessary modifications. Make changes based on the results of your tests in collaboration with your designers and/or product managers.
Conclusion
It is reasonable to say that usability testing is an essential step in the development of every successful product or service.
To maximize the advantages of the entire process, you must frequently perform usability testing. Usability testing may be extremely simple to set up and include in your development cycle if you plan and account for unforeseen circumstances. Keep testing and making improvements since the advantages are enormous.