Ever wondered how you can watch videos, listen to music, or read blogs on the internet? This is the process of content delivery that involves sharing, publishing, and promoting content to the target audience through various channels and media formats.
Content delivery takes place post the content is created. However, it is crucial to know beforehand how and where the content will be published and promoted to avoid wasting time and resources. This calls for a solid content delivery strategy in place. In the below sections we will learn about the same. Before we move ahead, let's look at some exciting content delivery statistics:
Types of deliverable content
Even before we start looking at the delivery platforms, it is important to know what kind of content can be promoted. There is a plethora of content to market a business and each type requires its unique content delivery plan. Below are some of the most common types of content that can be made available for the users:
Blog posts: Blogs act as company posters that raise awareness and credibility and attract new as well as existing customers. Useful CTAs and keywords can be planted within to increase user footfall and SEO rankings.
Research/case studies and success stories: Although these require a lot of work, at the same time they bring a lot of attention and backlinks to the website. They grab the attention of users who need references, updated statistics, and information. Some examples are how-to guides, tutorials, research papers, etc.
Ebooks: Such kind of content brings to the table a lot of enhanced and beneficial information in a genuine and captivating form. Ebooks help in bringing inward leads. It is a good idea to provide downloading access to ebooks once the user provides the required contact information.
Videos: Who doesn't love watching videos? Video content is apt for the audience who prefers to consume content visually rather than theoretically. Take benefit of social media to create and promote brand informative videos to deliver valuable content to prospective customers.
Podcasts/Interviews: This is content for the audience on the move i.e mostly the mobile audience. They would rather listen to audio than read the content. Customers can be kept engaged by providing them with interviews, discussions, and case studies regarding the product.
Newsletters: They provide a great direct way to deliver relevant messages to announce new promotions, products or services, and the brand and essential content.
Infographics: These manage to squeeze a lot of information into a more fancy, appealing form of visuals. CTAs can be embedded in such infographics and distributed on channels such as Pinterest.
Webinars: Typically, webinars are live sales pitches with customer participation. These can be recorded and repurposed as a video or podcast to use in future marketing strategies. Webinars can be displayed as a dedicated page on the website and also as CTAs on the blogs.
Content delivery channels
Content delivery channels are platforms that help in promoting and sharing different types of content as discussed above. Some common examples of such platforms include Google Ads, Instagram, and Pinterest. These channels help spread information (content) to the target audience. Broadly speaking, there are three delivery channels for content: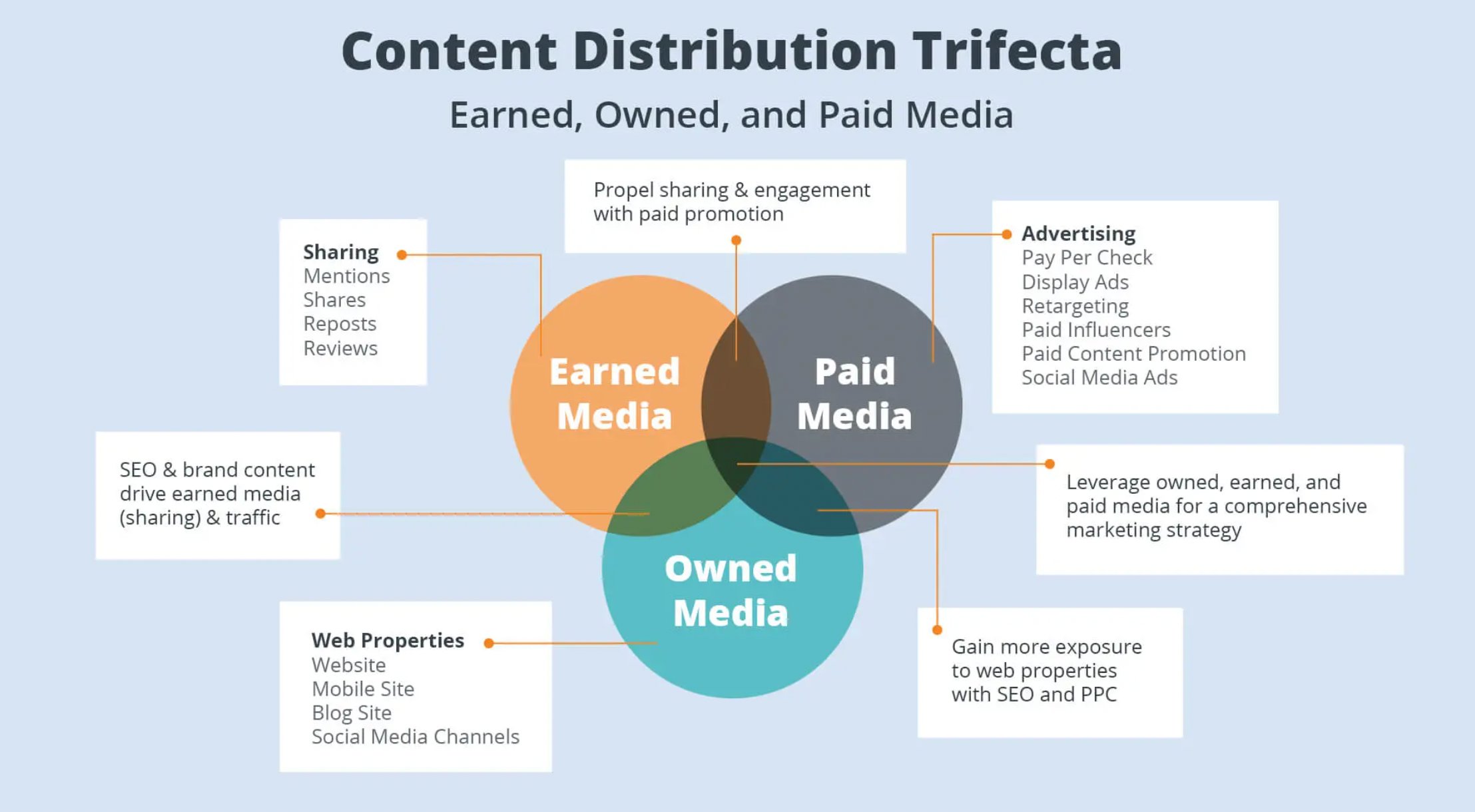 Owned media channels
Brands benefit greatly from these channels because all resources are owned by them and have full control over the content, such as removing or updating individual copy, tweaking it to improve performance, and quickly reaching out to the owner if a link breaks. Moreover, you can communicate directly with your "owned" audience, nurturing them and moving them through your funnel. Some examples of this channel are:
Your website
Blog
Emails and newsletters
Social media profiles, youtube, and podcast platforms
Advantages:
Cost-efficient
The brand has total control
Promises longevity and adaptability
It is reachable to a niche audience
Challenges:
No guarantee of success
Company communication is not always reliable
It scales at its own pace
As the content distribution is limited, only the existing audience has access to it
Earned media channels
Earned channels are when third parties promote your content or share it. The term "earned" refers to the content shared for free by third parties, such as customers, journalists, bloggers, and others.
Public Relations, social sharing, guest articles, and product reviews are among the channels that can be used. Additionally, they include forums like Reddit and Quora, where you can post for free, but the content is owned by the third-party site and therefore falls under earned channels.
Advantages:
It has the highest level of credibility
Gives exposure to new audiences
A key player in sales
Creates transparency when people vouch for you
Challenges:
Not possible to quantify the effects
The brand has no control and anyone with a positive or negative reputation can promote content
Paid media channels
When your company pays for the distribution of content through a certain channel, it is known as a paid channel. The principal components of this include:
Pay-per-click (PPC)
Social media advertising
Influencer marketing
Sponsored content
Display ads
Advantages:
As it is already established, it does not require much time to scale.
It can come into action immediately
Challenges:
Choosing the right paid media channel can be confusing with so many options available.
Credibility can be on the lower side
Build a winning content delivery strategy
Having a solid content delivery strategy is important for any brand. Some of the benefits are below:
It brings the curated content in front of the right audience
Aligns and helps different involved parties to collaborate efficiently
It allows setting benchmarks and goals to measure performance
Below are steps to build a content delivery strategy:
Research target audience – helps in deciding who actually would be consuming the content.
Audit existing content – helps in understanding if the content is helping or hurting your efforts. Also, some existing content can be recycled and repurposed to present to the audience.
Select the appropriate delivery channel – helps in aligning better with the target audience's behaviours and preferences.
Select content types – pick and choose content types discussed in the previous section.
Decide goals and KPIs to track – help in recognising the path is taken and what kind of success it may lead to.
Create an editorial calendar – provides a roadmap to content writers and editors about the work they will be doing.
Create relevant content – use tools to curate beautiful and relevant content.
Circulate and market content – publish the content created.
Measure and analyze performance – use tools such as VWO Insights, and Google Analytics to monitor performance through the goals and KPIs set.
There is no one-size-fits-all method for delivering content. That's why moving ahead without a strategy is a waste of both your money and your efforts. It takes a lot of research, testing, and analysis to find the one that works best for your business. However, if done correctly, it won't take long for the results to appear.
Explore here some tools that can help in improving content promotion.