10 Practical Tips to Optimize Website Surveys That You Can Use Today
Nitin Deshdeep
Nitin is a traveler, a cinephile, and a webaholic. (He just can't get enough of cat videos!) Professionally, Nitin is a marketer at VWO, who loves to write about Conversion Optimization.
The very first step of Conversion Rate Optimization is identifying areas of friction and leakage within your conversion funnel.
Tools like website analytics, heatmaps/clickmaps, visitor recording, form analysis, etc. can give you valuable info on where users are leaking out from your website (or app).
However, sometimes, the best way to know it is by hearing it straight from the horse's mouth — your users.
You can learn how users perceive your website and what they think would make it better, using website surveys.
Nonetheless, when not optimized, website surveys can potentially disrupt user flow, damaging the user experience on your website.
We've put together 10 key tips to help you setup your website surveys better, and generate actionable insights.
Here goes.
1) Know Your End Goals
It's imperative that you define an end goal for your website surveys.
Your end goal can be anything: reducing bounce rate, increasing subscription rate, minimizing cart abandonment, improving time spent on page, etc.
By fixing an end-goal, you'll be able to frame your questions specifically.
For instance, with the end goal being "reducing bounce rate," you will probably ask users if they find the page load time to be high. The responses to this particular question will provide direct insights for fulfilling the end goal. The same question, however, cannot be ideally used for an end goal like "improving time spent on page."
Avoid setting up generic end goals, and questions such as "how can we improve our website?" Responses to this question can themselves be generic like "make it more user-friendly," not giving you much to work on. (However, there are times when such questions are required. We cover that in the third point.)
2) Minimize the Number of Survey Questions
Normally, users don't get anything in return by completing website surveys. They do it out of reciprocity (your website gives them value; they fill out your survey).
Since most users don't have the motivation to complete a survey already, having a rather lengthy survey never helps. Thus, you've got to minimize the number of questions in your website survey.
Form your questions such that they ask for mutually exclusive answers from users and avoid redundancy. Find if a single question can provide you answers you are looking for, instead of asking multiple questions that simply stretch the survey.
Net promoter score (NPS), for example, is a single metric to gauge your users' perception about your brand. NPS involves asking users a single question, "How likely is it that you would recommend us to a friend or colleague?" Users respond on a scale of 1-10; the ones responding with "9" and "10" are your promoters.
In place of multiple questions enquiring user satisfaction and brand loyalty, you can use a short NPS survey.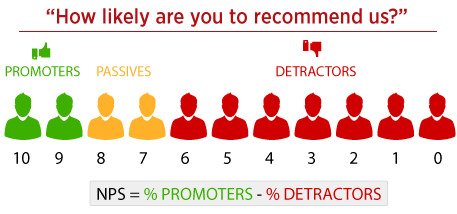 So you've got a lean survey on your website. Great! But, how do your users know that it is lean?
Well, you have tell them.
When you greet your users at the start of the survey, it's sensible to tell them how long the survey is. Mention the number of questions the survey has, or the average time users might take to complete it.
Here's an example of a website survey greeting that we used on the VWO Blog. This was done using VWO On-Page Surveys.

Notice how we mentioned that the survey will only take 10 seconds of users' time.
3) Choose Appropriate Question Types
Typical question types gather information in the form of text, check-boxes, radio buttons, rating scales, etc.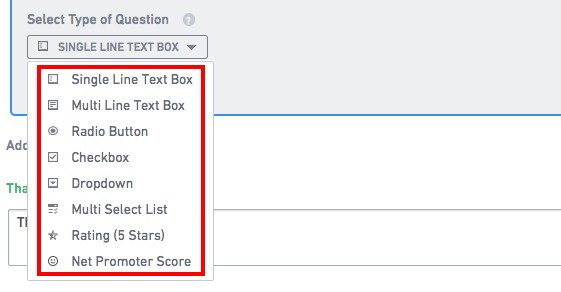 Whereas close-ended questions (including rating scales and NPS) require minimum effort from users, open-ended questions (with text boxes) call for substantial effort and time.
Various studies have shown that close-ended questions yield a much higher response rate compared to open-ended questions. The studies, however, also confirm that open-ended questions can bring out information otherwise missing with close-ended questions.
With close-ended questions, you provide users with predefined responses. The data collected can be analyzed quantitatively, often giving straightforward insights. It's a good practice to use close-ended questions when you know how your users will respond, and you need quick insights. Consider this: you run an eCommerce store and, think that the the size of the product images needs to be changed. You can ask users specifically, whether they prefer larger images or smaller ones, or want the size to be unchanged.
Open-ended questions, on the other hand, can provide you key details that you yourself might have overlooked. When you can't think of any concrete idea for the optimization of your website, it's a good idea to offer users open-ended questions, asking what they think can improve the website. After responses are collected, a word cloud can be formed to understand what keywords users used most often in their suggestions, giving a good idea of what changes were suggested most frequently.
Below is a word cloud generated from one of our surveys on the VWO Blog.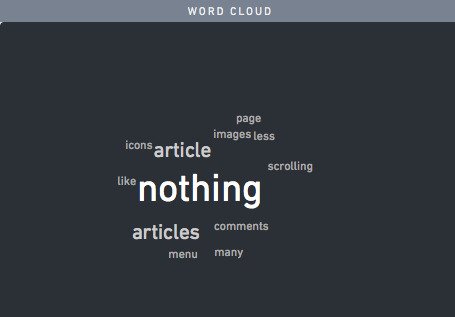 4) Begin With Questions Requiring Small Commitment
Use the foot-in-the-door technique to effect greater number of responses for your survey. Begin with questions which are simple and users can readily answer. Once users answer to a question, they've committed to your survey. With this commitment, there's a good chance that they will complete your survey.
This is one of the key persuasion principles given by Robert Cialdini.
Questions with a yes/no answer are a great example of questions requiring small amount of user commitment. Answering a simple yes or no to a question, will get your users into the survey funnel.
Below is an example:

In the worst case, you'll still have one answer for your survey.
5) Use Separate Surveys for Different Funnel Stages
You can't just put one survey across all of your web pages. Your survey questions needs to deliver some context to users.
Users derive that context from the web page they are on. This makes it important for your survey to be coherent with the pages on which they're being displayed.
Let's suppose, you own a travel website and you notice a decline in your conversion rate. You want to know why some users are not going all the way and making a transaction. You run a survey, asking users "what is stopping you from booking?" Now, users on the "travel description" page can find the survey question relatable. But, obviously users browsing your homepage will not be able to answer this question. They might even find the survey box intrusive to their user experience on the page — possibly hurting your conversion rate further.
Here is another example from the VWO archive. We ran a survey asking our blog readers whether they found the content of our blog posts useful. The survey popped-up on each of our blog posts.

However, we did not run the survey on our blog homepage. Why? Simply, because our users wouldn't have read our blog content on the homepage itself (making the question irrelevant to users).
6) Employ Segmentation To Uncover Niche Insights
Similar to creating separate survey questions for different web pages, you need to identify separate audience groups to whom you'll display the survey.
For instance, if you want to improve ad scent of your PPC landing pages, and want to ask users what they think about your landing page, you need to target users via paid search channel.
Similarly, if you want know how users liked the first impression of your website, you should ideally target the first-time visitors (and exclude returning visitors).
Want to target only mobile users? Segment your traffic excluding desktop users.

7) Know the Minimum Number of Responses You Need
The larger the number of responses for your survey, the more accurate the results are. However, accumulating a large number of survey responses prove to be time-taking and (often) expensive.
So how do you know the number of responses that will be truly representative of your population? Well, that depends on a few data points.
Population Size: In case of website surveys, the population size equals to website traffic. If you want to run a survey on specific pages of a website, the total traffic to only those pages will be your population size.
Margin of Error: The survey results can only be perfect if you get responses from every person of your population. Otherwise, the results will carry a margin of error. You'll have to decide the amount of margin of error that you're comfortable with.
Confidence Level: This metric, essentially, determines how confident you want to be with your survey results. The commonly accepted confidence levels to base decisions on are 95% and 99%.
With these data points in hand, you can determine your survey's sample size.
Below is an indicative table from CheckMarket that can help you decide your sample size.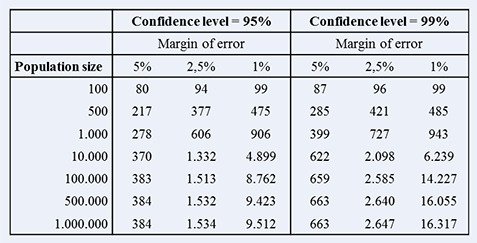 8) Make Use of Survey Triggers Smartly
User targeting for surveys is not just based on how (and from where) users are landing on your website. You can display your surveys to specific users based on their interactions with your website, too.
There are multiple triggers using which you can define conditions that should trigger your survey.
Let's suppose, you want to run a survey on content heavy pages on your website. You only want to target users that have gone through your content. You can set a trigger for your survey, only showing the survey when users have spent a minimum amount of time on the web page.
Some common trigger conditions are session duration of users, exit intent, scroll depth, or custom conversion goals.
Here is an example of a few trigger conditions from VWO On-page Surveys:

9) Optimize the Design and Position of Your Survey
After you've put together a great survey (with effective segmentation and triggers), you wouldn't want to lose out on responses because of your survey's design.
Ensure that your survey doesn't look out of place on your website. Maintain consistency in color and design between your website and the survey. At the same time, you must provide some contrast to the survey box to help it grab user attention.
Below is an example of a neatly-used survey box from Kissmetrics. The color of the box matches some of the other page elements, yet holding sufficient contrast against its surrounding space.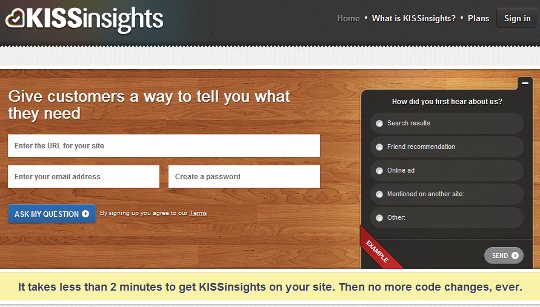 10) Make Your Surveys Mobile-Friendly
It's no news that the number of mobile users is greater than the number of desktop users, globally.
Hence, it's essential for your surveys to be optimized for mobile (unless your website data tells that your mobile traffic is negligible). Your surveys need to have responsive design, which allows them to be displayed correctly across all screen sizes.
When targeting mobile users specifically, it's a good practice to provide easy-to-choose answers for your surveys, using minimal text.
You should also try to use closed-ended questions as much as possible with your mobile surveys.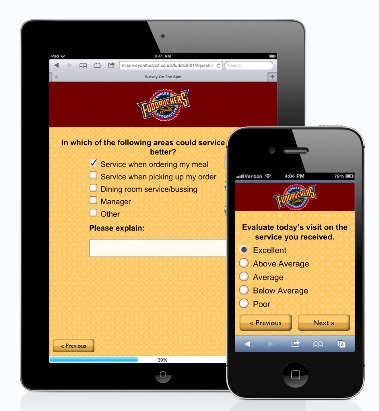 What Do You Think?
Have you used website surveys? What are some of the practices you follow to ensure maximum results? If you've got something new, we'd love to update this post with your learning (with credits, of course!). Tell us in the comments below.