How to Conduct Competitor Research for Better Conversion Optimization Results
Note: This is a guest article written by Shane Barker, a renowned digital marketing consultant. Any and all opinions expressed in the post are Shane's.
---
You want to increase your conversion rate. And you've implemented several CRO, or conversion rate optimization, strategies to help you do so. But have you considered researching your competitors?
Understanding competition is crucial for the success of your business in every aspect. It will help you determine what you're doing wrong, and what you can do better. It will also help you identify and capitalize on the weaknesses of your competitors.
In this post, you'll learn the basics of conducting competitor research to enhance your CRO efforts.
#1: Identify Your Top Competitors
Before beginning your research, you need to know whom to research. Who are your biggest competitors? The simplest definition would be businesses where your target customers can get the same kind of services or products you offer.
Include both direct and indirect competitors.
Direct competitors are businesses that sell the same products or services as you.
Indirect competitors are those who sell products or services that fulfil the same need.
For example, Burger King and McDonald's would be considered direct competitors because they have similar product offerings, that is, burgers. But Pizza Hut or Domino's would be an indirect competitor of both Burger King and McDonald's. Although they're both fast food joints, Pizza Hut and Domino's specialize in pizzas while the other two specialize in burgers.
Here are some of the ways you can identify your top competitors to conduct competitor research:
Google Search for Relevant Keywords
Make a list of keywords relevant to your business, and conduct a Google search using those keywords. The businesses that show up on the first page of your search results are your top competitors. List them for further research.
Let's say you're a wedding planner based in Sacramento. You can conduct a Google search using keywords like, "wedding planning in Sacramento," "wedding planner in Sacramento," "wedding planner Sacramento," and so on.
Your top competitors in this case are the businesses that show up in the local pack and whose ads are displayed on the top of the page.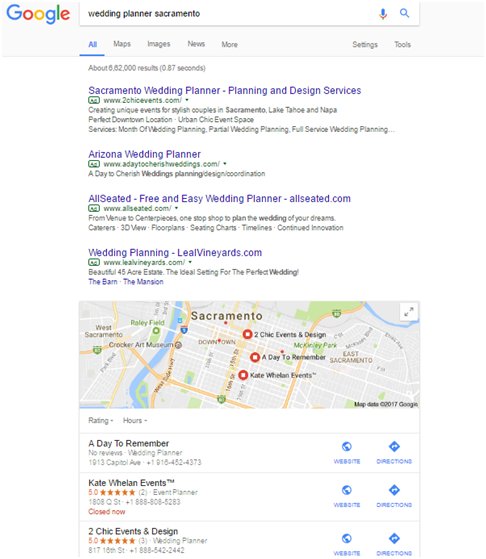 You can find more competitors on the actual websites that show up in your search results. For the above example, if there are any sites that list wedding planners in the Sacramento area, you would need to check out those as well.
Use SimilarWeb
SimilarWeb is a highly effective tool for identifying your competitors and determining their performance. All you need to do is type your website URL in the search bar and then click Start.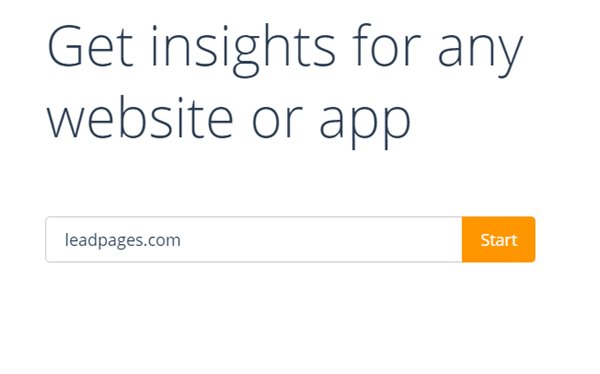 This step generates an overview of your site's ranking and traffic, as shown in the screenshot below. As the goal here is to identify competitors, you need to click the option that says, "Similar Sites," as shown on the left sidebar.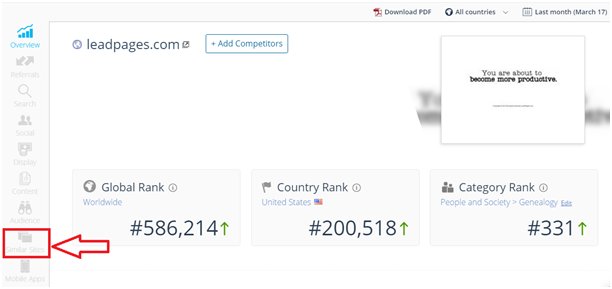 You will then get a list of some of the websites similar to yours, which you can sort based on the extent of similarity or ranking. Add them to your list so that you have a clear idea about who your competitors are.
Additionally, click each of these results to check where the websites stand in terms of ranking, traffic, and so on. This performance analysis can be used as part of the third step in this guide.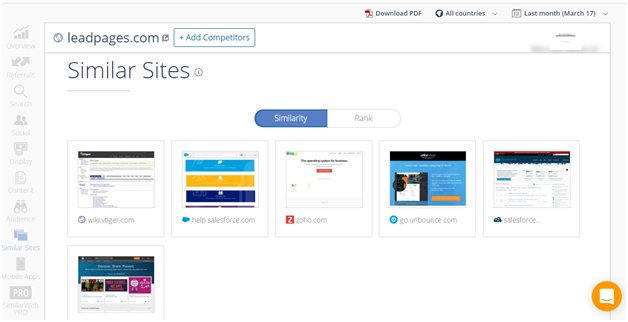 #2: Try Out Your Competition
Another important step in competitor research is to experience their services or products first-hand.
When dealing with e-commerce stores, try ordering from them. Analyze every aspect of the purchase process to identify what they're doing right and what mistakes they're making.
Maybe they've implemented a chatbot to help their shoppers find what they're looking for quickly and easily. To improve your CRO, consider adding a chatbot to your website as well.
You should also analyze the user experience (UX) of your competitors' websites. Ensuring a good user experience is an essential part of a successful CRO.
To analyze the UX of your competitors, ask yourself questions such as:
How easy is it for you to navigate your competitor's website?
Are there too many distractions on any of their web pages?
Are you having a tough time reading the copy because of a bad font choice?
Is the process of completing a purchase easy?
Additionally, analyze their post-purchase service to see how well they respond to customer complaints. These questions can help you understand more about your competition. Analyze their services to determine what they're doing well, what you can improve on, and what mistakes you should avoid.
In the case of a brick-and-mortar shop, try visiting the establishment to experience its service. Make a note of the store's ambiance, how friendly the staff is, how well they present their products, and so on.
You can also ask the opinions of friends and family or your customers who have visited the place.
#3: Analyze Competitor Performance and Strategy
This is one of the most important steps in competitor research. When you think of analyzing their performance and strategy, several aspects may come to mind. Not sure what exactly to prioritize, or where to start?
Analyze the following to conduct your competitor research more efficiently:
Traffic and Ranking
One of the key factors to consider when analyzing the performance of your competitors is their ranking. Find out how they rank for specific keywords and compare their performance against your own.
For competitor performance analysis, you can use SEMrush, which you can access for free. You also have the option to upgrade to one of their paid plans, which allows for more results and reports per day.
In the screenshot below, the tool gives you a report on the website's paid and organic search traffic. Using this tool, you can compare the amount of branded traffic and non-branded traffic and get some insight into the PPC campaigns of your competitors.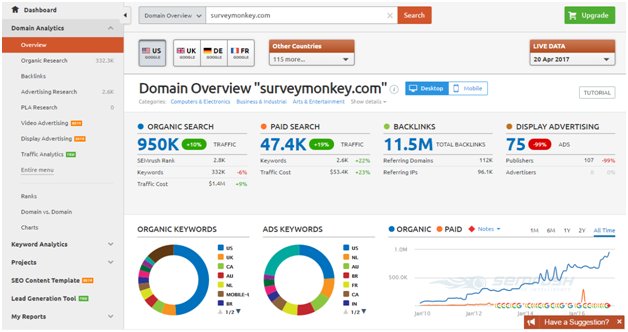 SEMrush can help you find out what your competitors are doing right so that you can use those opportunities to improve your CRO efforts.
The tool will also give you a list of keywords for which each website is ranked, along with the position and search volume for each keyword.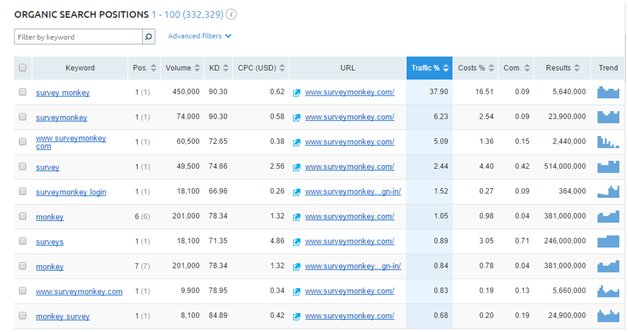 SpyFu is another useful tool for conducting competitor research. The tool helps you find your competitors on typing your website URL in the search bar.
The most useful aspect of this tool is that it identifies the top organic and paid keywords used by your competitors. It also helps you to identify the keywords you share with your competitors.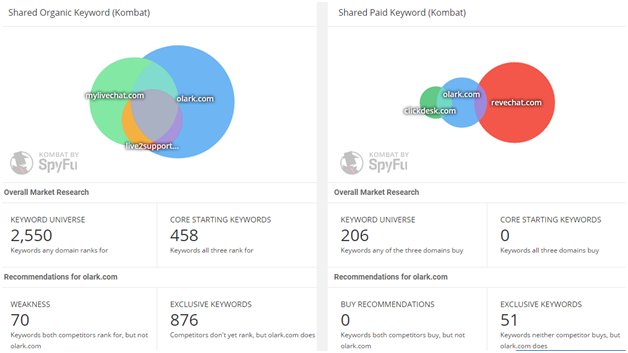 Image Source: spyfu.com
Link Profiles
Link profiles are another important aspect to help you conduct competitor research. According to Moz, link profiles are among the top search ranking factors.
A good link profile will improve your website's ranking, which will improve its visibility. The more visible your website is, the better your chances are of improving traffic. Increased traffic often leads to higher conversions.
This means that you need to conduct competitor research to find out where they stand in terms of backlinks. Find out which websites are linking to them and how many backlinks they currently have. This will help you determine what backlinking goals you should set and which websites you should target through your backlinking efforts.
You can use basic tools such as Backlink Checker from Small SEO Tools to check which pages are linking to your competitors. For more detailed reports, you can use the two tools mentioned earlier, SEMrush and SpyFu.
SpyFu gives you a list of pages linking to your competitors. In addition, it shows the number of organic clicks and domain strength of the websites linking to your competitors.

SEMrush is even more comprehensive. It gives you a report on the number of backlinks your competitor has and the number of domains linking to these backlinks.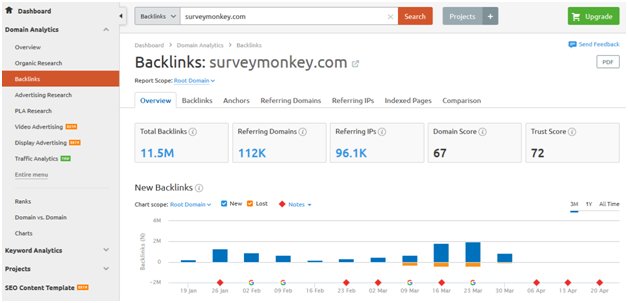 Also, you can use SEMrush to view the top anchor texts being used to link to your competitors.

Landing Page Strategy
In addition to your competitors' performance, you need to determine their ability to impress their audience. This means that you need to analyze their landing page strategy and identify their strengths and weaknesses.
Ask yourself:
How strong is the headline?
Is the value proposition clear?
Is the landing page design aesthetically pleasing?
Are there any visuals on the page?
These are just some of the questions you need to ask when analyzing the landing pages of your competitors.
Pricing Strategy
When you conduct competitor research, it's also important to analyze their pricing strategy. Their rates may be are more competitive and, therefore, your target customers are choosing them over you.
What can you do to present your rates in a more appealing manner to enhance your CRO efforts?
Are your competitors offering multiple pricing options?
Are there any guarantees that make their offers more trustworthy?
Do they compare various pricing options?
What are the biggest strengths and weaknesses of their pricing strategies?
Next Steps
Now you know more about how to conduct competitor research to improve your conversion rate optimization strategy. Next, you need to make a list of the top strengths and weaknesses of each competitor based on the data you have collected.
For example, one competitor's top strengths may be an excellent landing page design and a good backlinking strategy. But the same competitor could be lagging in terms of organic search ranking and customer service as well.
From this list, you can identify opportunities to improve your CRO efforts. Your competitor research can also provide you with insights into the mistakes you should avoid and ways to improve your service so that it stands out from your competitors.
Got any questions about the tips provided here? Feel free to ask them or share your ideas in the comments below.