Sometimes you are so involved with your website, you just cannot see that you are missing the most basic points, unless someone points them out to you. No matter how much you try, you cannot see your website like your customers do.
This is why, our customer, Loft Resumes, turned to customer surveys and usability testing to figure out how their customers interact with their website.
About the Company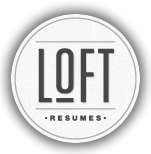 Loft Resumes take resume content of their customers and turn it into a visually-appealing document. Their Unique Selling Proposition is that they make resumes of their customers stand out with their compelling designs. As a result, employers stop and pay special attention to them, which increases their likelihood to get more interview calls and probably job offers too.
Background Research
Daniel Gonzalez of Conversionlove.com was hired to improve the conversion rate of the website. The conversion team conducted a few usability tests which gave them a better understanding of some important concerns about Loft Resumes' customer base. They learned that:
Users did not immediately understand what the site was offering in the initial few seconds of visiting the website.
Many users confused it with a resume writing service.
Users categorized resumes into different buckets mentally, like resumes with photo, resumes without photo, conservative resumes, and many more.
Next, they proceeded with a product/market fit survey (created by Sean Ellis). The survey turned out to be a huge success as it revealed crucial insights about Loft Resumes' customers. The conversion team now knew:
Loft Resumes' main traffic comes from their blog. Their customers also mentioned names of some other websites (Fab.com, Fast Company and others) from where they heard about Loft Resumes (these sites can be used later for media buys and display advertising).
For Loft Resumes, their biggest competitors were people who would design their resume themselves, or those who'd hire a designer to design their resume for them. These are the main competitors of Loft Resumes because these are the people their customers would replace them with (if they want to) and not the websites that are ranking above them for their search keyword.
They understood the benefits of their offer as perceived by the customers. Responses in the survey also gave them the exact words that their customers used to explain those benefits. The biggest benefit that was revealed for Loft Resumes was that it helps its customers' resume stand out in a pile of resumes. Another thing that surfaced was that their service is ideal for designers, other people in creative industries, and marketing professionals.
If you want to know more details about how Loft Resumes carried out this survey, you can read it in this interesting post written by Daniel.
A short survey on Qualaroo also revealed that some people felt that the price of their service was too high.
Test Hypothesis
After the extensive research, it was understood that there needs to be better clarity about Loft Resumes' service on the website. The test hypothesis was that communicating the benefits of their service, as perceived by their customers, should increase website sales.
This is how Loft Resumes' homepage was, before the test:

It was decided that the complete page overhaul is required to improve message clarity and explain benefits of the service (with all the insights that they got from their customer survey and usability tests).
The Findings of Extensive Research were Finally Implemented
Here's how they redesigned the page: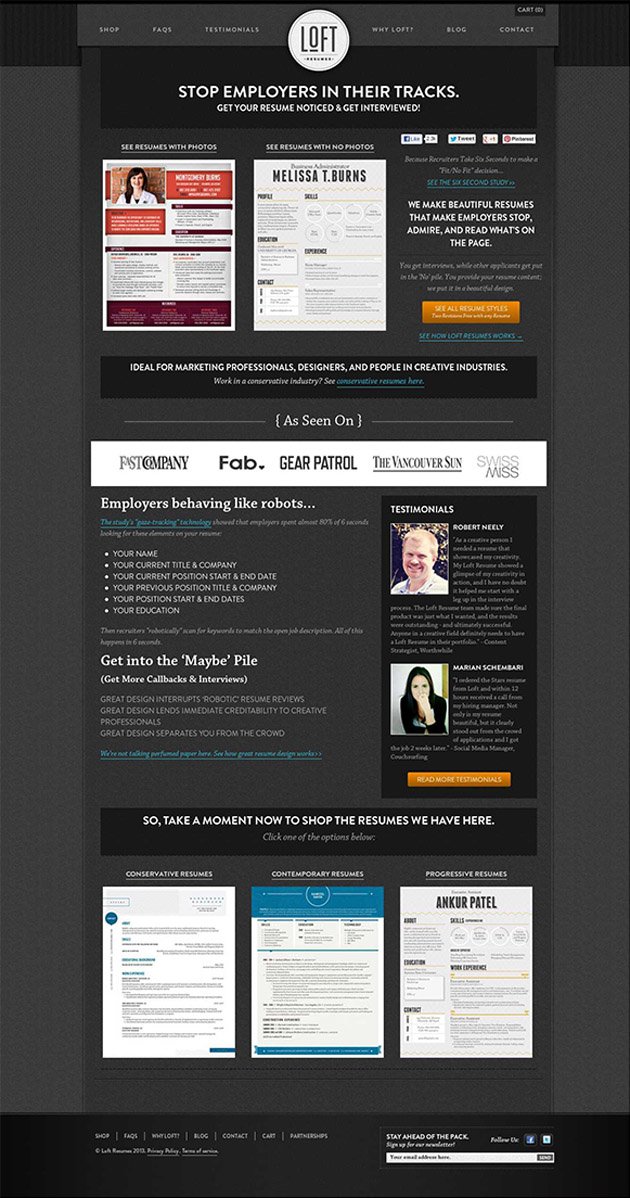 Visual Website Optimizer was used to run a Split URL test.
The whole idea was to match the design and the message on the page to the communication in the minds of the customers and how they think about Loft Resumes.
If you observe carefully, you will see how Daniel and his team utilized important findings from their research in designing a compelling homepage for Loft Resumes. The page resonates perfectly well with their customers' perception of the service.
The resume examples are categorized as resumes with photo and without photo.
The headline emphasizes value proposition of the website with absolute clarity. This makes people easily figure out what the site is all about, the moment they land on the website. The Control page didn't have any headline at all.
The second call-to-action above-the-fold directly addresses Loft Resumes' ideal customer personas (marketing professionals, designers, and other people in creative industries).
The 6-second study was used to emphasize the problem that with so many other candidates who might be applying for the job, there's a high possibility of their resume might not get enough attention for employers' to make an informed decision. The study makes Loft Resumes' visitors more conscious about the problem, which increases their desire to distinguish their resume from the rest.
The biggest benefit of Loft Resumes (i.e, helping their customers' resume stand out) is then shown as a solution to this problem. This also increases perceived value of the service and probably rests some of the price objections that some customers might have had when paying for the service earlier. Probably, visitors now see this service more as a "need of the hour" than just an optional service.
The conversion team used the popular AIDA (Attention, interest, desire, action) format in their copy to reel people in and draw them into the copy. They also used the exact words in their copy that the customers used to explain those benefits in the survey.
To make for a more compelling case, the below-the-fold section now lists testimonials with pictures to add credibility to the service.
Result
The newly-designed page beat the original and increased purchases by 64.8%.
Here's the Comparison image for you to see both the designs together: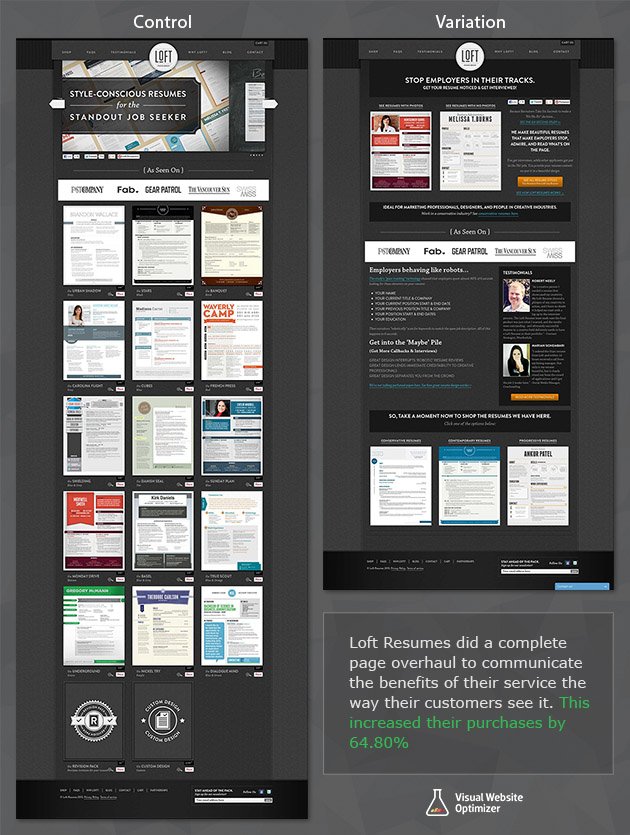 Understanding your customers indeed pays off, every time. The more you let them speak, the more effective your A/B test ideas will be.
When you match the conversation in their mind when they are thinking about buying your product and give them the answer to their subconscious concerns, you make a sale. All you need to do is, get back to the basics.
This often simple but hugely ignored practice is the reason why businesses suffer. They think they know their customers well, they contemplate and brainstorm about what they think their customers' need, try out new market tactics. But the only thing they pass out on is, asking the customers what they like or dislike about their brand/service.