We recently did an A/B test on Visual Website Optimizer homepage with an aim to increase signups for our free 30 day trial account. As you can see, our signup form is short (with just a couple of fields), has good social proof (testimonials on the right) and we have a direct link to the signup page in the website header. Thanks to these practices, our signup conversion rate was already quite satisfactory. However, being an A/B testing company, we can't be content with status quo. So, we decided to optimize our website for more signups.
Homepage as a sweet-spot for optimizing signups
We could have tweaked our signup page in this A/B test. However, as with most websites, the major challenge is to get more visitors to the signup page in the first place. By analyzing our analytics, we realized that our homepage gets many visitors who either simply leave or browse a couple of pages without ever visiting signup form. So, homepage represented tremendous opportunity to increase overall signups. Here is how our original homepage looked like: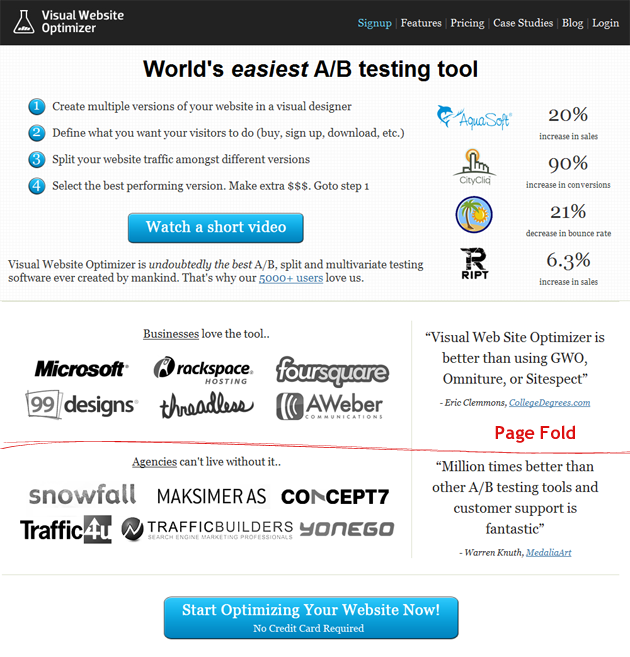 Note that above the page fold, we had a Watch Video call to action. Idea was to have let visitors understand the product and then push them to signing up for the trial account. However, note that below the fold we had a button called 'Start Optimizing Now' which directly links to signup page. So far, so good. What do we optimize on this homepage now?
Change the Watch Video button to Start Now button
The first change we wanted to test was the most obvious one. We replaced the Watch Video button to Start Optimizing Now button (which is also present below the fold). Here is how variation looked like: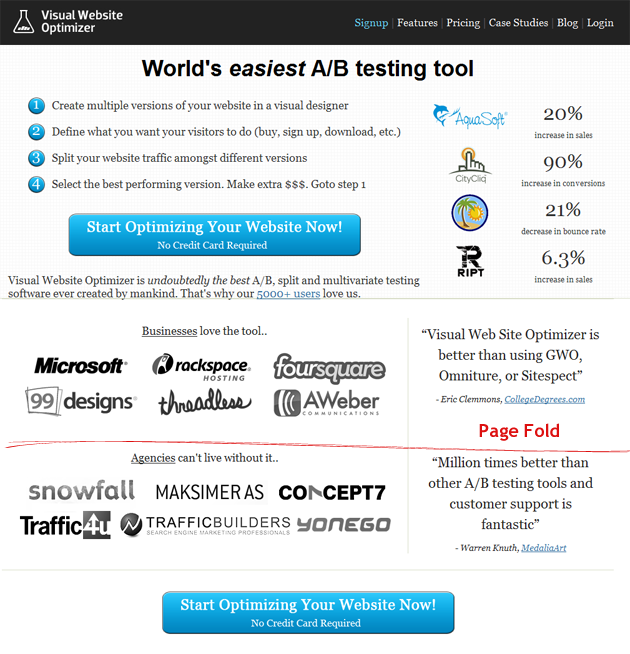 This increased signups somewhat but the real game-changer was the following change.
Introducing "Popup Forms": 50% increase in signups
As mentioned earlier in the post, our signup form is fairly short (with only a couple of fields). So why do majority of visitors who finally reach signup page still not end up signing up? The reason is because signing up for any service is a commitment of sorts. Even if signup is free, the act of filling form fields and hitting 'Register' button requires great deal of motivation. The usual flow of visitors is usually like homepage -> browse and learn about product -> visit signup page -> do a signup -> try product.
Since signing up requires commitment, we thought of removing explicit "visit to signup page" step by integrating signup as part of browsing the website and trying the product. Implementation wise, here is what we did: on homepage, whenever a visitor clicks on Start Optimizing Now button, we show a "popup signup form" which has only two fields (username and password). Notice that signup form does not require a page reload and appears as part of the homepage itself. See a screenshot of this "popup form" below: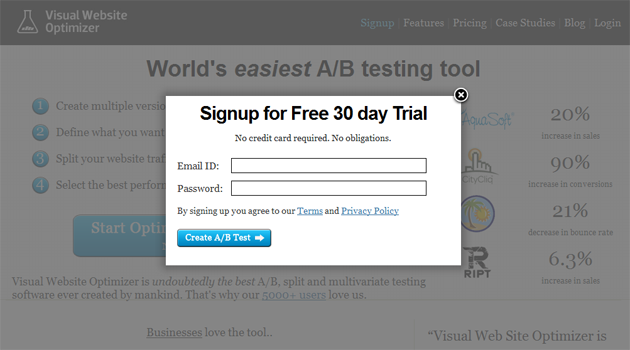 What this did was amazing! It increased signups by 50% as compared our original homepage. We think the increase in signups is primarily because of "popup forms" which have following benefits:
Less distractions (rest of the page is blackend)
Only two fields asked for (username and password)
Page is not reloaded so signup is considered integrated into homepage, not loaded as a separate page. (yes, it matters psychologically!)
What's next?
Needless to say, we are going to do lot more A/B tests on Visual Website Optimizer homepage and website. Note that this test ran only on homepage, so the next step would be test these "popup forms" site-wide at different places (blog, navigation header, etc.)
Another follow-up task would be to see effect of increased signups on final paid user conversion rate. Right now, the impact on paid conversion rate was not visible as we still need to collect more data. It can certainly be possible that even if we increased trial signups by 50%, actual paid signups didn't change (or, worse still, actually decreased). This is possible if increased signups are attributed to semi-interested people who may never end up buying a subscription. We used our new revenue tracking feature to see impact of "popup forms" on actual $$ made, however it is still to early to say anything.
If you have any feedback or suggestions on how we can further increase signups, please do let us know by leaving a comment below!