4 Indispensable Elements of a Winning Cart Recovery Email
Vaishali Jain
Majored in English literature and currently working with content at VWO. Loves her coffee, books and movies.
Amongst the many woes of an eCommerce marketer, cart abandonment could be seen as one of the greatest. I mean think about it: a customer lands on your website, browses through and carefully picks up the items of her choice. And right at the moment of truth, leaves you stranded.
Distasteful, right?
And this happens more often than you'd imagine. According to Baymard Institute 68.6% of online shopping carts are abandoned.
While you may not be able to control all the factors leading to the abandonment, quite a few of them could be prevented with adequate measures like checkout page optimization and retargeting techniques.
Cart recovery emails, a type of retargeting technique, work considerably well when it comes to getting back your customers. The reason being simple — they're less intrusive and more personalized. According to SalesCycle remarketing report 2015 Q3:
Nearly half (40.5%) of all cart abandonment emails are opened.
Over a tenth (10.3%) of all cart abandonment emails are clicked.
Just under a third (28.7%) of clicks lead to a recovered purchase back on site.
The AOV of recovered purchases is 18.4% higher than typical purchases.
Seems worthwhile? Great!
In this post we're going to talk about the four broad elements to craft a winning cart recovery email campaign:
Segmentation
Timing
Content
Design
Segmentation
Slicing and dicing you cart abandoner email lists can help you apply personalization and meaningful incentivization.
These are some of the factors you should consider while creating segments for cart recovery emails:
Order value: What is value of the order that has been abandoned? Is it particularly high compared to your average order value?
Margins: Is there a good margin on specific brands or product categories that have been abandoned?
Customer History:  Are they a first time abandoner or repeat abandoner? What is the frequency of purchase of the customer?
Browsing time: Average time spent on the website? What pages were browsed?
You may want to align these parameters with your business goals. For example, you may want to offer greater discounts to recover a specific target product, while not as much for a fast selling product.
There are various eCommerce email marketing software providers like Rejoiner, Cartstack, etc. which can help you begin.
You could also set a triggered email based on user behavior. For instance, envelopes.com created three different customer recovery emails. Visitors abandoning the website at the product page, checkout page and shopping cart were sent three different triggered emails respectively. By this, envelopes.com were able to cut down their checkout abandonment rate by 40% and increase their checkout conversion rate by 65% in less than two years.
You can read the complete case study here.
Timing and Frequency
Next, you need to take a call on the frequency and timing of your cart recovery emails.
Although there's no hard rule on the number of times or the time to send a recovery email, you could begin with sending a series of three mails over a period of about a week.
Analysis of over 60,000 abandoned carts by SeeWhy found 54% of all carts that are successfully recovered are converted into sales within the first hour of abandonment. Another 10% can be saved within the first 48, with 82% recoverable within a week.
If you had to pick a good starting point, the first email can usually be sent out within one to two hours after a customer abandons the cart. The second email could be sent 24 hours later followed up by a third email 3-5 days later.
Amazon sent this clear and precise email within two hours of cart abandonment. The obvious objective of the mail was to remind me of the incomplete purchase.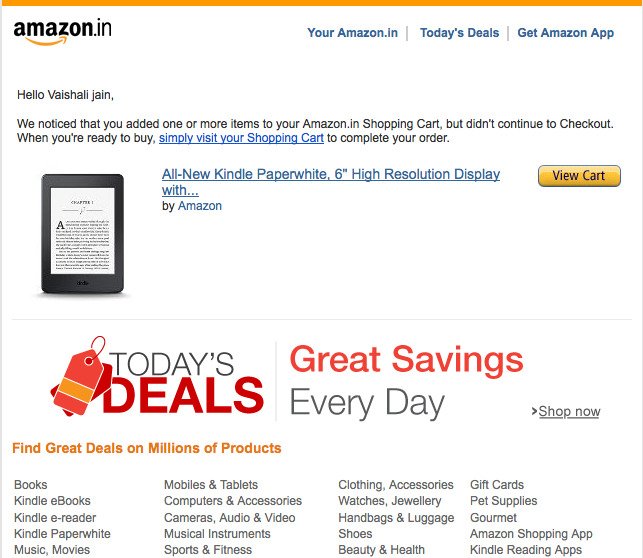 The second email, that was sent  three days later, gave me suggestions of  products similar to Kindle.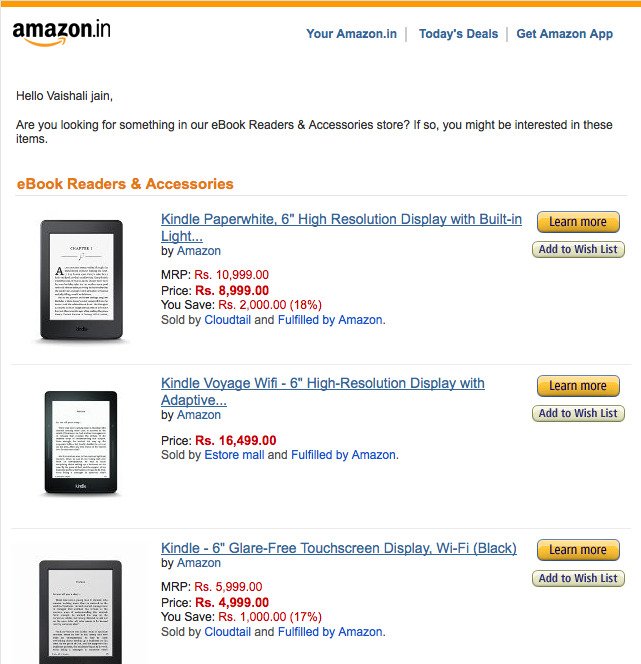 In the third email, received one day after the second email, they asked me for feedback on the abandoned product.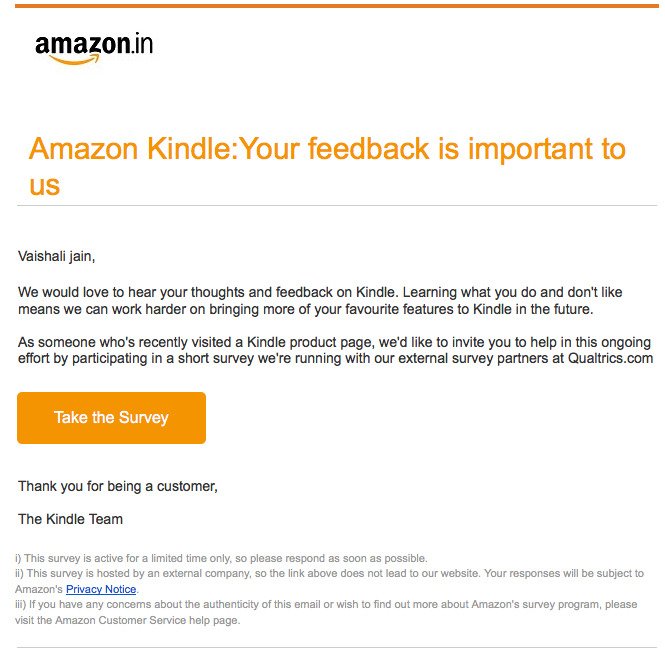 Content
After setting your sights on segmentation and timing, start thinking about the key message of your email/s. Muse on these three broad areas:
Subject line
Email body
Offer
Subject line
A good subject line can be the difference between a user ignoring, or opening and clicking on your recovery email. In fact, 33% of email recipients open an email based on subject line alone.
Try keeping your subject line as clear as possible. Be upfront about what you're offering or asking them to do. You may want to ask questions to pique their interest. You could also leverage personalization (of customer name/abandoned product) in the subject line.
Here are some of the subject lines that caught my attention:
|FNAME|, did you face any trouble?
|FNAME|, you forgot how much you want to buy this!
Hey! You left some items in your cart!
Had your eye on something? Enjoy free delivery at |CNAME|
Do not miss! Your chosen items will sell out very quickly
Still Shopping? You have items left in your cart
Final reminder: what about those items in your cart?
Warning: Unattended items in your bag may be eaten by gnomes
Email Body
The body of your email is at the heart of your campaign's messaging and should clearly bring together your end goal and segmentation. Think of a clear objective to achieve (to remind, to urge, to incentivize, etc.) from the cart recovery campaign and craft your copy around it.
See this great cart recovery email by Nordstrom reminding the customer of an incomplete purchase.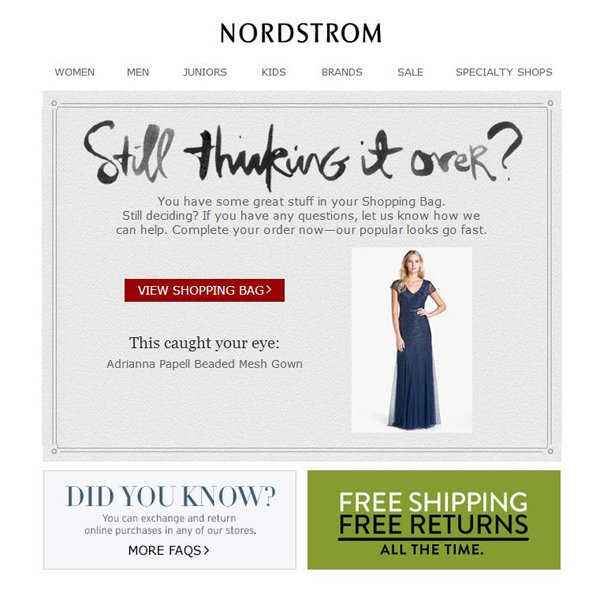 Also, the tonality of your email should not be too "salesy" or pushy. It should focus on providing assistance instead. You may want to address the common concerns on privacy policy, guarantee, returns, shipping, etc. in the body of the email, which may have hindered the first attempt at purchase.
Research supports that people read most or half of their emails, respond to passion, hate being pitched to, and won't mind frequent emails as long as that email is relevant, interesting, and specific to their needs.
As an example, see the FAQ section at the bottom of the mail above. It immediately catches the attention of the customers having any questions.
Offer
58% online shoppers say they will purchase a product they abandoned if they get an email saying it's now available at a discount or if they see an advertisement saying the same.

There are a number of types of offers that you can come up with which can lure abandoners to recover their cart. Some of them (along with the psychological principle that they induce) are stated below:
Special discounts or free shipping (Exclusivity)
"Stock expires in" offers (Scarcity)
Limited period offers (Urgency)
Gift coupon or holiday discount (Reciprocity)
Other than this, you can even try a cross-selling or upselling offer. For that, an email talking about a range of similar/recommended product may be helpful.
Also, make sure the discounts are used sparingly as you don't want to train your customers to abandon their cart on purpose, hoping for an off.
According to case study, Windsor Circle encouraged their eCommerce clients to cap their frequency of discounts to ensure that they don't train their users to abandon their carts. See how they used variations of their recovery email campaign for a repeat abandoner.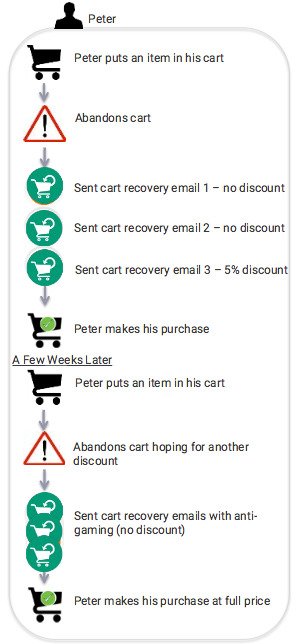 Design
Working on the design will bring all the elements of an email together. Broadly, a good design can be measured on the basis of:
Layout
Layout of the email is critical in directing your readers' focus to where you want it to be.
You may want to focus on the following:
Consistency:  Is there coherence in your messaging and display from the subject line to the CTA?
Readability: How easy is it to skim through and still get the point?
Product Images: Are the images used in the email adequately representative? Are they optimized?
CTA: Where should you place the CTA? What should be the size?
Responsiveness
Over 50% of the 5,000,000 monthly emails sent by Rejoiner are opened on a device that is different than the one the customer originally abandoned on. No matter where your customers abandoned their cart – mobile app or website, the recovery email you send them should be fully responsive on all platforms.
By responsive we mean two things. One is in terms of session regeneration, i.e, generating the abandoned session even if the customer has signed up from a different device earlier. This is important as it can be a really frustrating experience for your customers to receive a cart abandonment email, click-through, and return to an empty cart.
Secondly, your emails should be responsive across all platforms like mobiles, desktops, tablets, etc. This includes making sure the layout (image, text, CTA) is not distorted on any platform.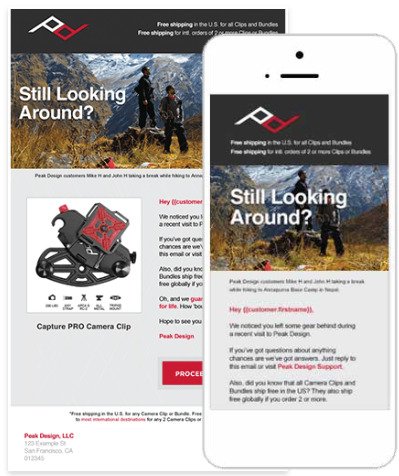 Over to You
Do you use cart recovery emails to get back your customers? Is it yielding good results?
I'd love to start a dialog in the comments.