The Best Abandoned Cart Emails- An Overview For 2019
Email marketing, the marketing chameleon with its ever-evolving status that can encompass any and all marketing actions, can take many forms.

From welcome emails to replenishment and from verifying profiles and codes to saving purchase receipts, email marketing is what drives revenue for most businesses. And ecommerce couldn't be out of the picture.
Abandoned cart emails are one of these types of email automation techniques that can make conversion rates skyrocket! But what are those emails exactly?

Cart abandonment emails are sent automatically when a user does not move forward with a purchase, despite having added an item in their cart. They are light-hearted, fun and almost expected sometimes, as there are various reasons why a customer may not complete a purchase.

But why are they fun? Why are they expected? And why are they needed? Well, let me tell you a thing or two…
Why do businesses need to invest in Cart Abandonment Emails?
So, you've set up your ecommerce store, right? Design, brand tone, data at the ready, your layout and the products are there… So, you take the next step: Awareness. Or, in other words, ads.

You can take your team in endless brainstorming sessions, you can have your strategists rake their brains and your creative team work wonders, but there will be something missing, without a cart abandonment email automation plan. Cart abandoners are the most "expensive" tribe of them all, as failing to re-engage them could be a lot like leaving money on the table.

Luckily, there are tools to help you design and implement strategies that will make even the most stubborn turn around and give you a happy smile.

For example, Moosend, which is one of the best Mailchimp alternatives, can give you the opportunity to combine every email marketing action, such as sending newsletters and transactional emails, such as the cart abandonment emails we're talking about, all from one place.

"And why would I need to do that?" You'll ask. So, let me clarify the reasons why, with some visual aid: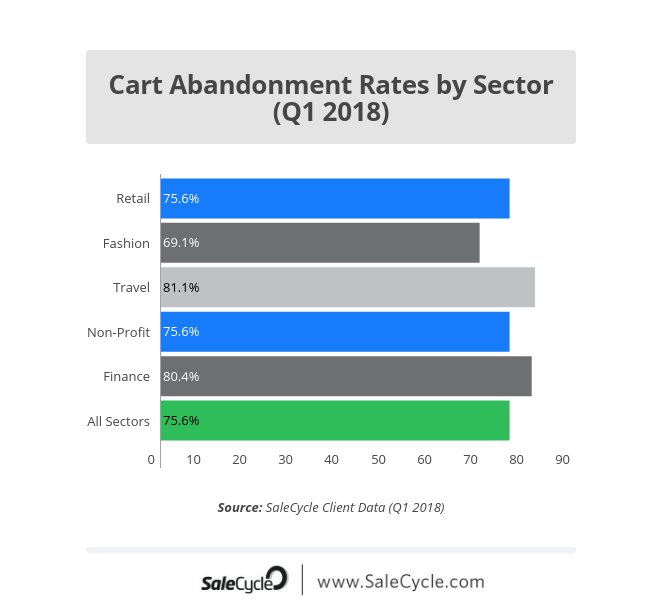 This statistic by SaleCycle, shows the cart abandonment rates by sector. Unsurprisingly, tourism is the first one to have been hit, which is completely normal, seeing as a booking can be impulsive but deciding on a destination cannot be which leads to customers abandoning their carts. The tourism sector is closely followed by online retailers at 75%.

Also, unsurprisingly enough, the cart abandonment rate for all sectors is very high. 75.6% high, to be exact. Which leads us to the following question: Why would a person be so quick to abandon their cart in the first place?

Pure, square logic indicates that since a visitor bothered with putting something in their cart, they want to buy, right?

Wrong!

Most users add items in their cart just to keep them in one place while looking around. Kind of being in a big department store and looking at a shirt you're not exactly in love with but wouldn't mind trying on.
I've done the same thing a billion times because an item was on sale and I wanted to have it in my cart so that nobody else could access it (silly me!). I've also done the same thing in order to calculate shipping costs.
These two facts don't indicate an intention to buy. Hence the need for cart abandonment emails.
The cart, to be honest, was over and done with as soon as I could see that the shipping costs were too high for my liking. I belonged to that 23% the above stat shoes.
So, fellow marketer, how would you entice a customer like me? What kind of email would you make sure I received?
And before you claim that an email is not the product so why would anyone be convinced through that email if they weren't convinced by the product, blah, blah, I've got more numbers for you:
It seems like cart abandonment emails are doing pretty well, seeing as just three of them can result in a 69% increase of orders, as the stat above shows.
But this won't happen just because you sent out a cart abandonment email and called it a day. You'll need to stand out, do something that others don't. Or perhaps, take a look at the best and steal their methodology!
Which is what I'm willing to help you do.
Examples and Tips
I've gathered some emails with high open-rates that I feel can back up the data I mentioned above and I will explain why, seeing as you'll need some actionable tips to "study" (ie steal). So, let's go:
Exhibit A
The first example for your "how-to" list:
The Moment is an eCommerce store for anything and everything smartphone gear and a great example of a cart abandonment email with a tone consistent with the brand itself.
The questions in this particular email are the ones aiming to tell the customer how silly it was to abandon the cart just like that. Imagine the dialogue here:
-Did you have a problem with your purchase?
-No, I didn't.
-Are you unsure about your order? Because we've got a solution for that.
-Oh why thank you!
-Let's go back to your cart, then.
Easy, breezy, laid-back and friendly.
The first thing you should think of when coming up with content for a cart abandonment email should be a tactic that will make your call to action seem effortless, as if a friend was talking to another friend.

And our CTA here is doing exactly that: It's made with a no-pressure, no-rush kind of logic, it's effortless and friendly. Which really is the whole point, as we don't want things to seem like a big deal. Baby steps.
The goal here is not to go for the hard sell, but to re-engage the customer by being the brand that misses them and wants to interact with them. Your copy doesn't need to be too strong for something like that and there needs to be as little pressure as possible.
However, you'll need to entice them a little, just to make them buy. Here, the enticing thing is that Moment has answers to your questions. Like so: "Are you feeling unsure? Well, fret not, cause we've got XYZ things to provide."
Exhibit B
The second example is none other than Adidas:
That brand goes and does it again! Of course, a multi-billion company like that one couldn't have done anything less than perfect, but their strategy here is magnificent.
Not only are they showing the customer what they've left in the cart, but they also are pretty smart about it, with their friendly tone and their little joke.
They just don't want you to miss out on this opportunity and they've got social proof on how good an opportunity that is, if we're honest. "Just check out some reviews".
-Oh but my friends at Adidas, I didn't like the colors.
-You can make your own custom model, isn't that amazing?
Go check the graph with the reasons why people abandon their online shopping carts again. You'll see that this email has all the answers:
You weren't ready?
Sure, check the reviews to make sure that you understand what you'll be missing out on.
You weren't too much into the design? Understandable.
Why don't you try and make one of your own, that will be custom made only for you?
These itty bitty techniques make the user feel like they're valued, cherished, as it seems like the company actually cares about their preferences.
And this can bring a whole lot of lost revenue in return.
Exhibit C
Let's go for that cool, calm and fun California vibe, shall we?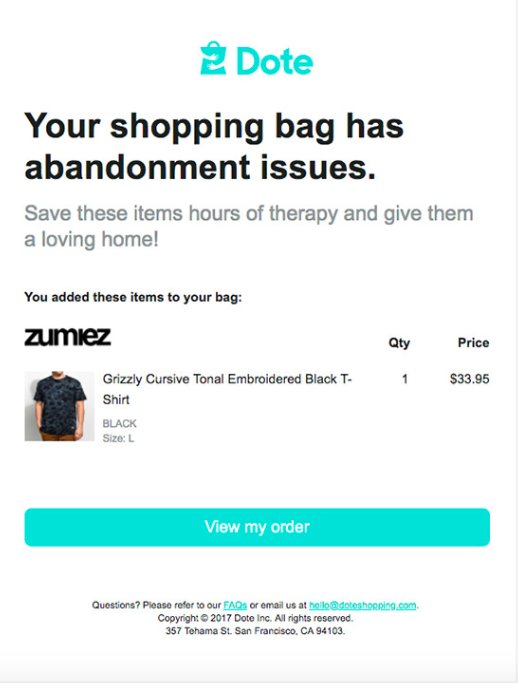 This one is one of my favorites ever.
Dote is an eCommerce store that is colorful, youthful and has that classic San Francisco vibe about it.
Do you see that reflected in the email? Well, I'd say so. The email itself is colorful, light, happy and doesn't forget to incorporate humor while we're at it. Which is something you should do for your brand as well, if, of course, your brand and humor go together.
What is important is to keep your brand tone intact at all times and Dote is doing exactly that, thus not confusing the customer.
So, now we've got our data, we've got our examples and tips on what to do and what would benefit your brand… Let's move on to the final category.
Things to avoid
Nobody's perfect and the point is not just to write fun and engaging emails, but to know what to do and make data-driven decisions along the line.
The graph above is more proof that cart abandonment recovery emails are helpful, but as you can see for yourself, there is a 38% that still finds them annoying. This is where my tips and tricks come in handy.
So, here's the final list I've got for you: The basics on what to avoid, in order to make sure that your campaign will work and convert that 38% that was annoyed with your reminder:
Don't ignore your data
Everyone leaves a digital footprint, whether they're a customer or a mere visitor to your website. You can use that footprint to extract data and make sure you understand which step of the purchasing process made your visitor drop out.
Once you've got that down, customize and optimize! Was the shipping cost too high? Offer free shipping or offer a discount to make it work!
Was the process too complicated?
Make it simple!
Whatever you do, just study your data like the gospel, if you want to reach your KPIs and make the most of your subscriber list.

Don't ignore feedback
Let's assume that your data doesn't hold as much information as you would've liked, about the customer and why their cart was abandoned. Well, this is a sticky situation, isn't it?
Here's where you should send out a survey (or post it on your social media profiles, or both). This will make the customer feel cherished, unique, and you'll establish an image of a brand that cares a lot about its customers and what they've got to say.
So, apart from trying to check your data each and every day, you can opt for a survey or some good ol' "A dedicated agent is here for you, if you want to chat.", of course including links to your customer service and/or social media pages.
The issue with many brands is that they don't really try to change negative reviews. Therefore, the ones that do care about it, are the ones that stand out!

Don't ignore the need to segment your list
I think this one shouldn't even be here, seeing as list segmentation is one of the most tried-and-true techniques, up there with A/B testing. This pretty much means that if you haven't done it already, you should.
Segment your list, in order to know where and how to send any and all kinds of emails in general and cart abandonment emails especially, seeing as not every user is the same and not every customer is at the same point in the sales funnel.
List segmentation, combined with your data, will give you endless potential when it comes to increasing sales, revenue and leading customers further down the sales funnel.
To sum up
There really is no need for you to go crazy with tactics, CPC ads and stacks full of data. You just need the proper tools to measure, segment and don't forget a basic principle or two:
Always keep your brand tone and never forget that shopping cart abandonment emails can very easily look like they're pestering people into buying.
But with a little humor and a little great copy and visuals, everything can happen!