Retargeting Tools for the Next Decade
*Note: This post has been recently updated.

If you've ever experienced the eerie sensation of being followed around online by an ad or a product, you're neither wrong or alone.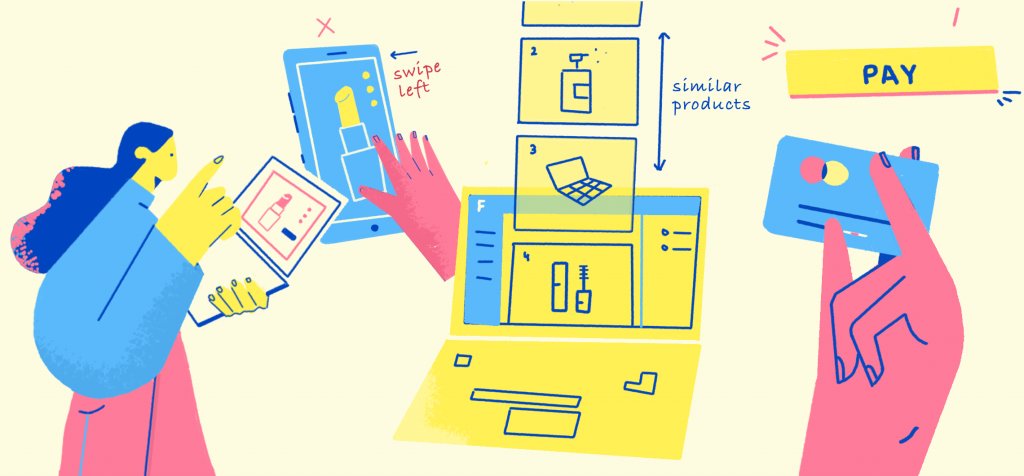 3 out 4 consumers report noticing retargeting ads online.
Indeed, retargeting is bigger than ever!
Retargeting tools are fast becoming an integral part of a marketer's toolkit as well as a major aspect of marketing strategy.
What is "Retargeting"?
Retargeting, also known as remarketing, is a digital marketing tactic. While traditional digital marketing aims to bring new traffic to a website, retargeting aims to reach out and bring back past visitors. When marketers build retargeting campaigns, they deliver personalized ads to past visitors based on their characteristics, engagement or even specific on-site behavior. This creates a familiar flow – you visit a website and then see ads from that website elsewhere online.
Does Retargeting Work?
Indeed it does.
Many surveys and studies over the years have affirmed and reaffirmed its effectiveness.
According to Kenshoo, the click-through rate on retargeting ads is x10 higher than traditional display ads, while the conversion probability of a retargeting ad is 70% higher. Agency spending on retargeting is steadily increasing year by year. In a recent survey, 77% of the interviewed marketers report that retargeting campaigns outperform display campaigns.

Why does Retargeting Work?
Marketers spend vast resources on bringing quality traffic to their websites. But despite their best efforts, 98% of the visitors don't purchase a thing in their initial visit – some of them are browsing, others are comparing prices, while some may be a poor match.
VWO conducted a fascinating eCommerce study in which 54% of the consumers reported they'd buy a product they abandoned in the cart if they received a coupon or special offer.
Retargeting opens the door to re-engaging with website visitors and cart abandoners, bringing them in further contact with the brand, and building the awareness and trust necessary for a visitor to become a customer.
How does Retargeting work?
It all starts with a 'Pixel'.
A pixel is a snippet of code installed on the website which tracks and transmits data on how visitors engage with the website back to the ad platform. It's quite simple to install, and all the major ad platforms including Facebook, Google Adwords, Twitter, LinkedIn, Taboola, Outbrain, and others have one.
With a pixel installed, it is possible to build custom audiences from various visitors segments, based on their defining characteristics, on-site behavior, and interactions with the website. Once the audiences are built, a marketer can deliver targeted and personalized ads to them at any desired frequency.
Examples of Retargeting
As a marketing tactic, retargeting's origins lay in eCommerce, and while it's still very effective in that scenario, it has long since outgrown its confines and is now prevalent across the board in every industry and vertical. Here are a few examples of how retargeting is being used.
eCommerce – Dynamic Product Ads
A common retargeting tactic in eCommerce is dynamic product ads. These specialized ads feature products, similar or complementary, to a previously viewed or purchased product, effectively encouraging visitors to increase their purchase size, or purchase a product they were browsing. Wouldn't you buy a case for that newly purchased mobile phone?
B2B Marketing – Cross-platform Awareness
In B2B marketing, tactics like 'Omnipresent Marketing' follow visitors across multiple networks delivering Facebook ads in the Feed, Google Display Network and search engine ads, and other platforms, in an attempt to stay in view of potential high value leads. By delivering articles, reviews and other 3rd party updates, the marketer attempts to constantly stay in sight of their potential customers, making their brand appear far bigger than they actually are to a select audience.
Lookalike Audiences and Acquisition
Lookalike audiences are a very powerful addition to a marketer's toolset. Contrary to regular retargeting, which aims to retrieve past visitors, Lookalike Audiences generates new traffic which helps feed the top of the funnel.
The way they do this is by allowing marketers to take a group of users, commonly referred to as a 'seed', and 'ask' an ad platform to build another group of users that are similar to the origin group.
The resulting 'Lookalike' audience is essentially an acquisition audience, meaning, an audience that has yet to visit your website, but one that is highly likely to seriously outperform interest-based audiences. Lookalike audiences are used in eCommerce and across the board in every field.
Behavioral Retargeting
eCommerce marketers regularly target users who they believe have a high intent of purchasing. Usually, they focus on explicit intent for example, users who abandoned the cart. Marketers have an easy read on their intent and regularly target them to try and get them to complete their purchase.

The setup is fairly simple – the marketer creates an audience based on a clear cut action, in this case, the 'add to cart' button and targets it with dynamic product ads, coupons may be offered, a sense of immediacy is hopefully created and in 3-7% of the times the purchase will be made.
Unfortunately, in 2019, the average 'add to cart' rate in the US was only 4.19%.
For advanced marketers, explicit actions like add to cart aren't enough, and they look deeper into interactions to find intent from actions that are less explicit and more implicit from logical analysis users' behavior. For example, a user who spent 5 minutes on a blog post page and scrolled all the way down is likely to have read the blog post. One individual metric isn't enough here, but their combination hints at the implicit intent of the user.
On this premise, advanced marketers build elaborate measuring systems using tools like Google Tag Manager to monitor user clicks, scrolls, and other metrics, using rules and logic to translate behavioral metrics into actionable intent indicators. Some marketers choose to automate the process with an external tool, preferring to focus on other aspects of marketing, like creative and content, leaving the measuring and heavy lifting to an external service.
Best Retargeting Platforms
Retargeting is currently available on a variety of Ad platforms. The platforms in many ways are different and complementary, each useful for different goals. For this reason, marketers often use multiple pixels on their website. We'll cover the major three in the following sections.
Facebook Retargeting
Facebook and its subsidiary Instagram, feature detailed profiles on over 2.4bn people. They are amazing at creating interest and demographic-based audiences as well as highly effective Lookalikes at scale.
You can add custom events visually, making their platform perfect for the eCommerce industry.
LinkedIn Retargeting
LinkedIn features the distinction of being a professionally-oriented social media network. Because of this, their quality of leads in unparalleled, making them perfect for B2B applications.
Google Remarketing
Google's remarketing spans Search, Youtube, and the Google Display Network. It is so vast that it's estimated to reach over 90% of the internet, making it an incredibly powerful platform and perfect for brand awareness across the web.
A few honorable mentions for this list are Snapchat, which features a younger demographic, making it attractive to marketers aiming for a Gen-Z audience segment, as well as Taboola and Outbrain retargeting that are very useful for content marketers.
Best Retargeting Tools
While it is possible for a marketer to work directly with the many ad platforms available, learning the interfaces and peculiarities of each platform is time-consuming and can be challenging. To simplify ad creation, management, and analytics, many marketers turn to 3rd party tools that sit between them and the ad platforms.
Here is a list of the best retargeting tools out there:
Retargeter
Retargeter is a well-rounded suite of products for marketers, with solutions covering a wide range of topics, from Dynamic Creative Optimization, which optimizes in real-time which ad to show to which user, to Advanced Audience segmentation. With Retargeter, marketers can track metrics like scroll depth, page view, and others, then combine them to create specific segments that marketers can target.
AdRoll
AdRoll has been in the market since the mid 2000s and is one of the biggest companies in their field today. Tens of thousands of marketers use their services for customer segmentation and retargeting. Theirs is a full-stack remarketing solution that may take time to adjust to, but the insights and reports it delivers are difficult to recreate on competing platforms.
Criteo
Criteo is a noteworthy competitor to AdRoll and a very well rounded solution. Though complex in terms of initial setup, they cover the full spectrum of creative, retargeting, automated bidding, and campaign operation, offering a cost per click pricing model, which appeals to performance-driven marketers.
SmarterHQ
Smarter HQ is a behavioral segmentation solution. Using Smarter HQ, businesses can optimize the way their ads interact with their customers. Using Smarter HQ's in-depth user behavior analysis, a marketer can act on audiences across channels and platforms, creating meaningful engagement in real-time and at scale.
Fixel
Fixel simplifies engagement based retargeting, by turning the various interactions a user makes with a website into a single, actionable metric. In doing so, Fixel allows marketers to target their most engaged audiences without the need to build complex logic based on individual clicks or page views. Fixel then delivers the engagement metric directly into the various advertising platforms, building on existing workflows.
Perfect Audience
Perfect Audience is a great tool to persuade your lost visitors through a multi-channel approach. The tool offers seamless retargeting, which is carried out through the web, mobile, Facebook, Twitter, and more.
Perfect Audience's integration with Hubspot allows you to align your retargeting campaigns with your Hubspot activities. By scanning through your landing pages and smart lists on Hubspot, Perfect Audience builds a relevant user-list for you to retarget. The tool provides easy segmentation of visitors based on various user-behavior rules.
Best Practices for Retargeting
When done right, retargeting builds on the natural flow and journey of customers, touching base when needed, and presenting the right product at the right time.
When done wrong, it is a down-right nuisance that can kill sales.
Here are a few points to keep in mind before you jump into building retargeting campaigns:
Choose the Right Platform and Placement:
Different platforms cater to different people in different settings. Choosing the right platform and taking users' encounters with the ad into consideration can do a lot to improve campaign performance.
Understand User Intent:
The position of a user in a sales funnel or cycle, can not be understated and is important to take into account. Otherwise, you risk pushing too hard or not hard enough on a potential lead or customer. Even breaking it down to the basic top of the funnel or bottom of the funnel segments will make a world of difference.
Don't oversaturate your Ads:
Unless it's part of a deliberate tactic like this Vodka campaign, set a reasonable frequency limit to your retargeting campaign. Failing to do so both annoys your potential customers and wastes your budget.
Exclude converted users from your campaigns:
We can not stress this enough – don't advertise products to users who have already bought the product you're advertising. This common error is very simple to avoid, simply make sure to exclude users who have already converted from your campaigns. Failing to do so wastes your media budget and is a huge 'turn-off' for your potential customers.
A/B test your ad copy and visual:
Your ad copy and visual are the heart of your ad, and it's very difficult to know which will resonate with your particular audience.
A/B testing them, the pricing, as well as value propositions is a very good idea.
Conclusion
Retargeting has been on the receiving end of some bad publicity. It can and should be customer-centric, delivering that often missing personal touch to digital marketing. Retargeting can take the customer into account – matching, expanding, and enhancing their online experience thereby converting customers better.
When deployed this way, retargeting solutions can help build on the natural flow and journey of customers. It would touch base when needed, present the right product or opportunity, at the right time – to the right people, which ultimately delivers performance for marketers and, more importantly, a better online experience for users.