About ZALORA
Founded in 2012 by Rocket Internet, ZALORA is the fastest growing online fashion retailer in Asia, currently operating in 10 countries in the Asia Pacific (APAC) region – Singapore, Hong Kong, Malaysia, Philippines, Indonesia, Thailand, Taiwan, Vietnam as well as Australia and New Zealand under the name THE ICONIC. In its four years of existence, ZALORA has raised $238 million in four rounds of funding from the likes of JP Morgan, Access Industries and Rocket Internet. Competing in the exciting APAC online fashion market with more than 600 million people and worth approximately US$63.5 billion, ZALORA's mission is to become the region's leading online fashion destination.
We got in touch with Tan Liang Jian and Yong Wai Teng who are part of the Regional Onsite Marketing team at ZALORA to learn all about their successful checkout optimization test.
Why Conversion Rate Optimization?
As a firm that has always taken pride in being data-driven, ZALORA was convinced of the need to optimize its conversion funnels.
Liang Jian elaborates:
We've always been very data-driven. ZALORA began about four years ago and we have been A/B testing using VWO for three years. As an early stage company, we are heavily focused on new customer acquisition, and using data to optimize the site experience is super important for us. It helps that the top management, too, believes in being data driven, which made getting the buy-in not too tough.
The Process of Optimization
The ZALORA Experience Revolution Loop (ZERL) framework drives the process of on-site optimization. The first step of optimization is research. The team conducts quantitative and qualitative research making sure to include feedback from other departments such as Customer Service, Online Marketing and local teams.
Based on this research, the team constructs hypotheses for testing. Prioritization of test ideas come next based on parameters like potential business impact and ease of execution. Testing ensues, followed by analysis of results. Finally, the team loops in the Product Management team to make final changes to the page(s).
Details of the A/B test
To give us a better idea of how the process works in practice, Wai Teng, the A/B testing specialist within the team, takes us through the particular test and consequent change that resulted in a 12.3% improvement in checkouts.
In this specific case, we received feedback from the customer service team that customers are not aware of our free returns policy.
This is how the original product page looked: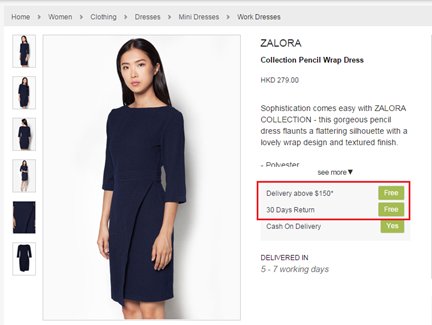 Based on feedback from the customer service team, the team came up with ideas that can increase the visibility of our free returns policy. These ideas were then formulated into hypotheses.
The team proposed two changes to improve the visibility of free returns.
Shift the "Free" keyword from the right to left-most position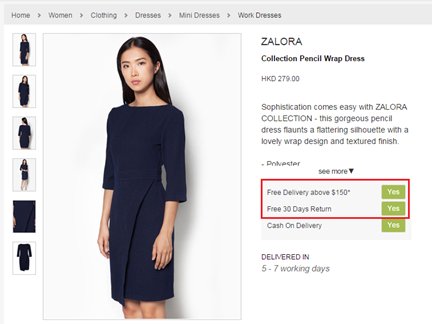 Add a '& Free Returns' copy next to the price tag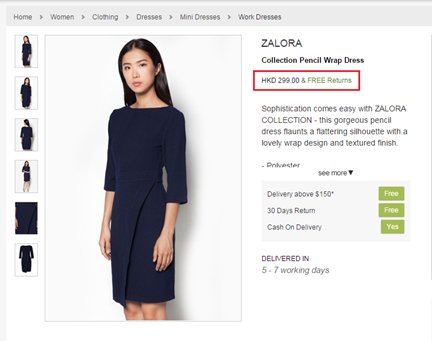 The test was conducted across four variations:
Control
Variation 1 – Shift "Free" to the left
Variation 2 – Add '& Free Returns'
Variation 3 – Shift "Free" to the left and add '& Free Returns'
Results and Learning   
Variation 1 emerged the winner improving checkouts by 12.3%. Wai Teng attributes the success of this variation to two factors:
Following the natural reading order, visitors tend to process content from left to right. Put the most important information on the left, it helps customers digest these crucial contents first.
Don't bring too much attention to the price, it can be an early deterrent for potential buyers.
Experience Using VWO
The platform has been great so far. The UI is pretty intuitive. Recent features like OPS, VBA will be very useful for us once we are fully ready for it. I'm looking forward to using it. The customer support team is very responsive and quick, most of our problems get solved after a few email exchanges with them. So far the experience has been great!