Stock photos are high-quality, yes. But they look staged. They are irritatingly perfect.
Studies have shown that they are often ignored by people. They make visitors' browse the site and not experience it. Only real or relevant images engage visitors.
And this is exactly what our current case study emphasizes.
The Company
Harrington Movers is a New Jersey and New York City moving company. Their interstate moving service pages used a generic stock image of a couple, as seen in the Control page below: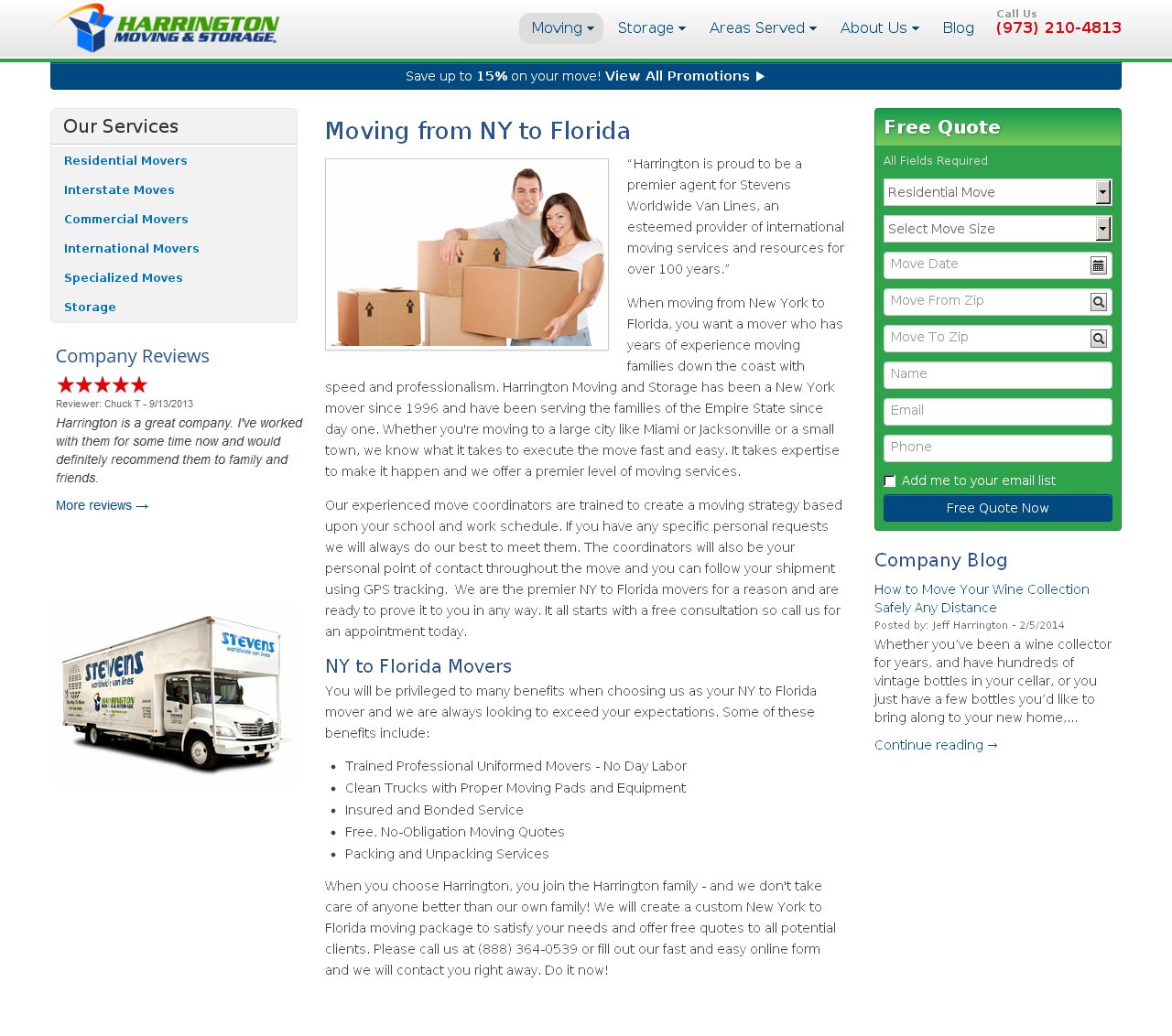 Spectrum Inc, Harrington Movers' Conversion Consultant, suspected that the 'happy couple' image doesn't relate much to the service.
Their hypothesis was that replacing this stock photo with an image that closely relates to the moving service will increase 'Request a quote' leads from the website.
The Test
They used Visual Website Optimizer to make a quick test to check the relevance of images. Two alternative versions with different images were pitted against the Control page above.
The first version showed the image of Harrington Movers' crew. The second version displayed the image of the truck they use for moving services. To emphasize branding, both these images also included the company's logo.
Here are the two versions: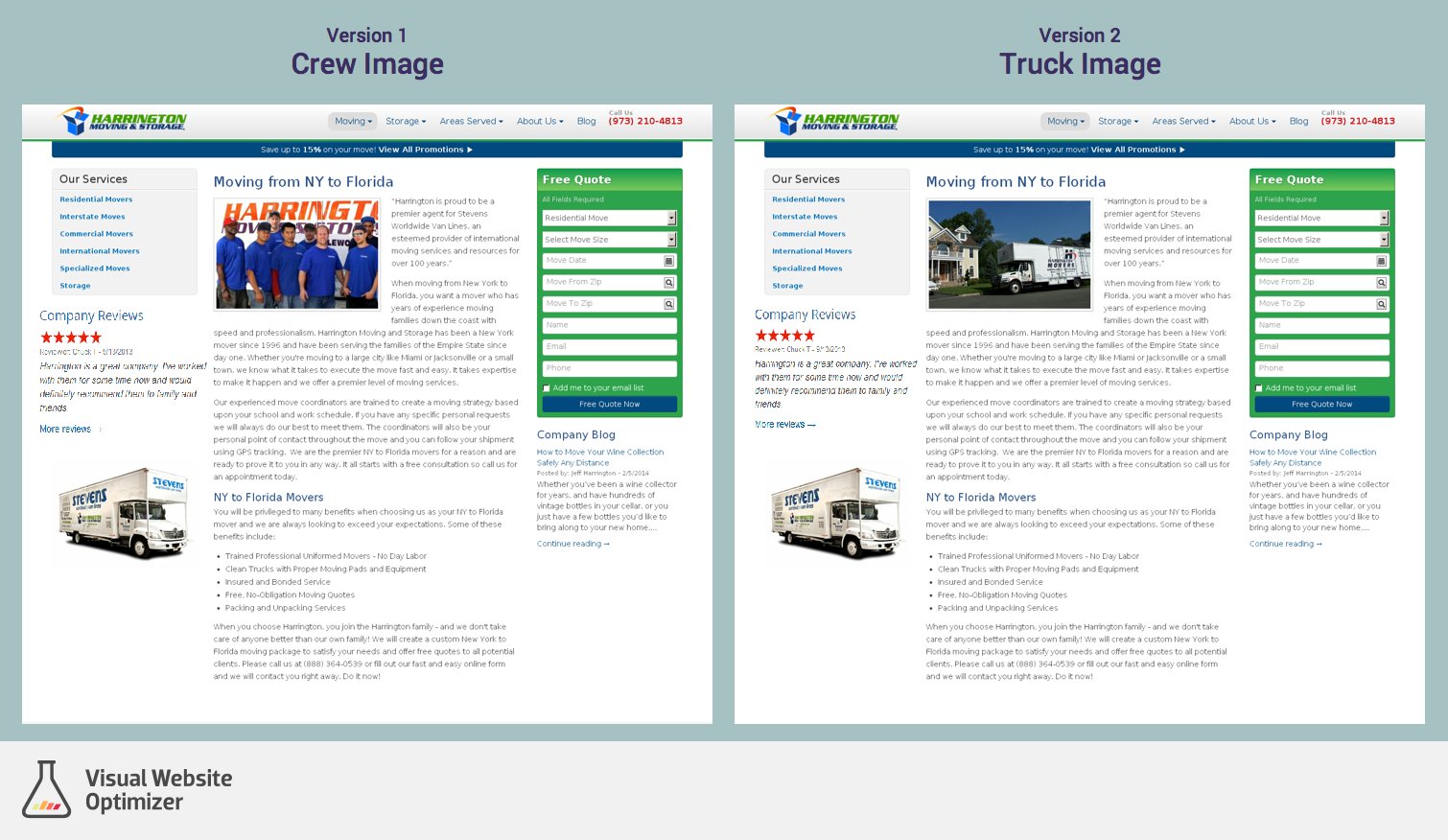 Result
Both the versions beat the Control with 98% statistical confidence level. The test has been running for three months now. It's a close call between the two versions. While version 1 with crew image is showing a percentage improvement of 45.45%, the second version with truck image is close behind with 45.05% improvement over the original.
You can see the comparison image below: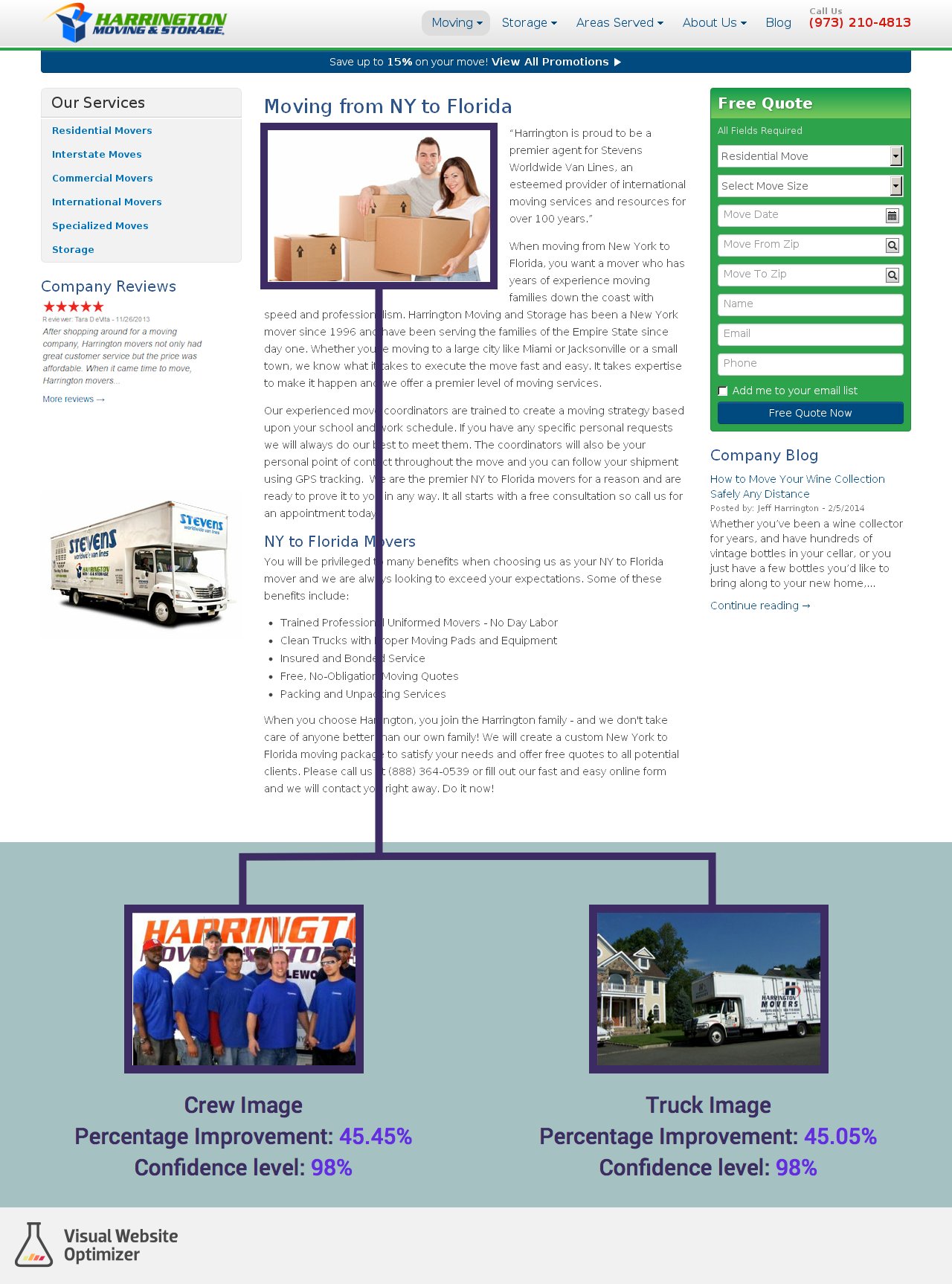 When asked about the impact on revenue, Brian McKenzie of Spectrum Mind Inc said:
Assuming a constant value per lead, this test has added about $10,000 / month in interstate moves so far.
Key Takeaways From This Test:
Stop using stock photos. They look fake and reduce trust on your website.
Use images that best represent your product/service. For example, T-mobile used the image of a beautiful lady talking over the phone all across their website. But the image was annoying for an older prospect who couldn't find the image of the phone on the website. She was looking for a phone with big, easy-to-press buttons.So make sure that you show people exactly what they should expect from your product/service to nudge them into the conversion funnel. When Exact Target A/B tested a more relevant image on their landing page, it increased their conversions by 40.18%. You can read the complete case study here.
Don't hesitate to use images of your employees. So many websites underplay the power of human touch. Don't be one of them. People like doing business with people, not websites. Privacy concerns, employee reluctance, whatever reasons are stopping you from adding real photos on your website, resolve them. Your conversion rate spike will tell you why it is worth the effort.When Marketing Experiments replaced stock photo of a girl wearing the headset with the image of company's founder, it increased conversions.
Have a good reason to use an image. 'It looks pretty' doesn't count.
Tests That Harrington Movers Can Try
Replacing excessive text with bullet points, neatly listed in a benefits-driven copy.
Remove left sidebar to increase attention to the main offer. Navigation might be distracting people away from the conversion goal.
Reduce form fields. You can always collect some information later.
Don't direct people to a different page to read the complete review. This will again take them away from the conversion goal of the page. Include a testimonial in your main copy instead with customer's credential and a picture. This will give better visibility to the testimonial and should influence visitors' thought sequence for better conversions.
How good are you with conversions?
Which test idea above do you support the most? What are your test suggestions for Harrington Movers? Let it all out in the comments section and I will definitely forward it to them.