Apparently, small changes can have big impact on a company's bottom-line and this case study is perhaps the best example of it. Length, structure, position or design of forms can have tremendous influence on conversions. We have a number of case studies that demonstrate the same. One case study describes how removing a signup form (from landing page and adding it in later steps) increased conversions by 60%. Another example is of our own homepage: when we removed the form and converted it into a popup, signups increased by 50%.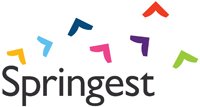 This case study is about an A/B test run by Springest, which is a platform to help people get the most out of themselves and their career by connecting them to the best ways to learn and develop personally and professionally. Eduhub used to be their brand name in The Netherlands. Their business model involves providing brochures to the visitors who request for them (once they find a suitable course provider). Brochure is free, but users need to fill a lot of information in the form to access it.
A/B testing simple changes in the form
Springest aim was to increase form completions on the brochure information request form. So, they decided to use Visual Website Optimizer to create alternative version of the form and see if it increased the form completion rate. Here's how their original form looked like:
Original brochure request form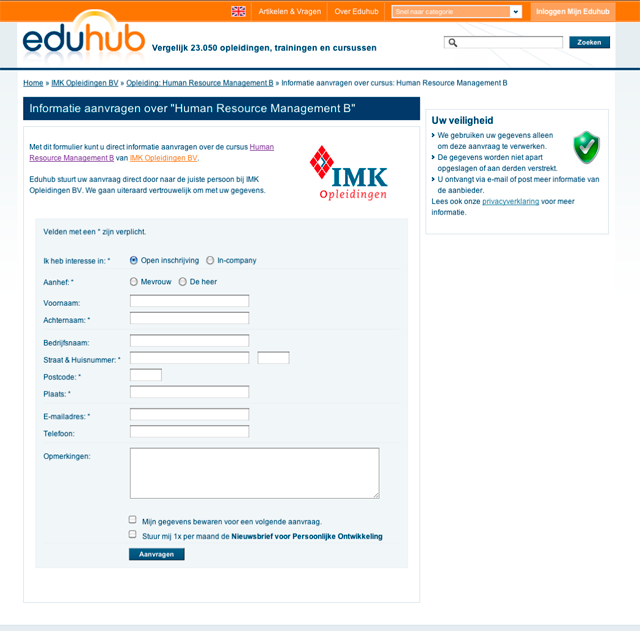 They tested one variation of this form, with some parts changed. They removed the intro text and logo and added social proof to the sidebar: quotes from users and logos from well-known Dutch brands. They also removed the asterisk for required fields and changed it to a 'optional' text behind fields that are optional. Here's how variation looked like:
Variation (generated additional €50,000 for Springest)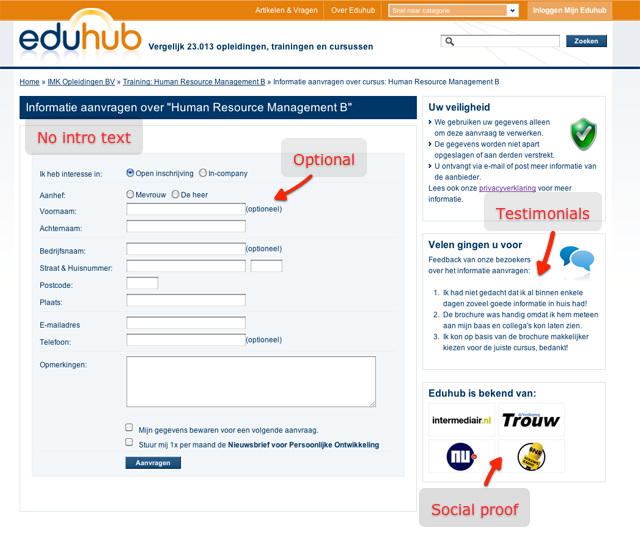 A/B test results and surprises
The variation resulted in 5.21% improvement in form completion, with 97% certainty (statistical significance) based on over 2,500 conversions. They were partly surprised, because the form itself hardly changed. Their changes were mostly about taking away possible obstructions or doubts in the user's mind and it seems the social proof removes doubt for at least some of the visitors. Although 5% doesn't look like much, it adds directly to their bottom-line; they estimate this change to be worth about €50,000 this year alone. Isn't that a great ROI for doing such a simple A/B test?
Based on this test, Dennis Paagman (from Springest team) had following learnings:
You should watch out for too much explanation and guiding texts, we think the text above the form was confusing and maybe even increasing user's doubt. Just let people find things out for themselves and don't explain everything. Forms are so ubiquitous on the web, everyone knows how to fill them in.
Even though Springest are extremely happy about results of this test, they don't want to stop improving and they already have extensive plans for follow up tests. For this form, they want to split it in two parts and also test it with less fields. As soon as they launch a complete new layout of their website, they plan on A/B testing every part of it.
Importance of choosing the A/B testing tool
Springest think Visual Website Optimizer (VWO) was very valuable when it came to this particular test. This is what they have to say about the tool:
The great thing about VWO is that it's possible to run tests without the need of developers. The editing of text, even within form labels, works flawlessly. We did have to change something in the actual Javascript used to make the test (this is in VWO's advanced options) work, because we have a slightly different form for each product.

The best thing about using VWO is that when we think of new ways to test our site, we have the possibility to implement them right away.
We are very happy for Springest as they increased their conversion rates significantly. This case study definitely shows how even smallest of changes can have such large impact. So, always keep A/B testing and, of course, we recommend Visual Website Optimizer for doing the same 🙂