The Company
Drukwerkdeal is an online printing shop based out of the Netherlands. They deal in a variety of photo products ranging from clothing, corporate gifts, presentations and cutlery to a whole new variety of Christmas-theme gifts like cards, posters and calendars.
The website has a nice warm feel to it owing to all the colorful products they have for offer.
To push more sales from their product pages, Paul at Drukwerkdeal decided to optimize them using Visual Website Optimizer. He went through a number of product pages and realized that the cross-selling message on the pages was not very convincing. And it could just be doing them more harm than good.
This is how one of their product pages looked like (notice the links given in green under product description with an intent to cross sell):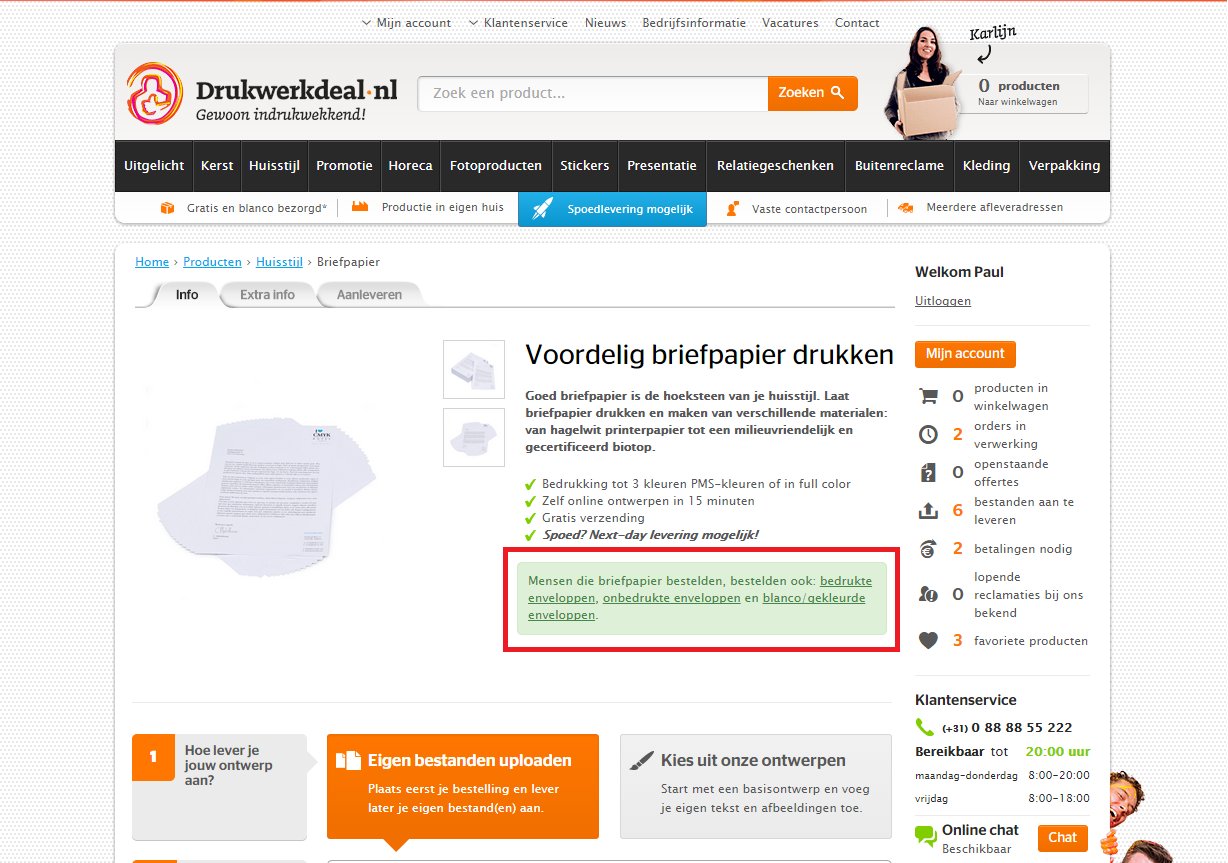 The Test
Paul decided to test removing them and see what effect this change would have on their sales. Since this was going to be a big move, he decided to first test this change on only a few product categories. To implement this, he used pattern matching to include some URLs on which they wanted to test.
After removing the cross-selling links, this is how the new product page looked: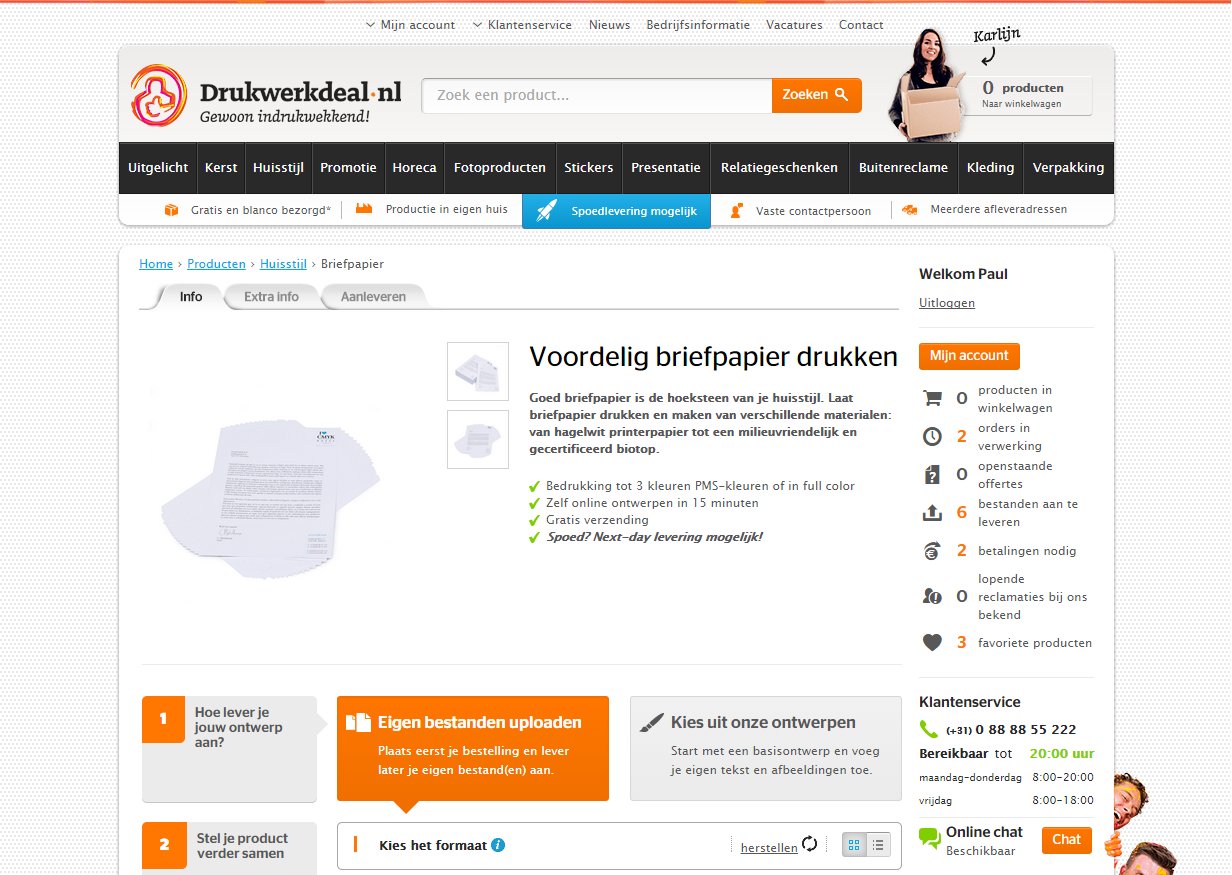 More than 14,000 visitors became a part of this test and it was run for 2 weeks. The metrics on which this test was judged were average order value (AOV), number of products purchased per order, add-to-cart conversions and transactions. They pushed all the test data into GA (with a single click while setting up the test) and were able to take out holistic insights from the test on a range of parameters apart from absolute conversions. They also realized that the new page performed better for both the new and returning visitors and all traffic sources, particularly for organic and direct.
The Result
The variation page recorded 5.6% improvement in orders completed. Bolstered by this success, Drukwerkdeal implemented the variation style on all their product pages.
Quoting Paul, "We do a reasonable amount of testing on our website and try to be very curious about all the things we add to our site. I had a sense that it would distract visitors and would have a negative impact on conversions. Now we know that it did."
Why didn't cross-selling work for Drukwerkdeal?
Marketers, around the globe, swear by cross-selling and up-selling. And why not? Amazon in 2006 was reported to have earned a whopping 35% of their revenue from cross-selling. Do we conclude the days of cross-selling are over? Certainly not!
In case of Drukwerkdeal, here are the things that might not have worked in favor of them:
A few months back, I blogged about how colors can affect the conversions of your website. If you give a 10 sec quick look to the control page, you'll notice that the orange buttons get the most attention and the next thing striking on the page is the green bar in which they have added the links to other related products. Imagine finding these on every product page and getting distracted from the main goal. The main focus on a product page, just second to CTA button, is to get visitors to notice the product — the product images and its description. The related products links, in the control design, are merging with the product description and thus can lead to distasteful visitor experience.
As rightly mentioned in this excellent article at the-future-of-commerce, the question is not whether to offer cross-sells and up-sells. Rather, it's how to do it. The way cross-selling was implemented on the original page was not really enticing and neither was it positioned correctly.
Some ways you can offer cross-sells that will actually sell:
Show related products at the shopping cart pages or within the email alert confirming the order. Those are the easiest places to start. See how amazon does the same:


Products should be very relevant to customers' current order. There is an excellent study which has been done by Altman Dedicated Direct which shows that, as long as you show relevant cross-selling products, customers are ready to buy even if they are slightly on the expensive side. This opposes the marketing myth which says that cross-selling options should typically be 25-35% of the value of the current purchase.
Try bundling: phone cases with phone, mascara with eye-liner, assorted seasonings with sauces and so on.
Let's Talk!
Being a die-hard shopaholic, I have to confess that many times I have bought many more items than I intended. Only because I kept following a loop of "you may like this too".
What has your experience with cross-selling and up-selling been like? I would love to know your views, both from a customer perspective as well as a seller perspective. Let's talk in the comments section below.