Let's get started with some facts about headlines:
With all that being said, I think it's fair to conclude that a headline is one of the most important elements on a webpage. They are the best "low-hanging fruit" out there, so to say.

If you put some thought into writing a compelling headline, many times even a few words can make a huge difference to your overall conversions. One of our customers, Source Patrol LLC, found that one magical word that did the trick for their client, Movexa.
Here is the Control Page that they worked on: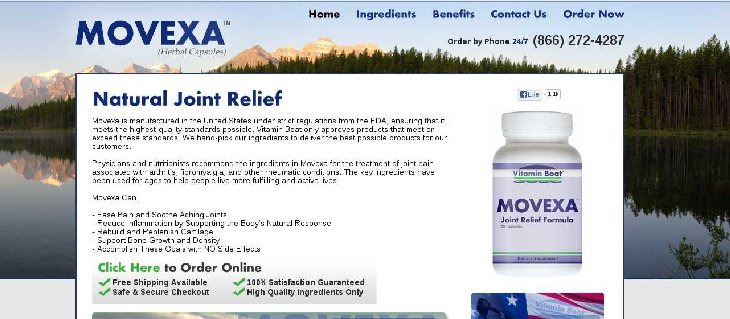 About the Company
Movexa is a joint-support supplement manufactured by Vitamin Boat Corp. The company has a wide range of natural supplements online that are also made available in various stores across the USA and Canada.
Test Hypothesis
The hypothesis was that adding the word "supplement" would bring better clarity to the landing page and increase sales. And also because headline is one of the first elements seen on the web page, the conversion experts at Source Patrol were hopeful that a simple headline AB test can have a huge impact on the conversion rate.
This is the Variation Page after the change in headline:
Result
The Variation beat the Control by 89.97% with 98% chance to beat original.
Here is the Comparison image that summarizes the test for you: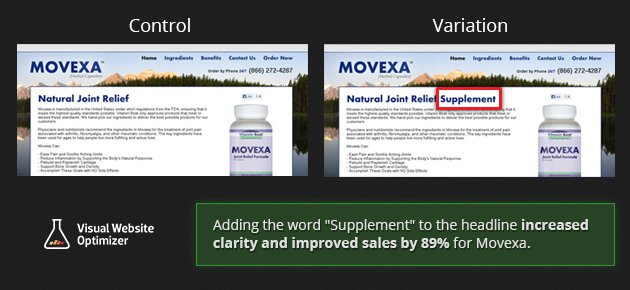 The key takeaway here is, keep your headlines crisp yet detailed to instantly let the prospects know what they can expect on your website. You need to figure out what makes your visitors connect with you.
The headline in the Control left a lot of ambiguity for visitors. Like, "Natural joint relief" can mean that you might be suggesting an exercise program, an appointment with a naturopath, or anything else.
The word "supplement" removed that ambiguity and made the headline clear. We all know, most Internet users do not read every word on the webpage. No one has the time to read a huge chunk of text.
But headline is something that almost everyone reads. Think about the best way you can make it descriptive and give value to your visitors. For some inspiration, you can check this awesome post about high-converting headlines by the Content Marketing Expert, Russ Henneberry.
Almost all websites on the Internet are trying to sell or generate leads. So if you choose to follow the hard-core sales method in your headline that says something along the lines of "Buy XYZ product today for an easy solution," good luck with that!
Such old-school techniques are long gone and it's time you keep pace with the times. Match up to the agile minds of the present generation, if you want them to convert. An excerpt from a Marketing Experiments article summarizes this perfectly:
The objective of your headline is not to sell, but to connect with your reader.
And once you get your headline right, please do not be so naïve as to let it pass as any other text on the page. Not giving enough emphasis to headlines is one of the most common web design mistakes. Be sure you are not the one who is making it.
A study named Eyetrack III revealed that big, bold headlines capture attention more than images. Yes, the navigation bars and almost everything else comes after that!
Even if the pictures on your landing page are provocative or flashy, we all are most likely to have a certain level of blindness for even the most captivating images. This is primarily because we all have become quite accustomed to block out images due to image advertisements. We are generally drawn towards text to figure out what the site has to offer.
So make sure your headlines are direct and catch the attention in an instant and you're good to go!
A side note: Quick tests like these are usually your best bet when you have to convince management about the potential of AB testing. You can signup for Visual Website Optimizer's 30-day free trial (so there's no monetary investment). Implementing tests like these take no more than 2-minutes in our Visual Editor but they sure can improve your conversions immensely.