Uncommon Knowledge trains psychologists, therapists and other mental health practitioners by providing them tried and tested self help and psychology information. Their self-help programs are also open to the public and are easy-to-understand for everyone. Founded in 1998, the company switched to the online world in 2000 to widen its customer base on an international scale.
The Business Need

With a new product launch due in the near future, the company wanted to expand its reach in order to improve their response for the launch. For this, they decided to first spread the word about their expertise with their 3-trauma treatment videos pack, which was made available for free after visitors entered their name and email on the website.
Website Goal
To make sure that the response for the product launch went well, it was essential that visitors were convinced enough to signup for the free video pack. It was this email list which Uncommon Knowledge planned to use later to market for their launch.
And since the email capture page was crucial to motivate visitors signup for the videos pack, it was an easy choice for the test. So, the website goal was to increase the signups for the 3 trauma treatment videos on this page.
Here is their original page that was used to collect emails: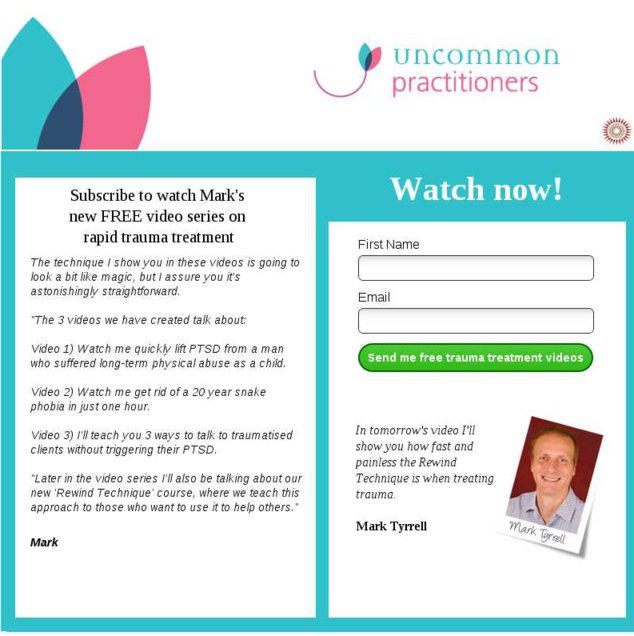 As an experiment, Uncommon Knowledge implemented a new landing page that was more in tune with recent design trends.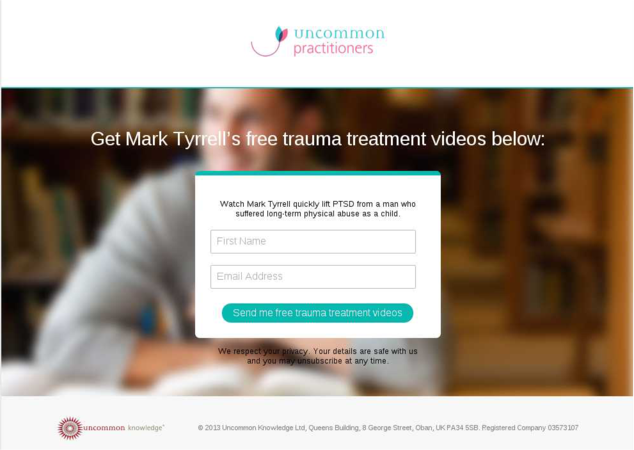 Changes Made
Uncommon Knowledge did a complete page overhaul of the page to match with the times and their  modern design approaches. The new design was simplistic and urban in its appeal. And also provided the much-needed assurance to visitors that their privacy is respected and they can opt-out of their newsletter anytime.
Result
To many of us it might seem that the Control page looks sort-of dated and we would even go ahead and place our bet on Variation. After all, it seems so obvious that the simplistic, chic look of the new design is more appealing than the old magazine-style layout of the page.
But to those who know the importance of understanding the psyche of their target audience in A/B testing, this should be another great case where the original, old landing page beat the fancy new one by 19.55% with 99.99% statistical significance. And to put it in the words of Uncommon Knowledge, "this is a highly significant business result."
Here is the comparison page for you:
[pinit url="https://vwo.com/blog/good-design-bad-conversion-rate" image_url="https://vwocontent.s3.amazonaws.com/images/case-studies/Unknown-Knowledge-Comparison.png" description="Old school magazine layout increases conversion rate by 19.55% for Uncommon Knowledge" float="left"]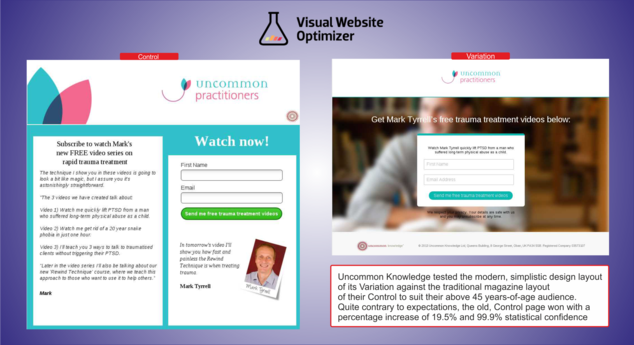 Why did this happen?
To answer that, let's look at the audience profile of Uncommon Knowledge.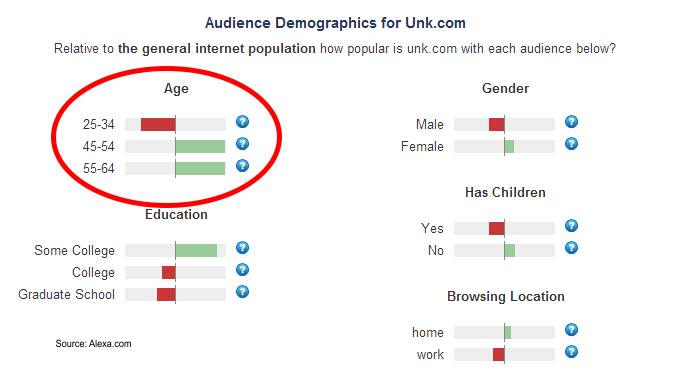 As you can see above (and also corroborated by age-range on their Facebook page), most of Uncommon Knowledge's visitors are aged 45 years and above. It would be fair to assume that they are generally low-tech and would not be affected by the "latest" design trends. The original gave them a good idea about each of the three videos in the pack, piquing their interest a little more on the topic than just telling them that it's a three-pack trauma videos set.
Plus, Mark Tyrrell, the author of Uncommon Knowledge's blog is quite popular among the audience and his headshot adds credibility to the overall offer.
This test makes it clear how understanding your target audience can have a huge impact on the conversion rates of your website. While it is easy to go by the herd mentality and follow the modern design styles, they may not work for all.
Had Uncommon Knowledge not tested their design, there's no way they could have met the expectations of their visitors with that modern design, which is so "in" these days. So you see, it's worthy to think about what your audience type is, following the industry trends blindly may not always be the best choice.