Since adding a prominent Call To Action (CTA) buttons is one of the favorite tricks of conversion optimization specialists and marketers worldwide, I'm going to give a different twist to this case study. Instead of just showing you the mind-blowing results one smartly placed CTA can have on your growth, we'll talk about how you can use that experience to push for greater A/B testing and conversion rate optimization (CRO) in your (or your client's) organization.


"The Biggest Problem With A/B Testing Isn't Technology, It Is Organization"
Patrick McKenzie
Organizational hurdles to conversion rate optimization come in many forms. The most obvious is when someone from marketing realizes they want to A/B test but don't have the technical know how to implement a test. Or they find out about A/B testing tools like Visual Website Optimizer but still need IT's help include the JavaScript code on the website.
But there are other kinds of hurdles. For example, when you suggest a headline change and the branding team gets the fits because the variation headline completely alters the product positioning. Or when designers get all grumpy and start cracking "let's make it pop" jokes because your CTA color test throws up a winner radically different from the website color scheme.

So how do we remove organizational friction? Some ways to convince people to believe-in and dedicate time & resources to CRO are
Run tests with small changes that get large wins

Prove the ROI benefit of Conversion Rate Optimization (here are our case studies if you want to show them to someone)
Play on the competitive spirit and show what others in the industry are doing
For this post, I'll discuss how a small change increased conversions and helped convince stakeholders..
Case Study

The Vineyard is a luxury hotel about one hour from Central London. Their USP is great food, luxurious accommodation, a large collection of fine wines and a collection original art that adorns the walls. They hired Splice Marketing to improve the SEO and conversion rate of their website.
The Test
The test run by Splice Marketing was an attempt to convince management that they should regularly optimize the website to increase conversion rates. Splice studied the website and this is what they saw.
As you see, the call to action to book online was hidden at the end of the page text. Splice Marketing immediately recognized this as an opportunity and created a call to action (CTA) button that would not break away from the design of the page but would attract the attention of visitors, clearly telling them what to do next.
The Vineyard – Variation (blue marking mine)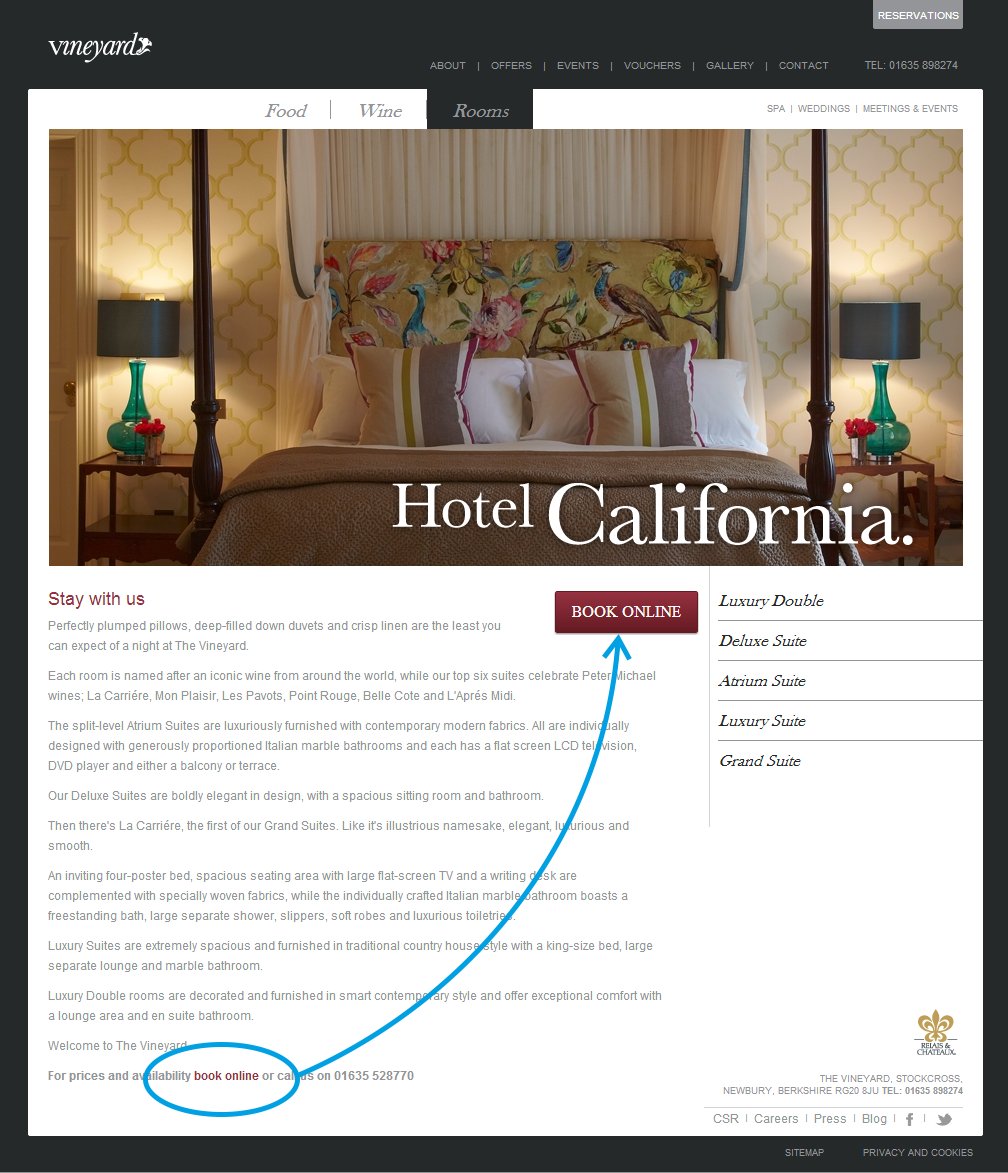 The Result
Click through rate (CTR) to the room booking page increased by 32.12% (99.99% chance to beat original). I know it's kind of obvious. A bare page with a hidden CTA is expected to perform better when a clear, large CTA button is added above the fold.
However, the value of this A/B test lies in the fact that its purpose was to show the high-and-mighty the value of conversion rate optimization without creating too many ripples, and it achieved its purpose very well indeed.
Here's the summary image (click to see larger version).
[pinit url="https://vwo.com/blog/ab-testing-to-convince-stakeholders" image_url="https://static.wingify.com/vwo/uploads/sites/3/2013/04/vineyard-abtest-summary.png" description="A simple call to action button placed above the fold increases conversion rate by 31.12%" float="left"]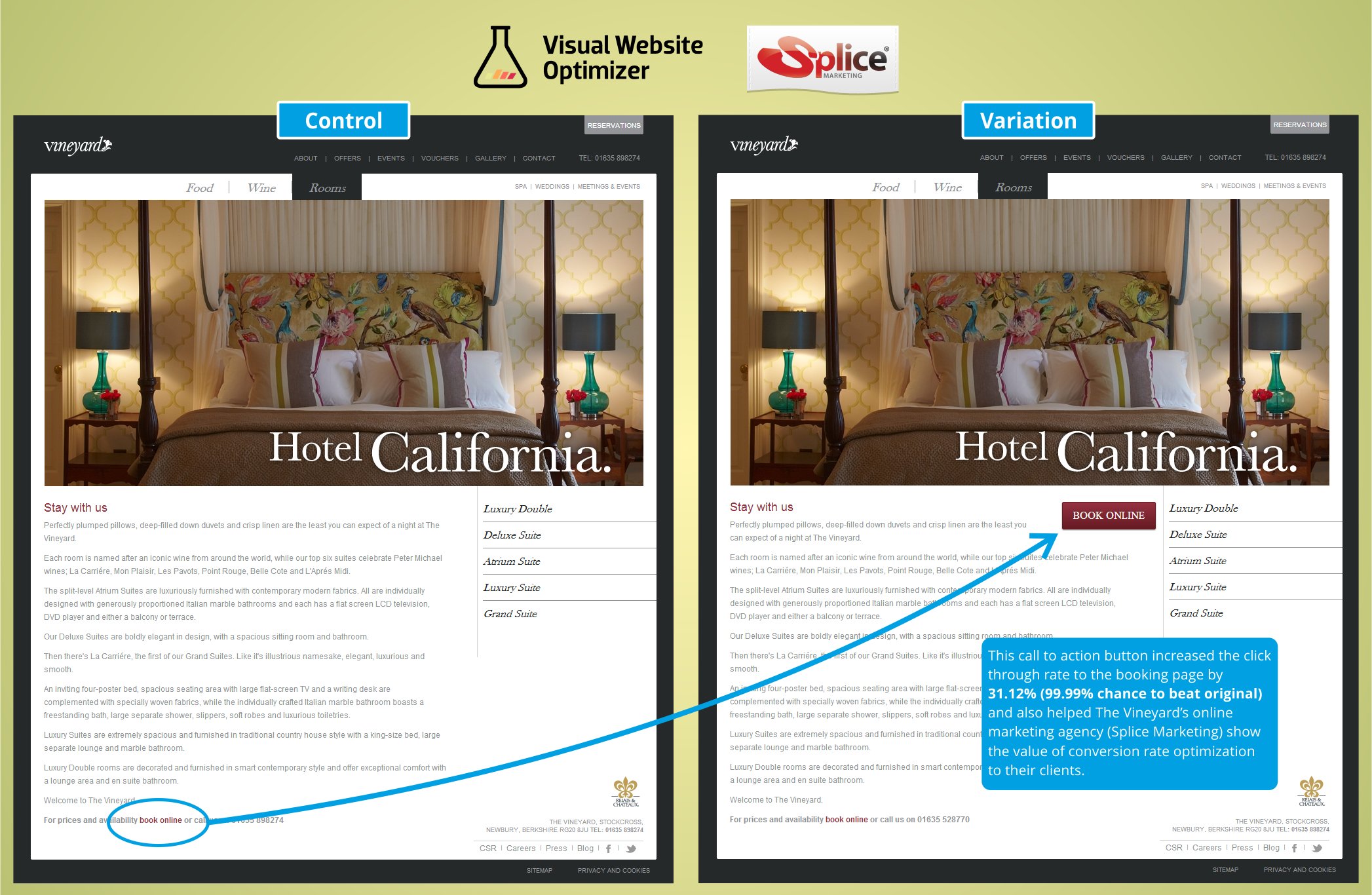 Patrick's image taken from Betsy Weber @ Flickr