The Company
Harvard Business Services is a Delaware-registered agent and helps people incorporate their companies in Delaware. They also help their clients form LLCs and corporations and assist with filling their franchise taxes.
To encourage more people to buy their services they decided to redo the navigation bar on their homepage. With that in mind, they tweaked certain tabs, did away with some and also introduced a new tab.
The goal was to get more people to click on the tabs, engage them with the website and ultimately make them buy.
On the original homepage, there were 10 tabs namely — Home, Get Started Now, Our Services, Compare, Learning Center, Blog, Make a Payment, Videos, About Us and Contact Us.
This is how it looked: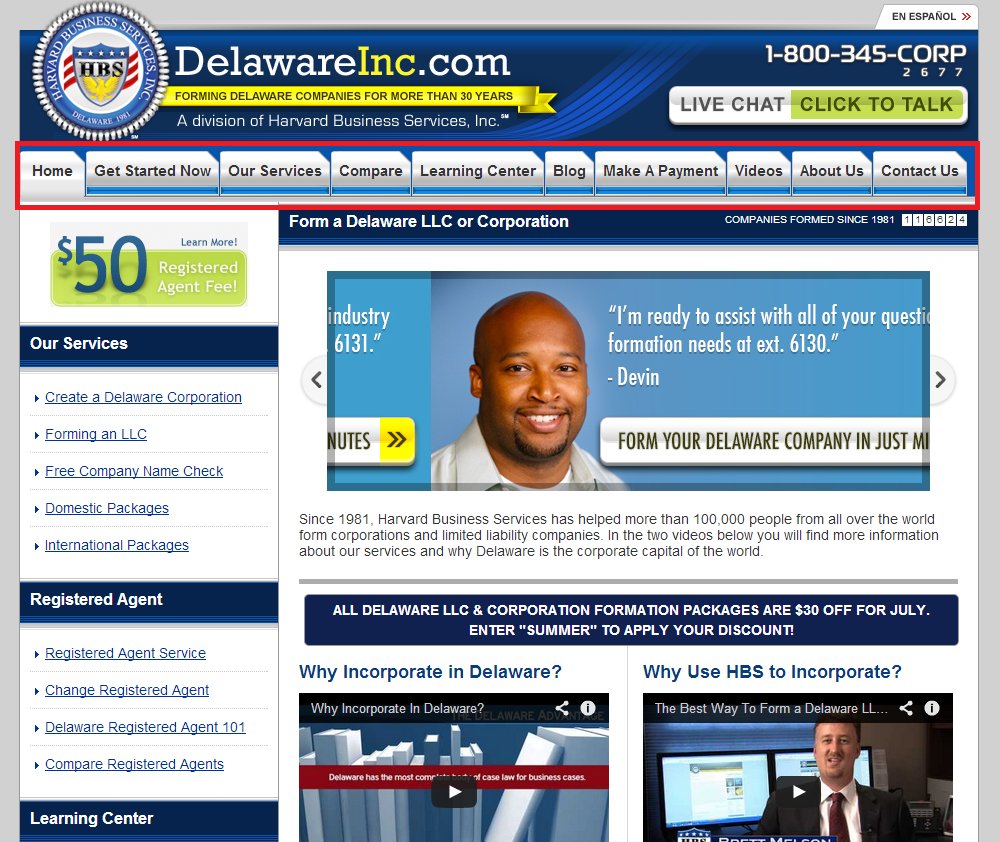 In the variation, they made a couple of changes:
The "Compare" tab was renamed to "Compare Prices"
"Get Started Now" was renamed to "Form a Company Now"
A new tab "How to Incorporate" was introduced, which is also present as a link in the left pane on the original homepage
The tabs Blog, About Us and Contact Us were removed
Here's how it looked: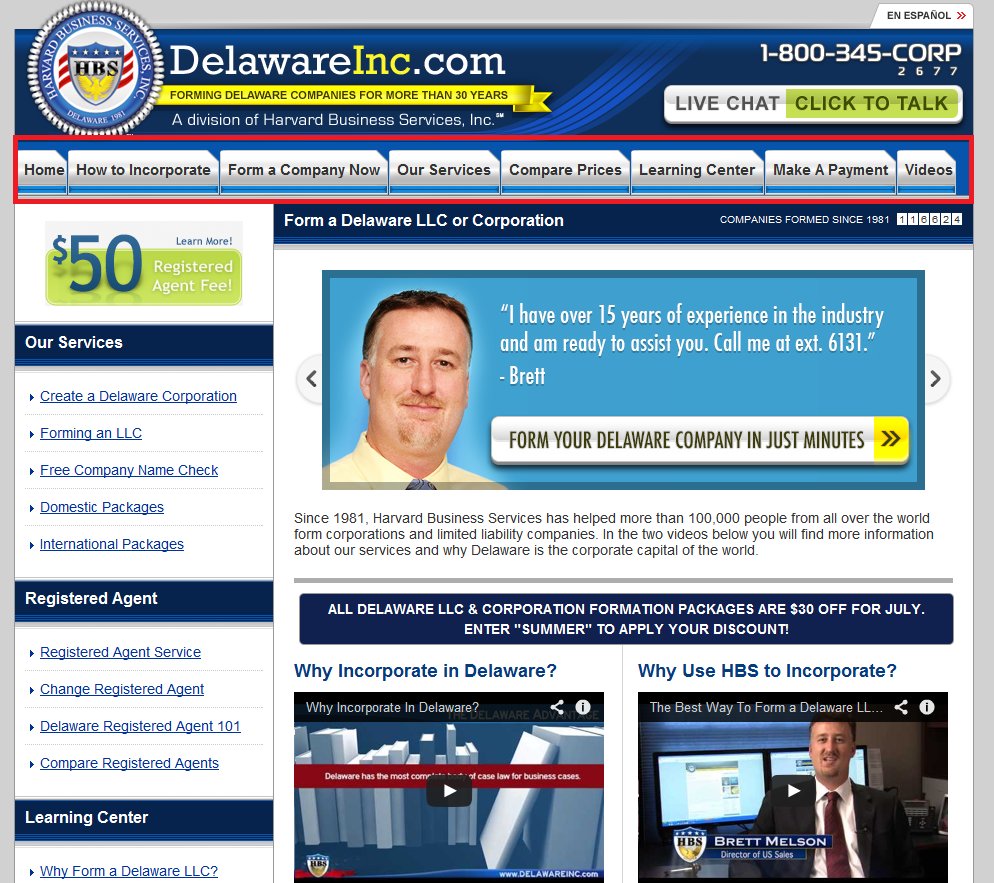 The Test
The test was run on close to 32,000 visitors. The goals that they were tracking were visits to the price comparison page, "How to Incorporate" page. And primarily, the actual sales.
The variation emerged as a winner and recorded 15.68% increase in total orders completed. Visits to the price comparison page and "How to Incorporate" page also increased by 66.26% and 382.45% respectively.
Here's why I think the variation was able to increase the engagement on their website and also give them a whopping 16% increase in sales:
Renaming the "Compare" tab to "Compare Prices" made it absolutely unambiguous. The word "compare" alone didn't really give users a clear understanding of what they would see if they click on the tab.This was an important business change as Korin, who setup this test, puts it, "This (visits to the comparison page) is especially important for us because we work in a competitive industry and our prices are an obvious way that we stand out from the competition. We're thrilled that this small change has enticed visitors on our site to click through to a page that compares us with the competition, so that they can be more confident in their purchase."
Changing "Get Started Now" to "Form a Company" made the tone of the tab more authoritative. The new verbiage instilled a sense of confidence and made the mundane process of getting started sound more purposeful.
The new tab "How to Incorporate", which was originally also present as a link, got them an astounding 382% more visits to the page. This clearly proved to DelawareInc. that a large number of their visitors want to be educated first before they make a purchase.Essentially, A/B testing allowed them to hear their users speak — that they needed to understand the process before incorporating their company and wanted to see that information upfront. And not sift through multiple links in the left pane.This was an important business learning for HBS. Their analytics tool also told them that a lot of people from this page moved to the final purchase page bridging the much-required gap between bouncing off and making an informed purchase.
Let's Talk
Korin was thrilled with the results. She told us that she loves VWO and is constantly trying out new tests. Shout-out to Korin — we love power users like you too!
Let us and Korin know your views about this case study in the comments section below.