Accelerate Growth by Delivering Optimized Digital Experiences
The VWO Experience Optimization Platform improves key business metrics by empowering you to easily discover insights, test ideas, and improve engagement - across the entire customer journey.
Tara Rowe
Increased conversions by 26%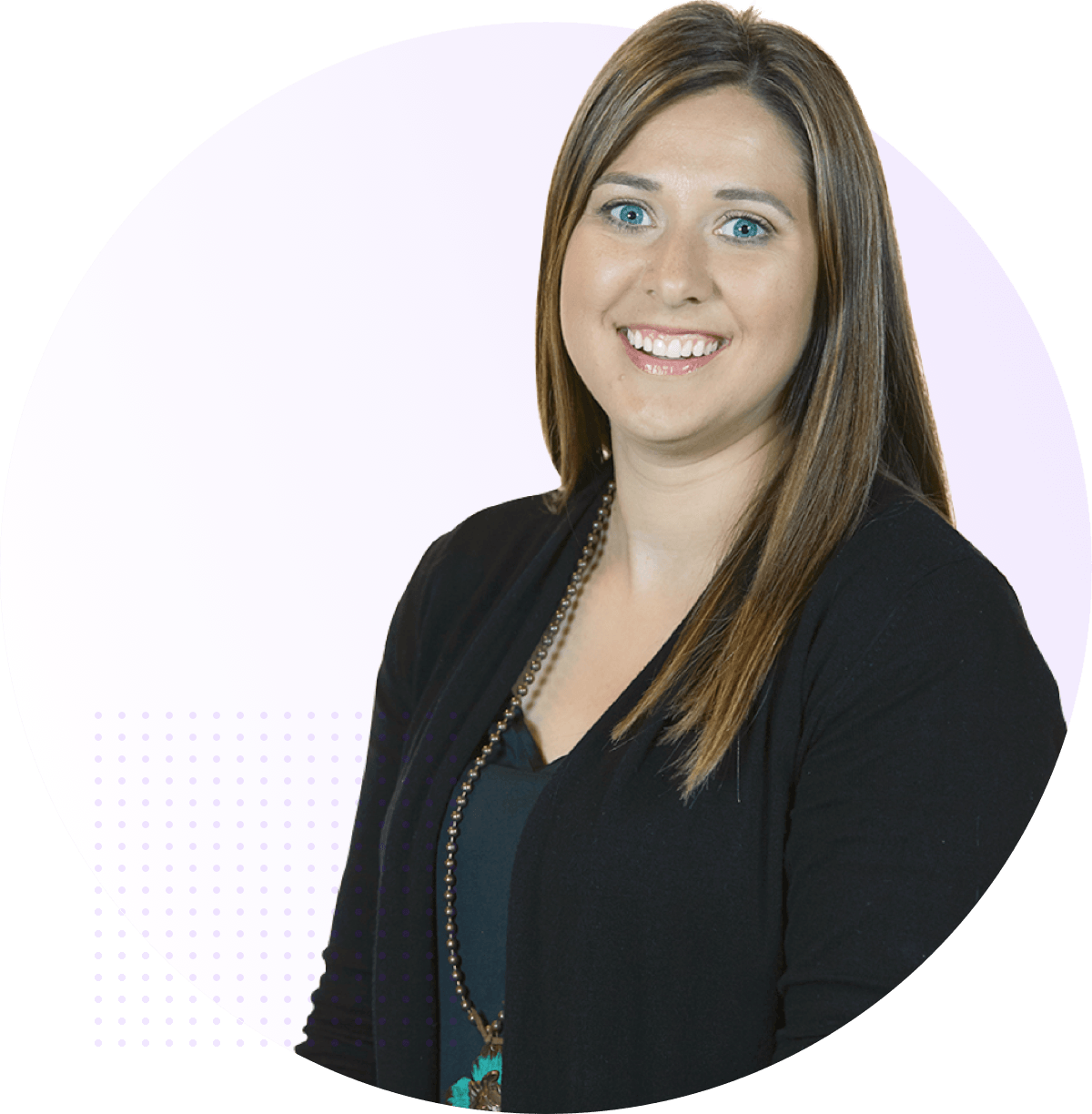 Trusted by 6000+ Brands Across 90+ Countries
Build extraordinary digital experiences that convert better using a single platform
Here's how VWO Experience Optimization Platform helps you to continuously improve your KPIs
Grow conversions by rapidly testing tons of new ideas
Easily create and run tests to increase revenue, combat cart abandonment, and build stellar digital experiences that convert. Without coding or involving IT.
Explore VWO Testing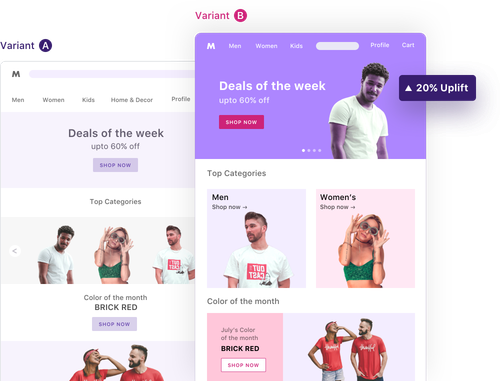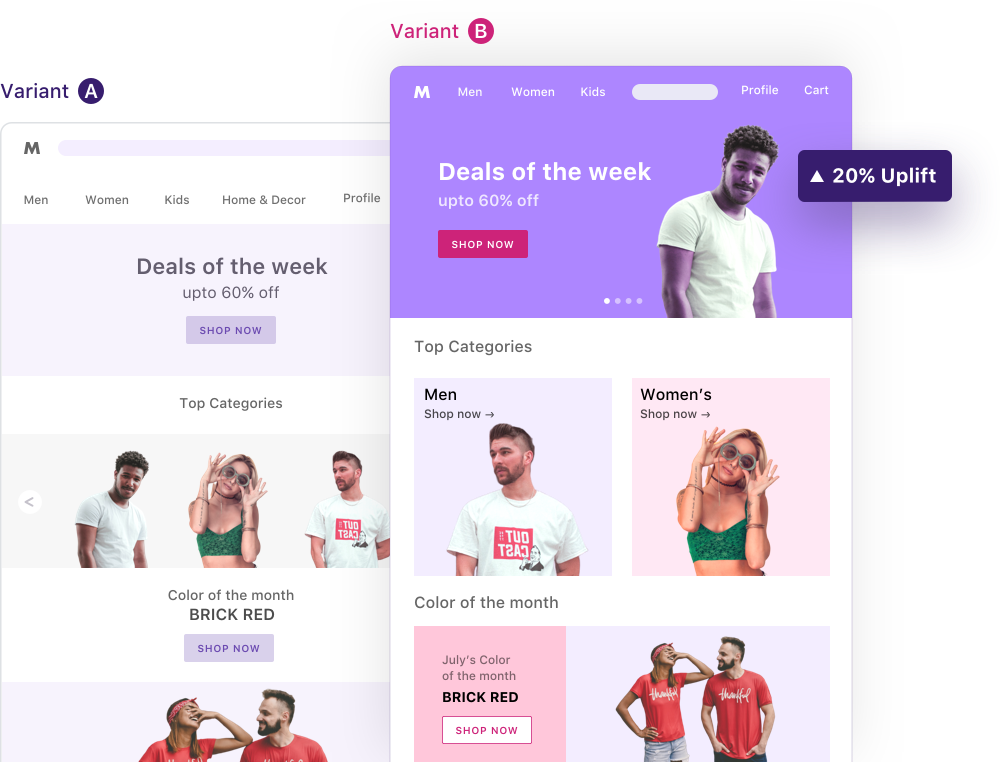 Discover exactly what is limiting your conversion rate
Combine the power of session recordings, heatmaps, on-page surveys, and more to diagnose problem areas in your visitors' experiences. So you can fix what's broken. And make the good stuff even better.
Explore VWO Insights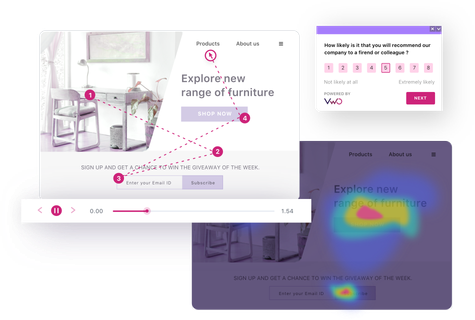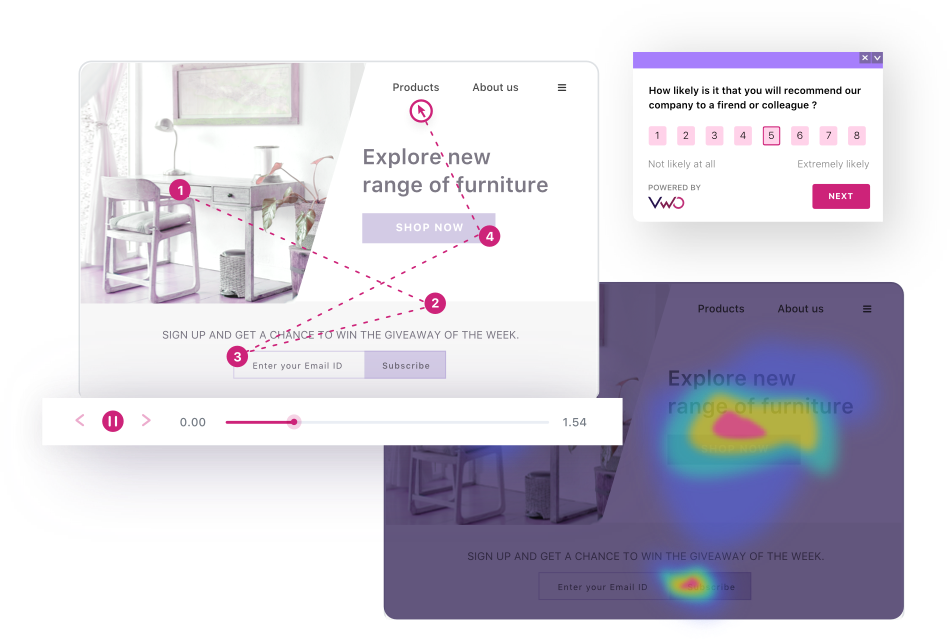 Amplify your experimentation reach & performance with server side testing
Embrace multi-channel experimentation. Test anything, be it product feature changes, search algorithms, subscription workflows, and any other big idea that can help you move the north star metric for your business.
Explore VWO FullStack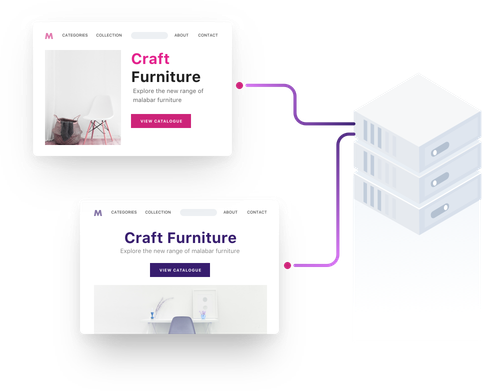 Bring lost opportunities back to your marketing funnel
Think beyond emails and leverage new-age channels. Keep your visitors engaged with automated marketing campaigns through web push notifications & Facebook Messenger.
Explore VWO Engage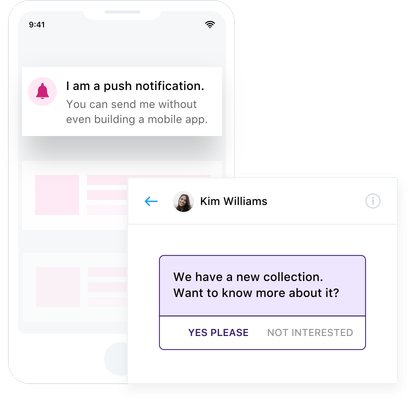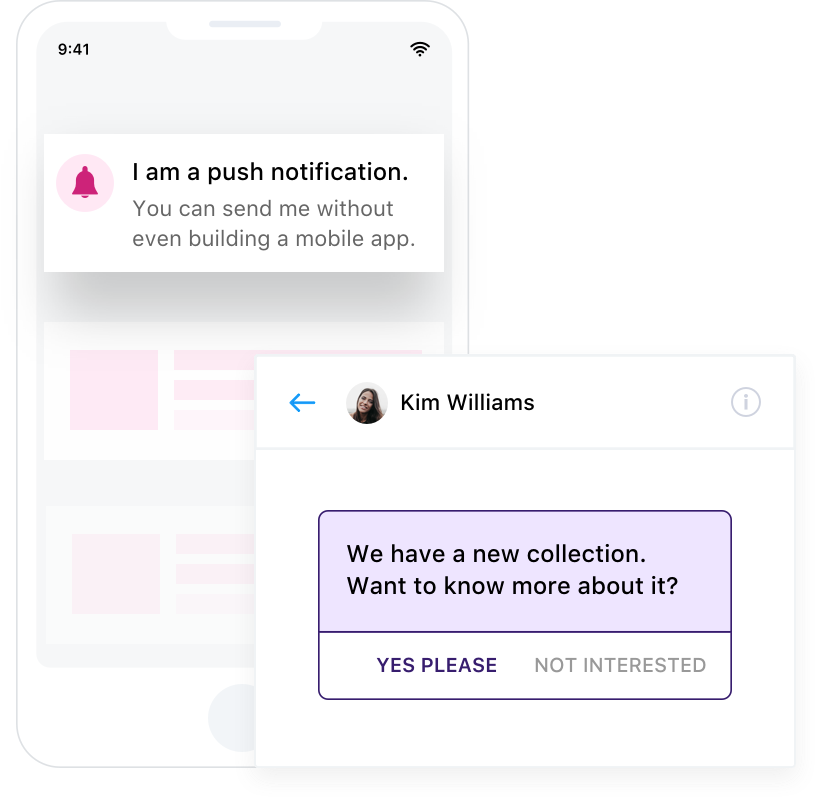 See your core conversion metrics go up every week
With in-built program management, your teams can collaboratively discover growth opportunities in your visitor's journey, build a pipeline of high-impact experimentation ideas, and see them all the way to completion.
Explore VWO Plan
Success stories across industries
We ran a series of A/B tests based on the data we gathered by using Heatmaps, Scrollmaps and Surveys available on the VWO Platform. It helped us to identify key elements on our websites that needed a deeper look.

---

Jenny Hughes

Digital Marketing

Earlier, we had to use JavaScript variables to make sure a user can only enter one experiment. Therefore, we never ran more than two experiments on one page simultaneously.  With VWO, it is straightforward and intuitive to validate multiple hypotheses simultaneously, while keeping the data reliable. It is easy to set up and works wonderfully, we absolutely love it and helps us run many more experiments.

---

Ruben de Boer

Head of CRO and UX

We have been using VWO for almost 4 years now and the software still surprises us. It is very easy to work with and support is always available for help in case of development challenges. The extra features like heatmaps, session recordings and the surveys help us to easily monitor the entire CRO process and connect our qualitative insights with A/B tests.

---

Hans Breeuwsma

Conversion Specialist

Love that the team is so responsive and willing to help, especially on chat. It is a great feeling knowing we have support right there with us and can ask them a question at any point. Hands down the most responsive and helpful marketing software I have ever used.

---

Mason Furr

Web Analytics / CRO Specialist
Built for the enterprise
Replace multiple disconnected systems with the VWO connected platform. Together with security you can trust, premium support, consulting and implementation services, VWO is the enterprise experience optimization & growth solution you are looking for.
Learn More
Why customers love VWO?
Great value for money
The VWO team has really focused on delivering a ton of valuable features for a lower cost than some competitors (which we also have a lot of experience with).

Unmatched customer support
The support is A+, and whenever we've had questions or concerns, all issues are resolved or we're provided hand-holding almost immediately.

Easy to use
VWO is a very simplistic and sleek platform. Even those without previous experience can really set up any test and implement any changes.

VWO Services
The VWO services team handle all the implementation which is amazing so we can move fast. I highly recommend VWO services.

Deliver great experiences. Grow faster, starting today.