Your Always-On SaaS Growth Engine
The VWO Experience Optimization Platform improves key SaaS metrics by empowering you to easily discover insights, test ideas, and improve engagement - across the entire customer lifecycle.
Trusted by 2500+ Brands Across 90+ Countries





Get more ROI for your growth efforts by leveraging the power of a connected platform
Here's how VWO helps you to continuously improve keys SaaS metrics across your customer lifecycle
Acquisition
Heatmaps help growth teams discover hot and cold zones in your landing pages. Know with certainty if visitors are reading your benefit statements or not.
Surveys to extract Voice Of Customer across personas and segments. Drive live feedback and identify information barriers that are hampering conversions.
Form Analytics to uncover form friction areas. Know if your visitors are not comfortable sharing phone numbers, email addresses or any other data.
Via insights gathered from above, list inferences that give way to experiment ideas. Run winning experiments from VWO's award-winning A/B testing platform that validates or rejects inferences with statistical robustness.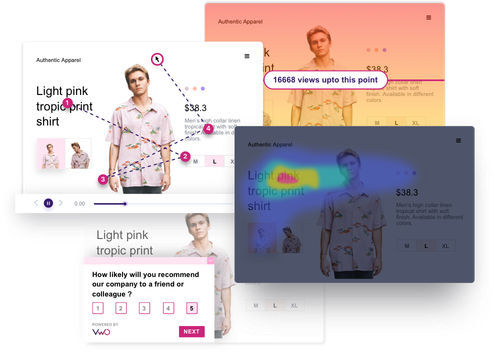 Activation
Expand your MAU/DAU base by testing for multiple activation scenarios
Experiment with new feature launches: VWO Feature Flags allow Product Teams to compare tentative adoption rates of new features across user segments before a blanket release.
Decrease Time To Value: In-App Surveys to identify barriers before users truly discover your 'aha' moment.
Influence D1, D7, D30, Dn Values: Via VWO FullStack, experiment with server side methodologies to orchestrate complex tests that impact Dn values. For example, SaaS organizations use VWO to test chatbots vs. guided tours to improve D1-D7 activation %
Revenue
Measure tangible impact of your experimentation programs by firing revenue events triggered by an experiment from VWO into an Analytics platform of your choice. Following are some off-the-shelf integrations with popular Analytics vendors
Heap Analytics
Google Analytics
Mixpanel
Retention
Identify Churn factors and increase Dollar Retention across personas
NPS & Churn: Trigger in-app segment-centric NPS surveys to predict and stop churn.
Dollar Retention Experiments: Run client & server-side experiments with CTAs & Coachmarks to increase adoption for sticky product features to curb churn and increase Dollar Retention.
Colart chose VWO over Optimizely
While evaluating between VWO, Optimizely and other A/B testing tools, Colart, one of the leading art brands in the world, found VWO was the right web testing and conversion optimization solution for their business.
Read this success story to find out why they chose VWO.
It was important to select an all-features-in-one tool that allowed testing on multiple domains from a single platform.

Patxi Gadanon

Senior Web Manager, Colart
Deliver great experiences. Grow faster, starting today.