What is omnichannel marketing?
An omnichannel marketing approach involves nurturing leads and engaging users. It ensures a positive and seamless customer experience through the integration of multiple offline (retail store, events, call centre) and online channels (website, app, social media, email, SMS, WhatsApp) while maintaining a consistent brand presence. 
Customers today want real-time information as they have more choices than ever thanks to the online medium. Through omnichannel marketing, they can interact with businesses on their conditions, enhancing the consumer experience as a whole.
Therefore, an omnichannel marketing campaign offers consistent messaging, visuals, and a relevant experience to the individual, irrespective of the interaction channel. Each channel works in tandem to provide your brand with a consistent message and voice.
Below are a few simple examples of omnichannel marketing that can provide a more clear understanding of this approach:
While shopping in a store, a consumer gets an SMS about a promotion.
A promotional email reminds users to check their mailboxes for a real postcard containing discounts.
Retargeting a customer on Facebook with the item they left in their online shopping cart.
Instead of solely providing help on its desktop website, a business also offers support via Facebook Messenger, live chat, email, and phone.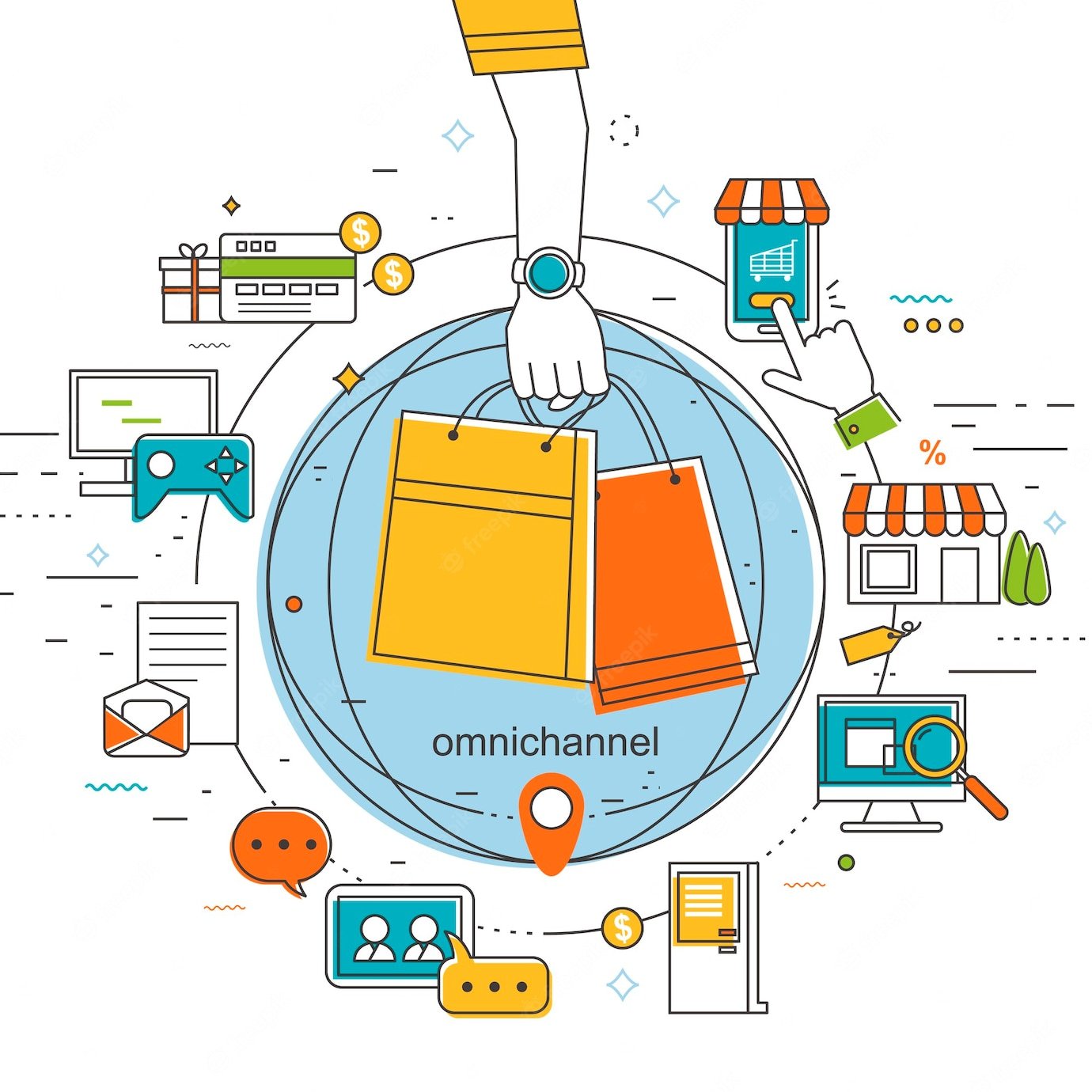 The goal of omnichannel marketing
An omnichannel marketing strategy aims to give customers a simple, seamless experience that provides a variety of possibilities for satisfaction. Customers may be given the option to search for and buy products online, in-store, or through a combination of the two, such as "buy online and pick up in-store," as part of an omnichannel strategy. Today, businesses across a variety of sectors are utilizing omnichannel methods.
Omnichannel marketing offerings
Consumers are the centre of attention in omnichannel marketing. Nowadays, there are countless ways for customers to communicate with companies, from social media platforms to toll-free helplines. By providing the below essential components, an omnichannel strategy makes sure the customer has a satisfying, consistent experience across all channels:
Brand style and perspective that is constant and noticeable
Customized messaging based on particular preferences
Content that is influenced by prior interactions and the present phase of the buyer's journey
An instantly identifiable brand makes it easier for customers to recognize it, and customization based on interests and purchasing behaviour increases the likelihood that they will engage with branded content across channels.
Industries that have implemented the omnichannel marketing approach
As customers gain more power, omnichannel strategies have gained popularity throughout businesses, although they are especially common in the following areas:
Retail
Healthcare
Automotive
Financial Services
Technology
Omnichannel vs Multichannel
Although the principles of omnichannel and multi-channel are both built on the idea of engaging customers across several platforms, they are not equivalent. Multichannel focuses on the particular channel and how the transaction will be executed there. On the other hand, omnichannel considers how to provide customers with the optimum experience when they switch across channels, taking into consideration the possibility that the customer journey may span several. Every engagement is a stop along a journey that ends in a conversion. The below infographic and table explores the distinctions between the two in more detail: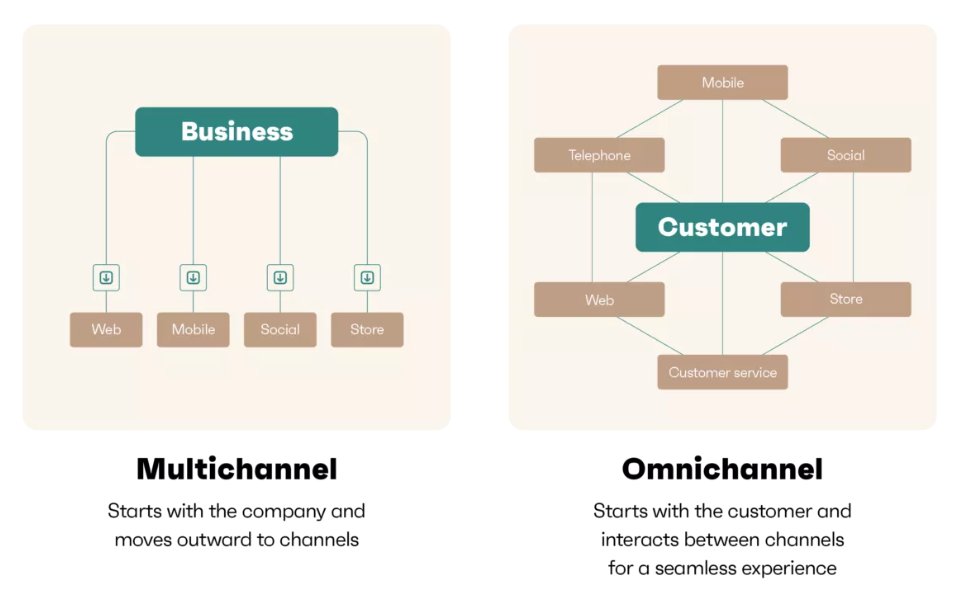 | | | |
| --- | --- | --- |
| Areas of Comparison | Multichannel Marketing | Omnichannel Marketing |
| Center of marketing strategy | The brand | The customer |
| Message type | Mainly static | Changes and adapts according to customer behaviour |
| Channel interactivity | Independent | Together |
| Channel update | Don't update and personalize | Updates prompted as per customer behaviour |
The benefits of using an omnichannel approach
Nowadays, the majority of companies acknowledge that an omnichannel strategy may produce the finest outcomes. Because customers are used to receiving a constant barrage of messages from different businesses, they are becoming pickier about the ones they want to interact with. Although executing an omnichannel strategy is not straightforward, when done well, it offers several advantages. The following benefits of omnichannel have transformed the eCommerce sector:
Effortless user experience: A distinctive and seamless customer experience may be created by enabling consumers to switch between interaction, assistance, and marketing channels without even being aware of it.
A higher buying rate: When compared to using a single channel or several distinct channels, implementing omnichannel boosts the merchant's total purchase rate.
Increased consumer spending: Revenue boost for business: According to the Harvard Business Review, omnichannel retail campaigns increase client spending, boosting the brand's yearly revenue and assuring a consistent cash flow. The reason is, that when your prospects are prepared to buy, it will be much simpler for them to do so if they can locate your goods across a variety of channels and platforms.
Increased engagement rate and happy customers: Customers' engagement rate with the business is significantly greater when they move seamlessly between channels within the same brand. Because they are more engaged and satisfied, they have greater purchasing power and a higher customer lifetime value (CLV), which lowers and prevents churn.
Increased loyalty: Customers of businesses that use omnichannel receive services across a variety of digital and physical channels. The more a client engages with these services, the more data the retailer learns about them. As a result, businesses have more information to work with, while one-time visitors might benefit from additional opportunities and become regular patrons.
More successful customer acquisition: Omnichannel makes it easier for businesses to attract new clients, which promotes more rapid business expansion.
Enhanced operational effectiveness: Omnichannel-dependent businesses gather crucial consumer information just once and utilize it to deliver tailored offers across many channels. These offers are created using additional pertinent client data that has been gathered along the path. Additionally, omnichannel allows for the implementation of recurring billing solutions such as automated payments, which streamline payment processing.
Improved inventory management: Omnichannel technologies assist retailers in obtaining comprehensive information about their available stock and preventing shortages. They also offer helpful information that may be used to influence future investments based on the purchasing patterns of their clients.
Wider reach: Using an omnichannel approach, customers don't need to search for businesses as every service is accessible to everyone, everywhere, with just a click, an email, a direct message, or a phone call.
Challenges faced in omnichannel marketing
In addition to the above-mentioned benefits, the omnichannel strategy also poses several obstacles for merchants, such as
Technological Prerequisites: Complex technical solutions are needed to engage with customers, advertise goods and services, and offer customer assistance over a network of interconnected channels. For example, the front end must have a straightforward, user-friendly appearance and provide a positive consumer experience. And, typically, it is challenging to design the back-end.
Expensive: Developing a comprehensive omnichannel strategy involves sophisticated technological solutions and skilled software developers which makes it a time-consuming and costly affair for some retailers.
Teamwork involving frequent communication: Teams managing several channels as part of an omnichannel strategy must communicate openly and frequently. To be consistently prepared to address client requests, demands, and complaints, several teams and their members must collaborate.
Steps to implement omnichannel marketing strategies
As evident, it's important to consider the customer's interactions with your company while developing an omnichannel experience. It concentrates on the whole experience rather than the channel. In light of this, there are a few prerequisites for developing an omnichannel experience:
Read this extensive guide for effective implementation of the omnichannel marketing approach.
The future of eCommerce, digital marketing, and customer service is unquestionably omnichannel. There is an increasing demand for new channels as users' social behaviours and technology evolve. Merchants that take advantage of this opportunity are more likely to guarantee ongoing business growth.